Looking for Mobile App Developers 'Near Me': Where to Start From
Hiring developers who don't live far from your country is rational. You get a wider range of tech specialists and often spend less than on maintaining an in-house team. And there won't be a huge time difference from you.
But it's not without pitfalls.
As you google 'app developers near me,' we suppose you're looking for mobile developers—iOS, Android, or both. That's what we're going to focus on.
In this guide, we're explaining how to find app developers that don't live far from you, and how much does it cost to hire an app developer. And what to consider before you start looking.
Identify the Needs and Wants of Your Business
It's not enough to approach developers with a request like 'I want an Uber-like app for scooters.' No matter how great the idea is, it's essential to do research and planning to back it up.
Qualified app developers—'near me' or from another country—will ask a bunch of clarifying questions:
What platforms you want to cover?
How to create a MVP of your app?
How you're going to monetize it?
And, finally: 'Do you have ready UI design?'
Let's see what you need to know to answer them.
#1. Choose Platforms
As you're looking for app creators 'near me,' the choice is often between iOS or Android. Start with picking the platform—first of all, to figure out what developers you need to hire:
Objective-C/Swift developers to make apps for iOS
Java/Kotlin developers to create apps for Android-powered devices
If you're making a fitness app, you may want to cover more platforms than just iOS and Android-based devices. It'd be nice to adapt the app to work with wearables (Wear OS) or add Apple Watch support (watchOS).
For streaming services and video-on-demand platforms, it's important to cover smart TV devices (Android or Apple TV). As well as support for video streaming from mobile devices to TVs via Chromecast and AirPlay.
App developer for hire 'near me' by platforms

| | |
| --- | --- |
| Platform | Programming language |
| iOS, watchOS | Swift/Objective-C |
| Android, Wear OS | Kotlin/Java |
Depending on the task, mobile developers also have to work with various frameworks and SDKs. And don't forget about back end programmers who configure client-server interactions and work with databases.
Want to know more about verifying programmers' skills? Check out our latest in-depth guide to hire mobile app developer successfully
#2. Pick Features
If developers don't know what features they'll be working on, they cannot tell you how much time and money the development will take.
That's why you need to prepare a list of must-have features. For a fitness app, it's the workouts screen with days and lists of exercises or a nutrition screen with the list of meal plans.
Then add unique features that will make your app stand out. Like a dairy screen or interactive workout programs.
At Cleveroad, before we start working on any project, we ask our clients to either provide a list of features or prepare it together with our Business Analysts. Then our developers estimate how much time they need to develop these features.
Finally, we present a rough estimate—here's how it looks like:
Another thing to do is developing a monetization model. For instance, you can charge money for a one-time purchase on App Store or Google Play, add a subscription, or earn funds by placing ads.
Or use a freemium model with limited functionality users may want to expand for a fee.
#3. Find a UI/UX Designer
Development won't start if there's no UI design—otherwise, developers will have nothing to work with.
So before you start looking for app developers 'near me,' look for app designers who live nearby.
Although some developers may offer UI/UX design services, it's always better to let separate people do the visual part. UI/UX design requires a different set of skills, a good understanding of the platforms and their style guides—Google's Material Design Guidelines (Android) and Apple's Human Interface Guidelines (iOS).
Designers make a draft of your future product (wireframes), confirm it with you, then start designing the app screen by screen. For example, show how an empty feed looks for a new user, what happens if users enter incorrect login details, and consider other scenarios.
Wireframes and design we've created for Blockbuster, a video streaming app
And, finally, pass the design to developers.
App Developers 'Near Me': Hiring Options
After you've picked platforms and listed the features, consider hiring options:
working with a freelance developer who lives nearby
signing a contract with an app development company from neighboring countries
Let's see how different they are.
Hiring a freelance app developer 'near me' is cheaper compared to a software development company. But it works well only for small one-time tasks—like adding PayPal integration or fixing a shopping cart.
If we're talking about apps built from scratch, one freelancer can't be responsible for all the job:
competitive analysis and market research
preparation of UI/UX design
development (often done for two platforms that use different programming languages)
quality assurance testing
release to marketplaces
Even if you have a multi-skill developer, it'll take years to make a complex app by one person.
And if you hire a few freelance app makers 'near me' + UI/UX designer + QA engineers, you need to hire a good manager, too. Or be a good manager yourself. Freelancers don't communicate with each other, so you'll need to make sure they work synchronously.
Working with an app development company may cost more. But in turn, you get a full team from Business Analysts who will analyze your requirements to a Project Manager who watches over the process from start to finish.
Most agencies provide a PM who will watch over the development process
As you're looking for application developers near me, you need to focus on either onshore or nearshore freelancers or tech companies.
Let's see what it means.
Onshore Development
Stands for working with a team that resides in the same country as you do. They may live in another city, state, or region, though—like when you live in Philadelphia, PA, when your development team resides in Seattle, WA.
Apps developer 'near me' may live in the same country but another region
It's a convenient but pricey option.
Why convenient: you're working with a team that's located in your home country so there won't be any language barriers or huge time zone difference.
Why pricey: if you live in countries like the USA, Canada, or Australia, onshore development will cost you a lot. These countries have the highest software development rates up to $150+/hour (according to Clutch and GoodFirms), and to make a complex app like Instagram or Uber, your team may need 1,000-2,000+ hours.
Nearshore Development
Nearshore development means you're delegating app development to neighboring countries. For example, when you live in Poland and outsource the development to Ukraine or Belarus.
The time difference between you and your developers is usually no more than one to three hours.
For example, Ukraine serves as a nearshore country for Western/Northern Europe and the Middle East (UAE, Israel).
You can find mobile application developer 'near me' in neighboring countries
Nearshore development is more cost-effective compared to onshore, but there may be language barriers and cultural specifics to deal with.
In turn, you get access to a winder range of developers—and lower costs.
Offshore Development
This option may not fully refer to 'app builders near me' request, but it has a few advantages worth mentioning.
Offshore development means working with teams located in other countries. For example, when you live in Philadelphia, PA, and hire developers that live in Berlin, Germany, or Kyiv, Ukraine.
Offshore example: delegating product development to Ukraine
It's affordable but harder to maintain.
The biggest challenge is time zone differences and management complexities that come with it. For example, it's 9 a.m. in the US and 6 p.m. somewhere in India, and your team needs you today to approve the design concept.
Another possible drawback is the language barrier and cultural fit.
There's a simple solution, though—find a Project Manager who will mitigate these risks. They will find the best hour for daily or weekly meetings, use communication channels you prefer, and speak good English.
The biggest advantage of offshore development is its cost. It's much cheaper to make an app in Ukraine than look for app makers 'near me' in the UK or the USA.
Software development rates here are taken from Clutch and GoodFirms.
Let's say you want to build a Tammy Fit-like fitness app. Our Business Analysts estimated that developers need 524 hours max to make a similar app for iOS. Here's how much it's going to cost in different regions:
Eastern Europe. $26,200 (based on $50/h)
North America. $52,400 (based on $100/h)
Western Europe. $47,160 (based on $90/h)
Australia. $52,400 (based on $100/h)
As you see, offshore development in Eastern Europe costs twice less compared to other regions. Imagine that you're looking for mobile app developers 'near me' to build an MVP but have a limited budget.
Offshore development looks more attractive as it offers a good-quality product for less money. But that's in case you take the right steps and are careful with your selection of developers.
How to Find an App Developer 'Near Me'
No matter what option you choose, you need the right person to join your team. Here are a few things to check:
#1. Experience
You probably don't want an app developer who hasn't ever made an app. Junior programmers may be qualified to assist their middle-level colleagues, but they often lack commercial experience.
Be sure to ask your developers about their experience, programming languages, and frameworks they work with. And look at the work they've done in their portfolio.
One more thing to check is client's reviews. If you're working with freelance developers, platforms like Toptal or Upwork have a review section in each profile.
In case you prefer app development companies, check what their clients say on Clutch or GoodFirms. They post reviews verified by platform administration, so there's little chance of reading fake feedback.
You can find reliable app creators 'near me' by reading what their clients say
#2. Communication
You can't make a good app with developers who don't reply back. Discuss two things to make communication crystal clear:
Channels (like Slack or Skype for meetings, Gmail to get reports)
Time and frequency of meetings (once per day, each week, or whatever time you prefer)
Time zones is one of the primary reasons people look for app programmers 'near me,' so if you're working with a nearshore or offshore developers, don't put off this discussion.
#3. Understanding of a Domain
In a perfect world, you hire developers that already have expertise in your niche.
Suppose you're making a video streaming app. In that case, you find specialists who worked with media processing platforms like DaCast or Wowza and streaming protocols like WebRTC, RTMP.
If you're into a healthcare solution, you need tech people that know how to make an app that complies with HIPAA.
Check candidates' portfolios to find out whether they worked on projects similar to yours.
Before you start looking for developers, it's better to make a list of criteria you'll use to judge them. Write down questions you'd want to discuss in your first meetings, namely:
Tools. What programming tools you use to create apps?
Experience and expertise. How much experience do you have? What types of apps have you worked on?
Client feedback. Do you have reviews or references from other clients I can talk to?
Communication. How will we communicate during the development process?
Development process and project management. What development process do you follow? How do you handle project management?
Legal process/contracts. Do you sign contracts and work under NDA?
Or any other questions you consider relevant.
Where to Look For App Developers 'Near Me'
If you want to work with freelancers, look on platforms like Upwork or Fiverr.
Or check Clutch, GoodFirms, or LinkedIn if you're looking for an app development company.
We've prepared a list of the most popular platforms.
Find local app developers 'near me' that work as freelancers:
Upwork

Youteam

Toptal

Fiverr

Peopleperhour

Freelancer
Hire mobile app development companies (onshore, offshore, or nearshore):
Clutch

GoodFirms

ITFirms

LinkedIn
Why Hire Developers From Cleveroad
Cleveroad is a mobile and web development company located in Eastern Europe. We provide a full range of software development services—from the first product's assessment to its release on app marketplaces.
We've been working with clients from both nearshore and offshore countries. You can check some of the apps we worked on in our portfolio (there's a 'country' filter there to help you navigate).
Some of the countries our clients are from
As we often work on offshore projects, we know how to overpass time zone gaps and always stay in touch with our clients.
When we were upgrading RetailOps, a US-based project, we had to deal with 10-hour time gap. We assigned an experienced Project Manager who developed an individual schedule of meetings.
That allowed us to show results, get approvals, and finish the project in time.
Frequently Asked Questions
Identify your needs. Choose platforms, define features, find a UI/UX designer who will take care of the visual part.
Choose between the hiring option. You can look for freelance developers to work on small-scale projects or find a more reliable development company that will cope with products of any complexity.
Check the developer's experience. View your candidate's portfolio, check past clients' reviews, and find out what communication channels your developers use.
You can find freelance app developers on these platforms:
Upwork

Youteam

Toptal

Fiverr

Peopleperhour

Freelancer
Or hire mobile app development companies (onshore, offshore, or nearshore) on:
Clutch

GoodFirms

ITFirms

LinkedIn
You need to choose between onshore vs. nearshore development. Onshore development is a pricey but more convenient option--there's no huge time difference, no language or cultural barriers.
Nearshore development is more cost-effective than onshore, but there may be language barriers and cultural specifics to deal with. In turn, you get access to a wider range of developers—and lower costs.
It depends on your app's complexity and the region where you hire developers. Here's how much it costs to make a fitness app like Tammy Fit for iOS (524 hours) in different regions:
Eastern Europe. $26,200 (based on $50/h)
North America. $52,400 (based on $100/h)
Western Europe. $47,160 (based on $90/h)
Australia. $52,400 (based on $100/h)
We've made a detailed guide on approximate cost of app development. Check it out!
Study the options. Are you going to hire developers from neighboring countries? Or prefer onshore teams that reside in the same region? Have a small-size project for freelancers? Or a complex product you want to entrust to a reliable vendor?
Check resources like Upwork, Toptal (freelance developers), Clutch, and GoodFirms (app development companies).
Check developers' portfolios on their websites or freelance pages or resources like GitHub.
Interview your programmers—pay attention to their past project, expertise in the field, and communication channels they use.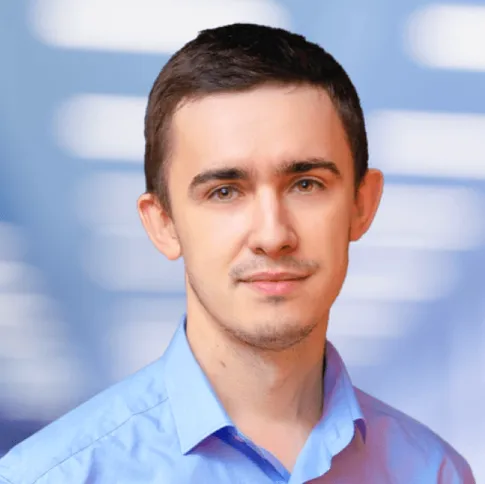 About author
Evgeniy Altynpara is a CTO and member of the Forbes Councils' community of tech professionals. He is an expert in software development and technological entrepreneurship and has 10+years of experience in digital transformation consulting in Healthcare, FinTech, Supply Chain and Logistics
Rate this article!
2003 ratings, average: 4.59 out of 5
Give us your impressions about this article
Give us your impressions about this article
Elma Seeliger
02.01.2021 at 09:43
آیلین علیزاده
09.12.2020 at 03:30
thanks for the article. was a bit confused how to choose between nearshore , and onshore looked all the same to me. after reading this guide, i have a clear choice now. thanks
Louwe Wieling
12.10.2020 at 14:55
Fair enough. Onshore programming does look easier but that's till we're talking about costs. Covid's really blurring the boundaries so everyone's remote these days anyway
Amparo Iglesias
02.09.2020 at 23:11
Good guide very clear !!!