Flutter App Development Cost: How to Estimate the Budget and Reduce Expenses?
Cross-platform projects are slowly taking over the native app development. The cross-platform approach is much more time-efficient and cost-saving. Recently, the main advantage of native apps was their performance. But it's no longer their strong side as new cross-platform frameworks bring more power to developers.
One of them is Flutter. This framework was released in 2017 and became one of the most admired frameworks among the cross-platform community. Statista claims that Flutter is among the ten most popular frameworks of 2022 and holds first place among most popular cross-platform frameworks. Quite a good result for such a new technology. Its high demand allows us to define approximate costs from software building.
The flutter app development cost ranges according to the project's defined scope of work:
Simple Flutter app: $40,000- $60,000
Middle complexity app: $60,000 – $120,000
Highly complex Flutter app: $120,000 – $200,000+
There is a row of determining factors to answer how much does Flutter app development cost.
In this post, we're going to talk about the Flutter app development cost for diverse industries, find out how to calculate a precise price, and how to cut project expenses with this framework.
Average Flutter App Development Cost
An app development cost is a complex number that depends on various factors — complexity of features, location of developers, supported platforms, and more. It's impossible to find out the price for your project without conducting research and knowing all the requirements. In Cleveroad, we conduct a discovery phase to figure out our clients' wishes and requirements.
Still, you can take a look at our estimates sorted by the project complexity.
A software with simple features, like a fitness app with workout suggestions, meal plans, personal profile, and weight diary costs from $26,000 to $34,800.
Flutter app development cost of a middle complexity software, like a messenger with voice calls, will be from $34,950 to $48,850.
The cost to develop an app like Instagram with complex features will be from $41,500 to $55,000.
Factors Affecting the Price
To clarify all the components of the Flutter app development cost, we will single out each factor and analyze its impact on the price.
Native app development vs. Flutter
When we're estimating a native project, we're taking into account the development time for both platforms. Flutter is a cross-platform framework that lets developers write a single codebase for Android and iOS. This feature halves the development time making Flutter app development cost lower compared to native ones.
What's remarkable about Flutter is that it has optimized code and no performance issues. Flutter delivers steady 60 FPS on all devices and even 120 FPS if the device supports it.
However, Flutter has some drawbacks. If your project requires a Wear OS version or a Smart TV app, you'll face some troubles. Technically, you can build a Flutter app for these platforms. But, a lot of Flutter's development features aren't supported by Wear OS. In the case of an Android TV, you'll have to build the control logic from scratch. The reason is that Android TV reads remote control input only, while Flutter works with touchscreens and mouse movements. This fact can slow down the development process, cause troubles for developers, and increase the Flutter app development cost. That's why it's better to go for native development if you're aiming at specific platforms.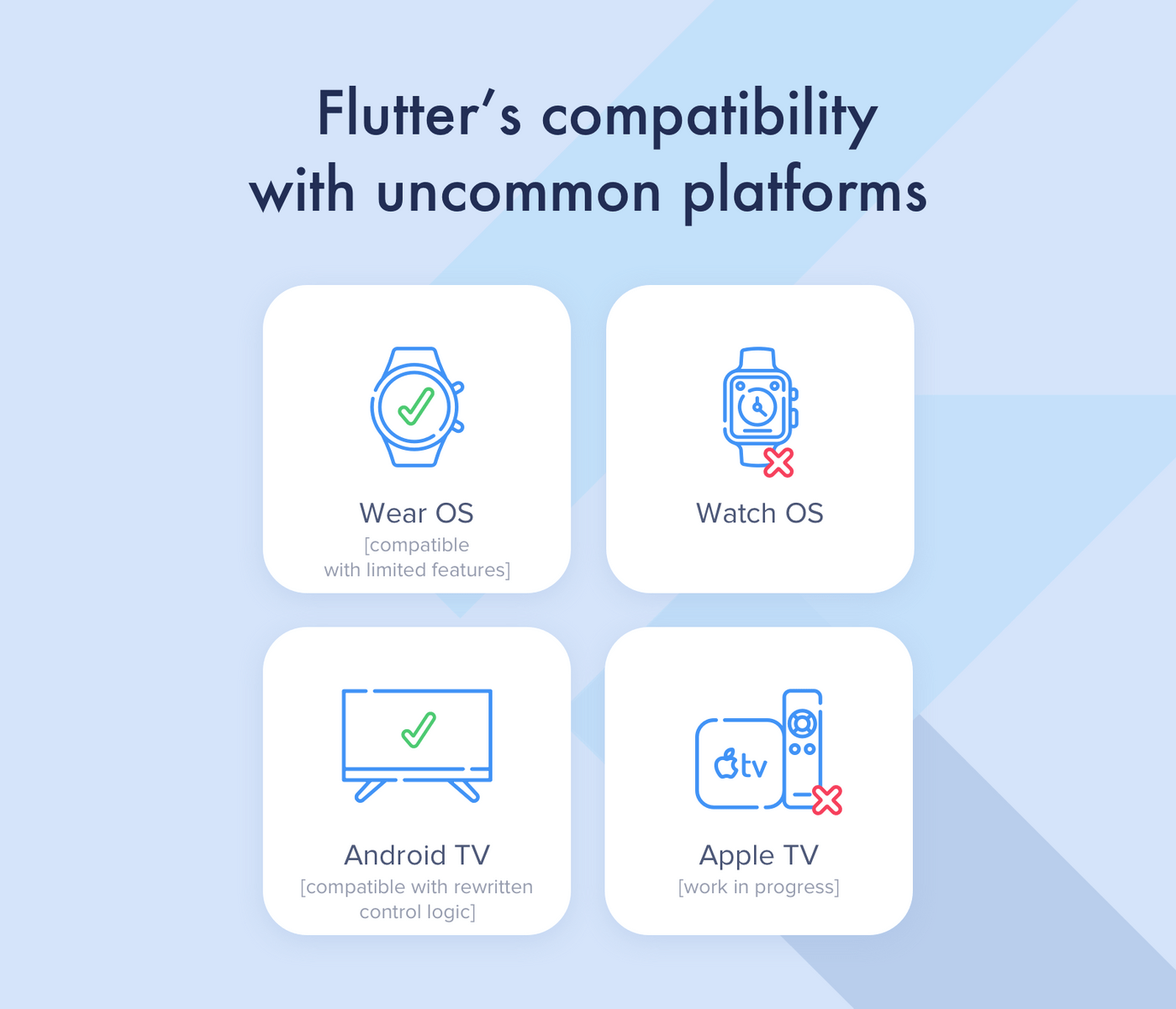 Flutter-compatible platforms
Features are the main component of the app. They are also the main factor that influences the Flutter app development cost. Simple features (e.g. login) take minimal efforts, while the integration of video calls may take up to 2-3 weeks of the development time.
Let's imagine that you're going to build an Instagram-like app. The photo upload feature takes around 13 hours of development time. With an average rate of $50/hour, it will cost you $650. However, to build filters for photo editing, your development team will have to spend from 30 to 120 hours depending on their type and amount. A software development company will charge $1,500- $6000 for this feature.
The most expensive features in Flutter app development

| Feature | Description | Approx time (hour) | Approx cost ($50/h) |
| --- | --- | --- | --- |
| Navigation | Location map development - applying beacons | 194 | $9,700 |
| Chat | Video calls - audio calls - text chat | 188 | $9,400 |
| Payment integration | Integration with PayPal - adding credit cards - withdrawing/sending funds | 70 | $3,500 |
How complicated is your app?
We can make a free estimate and give you suggestions on optimizing the budget.
Location of developers and the chosen hiring option
Another aspect impacting the total cost is the variant of employment you select when hiring specialists of your project:
Freelancers
This option is widely applied due to the opportunity to decrease development expenses. Yet, in case with Flutter app development, you have no guarantee in freelancers' competence and quality. In addition, within the support, maintenance, and updating services, such specialists are also not advantageous, as they may switch to another project and make long-tern partnership impossible.
In-house teams
In this case, you are responsible for the project development management as well as for searching and checking the experience and knowledge of potential employers. Moreover, the in-house team gathering requires a row of extra expenses, like purchasing hardware, renting the office, sick leaves, salaries, and many more. Consequently, such conditions significantly raise the total cost.
Outsourcing companies
Outsourcing the project refers to the already assembled team of experts with a proven in-depth qualification take over all the creation process. This option is a great way to save development investments and avoid affecting the product quality. Apart fro this fact, here are some more benefits you'll receive with outsourcing:
Cost flexibility. The global market offers a lot of outsourcing software development companies ready to provide services at reasonable prices. Central Europe has become the top region for this goal, and many businesses have benefited from the top-class performance of talented developers coming from this location.
Scalability. You can adjust the development flow to your requirements: the team of such companies comprises all types of developers who will take part in the creation process when their competence is needed. Besides, it's an excellent way to speed up the project completing if necessary. Outsourcing provides a variety of cooperation models, from dedicated teams to staff augmentation
Faster product delivery. With outsourcing there's no need in spending time on recruiting. You are able to adapt the speed of your project creation, e.g. involving more experts. Thus, time to market is cut down, as well as outgoings: you pay only for work done.
Vast talent pools. IT outsourcing comprises an immense range of tech-savvy specialists with great expertise and experience. Outsourcing vendors offer businesses flexible hiring opportunities. You are allowed to select among lots of software architects worldwide.
Great diversity of technologies to apply. Depending on your project requirements, you can choose a specialist from such companies with a relevant expertise.
Apart from the hiring option, the location of your development team may influence the Flutter app development cost a lot. In different regions, developers have different rates. In the USA, the average developer's rate is $60/hour, while in Estonia it's only $37/hour.
In the table below, you can find hourly rates of developers and compare them with each other.
Flutter developers' rates in different regions

| Location | Hourly rate ($) |
| --- | --- |
| North America | $75-$120 |
| Latin America | $30-$50 |
| Western Europe | $70-$90 |
| Estonia | $30-$50 |
| India | $25-$40 |
| Australia | $41-$70 |
| Africa | $20-$49 |
If you're thinking of outsourcing your project, we recommend you taking a closer look at Estonia. This country is a popular outsourcing destination because of the affordable rates and high level of customer service. Estonia has a vast talent pool, so the quality of the final product will fulfill your expectations.
How to Calculate Flutter App Development Cost
As it was mentioned earlier, features impact Flutter app development cost the most. Flutter is good for projects that don't include native features. But when it comes to mapping, streaming, AR, and background processes, developers have to build these features separately for iOS and Android and then combine it with Flutter.
Let's get back to our examples. In case of native development, you will need around 60-130 hours to implement AR filters in your app. Flutter development will take about 80-150 hours because AR is a native feature. Keeping in mind the rate of $50/hour we should multiply it by the development time. This formula can be used to figure out the final Flutter app development cost.
Except for this formula, there's another thing that matters on the initial stage.
Discovery Phase
A badly held discovery phase may result in a collapse of a whole project. But why is this phase so important? During the discovery phase, business analysts and project managers conduct meetings with you to find out possible risks and come up with solutions to eliminate them.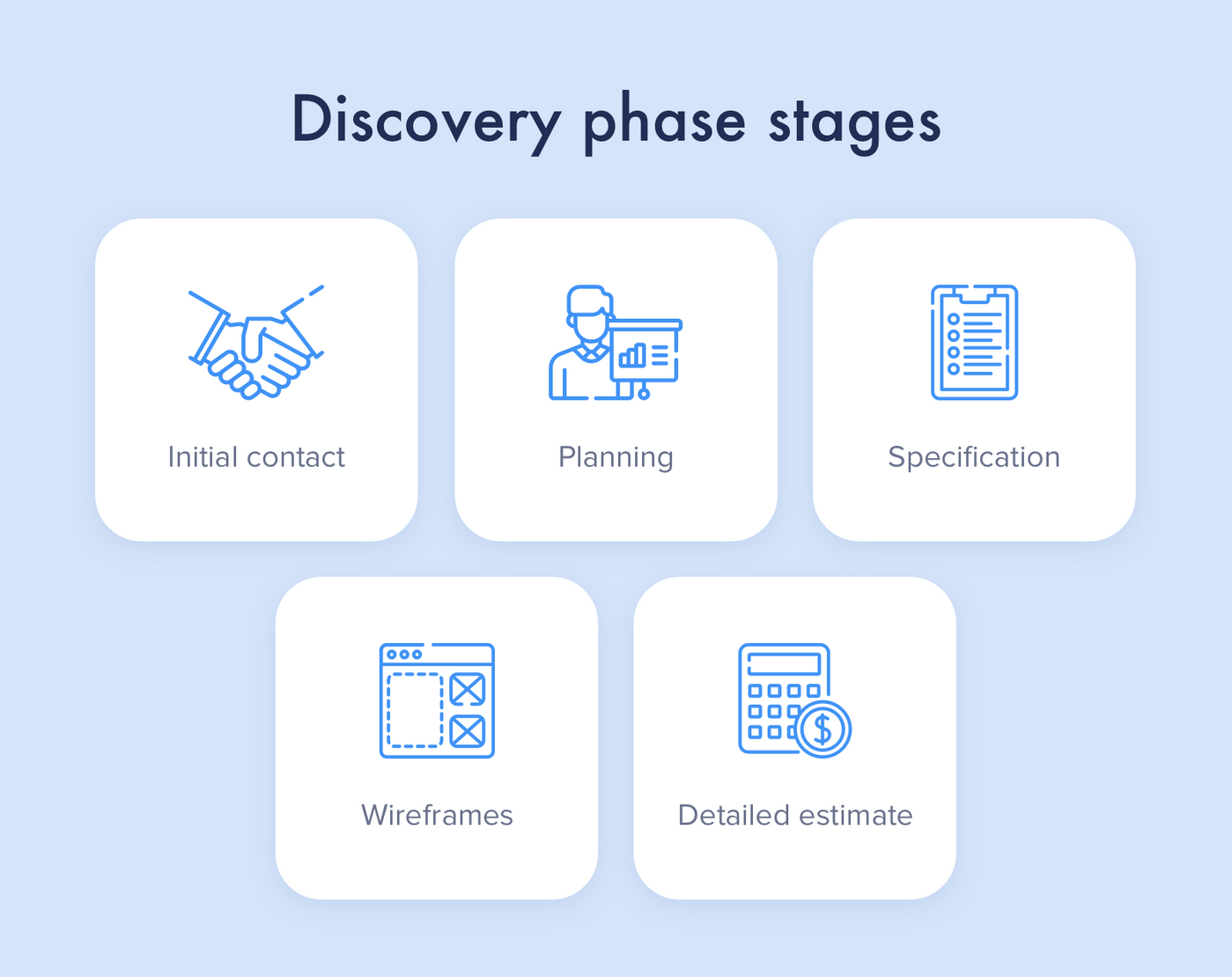 5 main stages in discovery phase
Rough estimate
A rough estimate's precision varies from 75 to 25%. This assessment is included in the primary stage of the client and software team's cooperation. It also helps both sides to decide whether they will become partners or not. The main aim of the rough estimate is to calculate minimum and maximum time required to finish the project and the approximate total cost so a client knows how much investments in the development flow it is required. In addition, this estimate comprises the entire creation process split into stages. This document should not be considered as the one with fixed terms and conditions. It is prepared for customers only to inform them.
A rough estimate consists of:
The main part containing the preparatory works. Comonly, they remain same from project to project and comprise the product description, database setup, REST architecture. The items indicated in the section are not necessarily executed at once. Some works are completed throughout the project.
The development relates to the encrypting process. This part includes functionality, screens, and features to implement. The development section includes the 'business logic' and 'UI/UX' requirements, and the number of hours for a certain part of work.
Integration of frameworks and libraries is required to implement features more efficiently, and cut down the development' time and the spendings accordingly.
Non-development is mainly related to technical writing. Specialists prepare detailed documentation of the code and prepare other data concerning the product creation.
The suggestions section incorporates various enhancing recommendations.
Here, in Cleveroad, we also make a free rough estimate according to the feature list you give us.
When all the issues are settled, we proceed to the discovery stage and create a project specification. You have to take active participation here because we build project specifications based on the data you provide. On the next stage, we create wireframes of your app. That's a schematic placement of User Interface elements on screens.
Then, our developers and business analysts come up with a detailed estimate of your Flutter app development cost. With an accurate budget, project requirements, and wireframes, we're ready to sign the contract and begin the development stage.
As you see, the discovery phase is a crucial part of any project. Without this stage, you can't know the price and time needed for the development, because there will be too many variables. If something goes wrong on any stage, the whole project can go wrong with the plan. That's why you have to cooperate with the software development company, so they can build the project you need.
Additional Expenses
Just like any other product, your app needs to be maintained and updated to stay successful on the market. This leads to additional expenses that influence the Flutter app development cost.
It's time to talk about these expenses.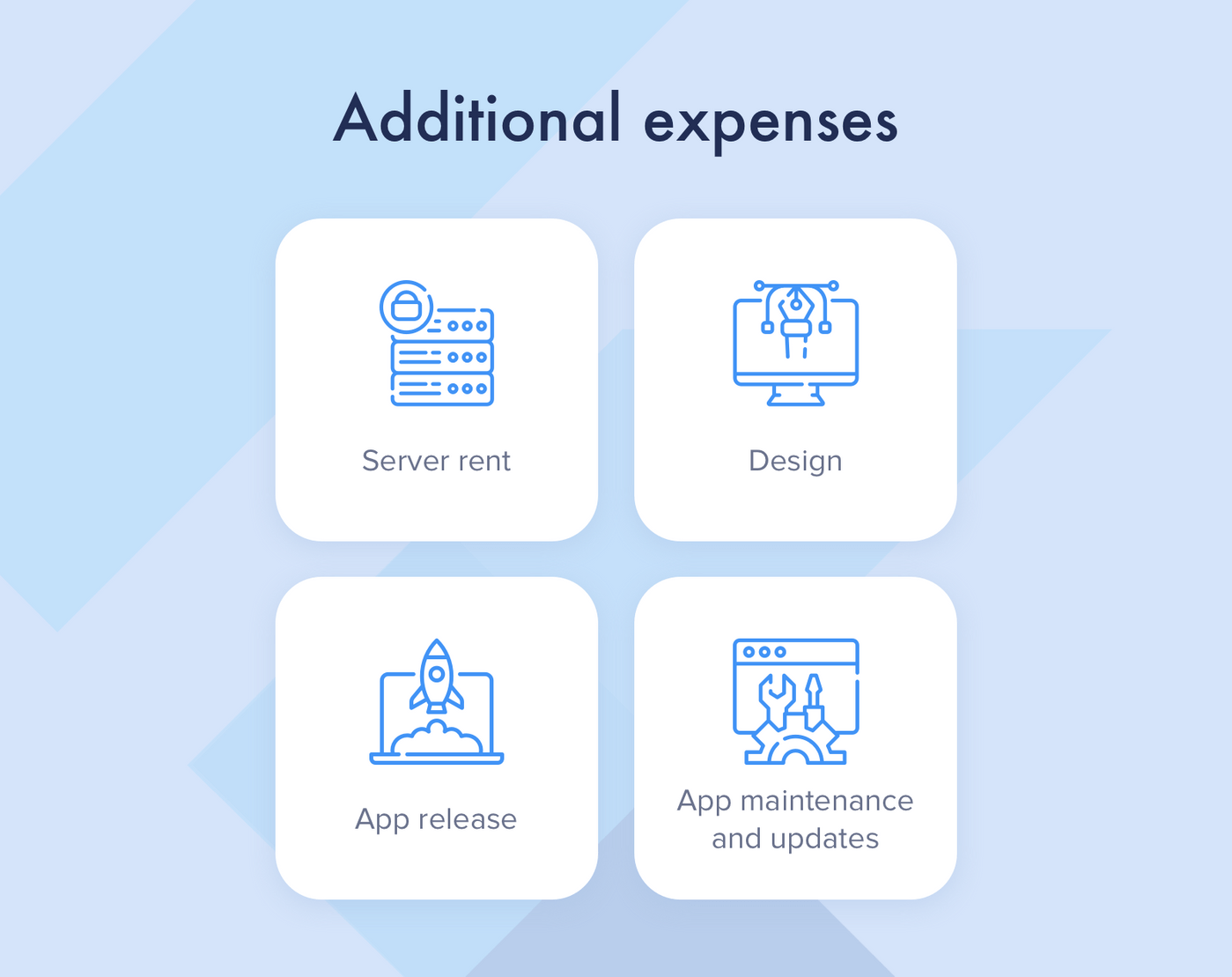 4 additional factors that influence Flutter app development cost
Server Space
If you're going to process and store the user-generated data, you have to take care of server concerns. Weak servers lead to low performance and high response time on the user side. Besides, unreliable servers with a vulnerable protection system can cause personal data leaks of your users.
To minimize risks, our team trusts only reliable providers, like Amazon EC2. According to the AWS Price Calculator, a 24/7 working server with an 8-core CPU and 32 GiBs of RAM will cost you around $1650/year. Keep this expense in mind when calculating the overall Flutter app development cost.
UI/UX Design
Mobile app navigation, typography, and color schemes are the main issues that UI/UX designers should pay attention to. They should also provide you with a prototype of your app. Depending on the complexity of your app, design may take from 40 to 90+ hours. This line of expenses will raise the Flutter app development cost for $2000-$4500.
Release to App Stores
When you already have a finished product, you have to launch it somewhere. Google Play and the App Store are major players among the app distributing platforms. That's why you definitely should place your app there. However, these platforms charge fees before the app release:
Google Play charges a one-time fee of $25
Apple Store charges $99, annually
On top of that, both platforms have a 30% fee for every in-app purchase. If you're distributing your app via a subscription model, you'll get only 70% of the initial price. However, recently Google Play and the App Store have softened their policies. For now, they charge only 15% for every subscription from an account that purchased a subscription for twelve months.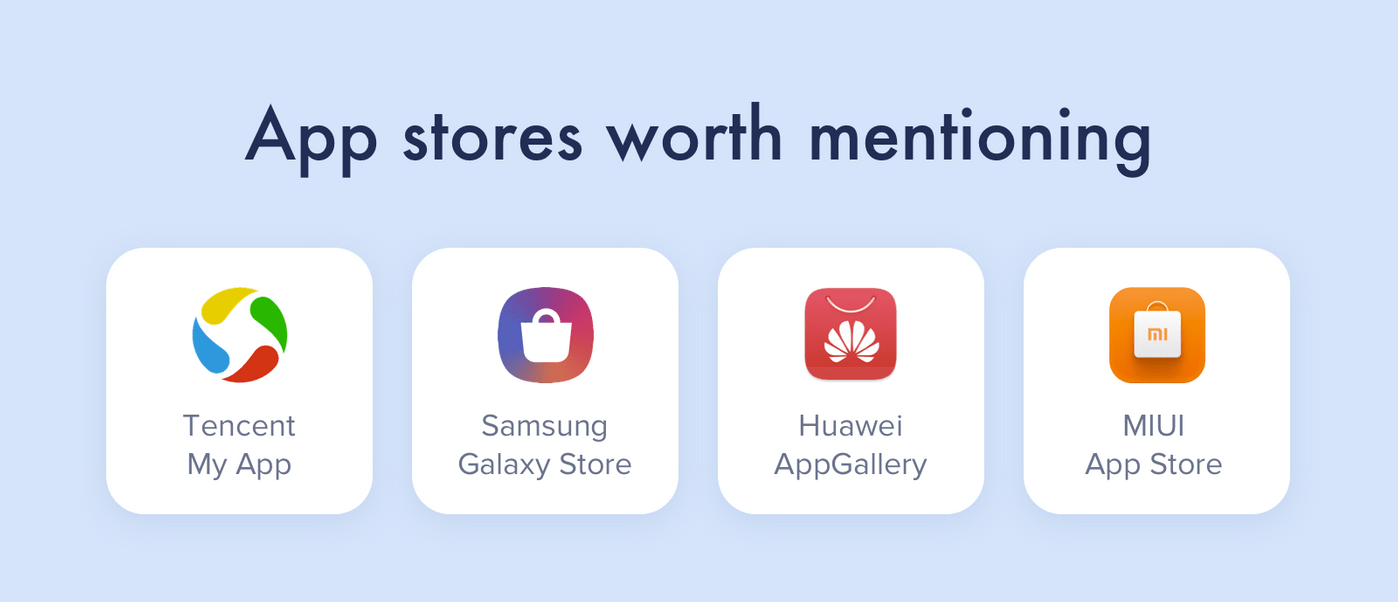 Less popular app distributing platforms
We've released hundreds of applications, and according to our estimates, the release stage depends on the amount of platforms and takes 190-270 hours. With the rate of $50, that's $9,500-$13,500 for a release, which is a substantial sum in terms of the whole Flutter app development cost.
App Maintenance and Updates
Applications from the top charts of app stores hold their positions for a reason. They engage clients with constant upgrades and brand new features. Even if your app is perfect, the absence of updates will lead to stagnation and users abandoning your app.
In the perfect world, you should hire a company that developed your app. They've worked on your project from the very beginning and know how their code works. If it's not an option, make sure you have detailed documentation of your app. It'll simplify the lives of other developers and reduce development time.
Mind that the app maintenance costs rise over the app's lifetime. Companies usually include 15-20% of the Flutter app development cost into the budget for app maintenance. However, the longer your app has a stable audience, the more money you have to invest in updates. It's not surprising that you'll spend more money on updating within a certain time than on the actual development. Still, while your app generates more revenue than losses, it's a worthy investment.
Unfortunately, with new features appear new bugs and vulnerabilities. You can't just turn a blind eye to this issue, because it makes user experience worse and opens new loopholes for fraudsters. A number of software development companies offer post-release support that includes the development of new features, testing, and fixing bugs.
Here, at Cleveroad, we have expertise in both post-release support and working with projects developed by other companies. From our experience, it's much easier to work on a project you made on your own than to search for bugs in someone else's code. Besides, the cooperation with the same team lowers the Flutter app development cost.
Development Cost by Types
As you already know the major and minor factors that influence the price, it's high time to make an overview of the Flutter app development cost for different apps. To make it useful for you, we've estimated the development costs of several existing apps from various industries and different levels of complexity.
We're going to talk about:
Transport
Streaming
Social media
Flutter App Development Cost: Transport
Examples: BlaBlaCar
Approximate time for features implementation: 438 hours
Approximate cost: $21,900
Transport apps require user profile, driver's and passenger's roles, payment gateway, and GPS support. Mind that if you use Flutter to build native features like geolocation, the overall project development time may rise.
Mind that the estimates below don't include time for code documentation, frameworks integration, project management, and more. Here's a rough estimate for essential features of a BlaBlaCar-like app:
Flutter-based transport app development cost

| Feature | Development time (hour) | Approximate cost ($) |
| --- | --- | --- |
| Sign up | 28 | $1,400 |
| Sign in (by email and Facebook) | 22 | $1,350 |
| Push notifications | 20 | $1,000 |
| User profile | 77 | $3,850 |
| Payment system | 40 | $2,000 |
| Ride booking | 80 | $4,000 |
| Ride payment + coupons | 42 | $2,100 |
| Geolocation | 26 | $1,300 |
| Driver's side | 103 | $5,150 |
Flutter App Development Cost: Streaming
Examples: Twitch, Periscope, YouTube Live
Approximate time for features implementation: 600 hours
Approximate cost: $30,000
Streaming app is a complicated piece of software. It requires your development team to use streaming protocols (which aren't Flutter's strong side), develop a text chat for communication with the audience, push notifications, use smartphone's cameras, and more. Some of them have donation systems, multiple integrations with third-parties, and even paid emojis.
Here's a rough estimate of the essential features for a Twitch-like app:
Flutter-based streaming app development cost

| Feature | Development time (hour) | Approximate cost ($) |
| --- | --- | --- |
| Sign up | 20 | $1,000 |
| Sign in (by email and Facebook) | 23 | $1,150 |
| Personal profile | 43 | $2,150 |
| Search system | 36 | $1,800 |
| Streaming protocols | 20 | $1,000 |
| Player integration | 33 | $1,650 |
| Stream management (launch/shutdown, set bitrate) | 120 | $6,000 |
| Chat | 146 | $7,300 |
| Donation system | 35 | $1,750 |
| Payment gateway | 64 | $3,200 |
| Channel management | 40 | $2,000 |
| Push notifications | 20 | $1,000 |
Flutter App Development Cost: Messenger
Examples: Facebook Messenger, WhatsApp, Telegram
Approximate time for features implementation: 589 hours
Approximate cost: $29,450
Messengers have simple features, at first glance, but a detailed analysis proves the opposite. Integration of chat with various statuses (typing, online/offline, reading), file transfers, voice messages require a significant amount of time. If you add voice calls and group chats, things will get even more complicated.
Let's single out each feature and its cost.
Flutter-based messenger app development cost

| Feature | Development time (hour) | Approximate cost ($) |
| --- | --- | --- |
| Registration | 45 | $2,250 |
| Sign in | 27 | $1,350 |
| Chatting | 156 | $7,800 |
| Sending media files | 40 | $2,000 |
| Voice Messages | 35 | $1,750 |
| Group chats | 57 | $2,850 |
| Voice calls | 100 | $5,000 |
| Notifications | 15 | $750 |
| Settings | 76 | $3,800 |
| Search | 38 | $1,900 |
Wrapping Up: How to Calculate the Flutter App Development Cost
Now, after reading this guide, you should understand the main concept of calculating the Flutter app development cost.
Let's remember the main statements one more time.
There's no one-size-fits-all answer to the question "How Much Does it Cost to Make a Flutter App?". Every project has different features and unique requirements, so it's possible to figure out the exact price only after the discovery phase.
Factors that influence Flutter app development cost:
Complexity of features
The number of native features
Team's location
The rate of your software development company
Don't forget about additional expenses:
Server rent
App release price
Design
Support and maintenance costs
Bearing these factors in mind, there are two things left to do. Build a comprehensive and informative feature list to help developers understand project requirements. Then, find a reliable software development company with many positive reviews. By the way, Clutch provides ranks and reviews about vendors and helps clients to make the right decision.
Cleveroad Expertise
Cleveroad is a widely experienced software development company from Central Europe, Estonia. We've been delivering sstate-of-art digital solutions to startups and businesses of various scales since 2011.
We specialize in providing a wide range of IT-related services and custom digital products creation. They allow advancing workflow efficiency, overcome business challenges, and stand out from the crowd of competitors. Cleveroad incorporates:
10+ years on the market
120+ in-house engineers
170+ successful projects
To maximize the efficiency and convenience for our partners, we provide the following partnership models:
Time and Material
Time and Material model allows us to provide a client with an approximate estimate and adjust the requirements during the development flow Thus, customers are able to make changes in the needs from the final product and be charged for the services they require.
Fixed Price
A Fixed Price agreement implies accurate and fixed requirements as well as deadlines. Clients can share their clear vision of the product with developers and receive a detailed precise estimate according to the information they provide. The total cost remains the same as it was assessed from the collaboration start.
Dedicated Team
Dedicated Team allows extending your opportunities by hiring the developers with an experience in the domain of your business. Scale up your in-house team structure with additional team members, assemble an agile-oriented team for a project creation from scratch or supporting the current one.
Travel Time
Cleveroad specialists are highly experienced in app development with Flutter as well. Let us introduce our recent project built with this technology: Travel Time.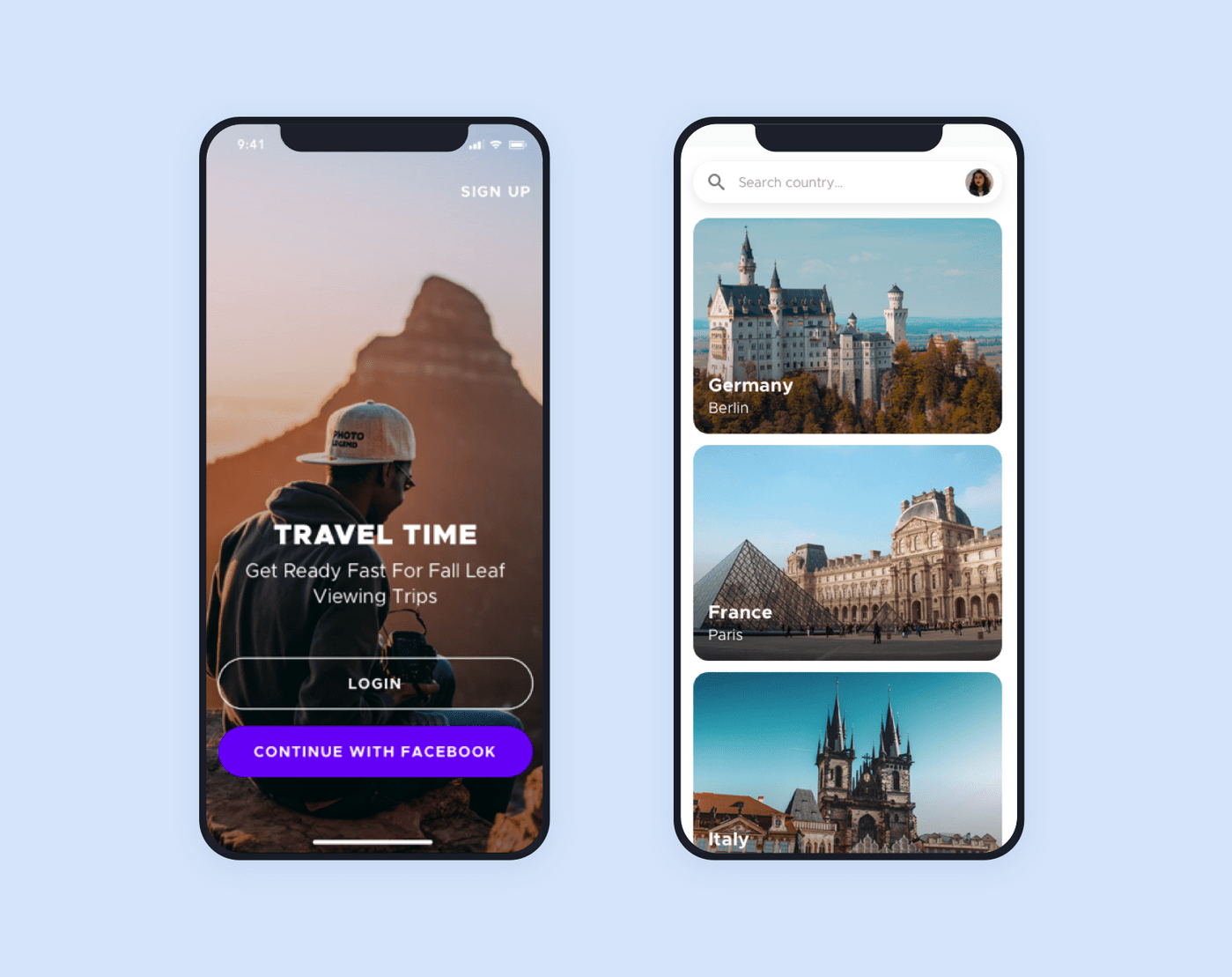 Travel Time is a guidebook for tourists who are thinking over their destination. Users can sort countries by different criteria to find the most interesting one. They can read reviews written by experienced travelers to make the decision where to go next. Our app has a Facebook-sign in, so users can go straight forward without wasting time on registration.
Need Flutter app calculation?
Our business analysts will make a rough estimate for your project and consult you on tech details
Frequently Asked Questions
A software with simple features, like a fitness app with workout suggestions, meal plans, personal profile, and weight diary costs from $26,000 to $34,800.
Flutter app development cost of a middle complexity software, like a messenger with voice calls, will be from $34,950 to $48,850.
The development process of an app with complex features, like Instagram, will cost you from $41,500 to $55,000.
The price depends on the developer's experience and location. For example, In the USA, the average developer's rate is $75-$120/hour, while in Central Europe it's only $30-$65/hour.
Total number of features
Complexity of features
Location of developers
Design
Server Space
Release to app stores
App maintenance
To calculate the Flutter app development cost you have to multiply developers' time by their hourly rate.
Rate this article!
5624 ratings, average: 4.96 out of 5
Give us your impressions about this article
Give us your impressions about this article