How to Hire Remote Developers in 2023 Making No Mistakes
Companies are increasingly looking for remote developers all over the world to combat talent shortage. They hire remote developers to speed up the development, save money, and augment the team with talents.
By 2025 70% of employees will work remotely. One of the most popular options for hiring remote developers is outsourcing. It lets organizations focus on core business tasks and save precious time.
The global IT outsourcing market was valued at $342.9 billion in 2020 and is expected to reach $410.2 billion by 2027.
This article will tell you how to hire remote developers to get the best solution for your business.
Benefits of Hiring Remote Developers
As companies shift the focus toward remote collaboration, let's consider why it happens and what advantages you get hiring remote developers.
Lower Costs
Remote work can help companies reduce operational costs. You cut expenses on rent, equipment, software, furniture, and taxes. Especially it concerns technology-driven regions like San Francisco with average office rent of $92/sqft.
What's more, the region is oversaturated with talents and tech companies that make the cost of living pretty high and ramps up the average software engineer salary to $112,247 per year. Hiring remote developers or outsourcing development overseas can save companies hundreds of thousands of dollars in that case.
Studies show that remote workers are more productive and effective because they don't spend time on commuting to the office, keeping a work-life balance, or worrying about being late.
Besides, if you adopt a remote work culture, it doesn't matter where to hire talents. You can hire people from neighboring states/cities or look for affordable rates overseas and attract experienced developers without losing quality.
We've prepared a comparative table to show much money you save by hiring a remote team:
The average cost for hiring remote team in Ukraine and maintain an in-house team in the USA

| | | |
| --- | --- | --- |
| Expenses | Remote (in Ukraine) | In-house (in the US) |
| Project manager | $32/h | $75/h |
| Software developer | $39/h | $82/h |
| UI/UX designer | $32/h | $42/h |
| QA specialist | $35/h | $60/h |
| Monthly salary | $22,080 | $41,440 |
| Office in San Francisco | Not required | $184,000 per 2,000 sqft |
| Total cost | $22,080 | $225,440 |
Extended Talent Pool
The talent shortage is the top concern for companies globally. Remote developers are the perfect solution to fill in the talent gap.
Hiring local developers can be a complex and costly task for employers. Also, it can be challenging to find candidates with specific skills and expertise in local markets.
Remote work opens the door to worldwide hiring. You can either find a remote software engineer elsewhere on a full-time position, augment your team with specialists from outsourcing companies, or outsource part of work to one of the companies in popular outsourcing destinations like Ukraine to get lower rates and high developer qualifications.
In other words, hiring globally lets you attract diverse developers with a wide range of skills and unique experience.
Flexibility
One of the main advantages of remote work is flexibility in terms of expanding a development team. You can hire more developers when it's needed without worrying about the office size and recruitment time.
If you hire an outsourcing development company, you can scale teams up or down to meet ever-changing project requirements.
Benefits of remote developers
How to Hire Remote Developers Step-By-Step
Hiring remote developers requires some preparation. Below you can find tips that can help you get through the hiring process.
1. Set Clear Requirements
First, you need to figure out the project requirements and consider the platforms your app will run on. Here are some tips that you should follow to define requirements:
Describe the project in general. You should define your product's core features, what problem it solves, and the person who will use it.
Make a list of features. Define the core features to know what expertise to look for.
Choose a platform. Think of the platforms on which your app will run. If you have enough budget, you can launch on both platforms.
Besides, different platforms require different languages to carry out the apps. So, before you start looking for a remote developer, define the core language for your project. It's better to find a remote developer who's experienced in building apps for specific platforms.
Here are programming skills that used to build projects on different platforms:
Programming language for software development

| | |
| --- | --- |
| Type | Developers |
| iOS | Swift developers |
| Android | Kotlin developers |
| Web | Angular/React developers |
| Back end | Node.js/.NET developers |
| Front end | JavaScript developers |
Knowing those aspects, you can narrow down the circle of specialists to look for and clearly describe your project to chosen companies or specialists.
2. Consider Different Hiring Options
Before making a decision, you should understand what hiring options you have and which one reflects your project goals the most.
There are three main hiring options.
Freelancers
Freelance developers are the right choice if you have a small project and have a specialist on your side to manage them.
They typically cost companies less than in-house developers, and you still don't need to pay for office space and equipment. This option helps to scale the development team depending on project requirements. On the other hand, freelance developers are harder to control and less loyal. You should pick reputable specialists to guarantee that they won't abandon the project after a couple of weeks for a better offer.
You can find freelance developers on: Upwork, Freelancer, Fiverr, Toptal
In-house
If you're looking to hire full-time employees to work remotely as a part of your company, then this option is for you. It's a perfect decision if you have multiple projects to work on and want to control the entire development process.
However, managing a whole team is a costly and challenging task that requires regular involvement.
You can post the job on: Glassdoor, Indeed, CareerBuilder
Staff augmentation
If you want to extend your in-house team or free them up for other tasks, you can augment your team with developers from an outsourcing company. They'll work as part of your team and help you perform your project or its part at any stage (whether you have just an idea or ready-made specification).
Software development companies, like Cleveroad, assemble a team according to the project's requirements. The main advantage of a dedicated development team is that they provide full-cycle software development services.
It's a perfect solution if you want to hire remote developers as quickly as possible and prefer to have an opportunity to scale the team up and down.
There are several platforms where you can find a reliable outsourcing company: Clutch, GoodFirms, IT firms
3. Choose a Hiring Destination
If you decide to hire remote developers, you should consider hiring specialists from other countries.
One of the main benefits of outsourcing companies is that there already work experienced developers. So, you won't need to waste your time looking for a specialist, managing all financial and legal issues, and drawing up the development contract.
The world's largest companies like Basecamp, InVision, GitHub, Google and Amazon actively cooperate with remote developers worldwide.
Top IT outsourcing countries
Here are some popular software outsourcing destinations:
Ukraine
Ukraine takes 11th place among the best IT developers in the world. At the same time, an average hourly rate for software developers is $37 per hour compared to $80/h in the USA.
There are 208 universities that graduate more than 20,000 students with Technology degrees. In 2020, the number of IT specialists reached 200,000. This number will reach 242,000 by 2025.
Among well-known Ukrainian startups are Grammarly, Liki24, 3DLOOK, Ajax Systems, Allset, and so on. Grammarly, a digital writing tool to write texts in English, has achieved $1 billion of investments and becoming one the most successful Ukranian startups.
Poland
Poland is quite an attractive outsourcing destination. Among benefits are competitive rates, a strong economy, first-class education, and experienced programmers.
The average rate for developers is $40 per hour. Over 90% of engineers can lead projects in English. Poland is becoming increasingly attractive to international students. That's why a vast talent pool is another reason why companies decide to outsource to this country.
Argentina
Argentina takes solid initiatives to support the IT industry. Local governmental program provides financial support to local entrepreneurs. Also, the law gives a 75% tax deduction for tech companies. The average hourly rate in Argentina is $55/h.
.
India
India is the right choice for small-sized companies with limited budgets. The average rate here is $30 per hour. It's one of the leading countries for native and hybrid mobile application development.
India provides a vast talent pool to choose from. The offshore development market is diverse and has a number of outsourcing companies where you can hire remote developers.
But, there are some peculiarities of working with specialists from India:
Communication challenges. Indian developers provide indirect, high-context communication. They might not understand the requirements and your vision of the product. It's crucial to build trust and respect in a relationship to ensure communication with your team.
Bad organization of the work process. Sometimes clients have to repeat their requirements a couple of times to get things done. You need to provide clear and precise working instructions and explain how to report back to you.
Not much attention to the clients. Often, Indian specialists pay little attention to the client's expectations and performance of the solution.
Software developers' rates in different regions

| | | | |
| --- | --- | --- | --- |
| Country | Average rate | Average score | English level |
| Ukraine | $37/h | 88.7 | 506 |
| Poland | $40/h | 98 | 596 |
| Argentina | $55/h | 72.1 | 566 |
| India | $40/h | 76 | 495 |
Before choosing the country, you need to consider the following criteria:
Level of English. It's better to choose a country with a high-level English proficiency to avoid miscommunication and misunderstanding.
Time zone. Different time zones can cause communication delays. You can't wait all day for someone's answer to get things done. Although it's easier to work with a slight time difference, outsourcing companies know how to solve that issue and often create a communication plan with customers to hold meetings on a convenient schedule.
Cost. While developers in the United Kingdom charge $71 per hour, you can hire a company in Ukraine providing the same service but charging less.
Qualification. Make sure that you're hiring remote developers who're experienced enough to deliver great projects.
Consistent Interview Process
After you've figured out where to find remote developers, it's time to learn how to interview them. Here are a few steps you should follow to conduct remote tech interviews professionally and efficiently.
Set Goals
Before making a decision, clear up your goals — why exactly you need a remote developer for. Formulate responsibilities, hard and soft skills of your ideal candidate.
First Screening
Cultural background and personal values are essential for successful remote team management.
Live video calls are an effective way to evaluate an employee's values.
When someone seems to be a perfect match for your company, it doesn't mean that this person can work remotely. Usually, a 30-minute talk with candidates can help you understand if they can bring value to your team.
Moreover, if you're planning to hire a freelance developer or dedicated development team, the screening will help you understand whether you're both comfortable with each other. When people apply for a remote job position, they should work independently, manage their time, and be result-oriented. So, your candidate should be a good team player.
Tech Interview
Have an eye on a promising developer? Technical interview will help to determine if they're experienced enough to work on your project.
You can consult with your developers or hire an independent tech consultant to evaluate a developer's experience.
However, if you can't hire an experienced specialist at the moment, we've prepared a file with interview questions that can help you assess the candidate's hard and soft skills:
If you don't have technical backgrounds, these questions don't guarantee a successful interview. That's why it's better to ask for help from developers or contact an outsourcing software development company.
Practical tasks are another way to test the candidate's tech knowledge. You can ask the developer to solve a small task to ensure their skills and competencies. For example, you might have had several bugs in your product fixed by in-house engineers. Ask candidates to fix those bugs to see how they handle it.
If you're considering to hire a dedicated development team, you can check their portfolio on their website, take a look at their GitHub account, or download apps they've made. All these steps can save your time and effort.
Job Offer
You've made it through the entire interview process with a fantastic job candidate you're ready to hire. So, now all you need to do is give them the job? Not so fast.
Once the last video meeting with an applicant happens, you should send an official job offer. Here are several tips on how to make it:
Show genuine excitement to have them on the team. If you can make your candidate feel special, that'll increase the chances that they'll accept your job offer.
Give them an offer they'd love. You need to show that you're willing to pay them what they're worth and all benefits are in line with the market.
Be open to the candidates' attempt to negotiate. You should be willing to listen to the suggestions and make a compromised decision.
Then, you wait for approval from the developer. When the signature is ready, your cooperation starts.
If you choose an outsourcing company to extend your team, you simply sign an agreement, and developers are likely to get to work the next day.
Why Choose Cleveroad
Cleveroad is a widely experienced software development company with headquarters in Central Europe, Estonia. Our specialists have been helping startups and established enterprises acquire cutting-edge technologies for 10+ years.
We specialize in ensuring a wide range of IT-related services and custom-built software solutions. They boost business progress, solve company's problems, and help to gain competitive advantages.
Our clients receive a great diversity of benefits by cooperating with us:
Discussing your project with our Business Analysts absolutely free of charge to build the rational and efficient strategy
We sign non-disclosure agreements (NDAs) on request
Sought-after services: custom software development and updating, legacy systems' modernisation
A comprehensive consultation from our Project Managers about all considering your project
To prove our competence, let us acquaint you with the one of our successful projects:
Henrik Loop CTO Blockbuster, TDC gives feedback about cooperation with Cleveroad
Looking to extend your team?
Contact us to know more about our development team and get tech consultation for free questions.
Frequently Asked Questions
There are 3 steps you need to follow to hire remote developers: set up requirements, consider hiring options (freelance vs in-house team vs agency), choose a hiring destination.
You can use the following tools to manage the workflow: video meeting, Slack for communication, Jira and Trello for assigning the task, Google's G Suite for joint work on documents.
There are several popular software outsourcing destinations: Ukraine, Poland, India, Argentina. Ukraine is one of the leading countries to outsource software development. You can get specialists with high developer qualifications for a reasonable price. Ukrainian developers charge $37 per hour.
There are three hiring options:
Freelance developers. They work as independent contractors and set up lower rates than software development companies. It's a good option for small projects with tight budgets.
In-house team. It's a perfect decision if you're planning to develop a long-term project and extra resources. They work remotely as a part of your company.
IT staff augmentation. It's a perfect solution if you want to augment your in-house team with developers from an outsourcing company. They get access to skilled developers who are experienced in delivering successful business solutions.
It's much cheaper to hire a remote developer or outsourcing development overseas, as you cut expenses on rent, equipment, software, furniture, and taxes. For instance, if you hire a remote team in Ukraine, you should pay, on average, $18,560 per month compared to $41,440 for an in-house team in the USA.
The main benefits of hiring remote developers are: lower costs, extended talent pool, flexibility.
---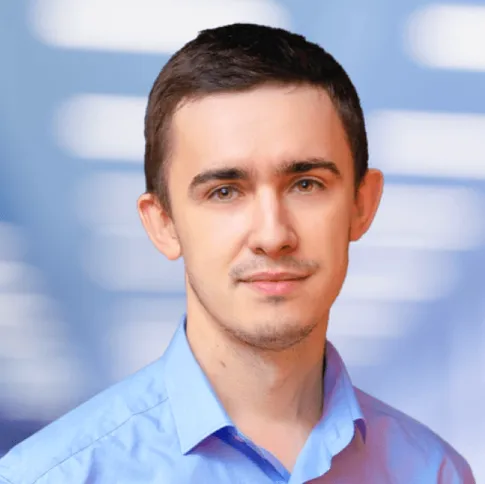 About author
Evgeniy Altynpara is a CTO and member of the Forbes Councils' community of tech professionals. He is an expert in software development and technological entrepreneurship and has 10+years of experience in digital transformation consulting in Healthcare, FinTech, Supply Chain and Logistics
Rate this article!
1576 ratings, average: 4.55 out of 5
Give us your impressions about this article
Give us your impressions about this article
Jake Clarke
08.12.2021 at 07:02
Great article!! Thanks for sharing. It was really helpful.

Alina Rovnaya
08.12.2021 at 07:53
Hello Jake! We're glad to help:)