How To Develop an On-Demand Service App?
2694 Views
|
26 Apr 2016
|
11 min
An essential part of today's reality is a crazy rhythm of life. To catch up with all in that rush is the number one task for every day. And year after year, we just speed up. And it is very cool. Agree, it's very exciting when you realize that you are in progress every day. You learn something new, reach new goals. It's an indescribable feeling, isn't it?
If you look at the list of plans for the day, you'll wonder how cool we are. And not to miss anything and to deal with all the stuff, we have to require the help and delegate some of our issues.
Then a secret weapon gets into a game - mobile applications. Most of us don't imagine the life without them. After all, they greatly simplify performing the tasks. A lot of startupers before they start their business had one idea, "if mobile applications are so in demand, so why not to create a mobile app that surely will make this world a better place?" And then there are many difficulties emerge in the way of its creation: how to make an app, where to start, who to contact, and so on.
After all, it is only at the first glance seems that the mobile app development is something simple and straightforward. When it comes to creating your own app, there are more questions than answers if you are not close to that process.
That's why we've created for you a series of articles about how to make your own app and build up a successful startup. In this article, we will focus on on-demand services apps. Together we will decide what to begin development with, which features you should add to your application, and how to choose the direction for your particular application.
Well, are you ready to receive the next dose of the super useful knowledge, which can help you earn your first million? Then let's go.
What is on-demand service app?
This is the first and most important question. Of course, we'll start with the fact that we should understand what services are provided by such apps, and what kinds of applications are in that niche.
Let's start with the fact that, first of all, such services are created to make your life easier. They will help unload your schedule, in emergency situations, if there is no time to solve them. Or they can simply become your personal assistants if there is something you just don't want to do yourself. You have every right to do)
It works as follows. The user installs the application and when there is an issue that has to be solved, he refers to the application and, voila, the car is washed, the fridge is full, and the taxi is waiting at the front. It's simple - a couple of clicks and all the routine things are magically done for you. It's amazing, isn't it?
Therefore, it is clear that in recent years a lot of successful startups built on this principle emerge in the market. It should be noted that even though there is an intense competition in the market you can easily find your own place in the sun.
In fact, it is because there is a great variety of that lifesavers. This category includes all applications that offer us assistance in solving problems in just a couple of clicks. Nowadays there are applications that work in almost any area. So we've divided several large groups of on-demand applications:
retail & delivery;
beauty;
healthcare;
food delivery;
taxi;

fitness;

domestic services.
As you can see, the field for the imagination is more than great.
Let's look at every kind of app for more details. Thus, we can understand what tasks are performed by the application of a particular type.
Retail & delivery. In that category, there are applications that are designed to deliver .. what? Yes, anything! There are several options. You can create your own mobile app that shows the nearest objects to buy clothes, car parts, cosmetics, shoes, etc. In this case, the user opens the application and selects a service from the available options. Then they make a purchase and a delivery man delivers it.
Alternatively, you can cover, for example, the entire city and choose one product to sell. For example, it can be the furniture. Users see the available furniture stores with catalogs, choose their favorite model and a delivery team delivers it to the selected address.
There are also two versions of whose products will be delivered to the user. If you are the owner of a shop, this category of applications is very useful for you. With on-demand apps, you get a new direction for your business - delivery. Another option is to perform delivery from another seller to the buyer.
In fact, there are more options. The only barrier you have is your imagination. Choose the combinations that will be suitable for your business and try to fully meet the needs of your target audience.
Beauty. Applications in this category are created to be at your best even in the most unexpected situations. In this variant, the user can use the services of a stylist, make-up or nail artist without leaving their home. All they have to do is make a request in the application.
Health-care. With the help of these applications, it is possible to control your health 24/7. It is possible due to the fact that such application communicates a patient with a doctor. Thus, the patient has an opportunity to get advice, call a doctor at home or order necessary medicines.
Food delivery. This category has the greatest variety of applications. As you've probably guessed from the name, with such applications, the food is delivered to any desired place. If you have a restaurant or supermarket it is a great idea to expand your business by adding new service. You can make your own mobile app for that. You can also carry out the delivery from the various places by gathering them in one application.
<i> See more on our <b><a href="https://dribbble.com/search?q=cleveroad" target="_blank">Dribbble</a></b> profile. </i>
Taxi. In this category, everything is also pretty obvious. Often it happens that at the last moment there are no free taxis nearby. These applications solve this problem. Users only need to open the application and specify where to send a car.
Fitness. If you have a team of good fitness trainers so such the app is for you. With it, users can get an access to a variety of training, request a personal trainer, send their results and receive corrections for their programs and much more.
<i>See more on our <b><a href="https://dribbble.com/search?q=cleveroad" target="_blank">Dribbble</a></b> profile.</i>
Domestic services. With these applications, you can perform a lot of tasks related to the householding and routine. Pick up dry cleaning. Wash the dishes. Fix the broken shelf. Tidy up the living room. Wash the car. All this stuff is just a click away.
MVP for that kind of application
In this section, we'll discuss how to start developing an app of each type and prepare the base for the further phone app development. It's not the first time when in the context of the app creation we advise you to create an MVP (Minimum Viable Product) first.
It is necessary to find out how viable your application is, which mobile app development tools are the most suitable for you, and what features need to be improved. And all this should be done at an early stage, at a lower cost.
And after you make sure that the application is able to become popular, you need to implement additional features that can make it a flagship.
So, what features need to be implemented to your app, so you can safely run it on the market and attract the first users?
1. User registration. To start using the application, the user must be registered. There are several options available:
registration via e-mail or phone number;
authorization through social networks;
using both approaches.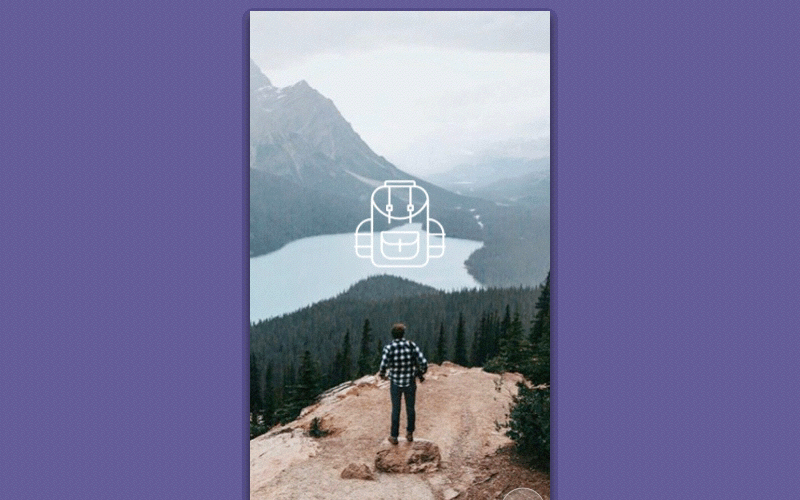 <i> See more on our <b><a href="https://dribbble.com/search?q=cleveroad" target="_blank">Dribbble</a></b> profile.</i>
2. Settings. The implementation of this feature will allow the user to customize your application and thus make the usage easier.
3. Geolocation. You can determine where the user is located and make search results more accurate. Also, geolocation can be used to define the delivery point as a current user's location.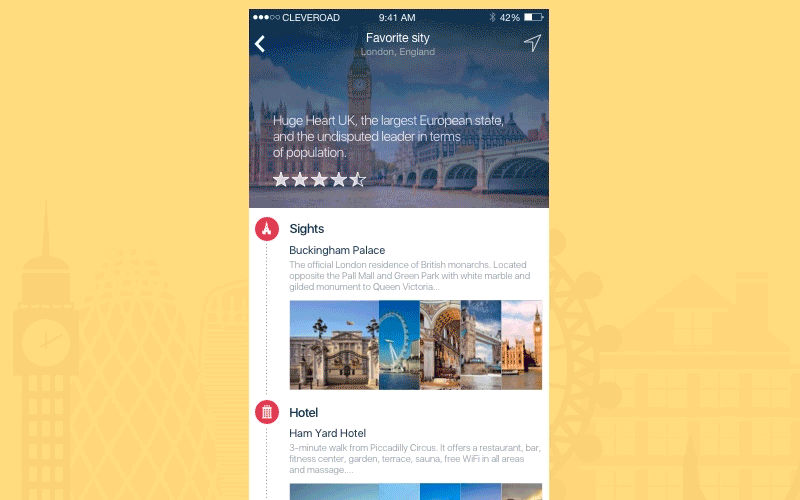 <i> See more on our <b><a href="https://dribbble.com/search?q=cleveroad" target="_blank">Dribbble</a></b> profile.</i>
4. Message exchange. This function is a must not for all types of applications. It is necessary for some apps of healthcare and fitness category because in these applications the user should communicate directly with the experts.
5. Grid of products or services. It is another must for creating such applications. It should be easy for users to find and choose the goods and services they need at the moment.
6. Filters. Their implementation is a must if you have multiple products or services. With filters, the user can quickly get to the desired product.
<i> See more on our <b><a href="https://dribbble.com/search?q=cleveroad" target="_blank">Dribbble</a></b> profile.</i>
By implementing all the necessary functions, the application can be deployed to an app store. After receiving the first feedback from early users, you will understand what keeps your app from becoming number one in your niche. And we are moving on.
Choose direction to make a flagship?
After receiving the first responses, you begin to work to make your app a leading one. It is not enough to implement the above-mentioned functions only. It is necessary to add really cool features and make an app more attractive to users. This will help you to stand out from the rest.
We'll give you a few ideas of which functions you can add to your application so that it becomes much better than it was at the stage of creating MVP.
1. Personal profile. With the implementation of this feature, you will have an opportunity to learn about your users and reward them with pleasant surprises. For example, it can be bonuses and gifts to the birthday or the best offer, based on their preferences.
2. Push notifications. Thus, the user will receive information about all the latest developments that might interest him. And you get a mechanism that will make it possible to notify the user about the latest promotions and updates.
3. Favorites. The ability to add to favorites products, services, shops, etc. also will simplify the users' life. And you, in turn, will be able to learn a lot more about them.
4. Pay systems. At the initial stage, your users can make payment for paid goods and services in cash directly to the delivery team. Subsequently, a good step for your business is to add the possibility to pay right with the application.
5. Tracking. With this feature, a user will be able to track the status of their order. This greatly increases the attractiveness of your application.
6. Voice Search. By integrating with the device hardware, you can implement the function of voice search. It is a very useful trick, which simplifies the use of your application and thus raises its rating.
7. Wish-list. It is another very handy feature in on-demand applications development. Users can add the desired products to their wish-lists, which can be attached to their personal profiles.
These are just examples of the functions that can be added on the way to make a flagship. You should focus on your market part, your target audience, and its needs. It is important to respond quickly to customer requests and give them what they want. You'll be surprised but the response will delight you.
How to become a cool businessman
... be an individual. In this article, we've shown you how to create mobile apps that provide on-demand services, and in which direction you should move. Making your own app, we advise you to listen to experienced people, but be sure to move to your own goal. The mix of the experience of the leaders and your own personality is a perfect formula for success.
If you still have questions, please contact us. We have all the answers. Our managers know how best applications are born. We are ready to share with you the hottest information and the most interesting ideas. Stay with us and subscribe to our new articles. Just type your e-mail address in the window on the right of the screen.
Rate this article!
Bad!
Strange!
Boring!
Good!
Love it!