Explaining On-Demand Service Apps: Types, MVP Features, And Things to Consider
On-demand services apps are everywhere – we can hardly imagine a field unknown to on-demand market. Variety of services, speed, convenience, and quality make these apps popular and widely used around the globe. But behind everything there's a fast, reliable, and easy-to-use platform.
So how to approach launching an on-demand application? In this guide, we're covering what on-demand services there are, what are their types, must-have features and steps to build one – let's get started.
What Is On-Demand Service App?
On-demand delivery software works as a mediator between a customer and a business. Just like Uber does for cabs, Airbnb for hotels and Zomato for food delivery.
On-demand platform allows users to order any kind of service and strives to deliver it in minutes. Like booking a ride through Uber.
These apps solve users' major and minor everyday problems. For now, there are on-demand platforms in beauty, education, healthcare, taxi and cargo delivery, food delivery, and many other fields. And we can get all that beauty just by a few finger taps.
On-demand services app connects customers with different service providers, and vice versa. Of course, the platform charges a fee for that. But users from both sides often prefer paying extra money over spending hours searching for the right specialist/customer.
Thus, on-demand apps offer a faster and more convenient procedure and make their few dollars in return.
Here's how on-demand apps like Uber work:
User places a request.
App connects them with a service provider.
Provider checks the request and accepts it.
Payment is authorized.
Provider delivers the service.
Customer confirms the delivery.
Payment is deducted.


The workflow of on-demand service apps
According to Burson-Marsteller's survey, 42% of adult Americans have used at least one of on-demand app services. And the number is only growing.
There are a few reasons for such popularity:
Lower costs
On-demand platforms offer lower prices, compared to traditional providers. And cost's often the main driver for buyers.
Availability
Smartphones and tablets are everywhere, so any service with a reliable mobile platform is handy, accessible, and one-click easy to get.
Adjustment to users' preferences
On-demand businesses know what their users want, and they aim to deliver services as fast as possible. For instance, with Jiffy, a home-service platform, you'll get a plumber to fix the tap within 2-3 hours, not days.
Various payment methods
Mostly, on-demand apps use Stripe or Braintree payment gateways or e-wallets like PayPal. All these tools are highly secured, fast and reliable. Besides, on-demand delivery apps accept cash as well.
Minimum efforts
There's an option to save your details like payment info, delivery address, and so on. No need to enter this information again and again with each new order.
Variety
Tens of apps in each category, from babysitting to make-up service, meaning each user can find a solution that works best for them.
Types of On-Demand Apps
As you can see, there are quite a lot spheres on-demand services come suitable for. Taxi, meal delivery, dog walking, babysitting, laundry pick-up – on-demand applications seem to be taking care of everything.
So let's take a look at the most popular categories and consider leading apps in each.
Taxi Services
Taxi and transportation field benefits from on-demand service apps the most. No wonder big players like Uber or Lyft have changed the game forever. Now, the taxi apps let customers book a car just in a few minutes. All they have to do is set their destination and wait for the cab to arrive.
The driver will get a ride request and, if everything's arranged, come to pick their passengers.
Today's on-demand taxi apps offer many new features but the must-haves are:
Map and GPS navigation that helps customers catch nearby taxis
Communication channels between riders and drivers
Advanced feedback system (rates and reviews)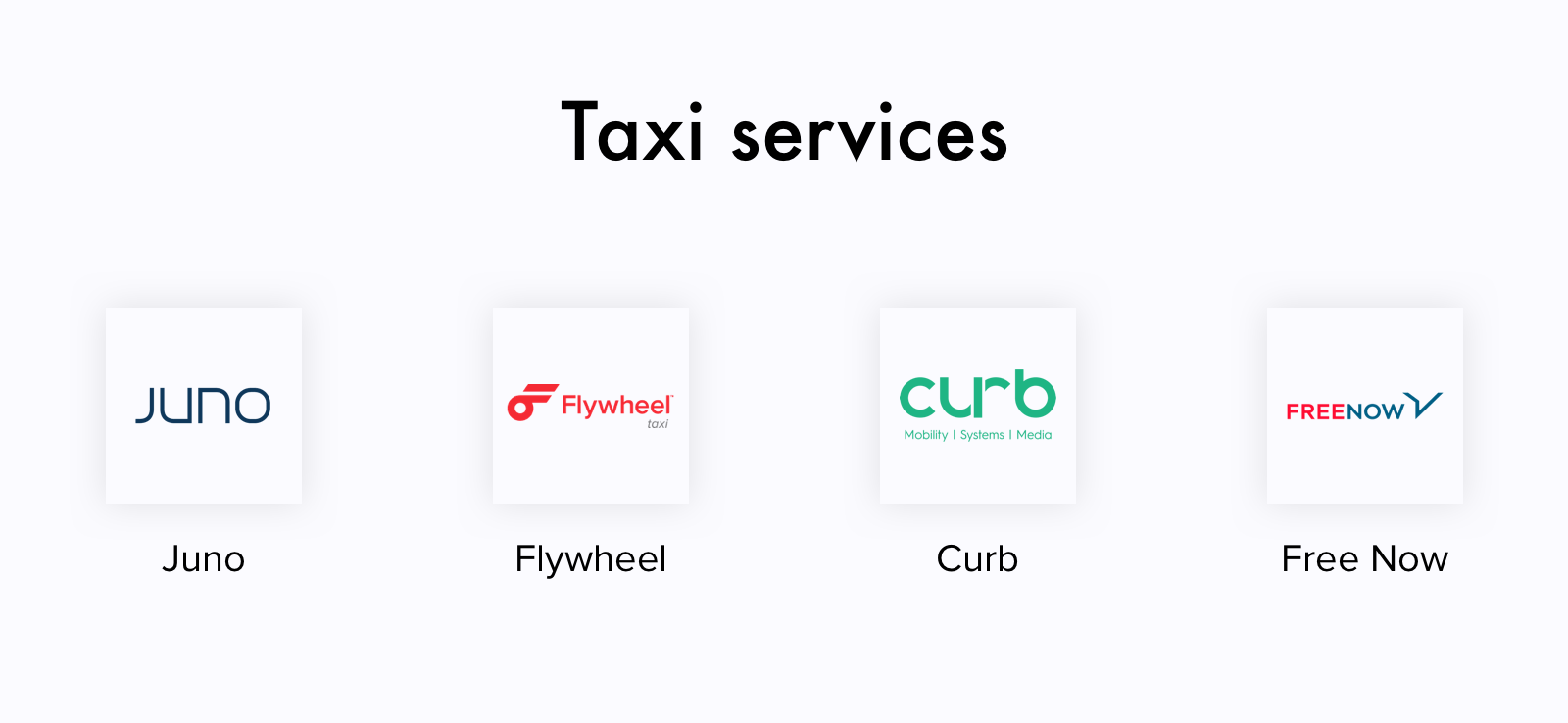 The best-known on-demand taxi services
By the way, we've also worked on a P2P on-demand app called MoveUp. It's a taxi service just like Uber or Lyft, but targeted both at regular people who need a ride and at those with specific medical needs, bulky items, parents with children, etc.
We had to move away from the Uber-like business model, create a sophisticated filtering system, and allow offline driver's validation. Besides, there also are complex payment capabilities with a free-ride option.
Result? Scalable and flexible platform with integrated GPS technology, Stripe, and other features that helps people find the best transport option meeting their needs.
For now, MoveUp has a website and iOS application.
Food Delivery
Using a food on-demand delivery platform, users order meals from nearby eateries after checking the menus. As soon as the customer places an order, the restaurant starts preparing the dish and indicates when the food will be ready.
By that time, the courier reaches the eatery, picks the food up and delivers it to the listed address.
The key food delivery apps' success is, as usually, speed and the ease of using. On-demand app is a win-win solution for both customers and restaurant owners. Users can easily order food from hundreds of places by checking menus in the app. And owners get more orders, thus, more revenue.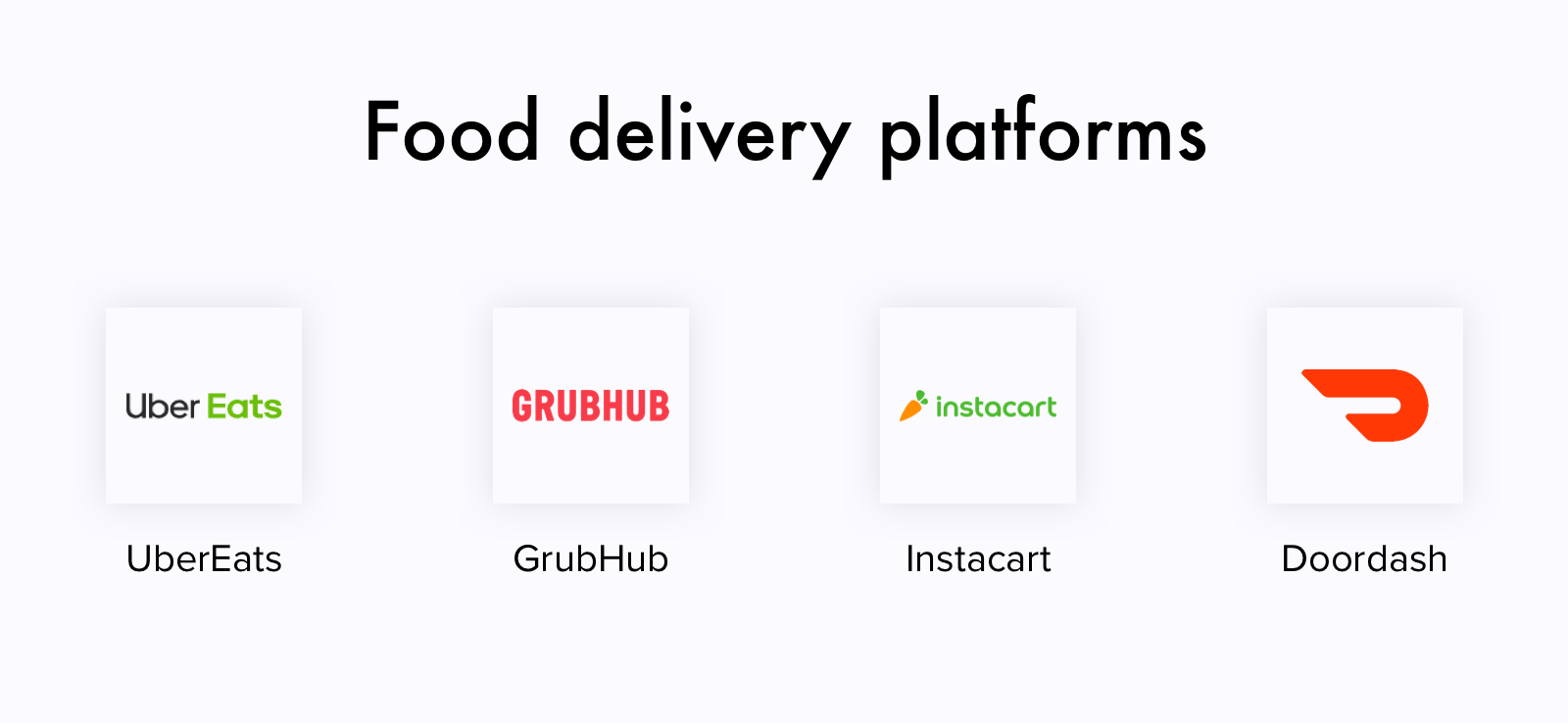 Most popular on-demand food delivery platforms
Household Chores
House cleaning, repairs, dog walking and many other everyday tasks take lots of time. And for those who need help with household chores on-demand apps is a perfect way out.
For example, if you got a leakage issue at home, you just post a request on the app and nearby plumber fixes it in no time. Same way, these platforms help with fixing carpentry problems, home appliances, etc.
Apps that have gained popularity in this niche include: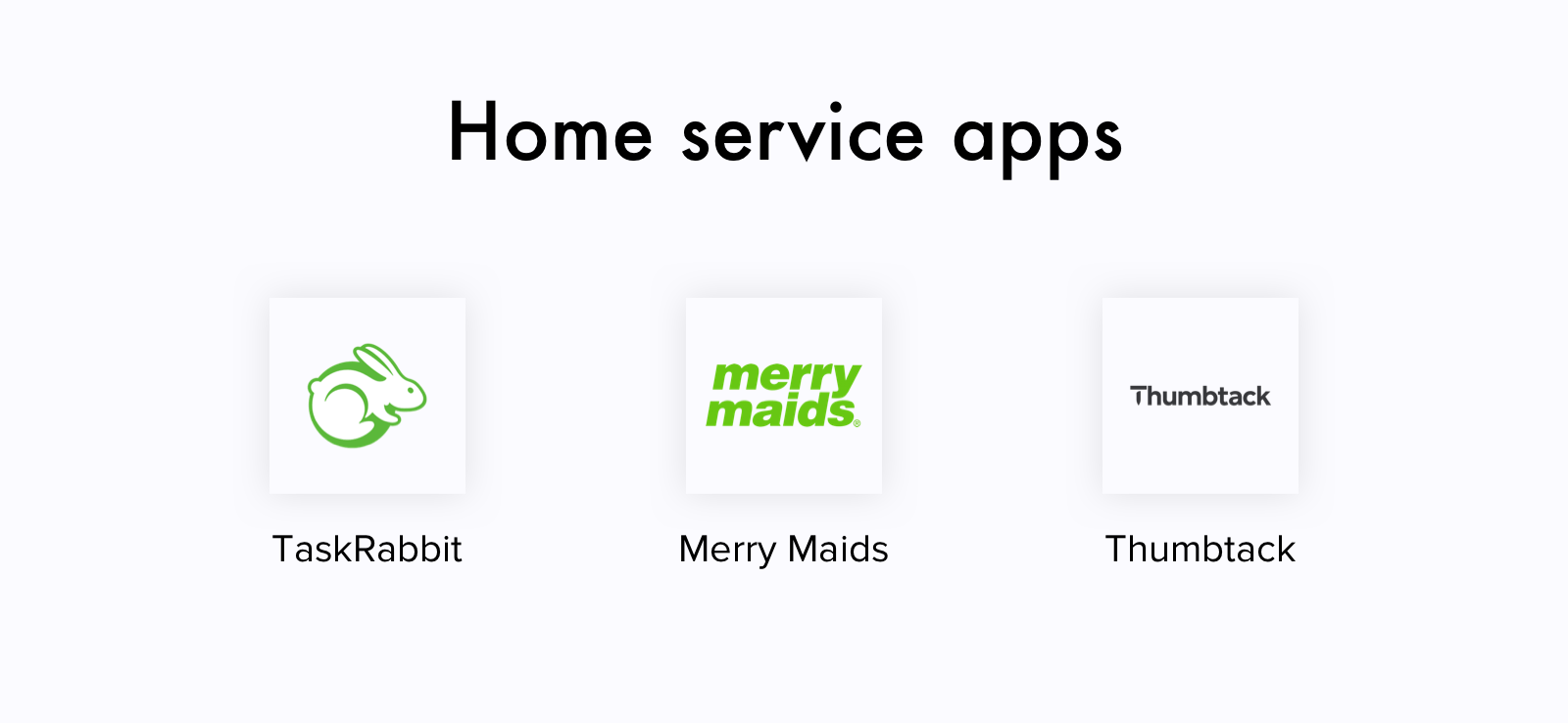 Household on-demand platforms
Gifts & Flowers Delivery
Forgot about friend's or relative's birthday or just happen to be in other city? On-demand delivery startups come to the rescue again. As for now, the delivery of gifts and flowers is one of the solutions to enter the market and gain customers. Apps attract users because of:
Wide choice of available products;
Abilities to choose the delivery time;
Doorstep delivery.
Today, the leaders in this field are: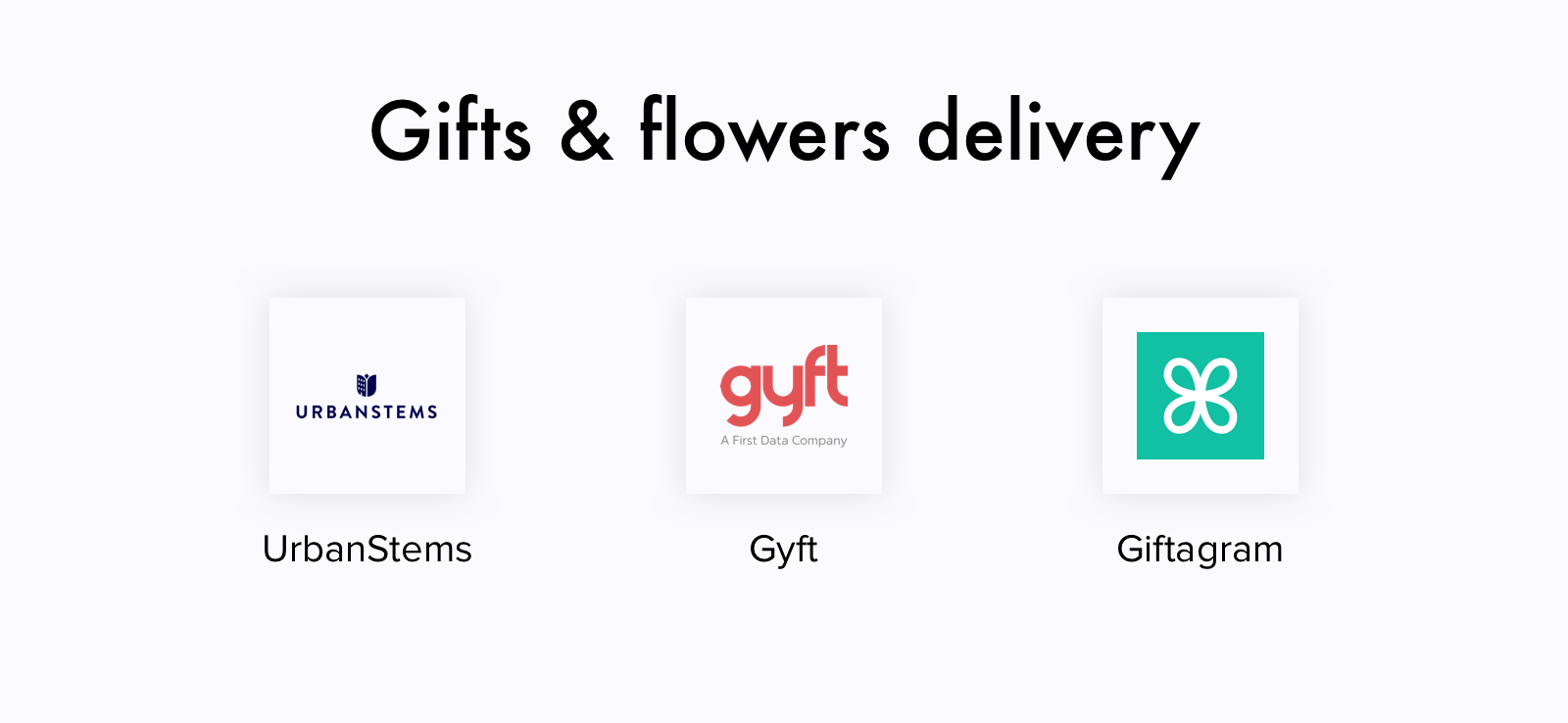 Platforms that deliver gifts or flowers
Healthcare
On-demand medical apps connect patients with doctors. So users can talk to their physicians one-on-one when they need help. And just like during an ordinary visit, doctors make recommendations.
Of course, no app can take care of serious disease, and patients can't get tested or properly examined without going to a hospital. But a plain consultation is something on-demand service apps can cope with.
The best healthcare apps are: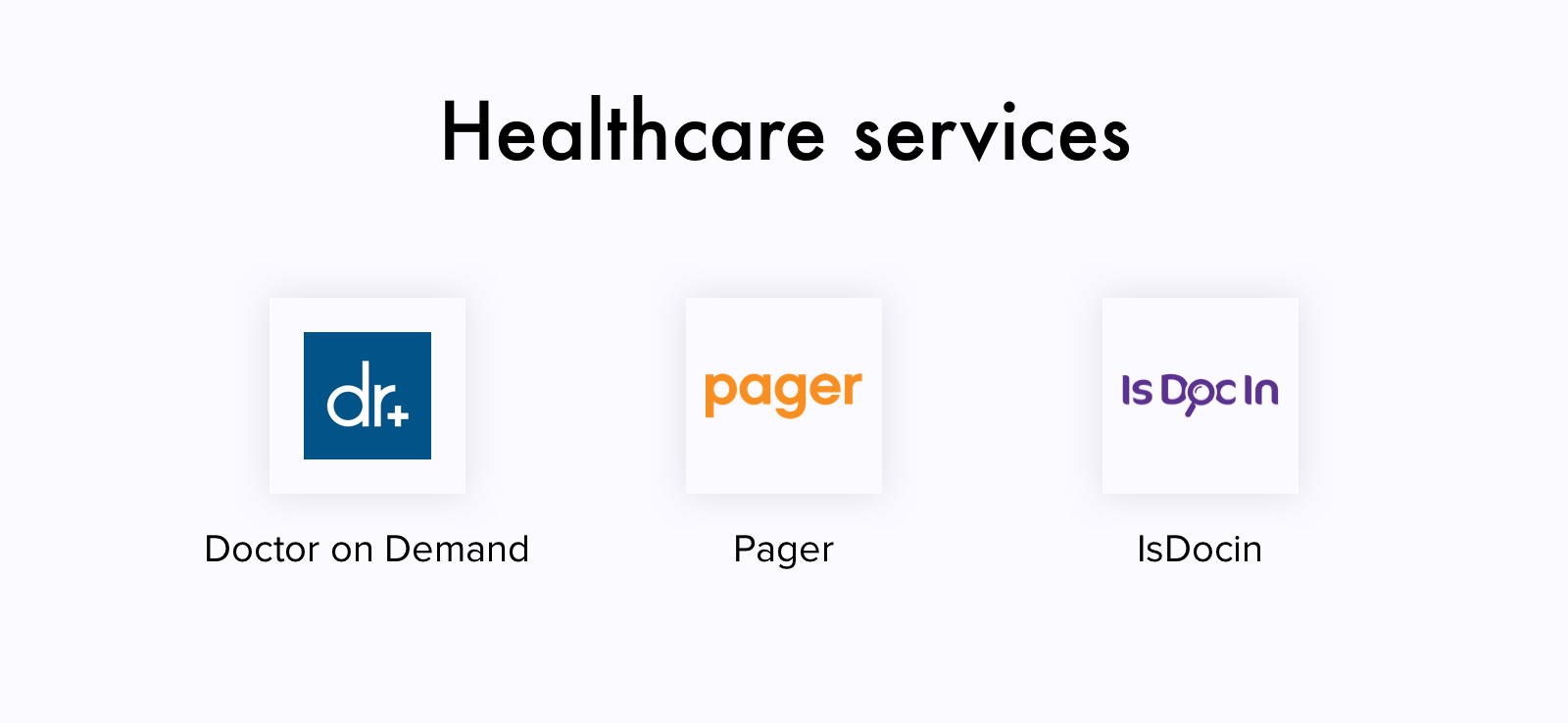 The most popular healthcare service apps
How to Make an On-Demand App: Most Important Steps
Finally, it's time to find out where to start building your own on-demand app. So let's find out how to build an on-demand app, step by step.
Do a research
It's a big mistake when investors care only about tech aspects (coding) and forget about the idea. After all, coding just guarantees that the app will run smoothly. But it's the customer research that helps with finding the target audience, their pains and problems.
Besides, the research helps with building apps that bring friendly experience to users.
Learn about customers. Online behaviors, hobbies, pains and needs – the more you know about future users, the more attractive app you can build.
Concentrate on unique functions. On the market this saturated, the best and often the only way to attract customers is to offer an original solution. No one wants to download on-demand delivery app clones with same features.
Don't try to please everyone. Even if you do, the app won't be capable of solving all users' issues. Focus on the majority. Continuous updates aimed to serve all needs cost a lot – and there's no guaranteed profit returns.
Pick the features
If you're still unsure of your product's success or just want to launch the app as soon as possible, choosing the MVP set may be the best option.
Still, there are some features that just can't be skipped:
Registration
Geolocation (or tracking)
Notifications
Payment
(Look for more details about features in the next section).
Choose the technology stack
On-demand mobile app development services require lots of technologies, depending on the selection of platforms. In fact, choosing a platform to build an app for is the most important part as it directly relates to customers' media experience. Thus, you'd better launch the app on platforms that are popular among your target users and keep close attention to tech details.
Generally, there are three types of platforms you need to care about:
web platform (runs in a web browser)
native app (e.g. iOS/Android)
cross-platform technology (cost-effective method for both iOS and Android apps)
Find the right development team
When everything's planned and arranged, it's time to start looking for on-demand app developers. Currently, there are two popular options – in-house or outsourced development:
In-house teams – great for a long-term projects that need 24/7 support and maintenance, but often very expensive (you'll have to cover insurance, taxes, salaries, vacation, sick days).
Offshore developers – great for both short and long term projects, cost-effective (you can pay exactly for the work done), and outsourcing teams are ready to sign the contract to protect both parties.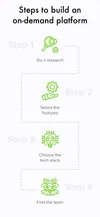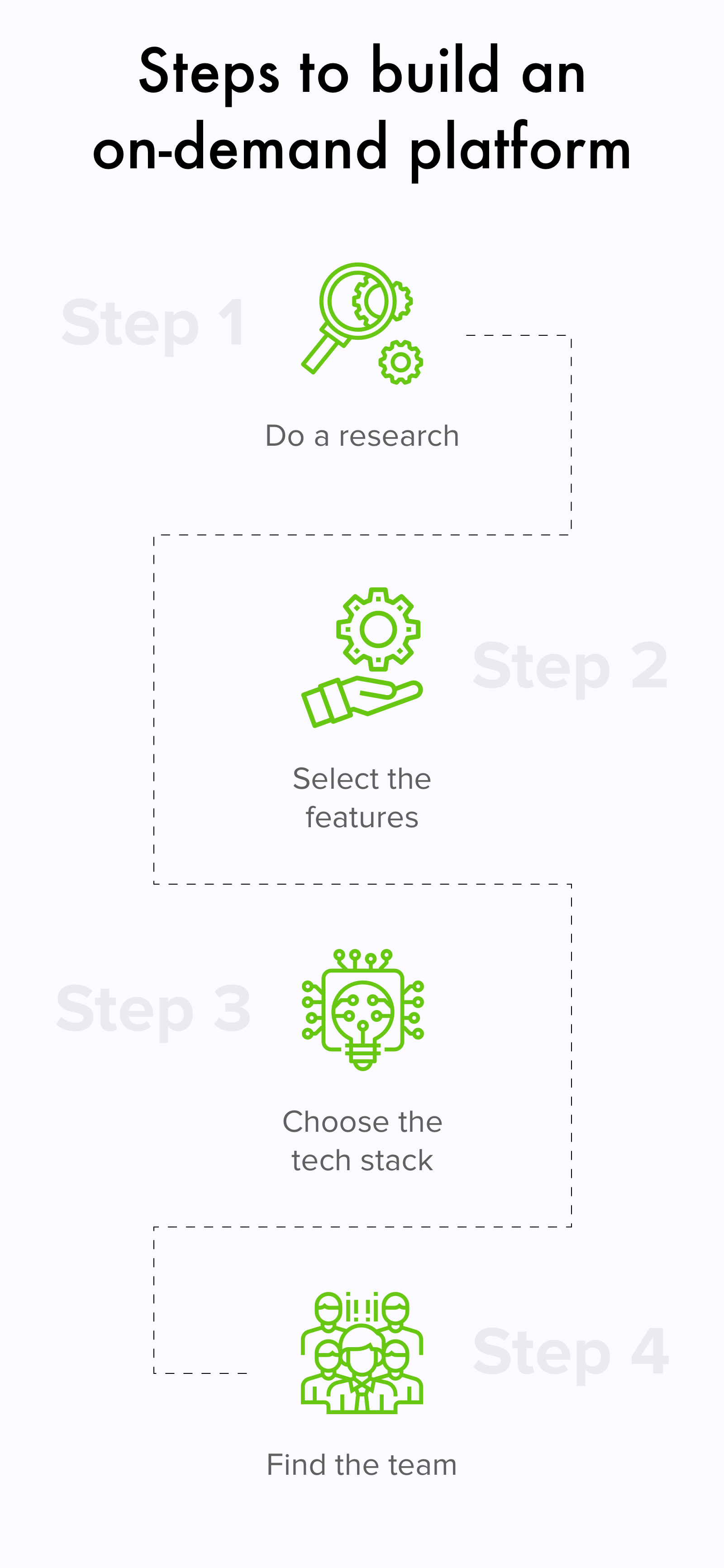 On-demand delivery app development
MVP Features
Before contacting on-demand app development company, it's always better to create a list of features you'd like to see. But first you should define how many parties are going to use the platform.
For example, if you're making a taxi, beauty or household service app, two parties are involved – customers and service providers. And, as business owners must have full control over both the parties, admin panel is another need.
So let's check what features an on-demand services app can't be viable without – on all sides.
Customer App
Registration & profile management. Most apps allow signing in via email/phone & password combination or Google, Twitter or Facebook accounts.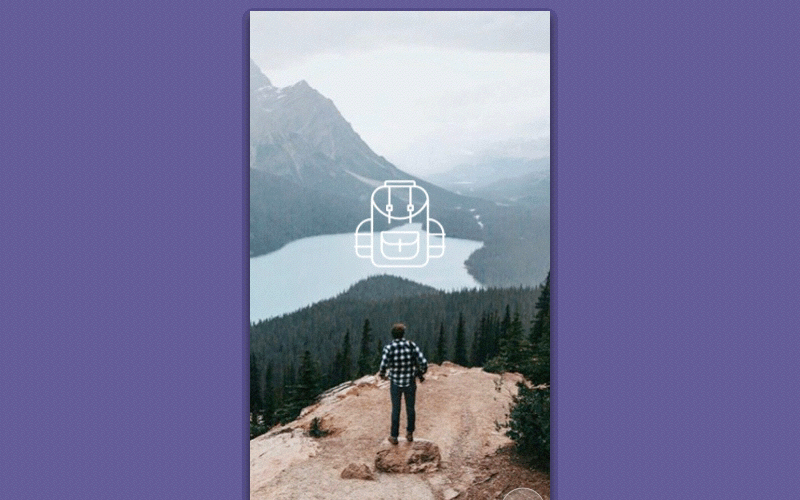 Geolocation. Works for tracking the delivery or finding the direction. Depending on the platform, geolocation can be either implemented on Google's Location APIs (for Android devices) platform or Core Location framework (for iOS devices).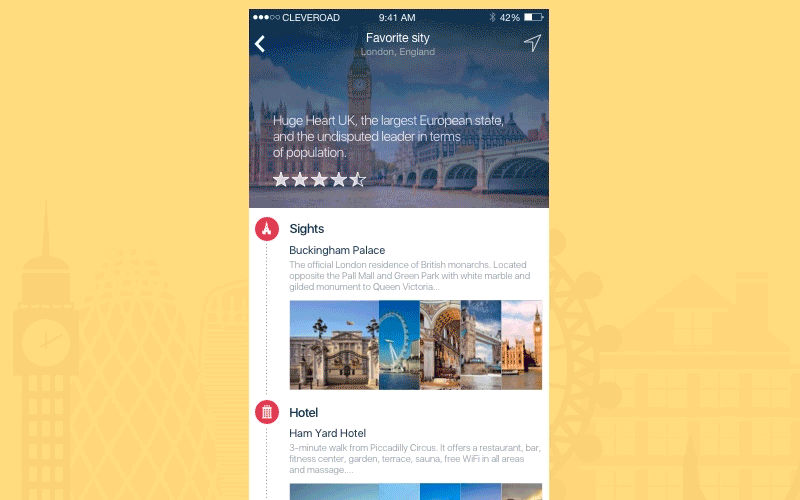 How the geolocation feature works
Notifications. Inform users about completed requests, payments, order updates, and so on. And push notices is probably the most convenient way of getting reminders and updates. Notifications are implemented via Google Cloud Messaging (Android) or Apple Push Notification Service (iOS). SMS notifications work for reaching out to customers/providers when their phones go offline.
Payments. In on-demand service apps, they heavily rely on security. Payment methods are added according to customers' preferences and country of residence – you'll need to make a research before adding PayPal, Dwolla or China UnionPay. For example, Uber lets users pay via card or cash, while Airbnb offers only cashless payments due to services' specifics.
Feedback system helps customers to evaluate their experience with the company in the form of rates and reviews.
Help & support feature assists customers in case of any queries. It enhances customer service by solving their problems and works for the company's reputation.
Service Provider App
Registration & profile management
Push notifications. They alert providers when a customer selects their product or service.
Accept & reject buttons. They allow service providers to accept or decline requests within a given period of time if something doesn't work for them.
'My earnings' page. Service providers make money via the on-demand services app, so they must have a feature that tracks their earnings.
Online/offline button. If the service provider is ready to take orders, they go online in the system. But when their working day's over and they decide not to go for another service, all to do is just toggle the offline button.
Administration App
Admin dashboard. The app will be incomplete if there's no easy-to-use and customizable dashboard. It should be easy to navigate while monitoring both customers and service providers.
User management. Administrators should have access to information like users' payments, charges for canceled orders, discounts, and so on. This way, they can solve any issue users may face twice as quickly.
Service provider management. As with customers, admins keep an eye on service providers too. They check their performance, rates, and motivate them to work better with bonuses or sanctions.
Change prices and fees. Many platforms raise prices when there's a huge demand on their services. Via the admin panel, managers change the rates or set – higher or lower – commission charges.
Analytics & reporting. Shows how many orders are accepted, canceled and repeated, and if the business is doing well in general. It helps with developing new business ideas and avoiding pitfalls.
Contact Us
As you see, you have to put lots of effort to create on-demand app. It is quite a complex process. There are lots of details to keep in mind – from choosing the field and working with target audience to completing the list of MVP features.
A good advice in this case is priceless, especially from vendors that have worked on similar projects.
So if you have any questions regarding your future on-demand service app – contact us.
By the way, if you want to uncover how much your future app's going to cost you – we provide a free estimation.
Frequently Asked Questions
There are four main steps:
Start with research. Learn more about your audience, their hobbies, pains, and needs, but don't try to please everyone at once.
Think of features. You need to add unique features to make your app stand out, but if you're only testing an idea, don't add a ton of features. Just the basic MVP features and a couple of unique ones.
Choose platforms. Before the development starts, you need to choose the platform your on-demand app will run on—web platform, iOS/Android app, or both.
Find developers. These are two options—hire an in-house team that'll work from your office or outsource the development to another country.
On-demand apps connect customers with different service providers and vice versa. They let users order any kind of service and strives to deliver it in minutes, like booking a ride with Uber.
Very promising. The on-demand food delivery market alone is expected to hit $161.74 Billion by 2023.
Basically, any company experienced in mobile and web development can make an on-demand delivery app. Check their portfolio for similar projects, see what technologies they use, and what their clients say.
You can check the list of companies on platforms like Clutch or GoodFirms.
You'll need two apps and an admin panel instead of the usual app+admin panel for owners. That's because on-demand apps work with both clients (like Uber riders) and service providers (drivers), and each party needs a separate app. That increases the development time and thus its cost.
Because it's a profitable and promising field. According to Burson-Marsteller's survey, 42% of adult Americans have used at least one of the on-demand app services. And the number is only growing.
Rate this article!
7714 ratings, average: 4.97 out of 5
Give us your impressions about this article
Give us your impressions about this article
The fast-moving world demands services on the go. Uber revolutionized the market at a more rapid rate than expected. Multiservices services are on-demand and are becoming an instant hit wherever launched. Apps like Uber for X have brought varied services to our doorstep. People find it affordable and convenient for doorstep services.
shivani
04.12.2020 at 06:29
Very nice article got to know many new things
Tarun Nagar
02.08.2021 at 10:06
Perfect blog! I was searching for this blog. Thanks to Google to make me land here, all information is good and looking to share it with others. After 2019 we are seeing a boom in the on-demand app industry. One thing really impressed me which is some college students are investing in this industry to start a business and making money.