Why Outsource Mobile App Development?
3,5 billion people are using smartphones now—this number will grow by 300 million in 2021. And the more people switch to mobile, the more businesses follow.
In fact, it's a bit expensive to make a custom mobile app for business. Especially if you're covering both platforms—iOS and Android.
That's why business owners turn to mobile app development outsourcing. Outsourcing is cheaper, and the quality often stays the same. Still, it seems more complicated to outsource app building than hire in-house team.
In this guide, I'm explaining how to deal with outsourcing risks and complexities. Plus, covering a few other outsourcing-related questions:
Mobile App Development Outsourcing and Its Options
Let's start by figuring out what mobile app development outsourcing stands for. Basically, it means delegating the creation of native iOS/Android apps for smartphones and tablets to another country.
For example, it's when you're located in the US but the development team that works on your app lives in Germany or Poland.
Native applications are written in programming languages: iOS apps—Swift or Objective-C, Android—Java or Kotlin. In fact, you need to outsource mobile development to programmers who have experience with these languages and a portfolio to prove it.
Now, an in-house team is a team that works from your office—this is the only option. While outsourcing offers a couple of options, namely, freelance vs. offshore development company.
Let's compare them.
Comparing mobile app development outsourcing options

—
Freelance
Company

Advantages

cheaper
good for simple one-time tasks
large pool of specialists
lots of talented developers work as freelancers

team assembled right away—from business analysts to DevOps
you can start at any stage: with ready-made specification, wireframes, or from a business idea
everything is formalized—companies prepare estimates, specification, Sprint reports, sign a contract with each client
organized development process, controlled by a Project Manager that reports to the client
tech specialists with different skills and technologies—iOS, Android, back end

Disadvantages

narrow specialization: need to hire at least two freelancers to cover both platforms (or more if you need the app fast)
lack of guarantees—may quit your project in the middle of work, no verification of the end result
time management complexities—it's 10AM where you live and 8PM where the freelancer lives
interviewing issues—need to be tech-savvy enough to verify skills

more expensive compared to freelance developers
cultural gap—true if your firm is from India or Asia
slower communication (compared to in-house team)
time management complexities
The final choice depends on the type of app you're developing, its complexity, and your budget. If you're making a simple travel app with a couple of features or want to fix a bug in an existing one, freelance development will do fine.
But in case you want to deliver a complex, large-scale product like an education or social app, having a full team is better than a bunch of freelancers.
Management is also a huge advantage when it comes to application development outsourcing companies. You get a full team and a Project Manager who monitors their progress and reports directly to you.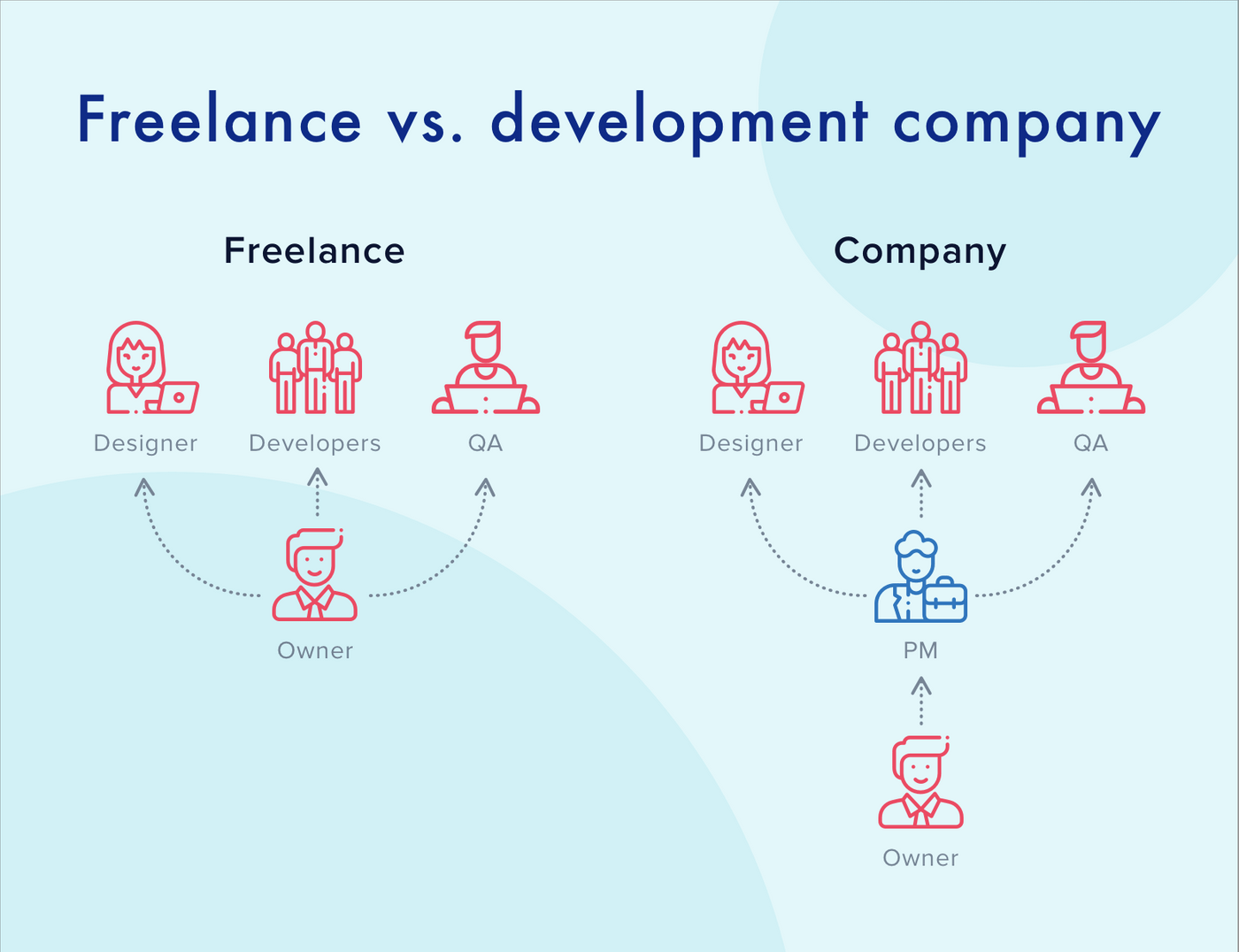 Outsource mobile app development companies provide a PM who controls the process
While the PM watches over the team, you can focus on your business—training in-house employees, looking for investors or preparing a pitch presentation.
Outsourcing App Development: Advantages and Risks (and How to Cope with Them)
Let's move on with the idea of outsourcing mobile app development to companies.
In this part, I'm talking about the pros and cons of offshore development—and what you and your outsourcing partner can do about the latter.
Working With Application Development Outsourcing Company: Advantages
Outsourcing application development has quite a few advantages compared to in-house. They include faster hire and start, affordable cost, no office rent payments, and additional mobile app development services many companies offer.
Let's take a more detailed look at them.
Hire fast, start fast
If you outsource app building, you spend less time on hiring.
There's no need to look for each specialist—UI designer, mobile and back-end developers, QA, DevOps—interview and train them. You get a full team that has worked on similar projects, knows each other, and follows the same company culture.
And the faster the start, the faster the time-to-market.
No office rent paying
When you're working with outsource mobile app development companies, you're paying for the work done. Not for equipment, furniture, and office rent.
Office rent may actually be a huge problem if you're on a limited budget. It's quite expensive to rent an office near large tech hubs, especially in cities like San Francisco, New York, or Seattle.
In the following table, I'm stating an annual cost of renting a ~2,000sf office for 10-14 employees. Without NNN expenses—taxes, insurance, any repairs or maintenance.
Annual office rent cost according to 42Floors

| — | San Francisco, CA | New York, NY | Seattle, DC | Washington, DC | Los Angeles, CA |
| --- | --- | --- | --- | --- | --- |
| Cost | $91,000/yr | $82,000/yr | $70,000/yr | $92,000/yr | $74,000/yr |
Lower development cost
Outsource application development is cheaper compared to in-house. But the total cost depends on the country your tech vendor is from.
If you outsource mobile development from the USA to Canada or Australia, it won't make much difference in costs. IT companies with headquarters in USA charge $100-$199/hr, and in Canada they charge $100-$149/hr, according to Clutch.
But if you hire a tech vendor from Belarus, Russia, or Ukraine, the situation will be different.
Instead of paying $102,838/yr salary to your Swift developer from the US, you pay $26,400/yr to a middle-level Swift developer from Ukraine (according to Ukrainian Dou.ua programmer's resource).
Lower cost doesn't mean bad quality. Grammarly, Depositphotos, Terrasoft were built in Ukraine by Ukrainian developers—these apps are of high quality and in use around the world.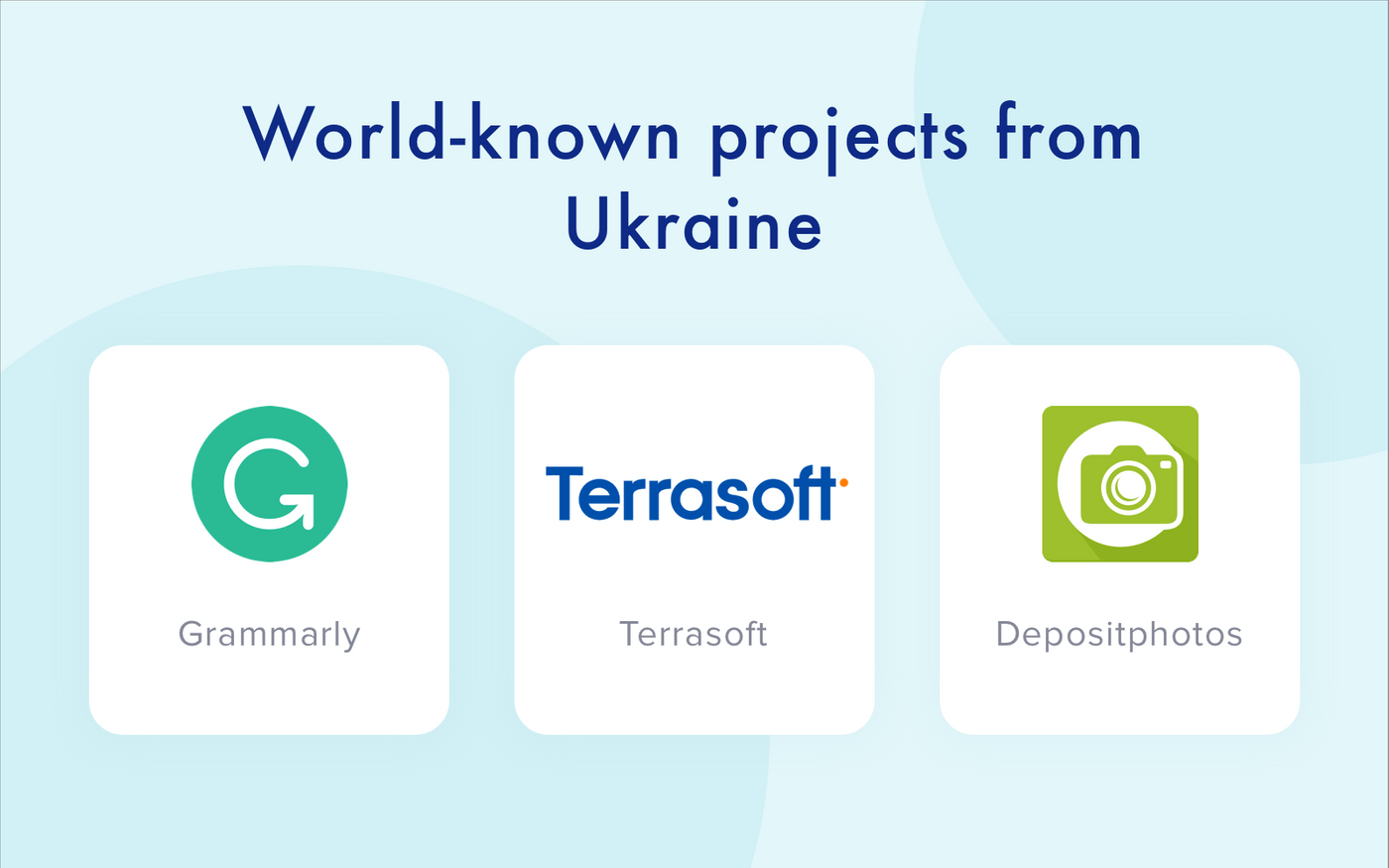 Famous apps built in Ukraine
Additional services for startups
Investors will show more interest in your project if you have something more than a pitch presentation to send them.
Outsource mobile app development companies often provide extra services—make business analysis, prepare specification, wireframes, and clickable prototypes.
The cost of such services will be much lower in Europe or Asia than in the US or Canada. That's in case you want to impress the investors but have no money for MVP.
Now, if you do have money for MVP, it's often faster and cheaper to delegate its development to an offshore company. Show the MVP to your investors, get funding, and hire an in-house team if that is what you need.
How to Outsource App Development Without Risks
Yet offshore development is not perfect—no one would hire in-house employees if it were so. There are some common difficulties you're going to face, so let's see how to outsource mobile app development without stumbling on them.
Slower communication
If a time zone difference between you and your application development outsourcing company is ~10 hours, communication may slow down a bit. In fact, such time gaps may freeze the development if the vendor has somquestions that need your approval.
We faced the same issue while working on RetailOps project. Our customers live in the USA, and we had to deal with a 10-hour time zone gap.
But this drawback isn't hard to overcome—we solved it by making an individual schedule of meetings to keep in touch with product owners.
Solution:
coordinate the meetings and checkpoints with the Project Manager;
use messaging apps like Slack or video calls like Skype for instant communication.
Cultural gaps and misunderstandings
You may face this issue if you choose to outsource mobile application development to Asia or India. People there may not ask for any clarification when needed, say 'yes' to each request just to please you, or be less initiative than you expect. Which slows down—if not disrupts—the whole development process.
That doesn't mean devs from Asia or India are not hard-working or make bad products. That means you have to make an extra effort to develop relationships.
Solution:
if you don't have time to handle the differences, outsource to regions like Western or Eastern Europe. Their cultural realities are similar to the US and Canada, and both engineers and managers speak English on a good level.
Unreliable tech vendors
When you outsource mobile development to a company located 5,687 miles away from you, you can't rush to their office and get an idea of how they work.
Some outsource app building companies may ask you to pay too much, some—show unexisting works in their portfolio or fake client reviews.
It's not hard to cut these risks by conducting thorough checks on vendors' websites and talking to their management. That'll give you a general idea of how they communicate and whether they're eager to help you.
Solution:
check vendor's portfolio—not only look through their website but download their apps and see how they work;
use sources like Clutch and

GoodFirms

to check reviews—they post only verified reviews from real clients;
always sign a contract before the development starts—if you want to keep the details in secret, sign NDA.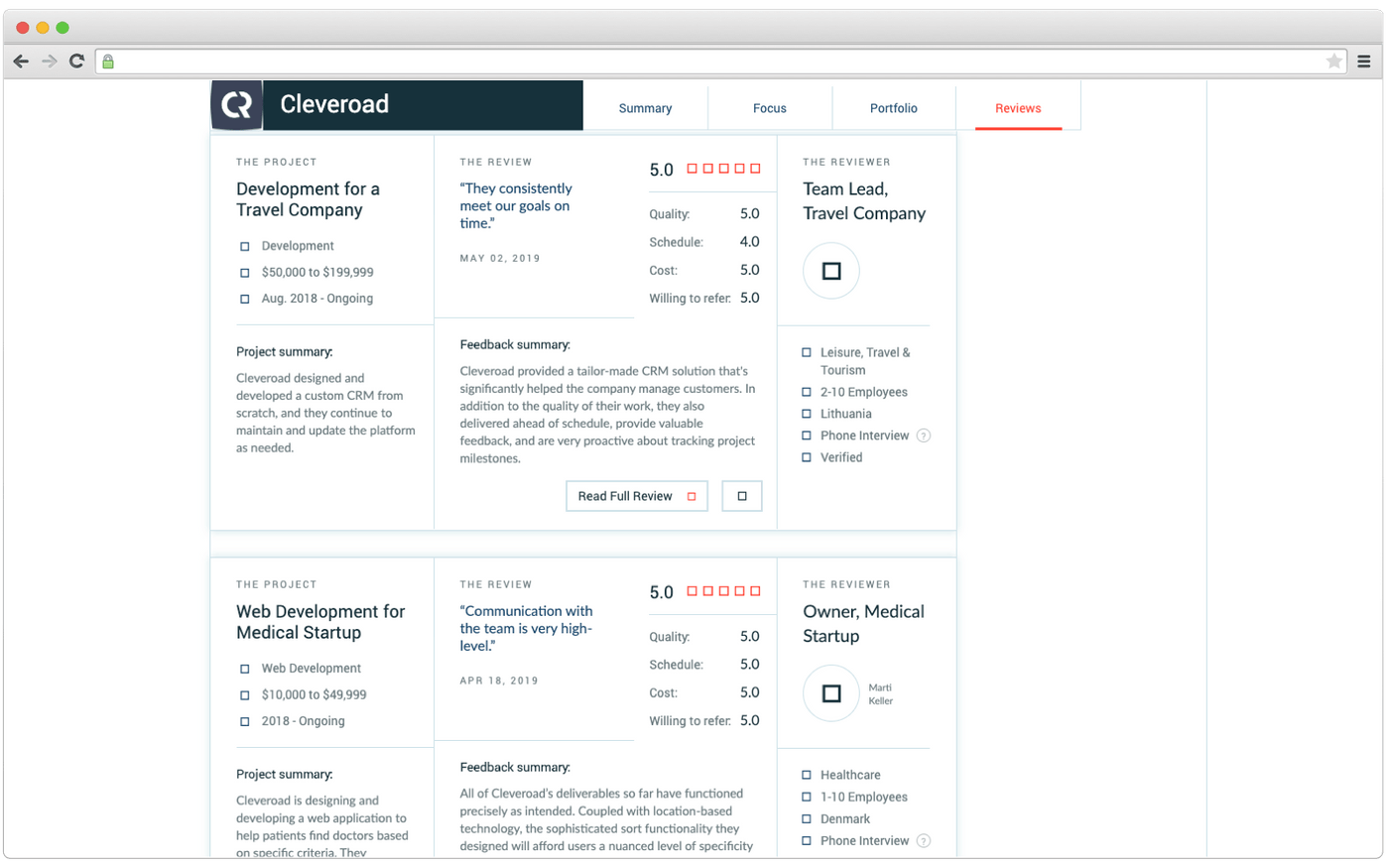 Mobile app development outsourcing companies' reviews on Clutch
At Cleveroad, we offer three types of contracts—Time and Material, Fixed Price, and Dedicated Team. And always sign NDA if our clients request it.
Outsourcing risks are not hard to cope with—just agree on tools you're going to use and region where your development team lives. Plus, spend enough time checking the information on outsourcing the company's website.
In-house vs. Outsource App Development: Comparing the Costs
Communication matters, but sometimes it's the cost the decides. I've already said that it's cheaper to outsource app development than hire an in-house team.
Time to prove it.
I'm using a social media app as an example. If you want to learn more about social apps and their features, please check Katherine's article on that topic.
Our social media product will include two apps—one for Android and another for iOS devices. Plus, custom UI design and the back-end part.
Mind that the estimation below is FYI. I didn't include the planning stage, and the number of hours may change with new features. To find out the exact number, please contact our BA team.
How much time it takes to build a social app

| Feature | Back end development | iOS development | Android development |
| --- | --- | --- | --- |
| Basic features | 325 hours | 593 hours | 593 hours |
| Advanced features | 14 hours | 154 hours | 154 hours |
| Admin panel (one for all platforms) | 138 hours | - | - |
| Frameworks and libraries integration | 36 hours | 35 hours | 35 hours |
| UI/UX design | - | 140 hours | 140 hours |
| Quality assurance | 100 hours | 120 hours | 120 hours |
| DevOps services | 30 hours | 35 hours | 35 hours |
| Project management | 80 hours | 90 hours | 90 hours |
| Total time | 723 hours | 1167 hours | 1167 hours |
Let's say you want to hire an in-house team in Seattle, DC, to build a social app.
First, you need to rent an office–~$70,000/yr or $5,833/m.
Second, you need to assemble a team (salaries are taken from Indeed):
Project Manager (salary: $86,069 per year, $7,172 per month)
UI/UX designer ($83,820/yr, $6,985/month)
1 or 2 iOS developers ($126,540/yr, $10,545/m x2)
1 or 2 Android developers ($124,220/yr, $10,352/m x2)
Back end developer ($128,108/yr, $10,675/m)
QA engineer ($77,828/yr, $6,485/m)
Finally, the team needs 1890 hours to build an iOS/Android app or 3057 hours to cover both.
Usually, companies work 160 hours per month (20 workdays x 8 hours per day). That means the team will finish the app in 19 months.
Total cost: $5,833 office rent + $52,214 for salaries = $58,047 per month x19 months = $1,102,893 for design+iOS+Android+back end.
If you choose to outsource mobile app development, it will cost $94,500 for one platform (iOS or Android) and $152,850 for two platforms. Including UI design, back end part, and admin panel.
The estimate is based on the average outsourcing rate in our region (Eastern Europe, Ukraine)—**$50 per hour**.
Why Ukraine? Because it's one of the leading offshore destinations in Eastern Europe—with affordable rates, low taxes, and lots of tech companies.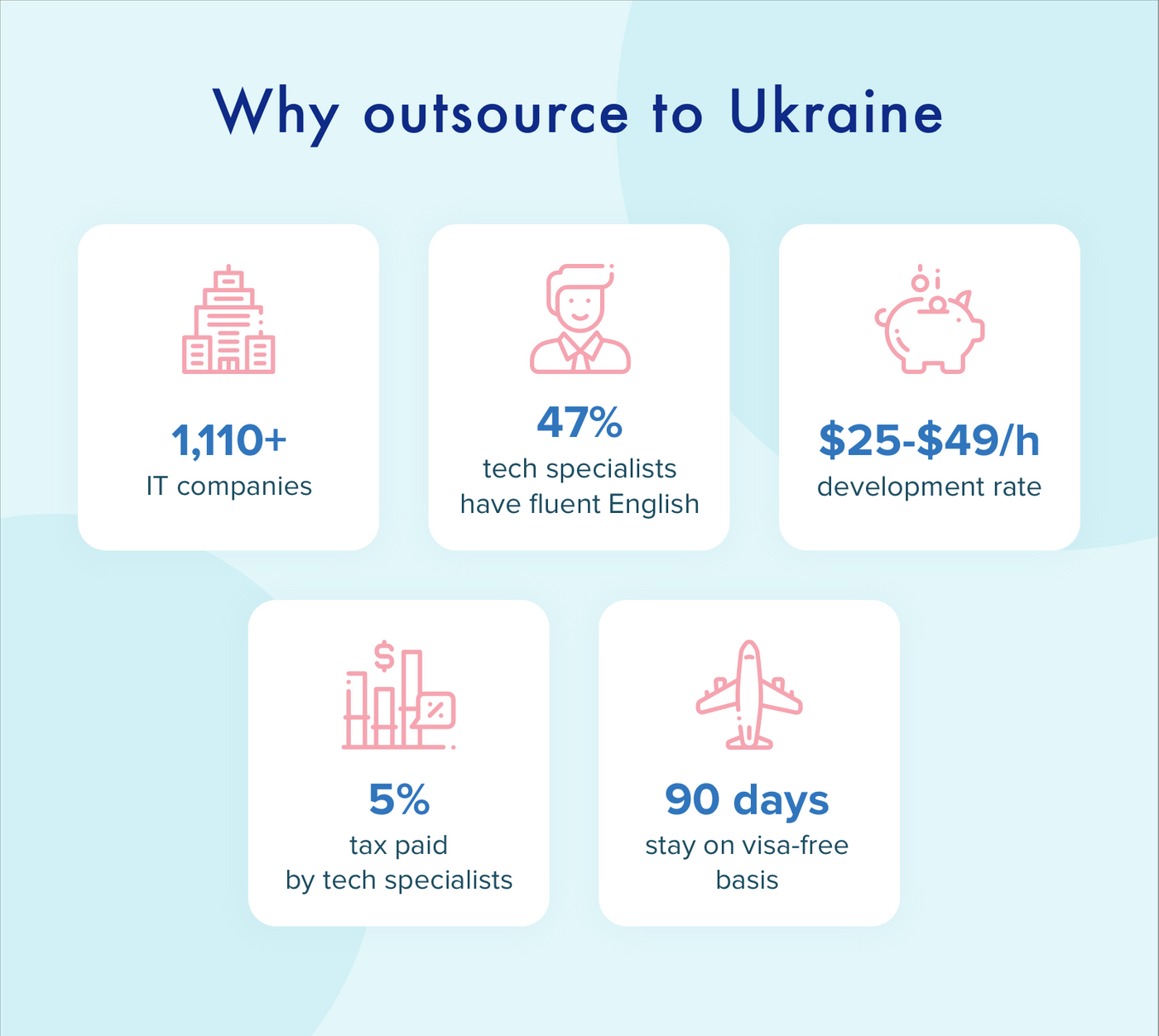 Why outsource iOS development/Android development to Ukraine
Why Outsource to Cleveroad
Cleveroad is an outsourcing company that provides software development services for 5+ years. We build mobile and web apps, provide UI design and QA testing services to clients all over the world.
Here are some of our latest projects:
Occaz, a car state checking app for French users
Blockbuster, a video-on-demand platform for viewers across the Nordic region (Denmark, Sweden, Finland, Norway)
Nedley Lifestyle Scorecard, a mood tracking app for the US and Australian markets.
Check our portfolio to see more of our projects.
Want to outsource your app?
Let us know—we'll take care of the process from bare idea to publishing it on marketplaces.
Frequently Asked Questions
Look for reliable tech vendors on platforms like Clutch or GoodFirms.
Check the vendor's portfolio and reviews from previous clients.
Coordinate all the meetings and checkpoints with the vendor's team.
Use messaging apps like Slack for instant communication.
It depends on the country to outsource to. In the US or Canada, devs charge $100-$199 per hour, in Western Europe $50-$100/hr, in Eastern Europe $25-$50/hr, Latin America $30-$50/hr, Asia $18-$40/hr.
It means you're delegating the creation of native iOS/Android apps for smartphones and tablets to another country. For example, it's when you're located in the US, but the development team that works on your app lives in Germany or Poland.
Outsourced app development brings many benefits:
fast hire and development start
no office rent-paying
no software/hardware expenses
lower development cost
additional services many companies provide (making a business analysis, helping with documentation)
Eastern Europe offers the best quality-price ratio. An hour of software development in Ukraine costs $25-50, while the quality of products developed in this country is quite high.
It's faster and cheaper to delegate MVP development to an outsourcing company than hire in-house employees. Besides, many outsourcing companies offer extra services—make business analysis, prepare documentation, wireframes for lower prices than in the US or Canada.
Rate this article!
820 ratings, average: 4.52 out of 5
Give us your impressions about this article
Give us your impressions about this article
Nice blog! Thanks for sharing
Millie Jack
21.09.2020 at 10:58