Why and How to Outsource Healthcare Software Development to Succeed
Outsourcing became an up-to-date solution across the industry, helping businesses and enterprises effectively delegate tasks, saving time and cutting labor costs by up to 90%. According to the Future Market Insights report, the healthcare IT outsourcing market size was estimated at $50,025 billion in 2022 and is forecast to reach $90 billion by 2028. This substantial growth proves the potential of outsourcing medical software development to third-party providers.
In healthcare, outsourcing software development allows the healthcare organization to access unique expertise, reduce development costs, and receive high-quality outcomes. That's why most medical enterprises pass the building of healthcare solutions to specialists worldwide.
For 11+ years now, Cleveroad has been providing outsourced IT services for various healthcare practices and establishments all over the world. We understand all the peculiarities of outsourcing healthcare software development, and In this article, we'll talk about them so you can decide whether this model is good for you.
Why You Should Consider Outsourcing Healthcare Software Development
Outsourcing medical software development can contribute to making your work more efficient, as it facilitates time and cost savings, as well as gives you the ability to focus on delivering superior medical services. Let's see how practically you can gain from passing the creation of your healthcare software to a remote team.
Cost-savings
Applying an outsourcing approach may positively impact your budget. You can freely choose the region with the most attractive specialist rates. Also, you won't need to constantly maintain your in-house team by training them to gain essential expertise for a one-off project.
Also, remote cooperation brings more clarity to your financial planning, as an outsourcing agreement often comes with accurate pricing structures. This gives you an opportunity to develop precise financial strategies and make your budgeting straightforward.
Faster time-to-market
Reducing time-to-market often plays a crucial role in businesses' capability of staying competitive and up-to-date. Outsourcing medical software development helps to reduce time-to-market as experienced experts deal with the set work scope more efficiently, not losing in development quality.
Also, while cooperating with a remote team, you can fully take advantage of time zone differences and make the work continue almost around the clock. This may lead to faster task completion and medical solution delivery, increasing the probability of a successful and profitable launch.
Fast hiring
Outsourcing medical software development shortens the time spent on the hiring process. It helps you to focus more on your primary healthcare business goals. This method brings certain flexibility into the overall workload and helps you to receive access to the expertise and services you seek the most.
Also, work outsourcing allows the team to start development faster, as there is no need for a prolonged hiring procedure. Moreover, this approach can facilitate fast temporary skills gap-filling in case you critically need particular expertise that is essential only for a short-term period.
Access to expertise
Outsourcing healthcare software development enables you to choose experts with experience in healthcare and skills with no borders and without crossing the line of a budget. This is a great way to save financial resources while, at the same time, accessing an enormous talent pool and unique expertise, which may not be available locally or in your region in general.
Besides, outsourced specialists usually have vast experience in delivering telemedicine solutions for various clients, which significantly boosts their skills to deal with challenges. This may facilitate the creation of more advanced risk mitigation strategies and improve project outcomes.
Recently we have worked on a clinic management software for a rehab services provider. It's a HIPAA-compliant platform for providing remote care assistance and online consultations. The solution includes EMR and patient Portal modules, secure e-prescriptions, and an accounting system.
Focus on core competencies
In healthcare, it is vital to constantly be available for patients, offering them proper treatment. Handling the healthcare software development to an outsourced team can enhance your focus on providing patient care and prevent the distraction of healthcare professionals from their core responsibilities.
It's worth mentioning that nobody but experienced software development experts can ensure the final solution functionality and compliance with all essential industry-related regulations. Furthermore, outsourced specialists have advanced knowledge that may prevent huge delivery delays and instability of the solution's infrastructure.
Benefits of outsourcing healthcare software development
Where to Outsource Healthcare Software Development: Key Geographic Regions
Outsourcing healthcare software development requires in-depth research of regions where quality outsourcing services are available. Then, you have various alternatives to choose from based on your requirements, goals, and budget.
You can examine the current top destinations for outsourcing below:
The most popular outsourcing regions in 2023
Let's also analyze the key factors that may influence the smoothness of your cooperation in each region:
Top outsourcing locations' primary characteristics

| | | |
| --- | --- | --- |
| Region | Countries | Characteristics |
| Central and Eastern Europe | Estonia, Bulgaria, Poland, Hungary, Romania | Due to low operating expenses, considered one of the best outsourcing locations in terms of cost-effectiveness and development quality |
| Western Europe & North America | Germany, UK, Austria, Switzerland, USA, Canada, Mexico | You won't face with significant cultural and language barriers here and receive good development quality, but experts rates remain quite high |
| South America | Chile, Columbia, Brazil, Argentina | Minimal time zone difference with North America and robust development quality for a reasonable price. But outsourcing is still a new practice for this region |
| Asia | India, Singapore, Indonesia, Philippines | A vast talent pool of experts, who provide low-cost development services. The quality may vary due to significant cultural and time-zone difference |
| Oceania | Australia, New Zealand, Fiji, Samoa | High-quality development services and favourable business environment, but comparatively high development costs |
As shown, each region has its own specificity. But if you seek to find a robust outsourced medical IT provider — pay attention to outsourcing in the Central and Eastern Europe region. This destination is commonly known for its well-developed internal tech ecosystem, top development quality and expertise level, high English proficiency level, and affordable development costs.
Risks of Outsourcing Medical Software Development
IT outsourcing in the healthcare sector still may have some drawbacks to be aware of. This part narrates the challenges you may face while integrating such a cooperation model and the ways to outline and minimize possible concerns.
Communication issues
Outsourcing healthcare software development is associated with communication challenges, primarily regarding conveying your product requirements. Due to the specificity of remote cooperation, your project's demands may not always be clearly perceived by your outsourced team members.
Using robust and stable communication channels like Slack, Trello, Fleet, etc., can enable a clear connection between you and your team. Also, you have to point out and give the requirements description in detail while encouraging clear discussions and sharing of occurring complexities. At Cleveroad, we create communication plans to hold meetings at a convenient time for clients.
Quality monitoring
Distantly supervising the work of a whole development team may appear quite a challenge. The lack of control may lead to missed deadlines, delays in the project's workflow timelines, and misunderstandings regarding problem-solving approaches.
Quite often, such complexities appear due to the absence of a strong outsourcing strategy, leading to discipline gaps among your team members. Clearly defining and agreeing on the work scopes, regular check-up meetings with the team, and robust and stable communication plans will help you mitigate such risks. Cleveroad project managers constantly arrange meetings with clients, sprint reviews, and demo calls and prepare delivery reports where they list the tasks completed and the time spent on each of them.
Data privacy and security
Cooperation with an outsourced team always involves sharing sensitive data and intellectual property. Getting on the wrong providers may cause unwanted consequences like data leaks and breaches, intellectual property theft, and compromised quality.
The prevention mechanism for such situations includes implementing strict security protocols and signing an NDA (Non-Disclosure Agreement). These methods may ensure additional data safeguarding, resulting in the minimization of serious risks. At Cleveroad, we sign an NDA (by your request) to keep confidentiality before discussing project requirements in detail.
Cultural gaps and language barriers
Since you'll work with a remote team, sometimes you might experience particular difficulties related to language, cultural gaps, and time zone differences.
However, you can avoid challenging circumstances by precisely building the communication strategy, scheduling regular meetings, and establishing communication channels. The language barrier and cultural difference issues may be mitigated by choosing a region with similar traditions and values.
Also, if you plan to augment your in-house team with outsourced experts, make sure to foster cultural awareness, encouraging the free dialogue about cultural differences. This may allow each of your specialists to feel appreciated, contributing all their knowledge and creativity to your project.
Untrustworthy IT vendor
The choice of a tech partner strongly affects the flow of the cooperation process and may define whether it will be genially successful. Unreliable IT service providers may not be capable of ensuring sensitive data safety and providing you with high-quality healthcare IT services that will meet your main requirements.
Your main goal is to ensure vendor qualification by checking their portfolio with healthcare projects and the feedback from previous clients. This may prevent you from constantly remaking significant scopes of the project's elements according to set timelines and minimizing delays and risks connected with data security.
Best Practices to Successfully Outsource Healthcare Software Development
As mentioned above, the choice of outsourcing healthcare software development services provider may significantly influence the overall cooperation success. Let's dive into the vital aspects to pay attention to while searching for a reliable tech partner.
Domain experience and expertise
You should clearly establish how well the chosen vendor can deal with multiple tasks and challenges inherent in your specification. The experience of working on similar projects may appear to be a huge advantage due to the already well-worked risk mitigation strategies and streamlined performance and work efficiency.
Since 2011, Cleveroad's team has been offering healthcare software development services and successfully delivered technologically advanced solutions for clients worldwide. We possess hands-on experience in building various telehealth solutions, such as EHRs, e-prescribing software, healthcare CRMs, medical database software, medical billing software, etc.
Portfolio
For you, the potential tech partner's portfolio can showcase their knowledge's practical application and provide insights about their actual expertise level. Primarily, pay attention to projects that are similar to your concept, and in parallel, search for the features that you're planning to implement.
Examine previously delivered solutions' quality, functionality, appearance, and usability. Exploring real healthcare project cases may facilitate making confident decisions, ensuring the partner can meet your demands.
Electronic Health Records (EHR) System built by Cleveroad (Source: Dribbble)
Real customers reviews
Analyzing real clients' reviews will give you a detailed understanding of what to expect from the future cooperation structure. How well do they fit into the deadline? How do they behave if unexpected challenges arise? What is their project budget? Usually, customers' reviews contain valuable insights to help you make an informed decision. You are welcome to review our clients' feedback about successful medical project deliveries on the Clutch platform.
Discuss the project requirements and listen
When addressing your product vision to a potential tech partner, make sure to communicate the requirements and expectations clearly. Your goal is to find mutual understanding and a well-worked and structured course of action. This minimizes misunderstandings and guarantees both sides' willingness for smooth cooperation and timely work scope delivery.
To ensure thorough project requirement gathering, we offer our clients two planning phases: The solution design stage and the Discovery phase. In the first stage, we review your business context and ask initial questions. The second stage delves deeper into both the technical and non-technical demands of the telehealth solution.
Communication policy
Before diving into full-fledged cooperation and development, it is crucial to realize what approaches the vendor applies to ensure robust and comprehensive communication. The communication policy outlines the guidelines that form a transparent and effective interaction during the collaboration. Examine the preferred communication channels, response frequency, and your future partner's crisis management skills, and in case you are satisfied, you can proceed with further steps.
Patients' data security approaches
Outsourcing medical software development implies directly operating sensitive medical patients' data, which has to be shared and stored at a high-security level. To ensure the necessary safety, encourage the IT provider to tell you about the methods they use to keep the data private. The most widespread methods include:
Data encryption
Access control
Compliance with industry regulations
At Cleveroad, we are focused on facilitating high safety for sensitive medical data and developing healthcare solutions compliant with core health regulations and standards like HIPAA, CCHIT, CCD, CDA, HL7, etc.
Proper documentation
Remember to check the documentation and agreements the IT provider is offering to sign in advance. The exemplary list of documentation includes NDA, MSA (Master Service Agreement) - which outlines general terms and conditions of cooperation, and SOW (Statement of Work), which defines the particular work scope and timelines for both the development and discovery stage.
How Much Will It Cost You to Outsource Healthcare Software Development?
Now, let's understand the financial investment you should count on for outsourcing of medical software development. You should note that the development cost directly depends on the list of IT services provided and the team composition.
Let's see what specialists your basic future outsourced team should consist of.
Project Manager (PM). This team member supervises and manages all internal creation processes from the start to launch, including reporting to you about work scope completion and overall workflow. Nonetheless, PM ensured that the project's functional and visual aspects meet your requirements
Front-end and Back-end developers. If the front-end developer is creating a solution's user's side, the back-end builds the internal core architecture, which is invisible to a user but facilitates the solution's proper functioning
UI/UX designer. The primary goal of this expert is to provide a flawless user experience accompanied by a simple yet attractive visual concept
QA or Quality Assurance engineer. This specialist is present during all development stages to ensure the solution's correct functioning, and in case of bugs or malfunctions, helps developers to detect and fix them on time.
Additional specialists. According to your project needs, the team may be expanded with experts like DevOps engineers, Solution architects, etc.
In the table below, you can check the average rates for HealthTech app development services defined by Clutch and GoodFirms:
Average outsourcing rates per hour

| | |
| --- | --- |
| Region | Average wage for an hour of work |
| Central and Eastern Europe | $50-$70 |
| Westrn Europe | $70-$90 |
| North America | $100-$150 |
| South America | $40-$50 |
| Asia | $25-$35 |
To help you better understand the structure of outsourcing medical software development pricing, we've ranked the three categories of healthcare software in terms of complexity. Calculations are based on the average rate of our region (Central and Eastern Europe) - $50/h.
Simple healthcare software
Simple healthcare software has a basic functionality, such as patient records management and appointment scheduling, as an example. The cost to develop such a solution varies from $55,000 to $75,000.
Medium complexity healthcare app
Medium-complexity medical systems possess more enhanced technical capabilities and include moderate levels of features and functionality (to the existing basic features). They might include features like billing, basic reporting, EHR integrations, etc. The price to develop such applications is around $75,000-$150,000+.
Complex healthcare software
Complex healthcare software has a wider functionality and may include interoperability with other systems, deep health analytics, robust privacy safeguards, AI-driven diagnostics, and even genomics analysis. The cost to develop a complex solution ranges from $150.000 to $300,000.
Steps to Outsourcing Medical Software Development
After you've found a healthcare IT vendor that meets your requirements and budget, it's time to proceed to the development stage. Now let's overview the stages your medical software idea will go through on the example of Cleveroad's software development life cycle.
First contact
The cooperation begins with your request on our website, which then goes straight to our Business Development Department. Then, within 24 hours, your personal manager with expertise in Healthcare gets in touch with you to agree on the next stage. Optionally, you can sign an NDA agreement to keep your idea confidential.
Solution design stage
After the application is received, we have to obtain a clear understanding of your project's purposes and requirements. You'll be offered to schedule a meeting with our Solution design team (solution architect, business analyst, and designer) to discuss:
Business goals
A work scope
Main concerns
Basic quality attributes
If you're still a bit confused or have questions or unspoken ideas left, we can schedule an additional meeting. Then, our team provides you with a rough estimate and approximate timelines.
Discovery phase
Discovery phase is an essential step in transforming your requirements into clear project specifications. During this stage, our experts conclude earlier received information, create a clear development strategy, and define the following:
The visual concept attributes
Detailed features set
Possible risks
Reliable business strategy
Timelines and necessary estimations
Development and quality assurance
This stage is definitely the most effort and time-consuming, as it implies the creation of your healthcare solution architecture that will meet your expectations and requirements. However, there is a way to speed up this process by first creating a Minimal Viable Product (MVP).
Healthcare app MVP is a version of a solution with a minimum feature set to deliver its value to end users and test the concept in general. Such an approach helps you release a product faster and for lower costs while gathering the user's feedback and valuable insight about its usability and functionality. Then, you can add functionality based on users' demands to deliver a more superior solution over time.
Generally, the whole development process is divided into several prints. At the beginning of each sprint, the development team specifies the workload and sets the goals for a sprint. During the sprint, developers start to implement features into the solution's architecture under the precise supervision of a Project manager. The PM notes all the project's changes, such as the implementation of additional features, bug fixes, feature improvement, etc.
Then, the QA engineers double-check the solution, and in case of bugs or malfunctions determination, report the issue to developers to fix it.
Release
In the context of healthcare software development, the team provides custom deployment of the software into a live healthcare system, places it in specialized healthcare marketplaces, etc. However, if your solution is telehealth-related and it doesn't contradict industry-related regulations, you can also place it in regular digital marketplaces like Google Play or AppStore. The QA is still present here to make additional checks, and if something is not up to plan, developers make hotfixes.
Support and maintenance
The cooperation doesn't stop after the product release. The team also may look after the solution to ensure its functionality, modernity, and compliance with new healthcare regulations. It's a vital condition to enhance user experience, the solution's quality, and competitiveness. This stage may be prolonged and include:
Code optimization
Modernified approaches utilization
Bug fixes, etc
Why Outsource Healthcare Software Development to Cleveroad
Cleveroad is an outsourcing software development company located in the CEE region, particularly Estonia. Since 2011, we have been providing high-quality healthcare software development services for all kinds of medical institutions, starting from large enterprises and clinics and ending with small healthcare practices.
We'd like to showcase you the main benefits you may receive from cooperation with us:
Wide range of expertise. Our specialists are equipped to provide high-quality medical software development services like custom software development, legacy system modernization, integrations with third-party services, and modern technologies like AI, IoT, Blockchain, etc.
Experience in the healthcare domain. We have practical experience in delivering multiple healthcare solutions like EHR systems, telemedicine software, healthcare CRMs, medical billing software, health tracking apps, and much more.
Project transparency. We provide full-cycle development services, and the whole cooperation process is ruled by the principle of total honesty and clarity. Nonetheless, offering an initial estimation, we won't unpleasantly surprise you with additional fees or hidden payments.
Choice flexibility. The cooperation process may be structured according to your needs and capabilities, as we offer various cooperation models. Also, our team is always ready to swiftly take arising ideas into work and try to organically implement them into existing workflows.
We provide different cooperation models to choose from based on your timelines and financial capabilities. Such cooperation models include:
Dedicated development team
Unlike typical outsourcing, here, a team of skilled experts works exclusively for your project. The team is basically expanding your in-house team capabilities but in a remote configuration. This is a great approach if you work on a big project but need extra skills or expertise.
The time and material cooperation model lets you obtain certain flexibility in decision-making and resource planning, and here, you literally pay for the actual time and materials spent on the project's creation. This cooperation approach may suit you if the project details change or you simply need a more dynamic in the overall development process.
Incorporating an augmented team approach allows you to augment your current team with fresh expertise with no long-term commitments. It's a perfect way to enhance your in-house team skills and capacity for specific task completion on a short-term basis.
Our team has already successfully delivered a great variety of medical software development solutions for clients from various regions like Saudi Arabia, the US, the UK, Asia, Australia, etc. We'd like to show you some of our healthcare projects so you can aspire and pick some interesting functionality for your own solution:
Need to outsource health app development?
Get healthcare app development services from an outsourced IT provider with 11+ years of experience in the domain
Frequently Asked Questions
Outsourcing healthcare software development services implies hiring an external team of IT specialists to design, maintain, and build software that may be incorporated for accomplishing healthcare needs. Nevertheless, such software may help you automate manual processes and reduce the paperwork.
Healthcare enterprises often outsource software development, seeking a professional skilled approach and a high level of expertise. As a result, they receive well-worked solutions for accomplishing their need which usually include higher data security protection, improved patient management, telemedicine practices integration, etc.
The core benefits of outsourcing healthcare development services include access to a wider range of expertise, cost-savings, faster hiring and time-to-market, and the obtained ability to focus on primary healthcare business activities
The cost to outsource healthcare software development varies from $75,000-$250,000+.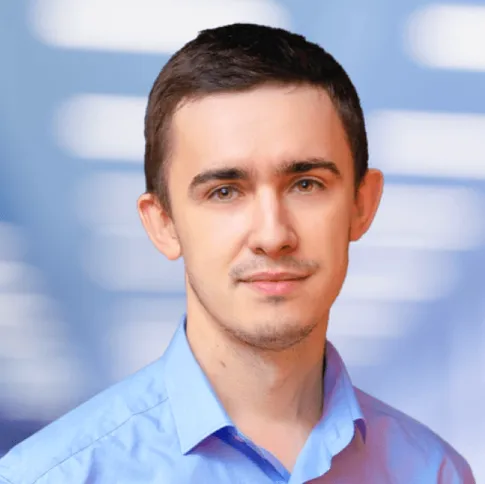 About author
Evgeniy Altynpara is a CTO and member of the Forbes Councils' community of tech professionals. He is an expert in software development and technological entrepreneurship and has 10+years of experience in digital transformation consulting in Healthcare, FinTech, Supply Chain and Logistics
Rate this article!
157 ratings, average: 4.76 out of 5
Give us your impressions about this article
Give us your impressions about this article