Popular Software Development Methodologies and Frameworks: Full Comparison
Even the smallest software development project involves a dozen IT specialists, lots of meetings, plannings, discussions, and typically strict deadlines for the team to meet.
That's why development companies apply different software development methodologies and frameworks. They help to standardize the process, making it clear what's going on with the product for both clients and internal teams.
In this article, we're reviewing the most popular software development methodologies—Agile, Waterfall, Lean—and review some of their famous frameworks.
What Are Software Development Methodologies?
Before going through the list of approaches, let's see what the term itself stands for.
A development methodology is a process of how to build your software.
Companies that provide software development services can build products in many different ways: moving from more to less important tasks, in alphabetical order, in order of your preference, and so on. Developers may work for just two days per week, five days per week, or non-stop until they burn out.
Different software development methodologies help to structure the work—outline which part of functionality will be done, in what time frame, and when to show results to owners.
Here are the top methodologies by development companies, according to GoodFirms: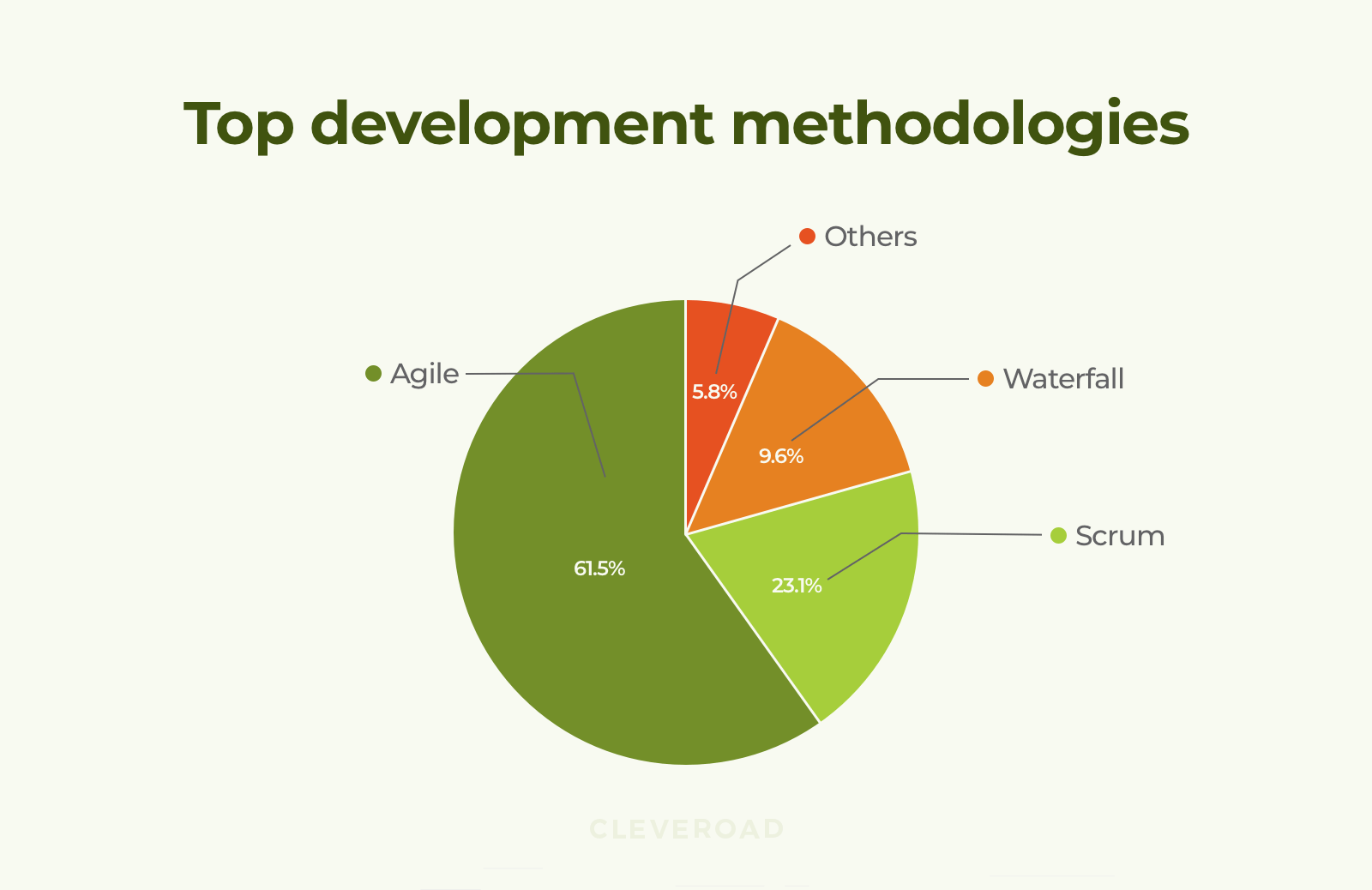 Best software development process methodologies (Source: GoodFirms)
#1. Waterfall
Waterfall used to be a 'classic' development approach for a long time: from 70x till 00x. This methodology is quite strict and linear, and every stage has its set deliverables.
In Waterfall, the process goes only forward: a new stage starts only when the previous one is finished. For example, if you're at the coding phase, there's no way you can get back and change something in the product's design.
Waterfall-based development goes in six stages:
Discovery. The team gathers a full list of requirements for the entire project.
Design. Solution Architects define how to build the software and how it's going to work.
Coding. Developers implement UI design according to client's requirements.
Testing. QA engineers check the whole codebase for bugs or inconsistencies.
Deployment. Developers integrate various pieces of the product and show its demo version to stakeholders.
Maintenance. The team provides support and fixes bugs.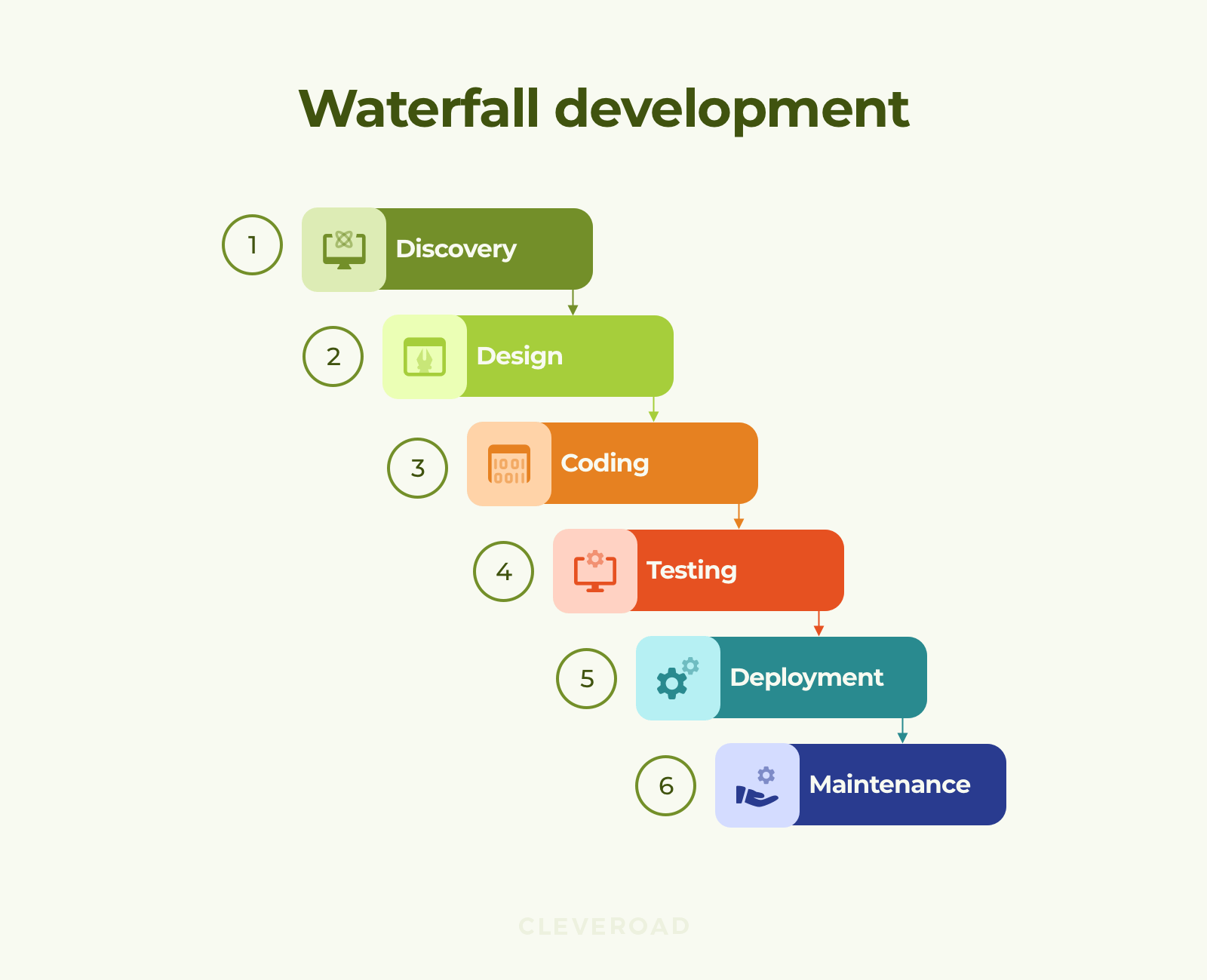 How Waterfall, one of the popular software development methodologies, works
Waterfall offers predictability, thus, more accurate budgeting and scheduling. It's perfect for fixed-price projects or enterprise-level software that requires very detailed planning and documentation.
Benefits:
Simple, functional, gradual, and analytical methodology
Great for fixed-price projects or the ones that require detailed documentation
Requires less client involvement after the discovery stage
Easier to estimate the final budget/schedule
Drawbacks:
Needs exact requirements for the entire project
Requires a lengthy discovery phase
Not flexible, hard to make changes after the planning stage
The final product may not meet the client expectations
With the lack of flexibility, Waterfall has almost been replaced by more responsive methodologies like Agile. There's a good reason for that: Agile success rate is more than 1.5x higher than those of Waterfall projects (42% success rate of Agile vs. 26% Waterfall).
While the Agile failure rate is almost 3x lower compared to Waterfall. That explains why more and more companies switch to Agile and even consider it to be a standard.
#2. Agile
Agile methodology SDLC is among today's most popular software development approaches, accepted in all-size companies—from tech startups to Apple. Even the government software is developed with Agile (acceptance rate).
Instead of building the entire product in one Waterfall-like go, Agile splits development into a few iterations called sprints. Usually, one sprint lasts 1-4 weeks. During that time, the development team designs, codes, and tests complete features that can be released as a working product.
The sprint's goal is to deliver a working product. For example, if the team dedicates a sprint to a single sign-on, this feature must be tested and work properly by the end of the sprint.
After the first release, the team collects feedback and plans the second sprint.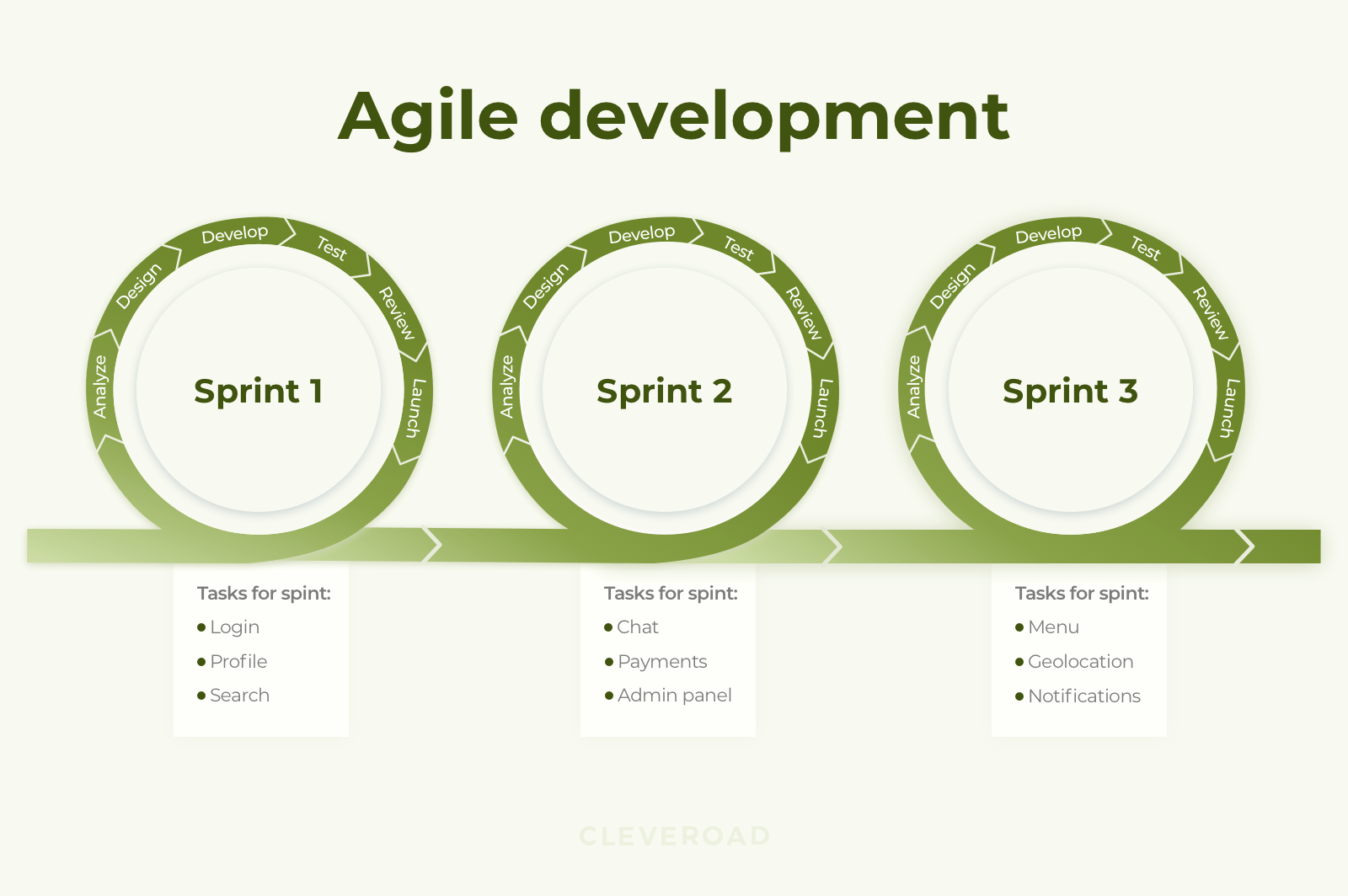 Agile development goes in short (1-4 weeks) sprints
Sprints work great on complex or lengthy projects (300+ hours) or when it's not clear what exact steps to take to get the result.
By splitting huge tasks into smaller sprints, the team can make releases more often, collect more requirements and feedback, and reduce the risks of not meeting users' expectations.
Agile benefits:
Frequent releases (1-2 per month)
Flexible, easy to make changes
Each sprint ends with the release of a working product
Client is more engaged in the development so there's a higher chance all their requirements will be met
Team works closely and has a clear vision of their responsibilities
Drawbacks:
Requires careful management
No end-date for the development, no final price tag
Requires experienced and responsible team members
Most software development companies that choose Agile have Project Managers to watch over the team and reports the process to company's clients,
Here at Cleveroad, we follow Agile methodology and apply the Scrum framework in our everyday work. You can learn more about our software development process in a separate article.
Agile Framework #1 — Scrum
The difference between software development methodologies and frameworks is that the latter is a bit more formed approach with strict rules.
As with Agile, all the work in Scrum is split into sprints. Each sprint starts with planning and ends with the delivery of a stable, working product.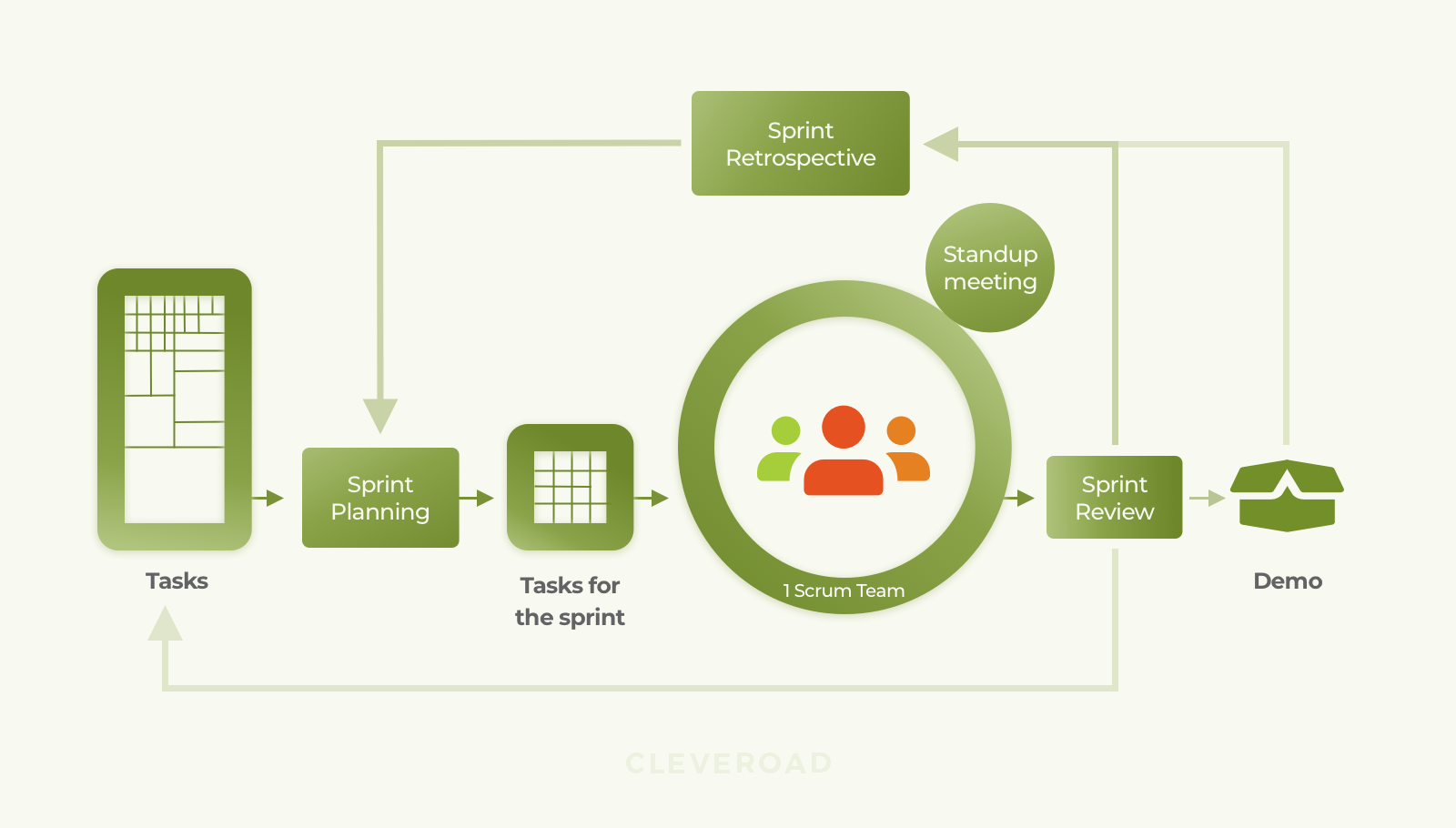 Scrum methodology for software development process
Essential Scrum elements that help the team remain flexible and quickly react to client's feedback:
Sprint planning. Before the development starts, the team gathers for a meeting with clients to prioritize features and plan the next 2-4 weeks of development.
Daily meetings/standups. Every morning, team members share their progress on tasks, plans for the current day, and possible blockers.
Demo. Project Manager reports to the clients on the work done and gathers their feedback.
Retrospectives. The team holds a meeting to discuss what's gone wrong during the sprint, what can be improved, and how.
All these meetings and discussions help to control the team, define blockers, and build better relationships with the client.
Scrum requires high involvement from the client's side and careful sprint planning. It's an excellent framework for quick MVP development and regular improvements.
What's an MVP and how to build it? Check our detailed guide on how to develop an MVP, including its benefits.
Scrum pros:
Release a working product every 2-4 weeks
Works with incomplete requirements
Very flexible, easy to make changes
Frequent meetings with the team
Cons:
Doesn't suit teams with insufficient self-discipline
Requires high client involvement
Needs contribution from every team member
Agile Framework #2 — Kanban
Kanban is even more flexible than Scrum as the team is only focused on the work which is currently in progress.
How Kanban works:
The project is divided into stages and tasks.
Tasks are marked with cards.
The work process is divided into columns (at least three) — To do, In progress, Done.
As developers work on tasks, they move cards between columns, from left to right.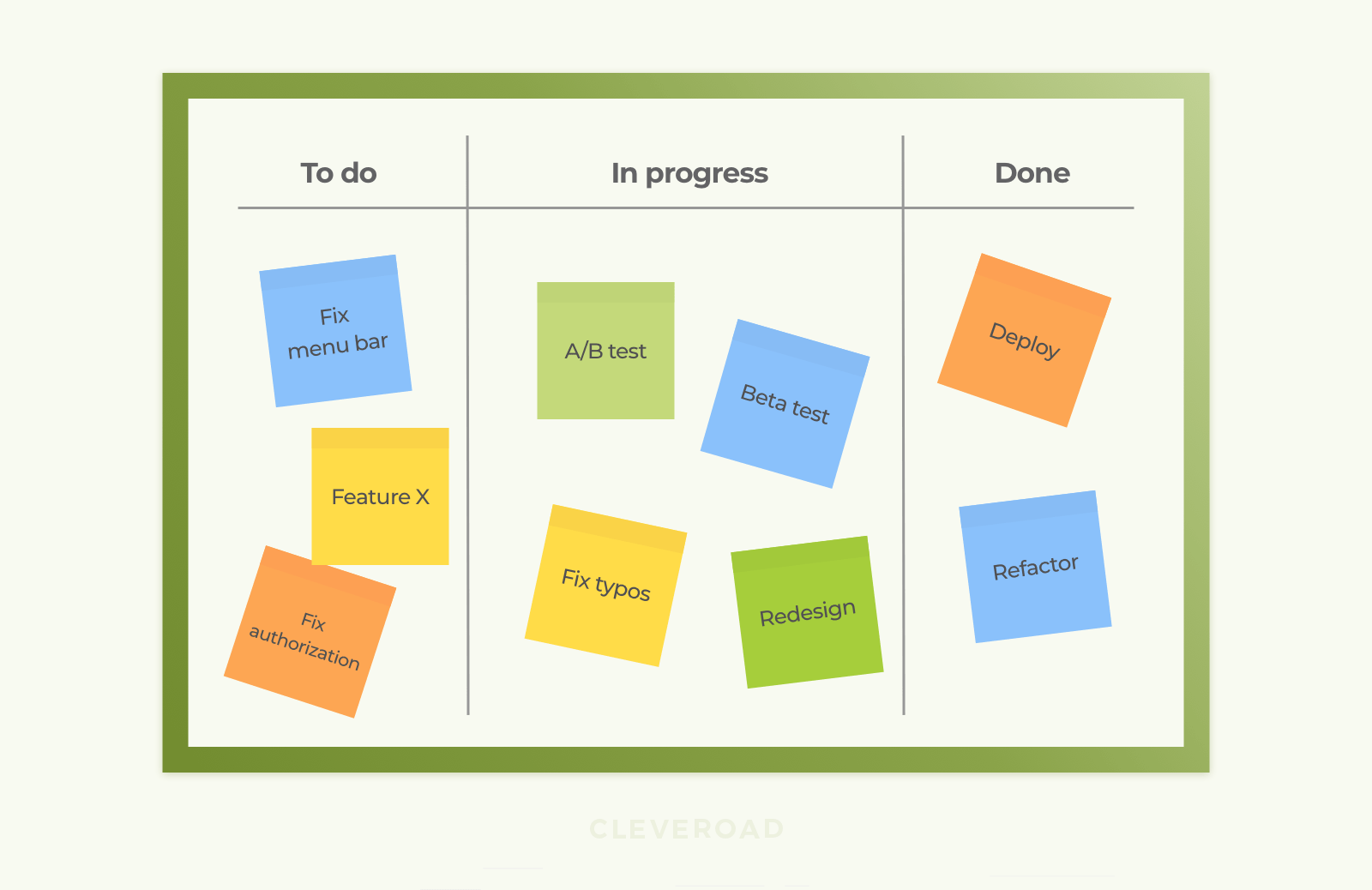 Kanban is one of the most flexible types of software development process
In most cases, a to-do list is organized as a Trello or Jira board. But in fact, you can even use a physical board with colorful stickers.
Kanban shares a few rituals with Scrum—daily standups, demos, retrospectives.
Still, unlike Scrum, Kanban doesn't have any sprints or sprint planning meetings. As soon as the team completes a user story (part of functionality), the Project Manager creates a new task and places it on the board. This way, the team can make releases more often, up to 1-2 times per week.
Kanban pros:
Simple task management
Great flexibility, no sprints or sprint planning
Good for projects under maintenance
Doesn't need re-planning when requirements change
Kanban cons:
No sprints which can lower developer productivity
Requires self-management skills from programmers
Hard to control the scope of work
Agile Framework #3 — Extreme Programming
Extreme programming (XP) approach rather focuses on engineering practices than on project management.
XP is a set of best development practices, namely:
Test-driven development. Programmers start with writing acceptance tests, not code.
Code review. Fellow programmers check each other's code for mistakes.
Refactoring. Restructuring existing computer code.
Pair programming. Two developers work on the same functionality in turns.
Continuous integration. New code pieces are constantly being built into existing ones.
Unit testing. Automated testing that determines if the developed feature works properly.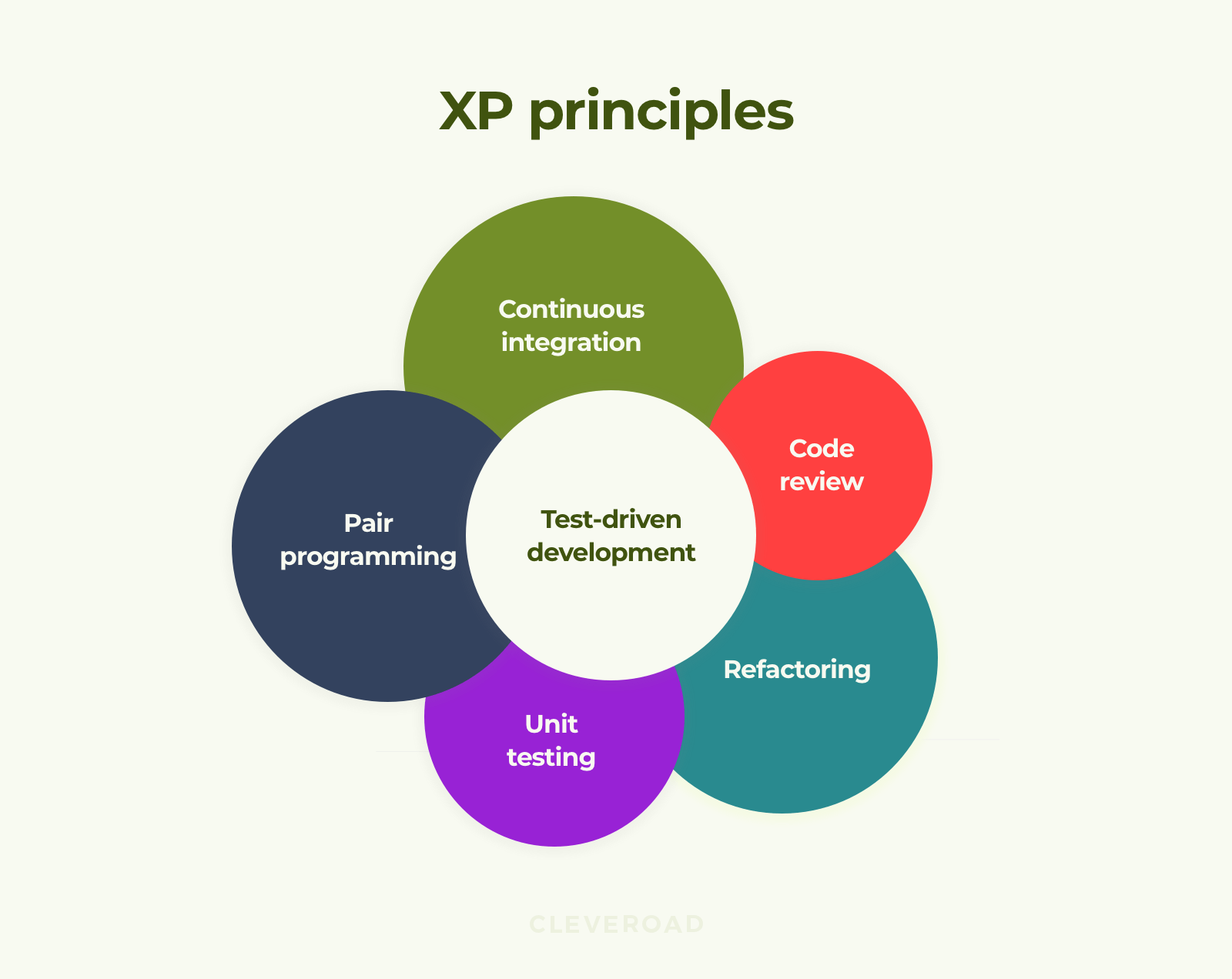 Core practices of extreme programming framework
Only a small percentage of teams use the full range of XP practices on one project. Usually, they choose one or a couple of practices that'd work for their specific case.
Similar to Scrum, Extreme Programming starts with planning. The team analyzes requirements and prepare software development time estimation breaking dowm the whole project into set of tasks. Then, they agree on time frames with the client and get to work.
But instead of writing code first and testing it second, developers start with creating acceptance tests. These tests define exactly what the code must do according to the requirements.
After writing the acceptance test, two developers sit together to write a piece of code and run it through these tests. Developers work in turns. One programmer offers a solution, the other one comments on it and corrects errors. Then they change places and start all over again.
XP advantages:
Clear code
Fast to deliver an MVP
Less documentation required
Easy to adapt to ever-changing requirements
Disadvantages:
High rate of client involvement
Pair programming takes more time
May not be enough documentation
#3. Lean Development Methodology
Lean is similar to Agile when it comes to flexibility, but still, these are two different software development methodologies.
Here's the difference according to Mary and Tom Poppendieck, creators of 'lean development' term:
Lean vs. Agile comparison

| Aspect | Lean | Agile |
| --- | --- | --- |
| Client | Create value for the customer; focus only on value-adding activities | Have a working product that fulfills customer's needs |
| Development speed | Rapid value creation, short cycle times | Continuous delivery of a working product |
Lean approach is often referred to as the MVP strategy. Under Lean, a team releases a bare-minimum version of the product, learns from user feedback, then makes improvements or changes based on this feedback.
There are seven Lean practices focused on software teams and users:
Eliminate Waste. In software development, wasteful activities may refer to extra features, partially done work, delays, defects, and so on.
Deliver Fast. Build an MVP product in the minimum time possible, finding the things that slow down the team and eliminating them.
Delay Critical Decisions. Don't make a vital decision until you have all the information in hand.
Amplify Learning. Gather feedback to adjust the software to users' needs.
Build Quality In. Work on software quality at the coding level.
Optimize the Whole. Focus on improving the entire workflow, instead of just one part of it.
Respect People. Encourage healthy and productive discussions among team members.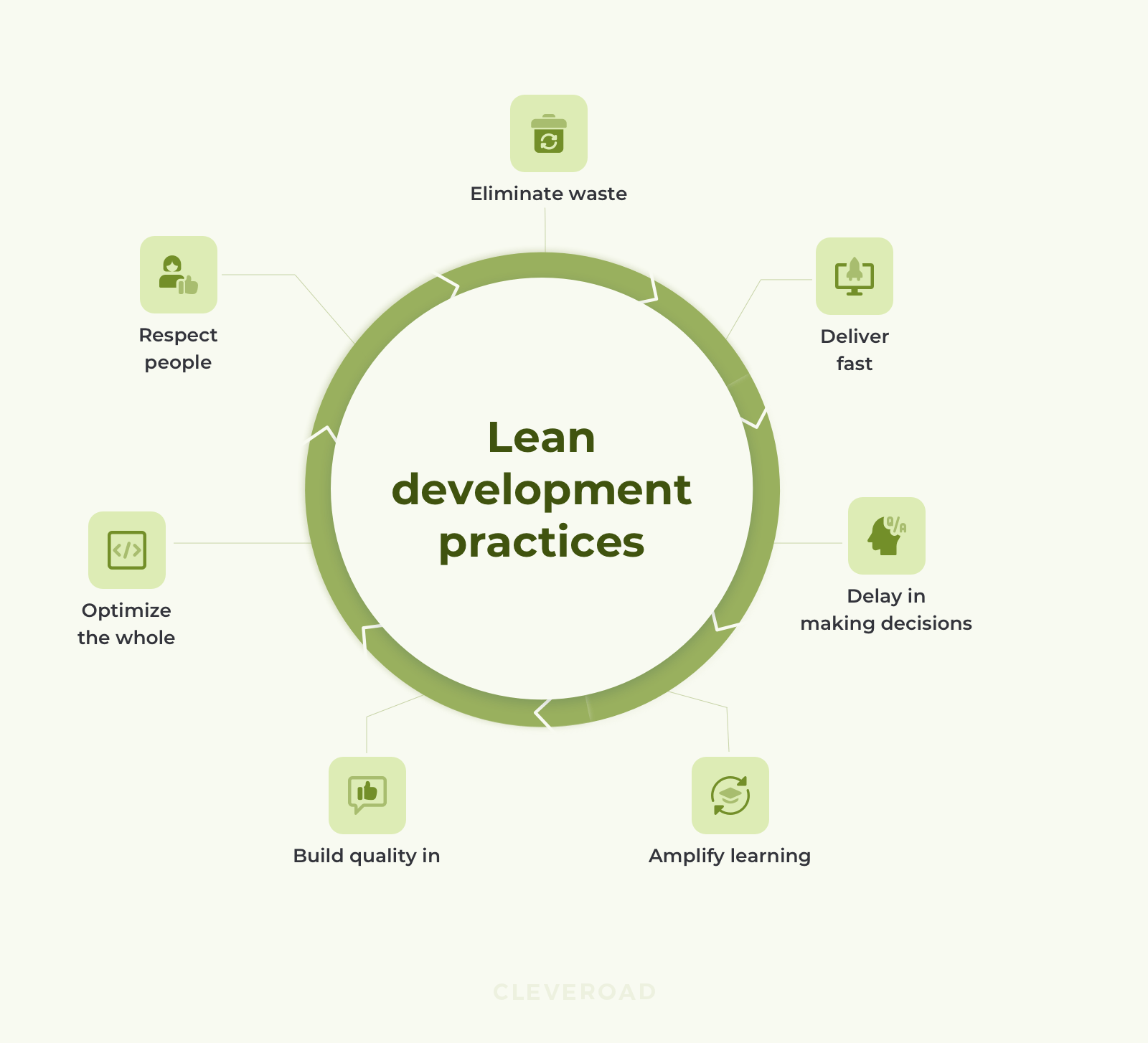 Lean is one of the best software development methodology for startups
Lean methodology is trendy among startups that haven't yet come up with a finished product. By launching with MVP features only, they have a chance to learn more from real market metrics. They find out what works for users and what doesn't and then roll out new updates to fix or improve the software.
Lean pros:
Works for early-stage startups
Focuses on rapid development and improved efficiency
Shortest time-to-market
Lean cons:
The client needs to trust the team's decisions
Need detailed documentation
Business Analyst must be involved to document requirements
Software Development Processes and Methodologies: Full Comparison
Which methodology or framework to follow depends on your project. There's no universal strategy applicable to just any situation.
If you're working on a startup, it may be better to go with Agile or Lean because of their flexibility—you can change the work scope at any time.
If you're improving an enterprise-level desktop app, where managers demand strict and detailed documentation, Waterfall may seem a better choice.
Software development methodologies list and when to use them

| Name | When to apply | Client involvement |
| --- | --- | --- |
| Waterfall | For fixed-size projects; enterprise software with clear requirements | High during the discovery stage; lower in the next phases |
| Agile | For any-sized projects | Client provides requirements & feedback |
| Scrum | Long-term, complex projects | Client places the leading role is defining the requirements, providing feedback |
| Kanban | For fixing bugs, small releases and adapting to changing priorities | Owner sets tasks & provides feedback |
| Extreme programming | Write code within strict timeframes | Client takes part in defining the requirements, estimation and prioritization |
| Lean development | For MVP startups | Client provides input on sample screens and initial user stories |
At Cleveroad, we follow Agile methodology and apply Scrum framework to our everyday processes. As we often deal with tech startups, Scrum helps our clients remain flexible and easily apply changes to their projects.
That's how we've helped Ayoo and Occaz startups to launch—and keep helping to improve them.
How to build your software?
Tell us about your project, and we'll help you find the best approach to its delivery.
Frequently Asked Questions
In short, a development methodology is a process of how to build your software. For example, you can go from planning to release step by step (Waterfall methodology). Or release a small part of functionality every few weeks (Agile).
Development companies apply different software development methodologies and frameworks. They help to standardize the process, making it clear what's going on with the product for both clients and internal teams.
There's no universal methodology. To choose the right approach, you should clearly define the goal of your project. When you have strict requirements for your project it'll be easier to figure out the methodology you need.
There are a lot of software development methodologies used by different programmers. Even you can create your own methodology that will boost your software development process.
However, if we're talking about the most popular approaches, here are the numbers:
Agile — 61.5%
Scrum — 23.1%
Waterfall — 9.6%
Others — 5.8%
Two most common software development methodologies are Waterfall and Agile.
Yes, and it still covers lots of projects. For today, Waterfall is the second-popular methodology after the Agile and Scrum framework.
Top methodologies according to GoodFirms:
Agile — 61.5%
Scrum — 23.1%
Waterfall — 9.6%
Rate this article!
7314 ratings, average: 4.99 out of 5
Give us your impressions about this article
Give us your impressions about this article
Donna Foster
12.07.2021 at 07:43
wow, Amazing! really very helpful article for increase our knowledge
Hanns Rauer
25.05.2021 at 10:34
liked your guide very nice
سینا قاسمی
03.04.2021 at 11:52
liked your blog very informative. A very great post. Many thanks for sharing this pieces. 2021 is really going to be a Digital Transformation year so thanks for informing
Duane West
28.02.2021 at 01:16
thank you for sharing the article, it really helped me a lot. I used to think that lean is just another agile framework not a methodology itself, thanks for spelling this out.