How to Make an App Like Uber for Trucks
2807 Views
|
27 Nov 2019
|
9 min
Transportation is a significant part of many businesses. According to the latest report, the revenue from freight trucking reaches $700 billion in the USA.
Creating an app like Uber for trucks requires preparations. In this article, we'll be discussing such significant points as current problems on the market, essential features, and monetization strategies.
Reasons to Build Your Own Truck App
In the past, it was a struggle to arrange a shipment due to many calls and emails.Online management solutions tend to simplify the shipping process removing time-consuming paperwork and cutting expenses.
Except that there are several more to create an Uber-like app for trucks.
Fuel cost reduction
The final price of shipments depends on the fuel cost. A lot of transportation businesses are unprofitable as trucks drive back empty. Digital trucking solutions enable effective truck management keeping a fleet always full. Drivers can choose loads according to their location and eventual destination.
Great customer experience
Trucking solutions give full transparency. With their help, you can see the final price of the shipment and follow the trucks' route. It increases their trust and loyalty.
Payment tracking
It's profitable for both — drivers and shippers. The first ones can look through their payment status and past transactions. As for the shippers, they have a secure way to pay for transportation. Additionally, the payment happens only after the shipment is delivered.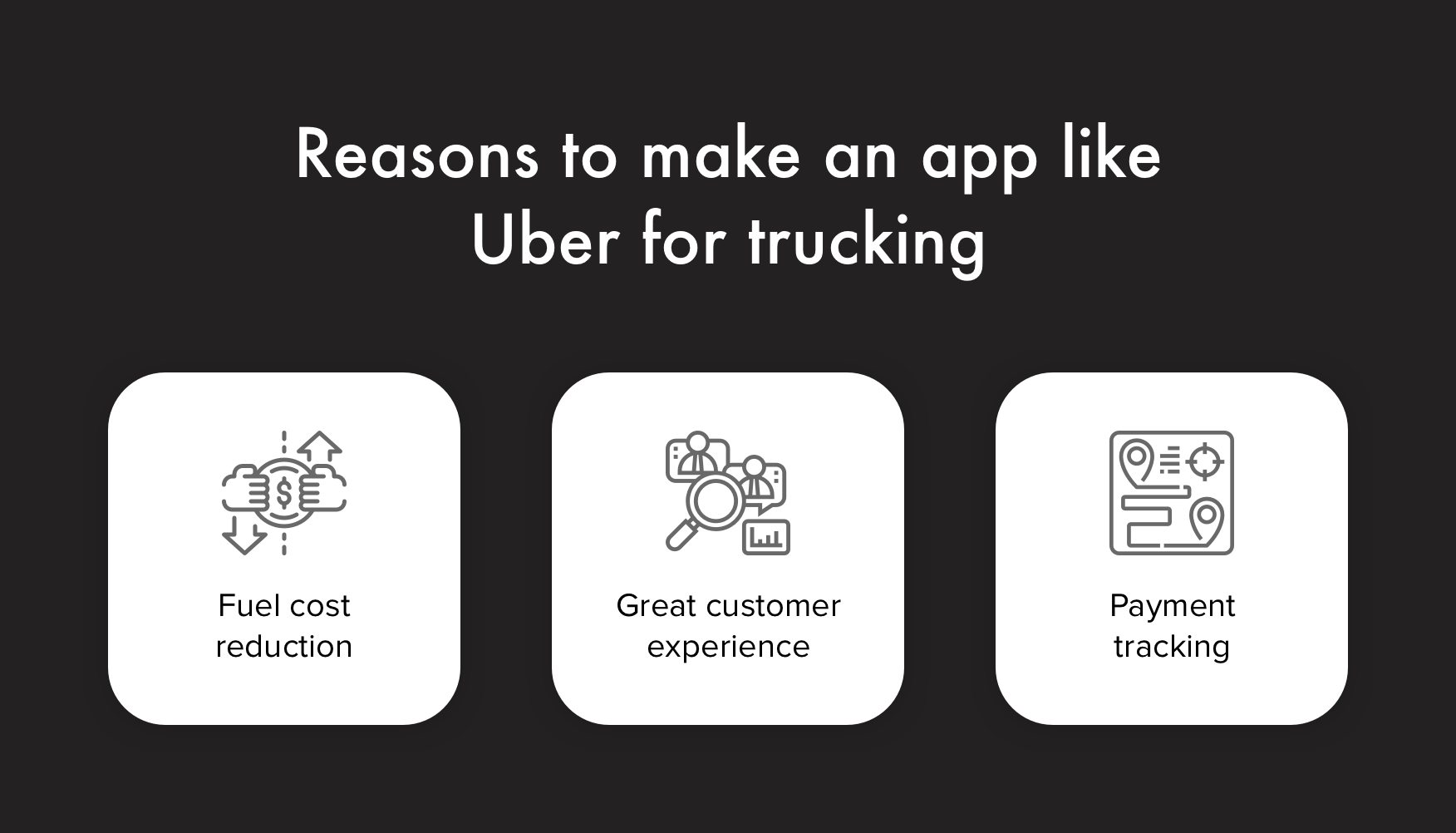 Why make an app like Uber for trucks?
Marketplace apps like Uber for trucking can be a good solution for many problems in the transportation industry. It can offer real-time pricing, suggest routes, and places where to stops. An excellent software solution should also track the transport, automatically validate how loaded the vehicle is, and show the truck's location .
Best Examples of Apps Like Uber for Trucks
Before launching your project, it's better to consider existing solutions on the market. Uber for trucking app development requires great attention to details, so we've prepared three popular services for you to take a look at.
Want to develop Uber for trucks?
Our team is at your disposal!
The app is created to connect shippers with truck drivers. Cargomatic allows planning a delivery with a competitive price formed based on distance, weight and size of the cargo. It's possible to choose the driver depending on financial security, reputation, equipment, and driver's rate.
There are two applications — the Cargomatic Driver app and the Cargomatic Shipper app. The first one lets drivers check available supplies, apply for a job, look through the road, and send required documentation via email.
As for Cargomatic Shipper, there are various features for shippers. For instance, they can call the driver via the app, see the shipment history, and rate the driver.
The service has mobile apps for both — iOS and Android, along with a web version.
The mobile app is available only for drivers and works on iOS and Android. The shippers have to sign up via the web version of the platform.
The Convoy provides a lot of opportunities for drivers like suggestions to keep trucks full, detention pay requests, and more. Additionally, the company shows more precise drop-off and pick-up time, so there is no need to wait near warehouses for hours.
Convoy cooperates only with professional tracking companies that have Motor Carrier Authority or a DOT number and insurance.
Since we're talking about Uber for trucking app, it's required to consider the application created by Uber for the transportation industry.
Uber Freight app has solutions for iOS and Android, along with the web version. The service brings a lot of exciting features for both — shippers and carriers. For instance, shippers can look through their past and future shipments, track loads on their way 24/7, and choose the appropriate price and time.
As for carriers, the application provides them with appropriate loads depending on their favorite routes, cargo types, and more. On top of that, carriers can see the price, so there are no negotiations.
Having an established business with an available truck fleet, you can develop a mobile app or a website according to your company's needs and requirements. Such a solution would let you automate the whole process and make the calculation easier.
Uber for Trucking App Development
In case of making a Uber-like app for trucks, you need to consider the development of two apps (for drivers and shippers). The requirement features will depend on the role. For instance, the Uber truck driver app should contain useful functions to make the delivery process comfortable (e.g. navigation). As for the shippers' app, you need to consider such feature as rating system.
Below we'll discuss the basic features for both applications.
Uber Freight Driver App: Basic Features
Registration or login
Any app like Uber for trucks requires registration. The driver has to fulfill some personal data, e.g. truck type, driving experience, and more.
Requests
The driver needs to see the list of available requests to choose from. Additionally, provide an option to accept or reject the request in one click.
Chats
Real-time chat is needed to keep in touch at all times. For instance, it's possible to discuss the shipment details. It's also common to add an opportunity to send a photo. Of course, developers can add some statues like typing, read, and so on.
Navigation
This feature simplifies the drivers' work. The application can build optimized routes to reduce fuel consumption and increase delivery speed.
Push notification
It's better to notify drivers about interesting offers that follow their current location and destination. Also, there are notifications about successful payment transactions.
Freight details
To decide whether or not to take the order, the driver needs to look through the load's details. It's necessary to make a screen with freight's weight, size, pick-up and drop-off time.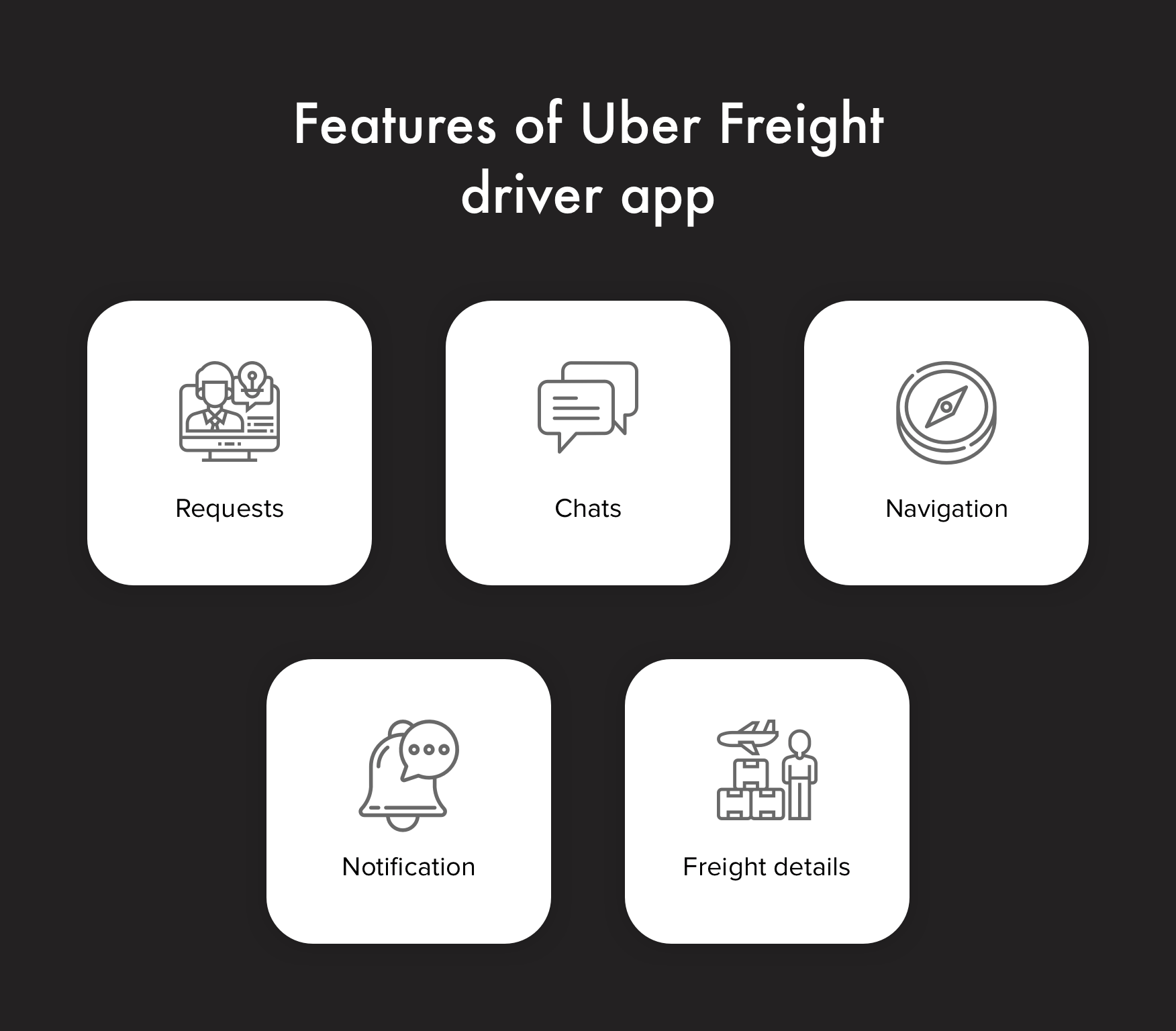 Uber Freight driver app features
Uber Freight Shipper App: Basic Features
Registration or login
It's better to offer users several registration options. They can be login with email or Facebook account. This move makes registration process faster and smoother.
Orders
Shippers tend to book a shipment beforehand. They need to make a request adding all the shipment details: pick-up and drop-off time and location, weight, and so on.
Map
To add a precise location for a driver to pick-up and drop-off the load, it's better to integrate the map. Additionally, the GPS system allows tracking the truck on the road in the real-time.
List of available drivers
The customers need to see what kind of vehicles are available in their location. Shippers need to choose the truck according to the loads' peculiarities.
Payments
It's necessary to integrate a secure payment gateway into your application. Such a system provides an opportunity to pay for the shipments through the app. There are several popular payment services (e.g. PayPal, Braintree) that you can utilize.
Rating system
Customers need to rate a driver after the trip. It allows choosing only reliable and efficient drivers with all the required documents.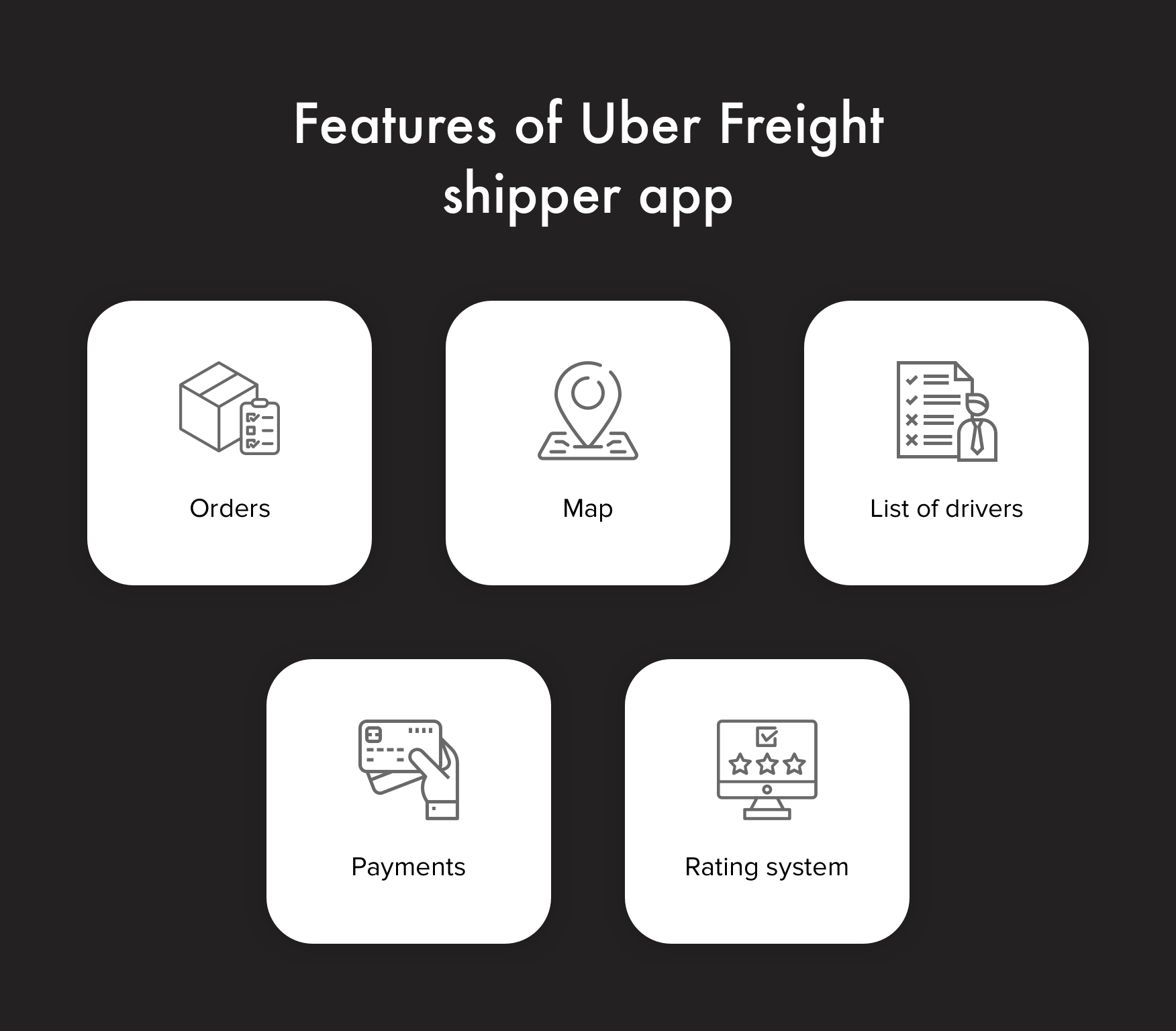 Uber Freight shipper app features
It's better to make an MVP version of your app and release it. After that, you can gather feedback and decide what kind of features you need to develop next.
Basic features can make your applications convenient. But, to stay competitive and gain more users, you need to offer some unique and complex features. There are some ideas:
Various languages;
24/7 chat support
Traffic conditions
Weather updates
etc.
How to Monetize Uber Truck App
There are various monetization strategies. The most wide-spread one is targeted advertisements. However, using many advertising banners on your Uber-like app can damage customers' trust. A common way to monetize an app like Uber for trucks is to charge a commission for the money transfers, thus a payment gateway is a must in your app.
To be competitive, you need to study the competitors' commissions. For instance, the Uber Freight app charges the commission depending on the distance. As for Cargomatic, this service tends to charge about 20% of the deal value.
When you're choosing the payment solution for your project, you need to think through the security issues to assure your clients that it is safe to use your Uber truck app and to pay via your system. The best way out is to integrate reliable existing solutions, which proved their robustness, like PayPal, Stripe, or Merchant Accounts.
Additionally, you can offer some advanced features that are paid (for drivers and shippers). For instance, there can be push notifications, 24/7 chat support, various languages, and more.
How Much Does It Cost to Make an App Like Uber for Trucks?
To find out the final cost of an app, you need to consider several more factors. Below we'll discuss the essential ones, e.g. admin panel, design, developers' location.
UI/UX design
To make your app successful, it's better to consider user-friendly design beforehand. Developing an attractive design is a time-consuming process. For instance, making a simple design takes at least 120 hours for one platform.
Admin panel
You need an admin panel to control your application. Among it's basic features are user management and the ability to look through transactions. It's development takes at least 64 hours.
Developers' location
To create an Uber trucking app, you need to hire reliable vendors. It becomes more widespread to cooperate with outsourcing development companies. They usually provide more affordable hourly rates in comparison to the developers from the USA.
Software developers' rates
| Region | Web developer rates | iOS developer rates | Android developers rates |
| --- | --- | --- | --- |
| North America | $130 - $150 | $110 - $250 | $150 - $170 |
| Western Europe | $60 - $75 | $37 - $175 | $70 |
| Eastern Europe | $25 - $50 | $23 - $80 | $35 - $50 |
| Australia | $100 - $110 | $35 - $150 | $110 |
Final Estimate of an Uber Trucking App
Estimating your project, you should always bear in mind that you need not one but two applications, which, of course, will influence the timeline and the cost. Below, you can see the estimation, which includes basic features for iOS and Android mobile apps and a web version of the platform.
!
All the estimations provided below are based on the average rate in our region (Eastern Europe, Ukraine) — $50 per hour.
How much does it cost to make an app like Uber for trucks?
| Type of work | Web development | iOS development | Android development |
| --- | --- | --- | --- |
| Driver's app features | 133 hours | 83 hours | 87 hours |
| Shipper's app features | 124 hours | 94 hours | 93 hours |
| Admin panel (one for all platforms) | 64 hours | - | - |
| Frameworks & libraries integration | 47 hours | 41 hours | 41 hours |
| UI/UX design | 140 hours | 150 hours | 120 hours |
| Quality assurance | 144 hours | 108 hours | 108 hours |
| Project management | 72 hours | 54 hours | 54 hours |
| Total time | 724 hours | 530 hours | 503 hours |
| Total price | $36,200 | $26,500 | $25,150 |
Ready to make Uber for trucks?
We'll get to work on your project in less than 24 hours.
Rate this article!