Boosting Business Efficiency With Enterprise Mobile App Development
Big enterprises follow a strict schedule and manage a lot of tasks at the same time. They always look for new ways to reduce time and money expenses. One of the ways to reach this goal is to integrate enterprise mobile app development.
Many enterprise-level businesses use mobile apps that help both employees and clients keep track of all projects and events. However, enterprise mobile apps differ from applications we used to see in everyday life. The apps for large organizations are specifically created to solve the growing problems of a particular company.
Enterprise app development services have pitfalls and particularities. In this article, we'll discuss types of mobile apps for enterprises, reasons to create such an app from scratch, and steps to take for enterprise mobile application development.
What Is Enterprise Mobile App Development and Its Potential
Enterprise mobile app development process includes building and deploying scalable and trusted mobile apps to help companies facilitate their tasks. Besides optimizing business operations, they aim to deliver user-oriented software to engage with clients, partners, and employees most efficiently.
Moreover, enterprise mobile development allows big companies to:
Improve efficiency through process automation
Enhance productivity for increased output
Manage corporate data effectively for insights
Facilitate seamless team communication
Elevate customer interactions and satisfaction
Optimize inventory and supply chain operations
Streamline financial tracking processes
Simplify HR management
Ensure data security and regulatory compliance, etc.
Enterprise mobile apps for internal and external purposes can duplicate employees' main services on their PCs, or they can be the original solution to current working issues.
Studies and surveys among large enterprises show a significant increase in enterprise app development:
According to

PWC news platform's 2023 Trust Survey

, 90% of CEOs in the US attribute a significant portion of their organization's success to enterprise mobile apps and believe building trust is their primary responsibility.
According to

Grand View Research

, the global enterprise app market will reach $123.41 billion by 2030. Enterprise mobile apps can benefit both customers and employees.
A study from

Samadhan

- a digital initiative of the Indian Ministry of Labour and Employment, shows that about 7.5 hours per employee per week are saved by using specialized mobile apps, and 82% of enterprise owners believe it has helped them generate additional business revenue.

Gartner news

platform states that 66% of organizations are expected to increase their enterprise application development services investments in the next three years.
The importance of enterprise mobile app development according to Grand View Research and PWC's 2023 Trust Survey
Enterprise companies tend to make their mobile apps available on mobile devices to cut down the development time and meet market needs. So, how to adopt enterprise applications? There are three most popular enterprise mobile application development strategies:
Packaged mobile applications. Ready-made solutions are an effective way to deploy enterprise apps in your company as fast as possible. However, they offer limited functionalities that don't meet specific business needs. Moreover, it might be difficult to connect such apps to complex and proprietary enterprise systems.
Integrated app development services. This approach implies that the company uses out-of-the-box solution but customize its functionality aligning with the business requirements. Engineers can utilize a variety of mobile services across many apps and platforms.
Custom enterprise app development from scratch. The company can create a unique enterprise application to comply with business needs and goals. Custom apps development provide flexibility in features, design, app logic and give you a competitive benefit.
By deciding on enterprise mobile app development, organizations can improve their business processes and increase enterprise mobility. Such apps offer several serious advantages over your competitors since they can speed up the working process and increase the company's revenue.
Core Features of an Enterprise App
Like every other business, your company has unique business needs, based on which, you have to identify what features to include in your enterprise app. To give you a hint, we've prepared a list of must-have features to build a rock-solid enterprise mobile app.
Security and compliance
Strong user authentication is a basic but vital feature for mobile enterprise application development. Two-factor and multi-factor authentication are the must-have components if you want to use technologies such as OpenID Connect protocol and OAuth 2.0 authorization framework. Enterprise apps must comply with general and industry related safety standards such as HIPAA, GDPR, PIPEDA, ISO, PCI DSS, etc.
Real-time analytics
Enterprises have to manage many processes, interact with hundreds of stakeholders and be responsible for lots of focused services at any time. That's why you need a real-time analysis to sustain flawless data processing, thus improving decision-making processes.
Role-Based Access Control (RBAC)
Role-based access control allows administrators to determine which users have access to certain functions or data in an app based on their role or position in the organization. This provides differentiated access to information according to business needs, ensuring higher security and compliance with industry regulatory requirements.
Data sharing
The enterprises process an incredible amount of data daily. Real-time data sharing is another helpful feature that you can implement with your enterprise mobile app. Having all the necessary data on the go makes it easier for managers, clients, and investors to receive and send relevant information. The data can be shared in any format. For example, the information can be exchanged with slides, excel sheets, or images. Your app needs to handle it.
Push notifications
Keeping pace with the ongoing trends, we all know how push notifications can positively impact the customers' behavior, and your workers are no exception. These notifications will remind your staff members about upcoming events, important business-related tasks, and emergencies.
Moreover, this feature will allow you to reach your potential customers with the right offer at the right time, even if they are not interacting with the app actively.
Offline data syncronisation
To survive extreme competition, you need to be one step ahead. Having created the enterprise mobile app available offline, you'll be able to stand out from the competitors and increase customers' loyalty. This feature ensures that users can work with the app even when they experience a poor internet connection or its absence. This feature allows users to work with data even offline. Data is automatically synchronized when internet connectivity is restored, ensuring continuous accessibility to information.
We've pointed out the essential features for enterprise mobile apps development. But keep in mind that such complex solutions require an individual approach. All features are created and added in response to business needs.
Best Practices for Enterprise Mobile Application Development
Before you embark on enterprise mobile app development, you should consider a few important steps that will ensure the success of your app and a high Return on Investment (ROI). Let's take a look at the best practices for creating an enterprise app:
Analyze your enterprise needs
Before you start developing an enterprise app, determine what specific needs your company needs it to fulfill. For example:
If you're in the medical field, your corporate app might be focused on improving electronic medical record-keeping to ensure secure storage and access to medical data.
For businesses that have physical assets, such as equipment or transportation, an app can help manage their use and maintenance.
If your company provides customer service, an app can improve customer interaction by providing access to product or service information, online enrollment, and support.
Thus, accurately defining your needs will help enterprise mobile developers create a solution perfectly suited to your needs.
Find a reliable IT vendor
Partnering with an experienced software provider will allow you to get mobile app development services of the highest quality to receive a business-centric enterprise app. When choosing an IT partner, pay attention to their experience, expertise in your industry, and customer reviews on platforms like Clutch. For example, consider working with nearshore and offshore software vendors to reduce enterprise mobile app development costs. Nearshore or offshore mobile app development will allow you to get access to talented specialists without being tied to your current location, as well as significantly reduce the cost of recruiting, hiring, and maintaining an in-house team.
Request an enterprise app estimate
Before you begin developing an enterprise mobile app, request a software project estimation from your chosen IT vendor or developer. It includes calculating the development cost and determining the time required to complete the project. The estimate helps you determine a realistic project timeline and budget and understand what resources you will need.
Plan your development budget
Enterprise mobile app development requires significant financial resources. When planning your budget, you need to consider not only the cost of the development itself but also the additional costs (e.g., app testing, server deployment, marketing, support, etc.). Detailed budget planning will allow you to effectively manage your project finances and avoid unexpected costs during the development and operation of the app.
Consider security and regulatory compliance
Data security is a priority for enterprise apps. Ensure your app securely protects user data and complies with relevant regulatory requirements. Your IT partner can help implement robust security tools, which may include data protection, encryption, and dual or multi-factor authentication.
Equally important is compliance with industry and regional regulations. Your software provider will conduct a detailed analysis before starting enterprise mobile application development to address critical regulatory aspects, depending on your country and industry. For example:
HIPAA: Health Insurance Portability and Accountability Act (United States)
GDPR: General Data Protection Regulation (European Union)
SOX: Sarbanes-Oxley Act (United States)
PCI DSS: Payment Card Industry Data Security Standard (International)
FERPA: Family Educational Rights and Privacy Act (United States)
ISO 27001: International Standard for Information Security Management, etc. (International)
Consider the need for integration with other enterprise systems
When developing an enterprise app, consider integrating existing enterprise systems such as CRM (Customer Relationship Management), ERP (Enterprise Resource Planning), or databases. Integration will provide more efficient data and process management and simplify the exchange of information between different systems. For example, ERP software development and integration can help you effectively control inventories and manage deliveries.
Prepare for change and scalability
When developing an enterprise app, consider the possibility of future changes and scalability. Create a flexible architecture that allows you to easily implement changes and expand the app's functionality as your business grows. Flexibility in development will help you adapt to new market demands and respond effectively to changes within your company.
Enterprise Mobile App Development Stages
Mobile app development for enterprise requires a careful approach and consideration of all requirements. Let's look at the main steps that need to be followed to get a quality solution in the example of Cleveroad's Software Development Lifecycle (SDLC):
First contact
Communication starts from the moment you leave a request on our website. Your account manager with experience in your industry will contact you within 24 hours to clarify the details of your project. A specialist will answer your questions and set up an appointment for you to meet with the team to discuss your project further. We can sign a Non-Disclosure Agreement (NDA) to ensure confidentiality.
Solution Design Stage
At this stage, you will work closely with the solution design team. It comprises Business Analysts, Solution architects, and UI/UX designers. The team will meet with you to learn your enterprise mobile application development requirements, such as business goals and the main problems you want to solve with the app. Based on this information, the team will work on defining the scope of work, required features, and solution architecture. We also consider any individual requirements, such as budget or timeline. Based on the information gathered, the team will prepare a rough estimate.
Discovery Phase
The Discovery Phase services include detailing your product requirements and turning them into a clear enterprise mobile development plan. During this phase, the team works closely with you to create a detailed list of features, specify the platforms you want to cover, the technology stack, and third-party integrations. The UI/UX team works on the design concept and, after your approval, moves on to creating a UX map or prototype. Defining all the details allows us to provide you with detailed estimate.
Development and testing
After passing all the preparatory steps, the team moves on to mobile enterprise application development. At Cleveroad, we follow Agile software development methodology, namely the Scrum framework. The team works on the project in phases, developing each part of the software during short sprints, usually about 2 weeks. Quality Assurance accompanies each sprint to ensure the correct and uninterrupted operation of your solution's functionality. The QA team also conducts several additional tests at the end of development to ensure everything is working correctly.
App release
Once the development of a mobile enterprise app is complete, we help launch the solution for mobile platforms. The team also helps integrate the solution with your enterprise's other software to ensure seamless data exchange between various departments. After release, we provide all documentation, including Software Architecture Document, specifications, design prototypes, etc.
Support and maintenance
Even after your app is launched, our cooperation continues. Support and maintenance services from the Cleveroad team include continuous security updates, adding new features, fixing possible bugs, improvements based on user feedback, etc. The ongoing partnership ensures your app's reliability, security, and scalability.
Common Challenges of Mobile App Development for Enterprise
Enterprise mobile application development is often associated with various complexities, it requires careful consideration of many factors. In this section, we will look at the most common challenges and how to solve them:
Expertise and experience
Enterprise apps development requires a lot of expertise and experience. Such solutions often have complex architecture and high-security standards. Because of this, you may experience some difficulties in finding qualified professionals.
Solution: Work with an outsourced IT partner with experience in enterprise app development and an understanding of enterprise customers' needs. Such a vendor will be able to provide you with the expertise you need.
App security
App security is among the most important aspects, especially concerning corporate data and customers. The challenge is to protect against security threats such as hacks, data breaches, and unauthorized access.
Solution: Developing secure architectures, encrypting data, and regularly updating app security.
An experienced IT partner will conduct a security audit of the app, identify potential vulnerabilities, and develop a strategy to address the risks. It will also ensure data encryption and establish mechanisms to monitor and update app security.
The Cleveroad team pays close attention to the protection of sensitive data and employs a number of strong security measures, including:
Industry-standard data encryption
Data residency and retention
Malware & fraud protection
Vulnerability assessment
Regulatory compliance, etc.
Regulatory compliance
Depending on the industry, enterprise apps may be subject to regulations and standards, so you may need deep expertise in regulatory rules. For example, this may include HIPAA compliant software development in healthcare and PCI DSS compliance in finance. The challenge is ensuring the app complies with all the necessary regulations, which requires a thorough understanding of the regulations and integrating them into the app.
Solution: An IT partner with regulatory compliance expertise can help you understand and implement the necessary steps to comply with industry and regional regulations.
Integrating technology innovations
Technology is constantly evolving, and enterprise apps need to stay current. The challenge is integrating modern technology solutions such as data analytics, artificial intelligence, and blockchain to improve the functionality and competitiveness of the app.
Solution: Hire software provider who can help you by tracking the latest technology trends and assessing which ones can be useful for your enterprise app. It will ensure integration with modern solutions and technologies to keep your app relevant.
User authentication and access control
Enterprise apps often work with sensitive data, so ensuring strong user authentication and access management is crucial.
Solution: Working with an IT partner who specializes in security and access management will ensure that strong authentication and access rights management mechanisms are in place for your app. This may include two-factor authentication, one-time passwords, and other measures to ensure user security.
These challenges are critical, but an experienced enterprise mobile app developer can help you overcome them easily and deliver a solution that meets your corporate goals.
Future Trends for Mobile Enterprise Application Development
Technologies constantly evolve and change, and successful enterprises actively implement them into their business processes. Let's take a look at which of emerging technological trends will be actively used in enterprise mobile development:
5G integration
With the deployment of 5G networks, mobile enterprise apps will become much faster and more reliable. This opens up new opportunities for real-time big data and the development of apps that require high data rates, such as Augmented Reality (AR) and Virtual Reality (VR).
Artificial Intelligence (AI) and Machine Learning (ML)
AI and ML are transforming enterprise apps. They can predict user behavior, optimize business processes, and enhance security. For example, AI can analyze large amounts of data to identify trends and suggest solutions, while Machine Learning in Healthcare can improve diagnosis and prediction of health risks, create personalized treatment plans, and predict epidemics.
Internet of Things (IoT) integration
The rise of IoT devices opens up new opportunities for enterprise apps. Enterprise mobile app development can include interaction with sensors and IoT devices to monitor and control processes in real-time. For example, in manufacturing companies, this could be tracking equipment status. For instance, IoT in Healthcare provides the functionality of monitoring solutions, such as remote patient monitoring systems. Also, educational institutions can consider implementing IoT in education, providing personalized learning, increased school protection, and flexibility in the learning process.
Cross-platform development
Cross-platform development allows you to create apps on different platforms like iOS, Android, and web. This saves time and resources by making the app more widely available to users of various devices. Cross-platform mobile development services cut project costs without sacrificing features or native-like interfaces, helping clients reduce time-to-market by 20-40%.
Enterprise Mobile App Development Cost
The average enterprise application development cost starts from $70,000 for a simple app and may reach $500,000 for a full-featured mobile app. The price may vary depending on app's complexity:
Simple enterprise app: $70,000 - $100,000
Medium-complexity enterprise app: $100,000 - $300,000
Full-featured enterprise app: $300,000 - $500,000+
Unfortunately, no specialists can tell you the exact price until they know the required features and what type of enterprise app you want to create.
Here are the key factors that affect the cost of mobile app development for enterprises:
Functionality complexity. The more complex features and functionality you need in an app, the longer and more expensive its development will be.
Platform support. Developing an app for multiple platforms, such as iOS and Android, requires additional effort and resources. You can reduce up to 50% of the time and cost to build an enterprise app by turning to cross-platform development.
Integrations. If your enterprise app needs to integrate with other systems (such as CRM, ERP, or databases), this can increase the development cost due to the integration complexity.
Development timeline. If you need the app on a tight deadline, this may require hiring more developers, which will increase the cost.
Vendor selection. The vendor choice significantly impacts the price, as IT specialist rates can vary depending on the region and level of expertise. It is also important to realize that hiring an in-house team is much more expensive than outsourcing.
If you decide to build an app, there is no need to assemble an in-house development team. There are a lot of experienced enterprise mobile application development companies available.
We've analyzed the hourly rates in different regions, including in-demand outsourcing destinations like Central and Eastern Europe. Prices are taken from UpWork, Clutch, and GoodFirms platforms.
Enterprise mobile app developer rates in different countries
As you can see, the rates are very different across the globe. You can cooperate with local software developers or look for professional engineers overseas. However, it may be challenging to find specialists with the required skills and expertise in local markets. Besides, it can be a costly solution. The United States and Canada have the highest rate, but price doesn't always guarantee a quality service.
If you're looking for the lowest price, India is the place to consider. For example, the services of a senior engineer could cost $30/hourly. But working with Indian developers, you'll need to deal with some peculiarities such as communication challenges, bad organization of work processes, little attention to clients' expectations, etc.
CEE region has a solid reputation in this field. You can outsource mobile app development services to popular outsourcing destinations to get lower rates and high developer qualifications. There are many reliable software development companies that can deliver custom mobile solutions for approximately $50 to $70 per hour.
The team composition for enterprise mobile app development can also vary depending on your needs. As a rule, to create a quality enterprise platform , you need to engage such specialists:
Solution Architect
Business Analysts
UI/UX designers
Project Manager
Enterprise app developers
QA and DevOps engineers
Depending on your business goals and the composition of your team, the list of specialists may change. For example, you can hire outsourced enterprise mobile developers and a project manager to create a specific part of your app. In this case, you will cooperate with the PM of your IT partner, who will entirely control the development process. You can also choose the staff augmentation model. This way of cooperation will allow you to empower your in-house team with outsourced specialists who will work with your employees and report to you.
Why Trust Enterprise Application Development to Cleveroad
Cleveroad is an enterprise app development company located in Central Europe. Our team of software engineers has a rich background of developing scalable business apps following all the requirements.
To demonstrate our experience in enterprise mobile apps development, here is one of our latest projects — Quality Management System (QMS).
Our client, Prime Path Medtech - a medical device manufacturer from the USA, approached us to help modernize legacy software and create a new fully automated QMS covering all the enterprise business processes and documentation flow. To address the customer's business needs, we developed a custom QMS within the B2B SaaS business model. Our team built the QMS architecture and modules, considering the entire business context, workflow, and compatibility with FDA 21 CFR 820 and 21 CFR 11 and the ISO 13485 requirements.
As a result, our client received a flexible, responsive web-based QMS integrated into their services and business model. The new QMS allowed the enterprise to reduce gross expenditures by 20%, improved services for tracking certification flow, and increased customer satisfaction rate by half.
Here's our client's review about their successful cooperation with Cleveroad:
Breanne Butler

Project Manager at Prime Patch Medtech

We are satisfied with our collaboration with the Cleveroad team. We appreciate how the team always maintains communication with us at each step of the process.
In today's digital world, every business has to keep pace with innovation to succeed. And the right way to do it is to invest in robust technological solutions like enterprise mobile application development. If you want to increase your company's commercial value, reduce business risks, and get a competitive edge in the long run, our team is ready to help you.
Build your enterprise mobile app
Our team with 11+ years of enterprise mobile development experience is ready to build for you robust enterprise app tailored to your company's needs
Frequently Asked Questions
Enterprise mobile app development is creating and deploying mobile applications specifically designed to meet the needs of large organizations. These apps are tailored to address enterprises' unique challenges and requirements, both for internal use among employees and for external use by clients and partners. Enterprise mobile apps can range from tools for project management to customer relationship management and everything in between.
Enterprise mobile app development helps automate tasks and improve communication, data security, and regulatory compliance to increase efficiency and customer satisfaction. Such apps aim to improve business operations, enhance user engagement, optimize data management, and ensure secure communication.
The cost of developing an enterprise mobile app can vary widely depending on several factors, including the complexity of functionality, platform support (e.g., iOS and Android), integrations with other systems, development timeline, and vendor selection. The cost can range from $70,000 for a simple enterprise app to over $500,000 for a full-featured enterprise app. Working closely with an experienced IT vendor is essential to get a precise estimate based on your specific requirements.
An enterprise applications developer is responsible for designing, developing, testing, and deploying mobile applications tailored to large organizations' specific needs. They work closely with business analysts, solution architects, UI/UX designers, and other specialists to create apps that optimize business operations, improve user experiences, and ensure data security. Enterprise app developers may also need to integrate the app with existing enterprise systems, implement robust security measures, and ensure compliance with industry and regional regulations.
The enterprise mobile app development process includes customer contact, solution design stage, discovery phase services, development and testing, app release, and subsequent solution support and maintenance.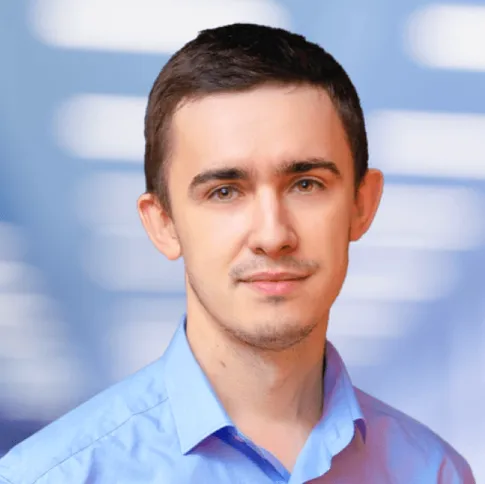 About author
Evgeniy Altynpara is a CTO and member of the Forbes Councils' community of tech professionals. He is an expert in software development and technological entrepreneurship and has 10+years of experience in digital transformation consulting in Healthcare, FinTech, Supply Chain and Logistics
Rate this article!
4184 ratings, average: 4.87 out of 5
Give us your impressions about this article
Give us your impressions about this article
Dimplecdn
07.03.2023 at 11:20
You have beautifully explained benefits and other info about enterprise mobile application development
Jenny smith
09.11.2022 at 10:02
What a wonderful post this has been. Never seen such useful post. I am grateful to you and look forward to more posts like this. Thanks a lot.

Alina Rovnaya
09.11.2022 at 10:48
I am glad you find it useful! We regularly post informative and interesting articles on our blog, so keep up with us.
Smith Johnes
11.05.2021 at 11:57
Hi Thanks for sharing this informative blog. Enterprise Applications (EA) are a software solution that provide business logic and tools to model entire business processes for organisations to improve productivity and efficiency.