Mobile Ecommerce: Trends, Cost, and Tips to Build App that Sells Best in 2019
1579 Views
|
07 Jan 2019
|
15 min
In 2005, when the e-Commerce was only gaining momentum, the most significant issue for shop owners was whether they needed to build an e-Commerce website. And in 2019 this question certainly sounds rhetorical. Since e-Commerce is massively going mobile nowadays, the similar question arises: 'Do you need an e-Commerce mobile app for your store?'. And it is steadily becoming rhetorical as well. But while every existing shop owner hasn't got his/her hands on these apps, now is the perfect time to develop a mobile e-commerce app and gather the biggest profits.
Due to the constant progress, there are a lot of mobile commerce technologies that drastically change this industry. For instance, nobody is any longer surprised with using AR that allows to observe the desired product inside your own home. To keep this pace, you should definitely get acquainted with the latest mobile commerce trends in development and design. Also, if you already have an ecommerce mobile application, you should consider updating it to comply with these up-to-date trends.
What are the benefits of M-commerce app development?
According to Google's survey conducted in 2016, 58% of users of m-commerce mobile apps were utilizing them to compare prices, search for special offers, read product reviews and eventually buying online. And 66% of users make at least one purchase a week via mobile apps. It's also known that 9 out of 10 customers have their phones available in their pockets 24/7. Since customers are more likely to use mobile devices than a desktop to buy products, the store owners should definitely build their own e-commerce mobile applications.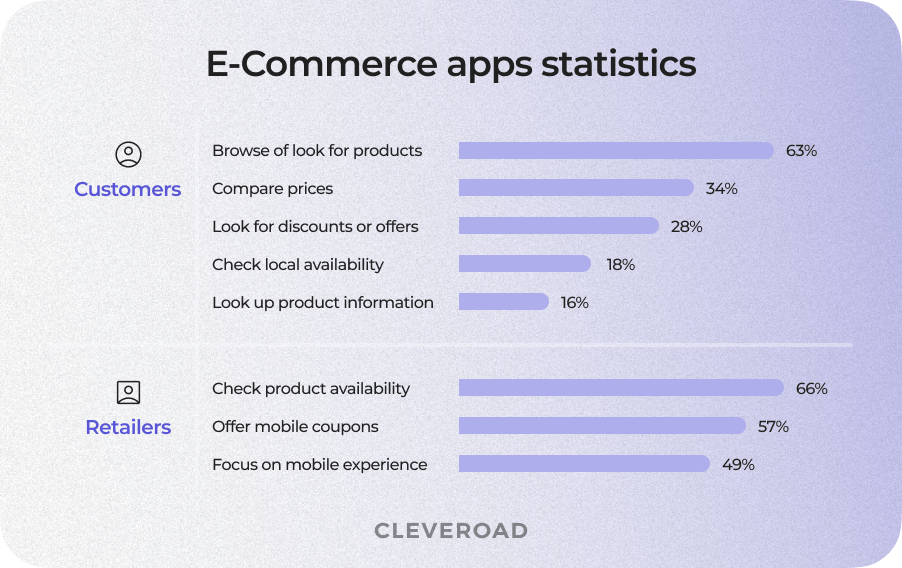 The advantages of mobile commerce app development
By the way, mobile leads to a higher rate of impulse buys since reaching a shop or arrying around a sufficient amount of cash is no longer needed. Buying a product takes just a few taps on your smartphone and this fast process creates ideal conditions for impulse purchases.
What are the advantages of mobile commerce app developing right now? It's because if you don't, you may actually lose your customers! 61% of customers will abort the transaction if the experience doesn't appear to be mobile-friendly, according to Google's research. Building a responsive website may seem a quite good decision but it can't display content so quick and simple as native apps can. And if you don't invest in your ecommerce mobile app today, your customers may switch to your competitors which have it already.
Mobile commerce trends in 2019
Before developing an e-commerce app you should first checkout the latest trends to make it more competitive.
The famous e-Commerce companies including Lyft, Spotify, Pizza Hut massively started to use chatbots for their businesses. Why? First of all, 54% of users favor messengers to communicate with brands over both phone calls, emails and even online chats (46%). Moreover, this mobile commerce technology enables to automate communications with their clients on a 24/7 basis.
Mobile commerce trends: chatbots
Another reason is, since such technologies as AI and ML became available, bots can almost immediately learn data about customers. Thus, it enables to anticipate what will be the next question from a customer or what product he/she will order later on to provide them with the personalized shopping experience.
AR enters the marketplace
In 2017, the AR technology has only started to appear, but in 2019 it is going to be highly publicized. If you want your e-commerce mobile application to stand out and receive significant competitive advantages in one step, then integrating Augmented Reality is what you're looking for. In fact, many shoppers can't wait to enjoy how the desired product will look like in their homes or workplaces using AR:
41% mobile users stated that if they observe a merchandise via AR before buying, they will purchase it;
60% customers favor businesses that utilize AR over the others;
70% customers sense greater commitment to the software that provides AR experience.
Unfortunately, not so many marketplace app development companies have started working with Augmented Reality so far. At Cleveroad, we help clients build AR and computer vision based solutions.
It's an mobile ecommerce trend of promoting goods according to the location of the user. It is reported that the famous shops received no less than 18% of growth in sales thanks to geofencing.
Why to use geofencing? With the help of GPS, this mobile e-commerce technology allows to monitor the user location every minute. When you specify a requirement such as 'within 800 meters of shopping centers', you can be sure that your app receives every benefit of the timing as well as the buying intent of a user. Geofencing supports such technologies to track location like Wi-Fi, GPS, RFID and Beacons.
Omnichannel shopping experience
In 2019, businesses are heading towards forming a unified shopping presence of their store by combining various channels including physical and digital shops as well as mobile apps.
Mobile ecommerce trends: omnichannel shopping experience
The reason of this mobile commerce trend is the increased competition in this field. To effectively find new customers and then retain the existing ones, you should use all possible channels and provide a unified experience through each of them.
Google and Apple had their hands tied concerning single-click payments because Amazon had a patent on this technology. But it has expired on autumn 2017 that promises a pile of one-click payment solutions to appear soon.
The convenience of this mobile commerce technology is undoubtful since users don't have to retype data over and over or perform a lot of steps to make one payment transaction. By demanding fewer steps from a user, single-click payments are about to boost the amount of impulse purchases on mobile.
One of the currently well-known engagement mobile commerce trends in 2019 is content personalization. In 2017, above 54% customers stated that they would rather buy from shops that provide personalized experience. In 2019 trend on personalization is evolving and lots of businesses are about to invest heavily into personalized marketing.
Now businesses won't only aim to examine user data from their app. The data will be taken from various websites including social networks and messengers. The use cases for this vary from sending personalized emails based on users' previous purchases to AI that will predict the product they buy next. One way or another, mobile e-Commerce field is sure to grow the popularity of personalization in 2019.
Big data algorithms become more and more valuable for e-commerce since the number of customers in this industry is steadily growing. For instance, Amazon had 400 million users in 2016. Big data enables to receive valuable insights and predict tendencies that are only beginning to show up. It also allows to calculate a suitable product price on the basis of hundreds of prices put by your competitors. Big data allows you to pack your store with demanded goods by anticipating the latest mobile ecommerce trends and user preferences.
How to create a mobile Ecommerce design that converts?
Design in mobile apps isn't intended only for aesthetic purpose and friendly user experience. It's primary function is to effectively convert visitors into customers and establish trusting relationships with them.
Provide zooming product photos using touch gestures
A UX research by Baymard Institute revealed that the majority of mobile users utilize gestures like pinching to examine the product details. Inability to find out about the product specifics frequently decreases the onfidence in purchasing this product so the customers don't buy it. Customers can see a picture of a product as a whole when looking at a large image. But they can't conveniently explore the product details, make sure it has no damages, etc.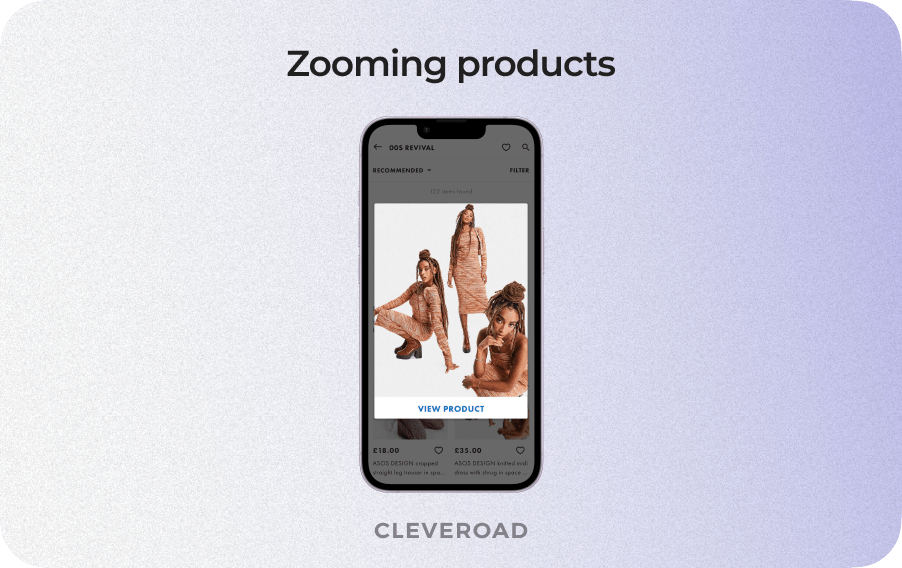 Ecommerce mobile UI design tips: zooming via touch gestures
However, 40% of e-commerce mobile websites don't support double tap or pinching gestures to enlarge pictures, according to Baymard Institute. Meanwhile, websites that contained close-up photos of goods generally received high bounce rates as well. It can only lead to one conclusion: providing products zooming is vital concerning creating your ecommerce mobile app design. If your ecommerce mobile ui design supports either double tap or pinch at least, this will put it in the list of 60% dominating ecommerce apps.
What else is needed to ensure product zooming?
Product photos should have a high resolution or zooming them would be worthless. To put it simple, low-sized images don't offer a high definition to correctly display product specificities when watching them close-up;
Only half of the apps that support zooming gestures notify their users about this feature. Despite, some of the tech-savvy users may know about these gestures, there're always a share of those who don't. Don't waste your technical work on making this gesture function but not demonstrating that it is supported by your app.
Enable saving shopping cart items
According to the above mentioned Baymard, ~68% of prospective customers abandon their online shopping carts. The reasons of this are different but the unfortunate fact is that after so many efforts, e.g. finding your e-Store and obtaining the product they like, two-thirds of your customers won't buy it.
Ecommerce mobile UI tips: "save for later" button
Your ecommerce mobile app design should include a feature for saving the shopping cart contents to buy them later instead of just emptying a cart automatically. Permanent carts enable purchasers to resume the shopping anytime and eliminate a boring process of adding the same products once again. Another great idea would be to send email notifications to customers with saved items from their shopping carts.
Make your app look more secure
Mobile commerce security is one of the major pains for users since they entrust your app the privilege to transfer their hard earned money. And if your app looks secure, this makes it a lot better in the eyes of your users and increases such important indicator as conversion rate.
Here are several workable methods to do this:
The buttons should create a desire to tap on them and contain clear text explanation about where the user is going to be redirected;
Use words such as 'protected', 'encryption' as they greatly boost users' psychological comfort. You can also utilize lock symbols for the same purpose;
Add security trust marks provided by such security vendors as Comodo, GeoTrust, SSL Value, etc. Thus, users will see that your app has been checked by a trusted security companies.
Make checkout process fast
Checkout is the most nerve-consuming stage of shopping via internet. The Baymard's survey has shown that 35% of cart deserting happens due to the demand to register a new account before buying.
And more than 61% of customers had troubles with locating guest selection option when choosing an account during checkout. Thus, web design for mobile ecommerce app should comprise a guest checkout feature. Moreover, it ought to be clearly seen and easily available.
Your app design should let them know that checkout process is not endless and is soon to finish. Your app should display a total number of steps and the currently active one. Another good way of doing this is by showing visual progress bar;
Give users an opportunity to choose whether they want to register and sign in when the checkout operation is underway or not;
Utilize the benefits of progressive web apps to pay more attention to improve user experience and speed up content loading time by ~33%.
Enable automatic suggestions
Did you ever feel angry because the search query that you've typed haven't found the needed product because of one wrong letter? Now imagine what swear words your users may express when they do so. In this case, auto-suggestions come to the rescue to speed up the process of filing various forms and focus more on the end result of doing it.
Another useful autosuggestion solution is payment cards autodetection. It greatly simplifies the buying procedure by offering an instant feedback that results in boosting conversion rates.
Address lookup also quickens the checkout procedure. There are diverse APIs that allow a simple realization of this feature like Address Doctor, CapAdresse, PCA Predict and many more.
To deliver the best UX, your mobile ecommerce design should include an in-app error checkup feature. It is supposed to give users feedback in real time when they type and especially when they commit an unintentional mistake. This enables to correct mistakes instantly that boosts user convenience.
Make a search bar to be clearly visible
One of the main purposes why customers launch m-commerce mobile apps is to buy the specific products they want. Thus, a search bar becomes a valuable element of your app. In certain cases, searches that took only 10% of online traffic brought up to 40% of firms' total earnings. And 73% of users will leave an app within 2 minutes if they aren't able to find what they need. However, a survey of 50 largest ecommerce websites by Baymard Institute including BestBuy, Gap, Urban Outfitters has shown that 50% of them had poorly noticeable search bar.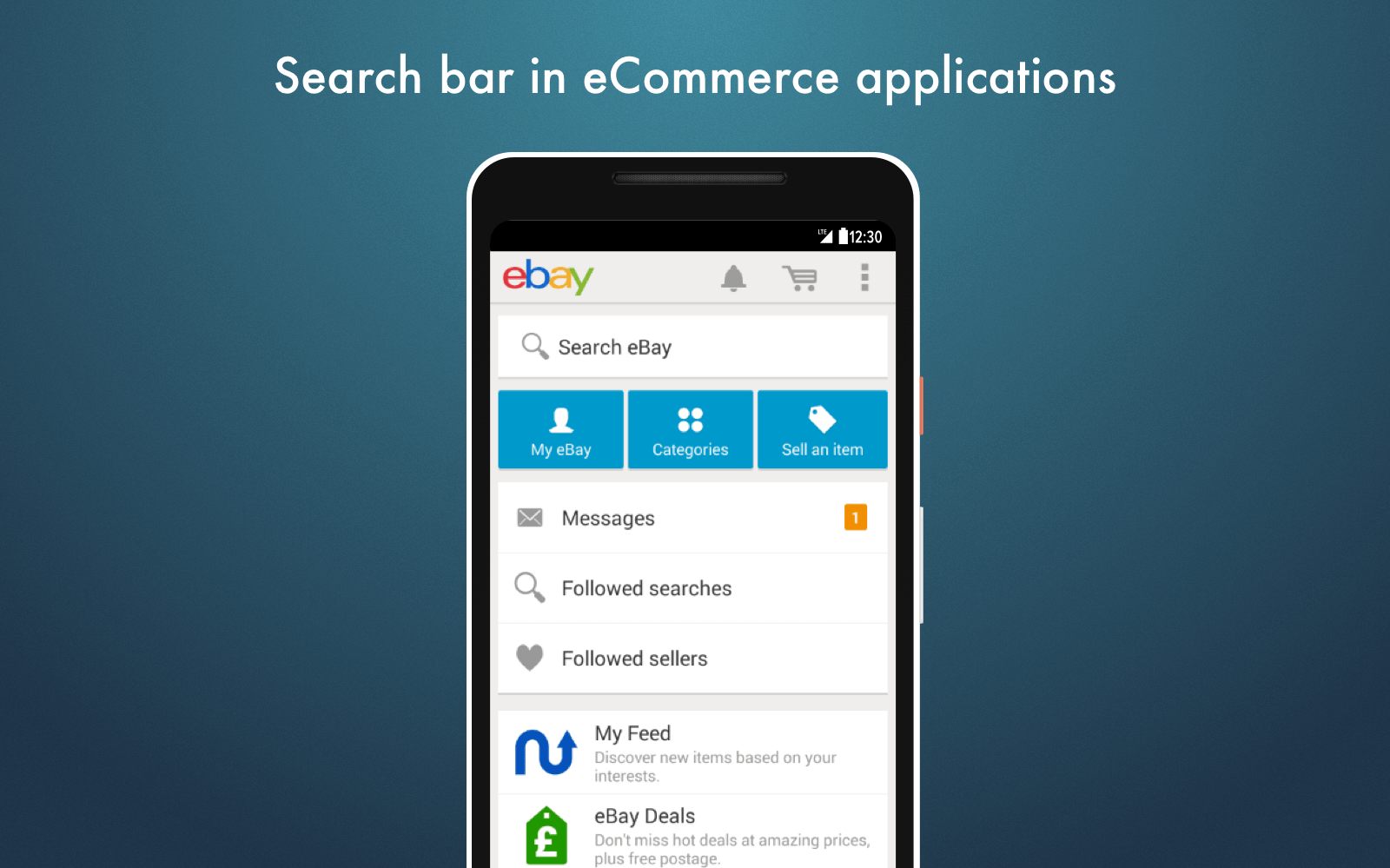 Ecommerce mobile UI tips: Search bar
How to gain every benefit from your search bar:
Make it clearly visible
A search bar should be at the forefront of your app's main page. Locating a search bar should be effortless so that users can quickly find and then buy a merchandise;
Search filters by various criteria.
This is one of the most valuable options that should be included in your ecommerce mobile ui design. It affects whether a user will use your e-Commerce app or not;
Query auto-completion and search suggestions.
Started as a distinctive hallmark of Google's search engine, auto-completion became a standard in how a search bar should perform nearly instantly. It's because auto-completion saves users time by anticipating what the users need while they type and allows to correct mistakes without performing a search dozen times if there are some.
How much does the ecommerce app development cost in 2019?
First of all, to develop your software we use the Agile approach. This means that you don't pay a big sum for the whole app once. Agile approach implies dividing the whole app development process into short sprints. Each sprint has it's pre-specified price at the end of which you receive a fully workable part of your app.
As you may know, cost evaluation concerning software development starts with defining time required for development team to spend on each feature. The more features an app contains and the more complex they are results in more time consumption. The features that take the most time among the others when developing an e-mobile commerce app are: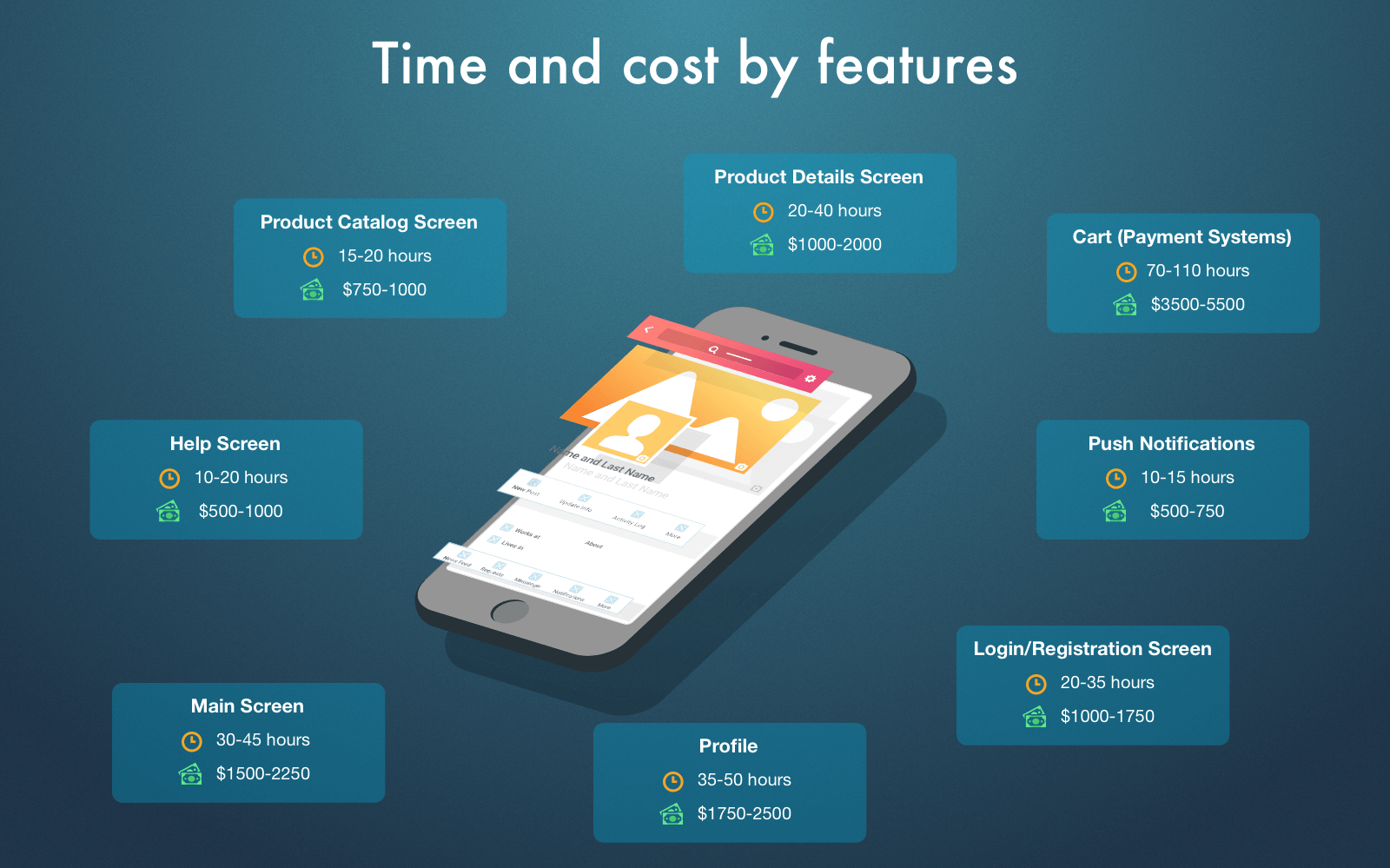 Ecommerce mobile app's features and development time
Cart

as it includes various payments systems integration. Average time on this feature

70 110 hours.
User profile

. It contains shoppers' individual data, a profile image, allows to monitor order and payment history. It takes

35 - 50 hours

on average.

Main screen

that allows to search and filter products. It also comprises of different product lists: all products, watched, last purchased and popular products. Average time on this feature -

30 - 45 hours.

Product details screen

that includes photo slider where you can watch a large product photo, rate a product or write your review about it. This page also allows to share products via popular social networks like Facebook and Instagram. Average time on this feature -

20 - 40 hours.
To calculate the total time on developing an e-commerce mobile application and also see a development process structure, it can be divided by different work types:
Design: 120-200 hours.
Android/iOS (front-end): 200-300 hours.
Back-end development: 130-170 hours.
Non-development and meetings: 150-250 hours.
So the total development time on building an e-Commerce mobile app is about 600-900 hours. Of course, you can add or remove some features as all of them are fully negotiated. Planning what features your app will contain is very important because it helps you define the features that are mandatory and the ones that are unnecessary. A wise planning requires taking into account user demands, your budget and business goals.
The final step in calculating your ecommerce mobile app development cost is multiplying it by hourly development rates. That's why choosing a reliable software vendor is crucial concerning your app quality and cost. To calculate the cost of every feature on the following image, we've used an average hourly rate for Eastern Europe that amounts to $50.
For instance, you can order a software development from a company from India for ~$25/hour but receive a communication problems because of poor language proficiency and mentality differences. At the other extreme is to hire a development vendor from U.S. for $150/hour but overpay a lot of extra finances for it. The truth lies somewhere between those two options, that's why an increasingly number of customers choose to outsource software development to Ukraine.
Among the most significant benefits of outsourcing to Ukraine:
High qualification of Ukrainian developers;
Large pool of IT specialists;
Low cost of living and, therefore, lower hourly rates on development;
High dedication and responsibility of Ukrainians. Taking orders via outsource allows them to earn more than the average salaries offer in their country.
If you liked this article, please subscribe to our blog (button at the top right corner of the screen). No spam. You will stay tuned to the latest changes in the IT industry and receive a weekly email tailored to your preferences.
Rate this article!