How to Build a TMS System: Disclosing Steps to TMS Software Development
Transportation businesses constantly face various complexities, such as delivery delays, inefficient route planning, disrupted movement of goods, high transportation costs, and more. That's why the incorporation of transportation management solutions is a widespread approach among logistic organizations in order to streamline and optimize logistic and transportation operations.
Transportation management app development can bring businesses significant benefits, such as the ability to assign carriers to shipments, structure shipment management, decrease transportation costs, consolidate shipments from a centralized location, etc.
To give you a hint, here is a quick overview of steps to follow to create Transportation Management System (TMS):
Define your primary goals and requirements related to to TMS
Find an experienced and reliable logistic software development company
The IT vendor will analyze your business, create project requirements, compile a feature set, and decide on the tech stack
Discuss your vision and requirements for TMS integration and connection
Your specialist's team will develop a TMS MVP (Minimal Viable Product) to validate product's concept and gather initial user feedback
The experts will test the system and accurately deploy it into your logistics business environment
Establish and monitoring KPIs to evaluate TMS software efficiency and its impact on internal processes
Read further to learn more about the transportation management system development: essential features, cost, and real-life success stories of a successful TMS implementation by leading logistics service providers.
What Is a Transportation Management System and How Does It Help Logistics Business?
Transportation management software is a multifunctional tool that helps logistics and transportation businesses streamline shipping operations and optimize the overall flow. Incorporating this solution allows companies to avoid possible issues with cargo delivery delays and establish reliable and well-managed supply chains.
Here is what Michael Baumann, Vice President, Transportation Management Center of Excellence at DHL Subolv Chain, says about the importance of utilizing a transportation management solution:
"Essentially, they create a transportation control tower that gives you real-time visibility of freight flows across all your operations,"
So, how can businesses benefit from transportation management system development? Here are the most fundamental aspects of solution integration.
Supply chain cost reduction
Reducing the supply chain cost, for example, from 9%-4% can influence the profit by doubling it. TMS implementation allows you to significantly decrease financial expenditure by optimizing route planning, consolidating shipments, and minimizing the need for empty backhaul trips. Altogether, it facilitates the minimization of labor, administrative, and fuel expenses.
Moreover, TMS helps businesses to make data-driven and informed decisions based on precise real-time tracking, reports, and analytics. Besides, preventing shipping delays and penalties requires less time and effort, allowing companies to focus on higher-value core activities and extract profit with lower investments.
Real-time visibility of freights
In any shipment, it is vital to be aware of where the freight is. Real-time tracking is usually facilitated by GPS devices and warehouse sensors. It enables operational efficiency improvements, streamlined and reliable communication between parties involved, as well as strengthening compliance with all security protocols.
The understanding of the exact status and location of cargo makes it easier for logistics companies to find an approach to optimize the cooperation with carriers, as well as the use of vehicles or drivers.
Easier carrier selection
In logistics, choosing the right partner is crucial. TMS software can significantly simplify this dilemma, as it has a database of carriers that includes parameters like pricing, their services and capabilities, and their performance history. Moreover, the majority of TMS allows users to compare the carriers, their approach quality, shipping time, and rates. By checking this data, you can select a partner whose capabilities align with your specific transit requirements.
Also, it is worth mentioning that transportation management app development brings transparency into the selection process by showing carriers' availability, rates, and performance, resulting in more confident and accurate decision-making.
Reduced delivery times
Considering transportation management system development and its further integration into supply chain processes (like also an implementation of a yard management system) helps transportation companies speed up shipments. This can improve customers' satisfaction and trust and help to meet their expectations.
Also, quicker delivery enables the company to obtain more competitiveness and a superior brand image. Finally, the incorporation of such innovative solutions allows logistic enterprises to easily adapt to ever-changing market trends.
Meet trade and manufacturing regulations
Meeting trade and manufacturing regulations is essential to continue a full-fledged company and business functioning. Transportation management systems bring data accuracy into documentation by automating paperwork processes and reducing human errors.
In addition to bringing transparency into the supply chain, TMS aids compliance with necessary regulations through real-time tracking and offering data-driven insight. This enables compliance with trade and manufacturing regulations and streamlines adjacent operations.
Features Needed in The Transportation Management Systems
A logistics TMS system typically functions to perform and enhance physical goods transportation. Let's find out what features they require for these purposes.
Basic TMS Functionality
Basic features include the following ones (which are the most common):
Monitoring in real-time mode. Transportation management systems software collects and organizes extensive tracking data. It also tracks the shipment transit throughout its lifespan, from warehouse to final destination.
Strong optimization engine. It offers TMS transport users the following capacities: analyzing and tracking performance with the help of dashboards, reports, analytical data, and so on. Thus, the module is quite essential for the system.
Driver contract running. A contract is an essential document for a TMS management system. So, the transportation management system needs a module where all the carrier contract terms will meet the particular transportation conditions.
ERP, WMS, or OMS integration. Organizations may get real-time insight into items from purchasing through warehouse and delivery by combining TMS data with other internal sources such as Order Management System (OMS), Enterprise Resource Planning (ERP) or Warehouse Management Software (WMS).
Business Intelligence (BI) and reports. Analytical reports are one of the most straightforward ways to understand and share key info. As a result, a TMS — transport management system — should have traditional reporting tools such as graphs and dashboards, specific maps for visualizing shipping trends, etc.
Transportation management system designed by Cleveroad
While planning a functionality list for a transportation management software development, keep in mind that clients may need diverse TMS features. So, in this case, custom solution development is a more preferred alternative than an off-the-shelf one.
You should also remember that first off, you may define and implement the basic functionality, creating a minimum viable product for your TMS. Then don't hurry up — attract the early users, wait for their feedback (and the first profit), analyze it, and decide on your further steps and additional functionality implementation.
Advanced TMS Functionality
What is transportation management system's advanced feature set to integrate?
User/customer management features struggle to combine transportation efficiency with customer service and care about client satisfaction. This way, being integrated with CRM systems, TMS may offer shippers every existing data about their customers. Due to that, the communication process will be significantly sped up and simplified.
Order/vehicle management units allow entrepreneurs to work more profoundly with customers' orders, perform fleet control on different checkpoints of a supply chain, etc.
Data export/import feature allows customers to work with third-party apps using TMS data and modifying it without harm to inside actual TMS info.
Estimated Time of Arrival (ETA) calculation takes into account route condition, weather, driver breaks, self-learning algorithms, and other factors.
Route/Fleet optimization functionality can efficiently help drivers select courses according to different factors (e.g., traffic jams, route conditions, etc.) due to a route optimization unit. In their turn, the companies may be able to track the fleet condition and placement, driver breaks, and so on. Due to the received information, the entrepreneurs can enhance and speed up the transportation process.
What does TMS stand for in trucking? What feature is responsible for such kind of operations?
Dispatching feature will be helpful for brokerage and trucking companies while dealing with a total truckload or less than a total one. Due to this functionality, businesses will be able to monitor dispatch, accounting, and other issues in frames of one system.
Furthermore, you can implement into your TMS Activities unit, Invoices Module, System Configuration Panel, Partner App as examples of advanced functionality that'll be able to extend your TMS and improve its activity.
Why Consider a Custom Transportation Management System Development?
Sure enough, there are different approaches to transportation management system development. You can rely on a pre-made application or go custom. However, ready-made options may lack customization and may require even more financial investments in the future perspective. Unlike customized solutions – they seem more expensive but offer a great amount of benefits for transportation organizations.
Tailored to specific needs
Usually, logistic companies' specific requirements and unique operations may not be fully satisfied by off-the-shelf solutions. Custom transportation management software is more likely to be organically integrated into an existing business environment.
Also, tailored software can ensure seamless implementation and TMS scalability and provide a high-quality user experience. Going custom allows businesses to receive accurately functioning solutions, avoiding extra investments.
Cost savings in the long run
A custom solution is easier to align with unique business processes, which boosts efficiency and consequently increases revenue. Also, customization allows companies to choose functionality that will be truly essential and relevant for various supply chain operations completion. The off-the-shelf option usually comes with unsuitable and unnecessary functionality that is still required to be paid for.
The custom-made solution is highly adaptive to your corporate evolving needs and can be modified over time, with no need to invest in new software. Besides, going custom will help you avoid hidden fees and payments, which are a common practice in the case of out-of-the-box solutions. Note that custom apps also positively impact the ROI (Return on Investment) due to increased efficiency, precise fit, and streamlined operations.
Smooth integration with existing systems
Customized transportation management application development minimizes data incompatibility issues from existing systems like CRM or ERP. Besides, implementing a bespoke TMS reduces the need for a double data entry by automatically filling the necessary fields in other systems.
This can help logistic enterprises simplify data exchange and maintain superior data accuracy due to real-time updates. Reduction of manual labor also facilitates the decrease of human errors, positively impacting efficiency.
Adaptation to the regulatory landscape
Going custom allows logistic businesses to be more precise in terms of compliance with necessary regulations. Generally, well-tailored TMS software facilitates the automated compliance process, systematically checking if everything is up to new changes.
Also, bespoke TMS can send logistic businesses alerts and notifications in case the shipment's compliance status changes or regulatory innovations affect your activity.
Robust security
The integration of custom logistics solutions allows tailoring security measures to the business's unique requirements and vulnerabilities. While the readymade option can only offer a set of standard measures — going custom implies that all the security protocols are designed to provide full-scale protection, avoiding data breaches, cyberattacks, and other potential threats.
How to Build a TMS System in 8 Steps
Transportation management system development is a multi-layered process that requires a deep understanding of logistics and solid supply chain management. However, in this case, the result is worth the effort. Let's overview the fundamental steps recommended to know how to build a TMS system and obtain great outcomes.
1. Define key requirements
The primary thing to do is to outline what goals you want to achieve by TMS software creation and which method you'll need to use to accomplish this.
How does the TMS that will suit you, your unique needs, and your demands look like?
What features do you plan to implement?
How will it impact your business? Is it going to be necessary to redesign the whole distribution network?
Will this solution meet the expectations of your target users? etc.
Posing such questions can evaluate your chance of successful cooperation with an IT services provider, TMS implementation, and further utilization.
2. Find a reliable IT provider
Cooperating with an experienced tech partner maximizes the chances of smooth transportation management application development. However, the market is overloaded with offers, and finding specialists with high-quality expertise may be quite complex. To give you a hint, here is a checklist of qualities to look for in the potential partner:
Relevant experience. It's crucial to make sure that the chosen provider has already delivered projects similar to yours or at least in the logistics field. Also, check if the potential partner offers the creation of an MVP (Minimum Viable product), as this approach helps to gather valuable insight about the product's convenience and usability and see how it'll be perceived by real users.
Real customer feedback. Before engaging with a particular provider, checking actual reviews on platforms like Clutch or seeking feedback from past clients is recommended. This approach enables an understanding of vendor communication strategies, their management tactics, and their capability to meet deadlines.
Open dialogue. Both parties must be ready for open and transparent communication for successful cooperation. Also, establishing all key collaboration conditions on the shore can ensure that, in the end, you'll receive the result you sought with no unpleasant occurrences.
Flexibility. Your future partner must be highly adaptive to the evolving needs of your business. This will be a huge advantage, as you'll be capable of implementing new technologically advanced functionality and making your TMS software scalable, no matter what.
Technology capabilities. In order to constantly contribute innovations to your projects to evolve, it's crucial to cooperate with a technologically strong partner. Paying attention to this aspect may ensure a long-term capability to stay competitive while receiving top-tier tech support.
3. Gather requirements
After defining your business needs and finding a reliable tech partner, the requirements' scope must be gathered and structured into a precise list. Remember that constant communication with a development team may simplify this process and ensure the tasks are accomplished on time. Here are the primary aspects you should consider while selecting a tech partner for transportation management system development:
Stakeholders and users' determination. Identify who's going to be affected by your TMS and also define who will directly use it (warehouse managers, carriers, shippers, etc.)
Define functional requirements. List features and functionality that must be incorporated into your TMS solution.
Non-functional requirements. Security, software speed, device compatibility, user-friendliness, etc. – are all non-functional components you must consider.
Know the pain points. To know if the solution will bring actual use, gather stakeholders' feedback about their challenges and how they see them resolved.
Be ready for changes. Any creation process may be a bit transformed through time. Be ready for the ongoing changes and learn how to minimize their number.
4. TMS development
Finally, your team starts the transportation management software development process. During this stage, the team starts to design the core architecture of the solution. Let's see what team members will have to be engaged and their main responsibilities:
Project Manager (PM): Oversees and monitors the whole development process, task completion, and communication between team members.
Business Analyst (BA): Collects and analyzes specific requirements from stakeholders and also helps you define functional and non-functional requirements
Solution Architect (SA): Tracks if the solution core architecture aligns with performance requirements and designs the whole TMS architecture
UI/UX Designers: Develop the solution's visual concept as well as interface prototyping
Back-end developer: Provides back-end development services streamed at TMS core functionality, ensures efficient data storage, and implements algorithms for data processing, routing, and scheduling
Front-end developer: Builds user interface based on design concepts as well as integrates interactive elements
Quality Assurance Engineer (QA): Tests the final solution for its usability and functionality and, in case of bugs or malfunctions detection, reports it to developers to fix the issue,
5. Integration with business systems
TMS software can be integrated with existing or future-implemented business systems like ERP, CRM, carrier systems, etc. Such an approach enables free data flow, reduces the need for manual data entry, and enhances visibility across systems due to real-time data sharing.
6. Integration monitoring
Even after your transportation management system launch, it's vital to ensure it still meets your requirements, operates efficiently, and generally functions accurately. Your team will be the best helper, so staying in touch is crucial even after the solution launch.
Monitoring KPIs (Key Performance Indicators), such as timeliness, software reliability, constant data accuracy, etc., facilitate software's prominent functioning and will contribute to continuous improvements. The transportation software must be updated and reviewed occasionally to meet evolving user needs and align with your business environment innovations.
7. Data migration (if required)
It's essential to go through this step if you seek to switch from an outdated solution to a custom transportation management system. Firstly, defining the data scope and cleaning and validating it is necessary. Then, if needed, the mapping of old to new system fields and data format conversion.
Finally, you'll just need to upload old data into the new TMS, check its accuracy, and briefly run the parallel system to ensure that nothing goes wrong and you're completely switched to a new system. Be careful to minimize data loss, and use previous TMS data backup if possible.
8. Training, support, and scalability
Providing effective training to employees will ensure their knowledge and capability to utilize the TMS software's full functionality. It enables users to navigate the software capabilities, extracting use for streamlining their transportation process.
How to build a TMS system and make it highly adaptable and reliable?An efficient support system is a powerful tool for solving any arising questions and complexities in the context of TMS software. Also, the ongoing support and maintenance services will include the system's gradual modernization through the implementation of new functionality, the architecture upgrade, and bug fixing.
Last but not least, as the business grows, there is an increasing need to operate larger data volumes and better accomplish growing user demands. The scalability implies creating a TMS software structure that's going to be capable of handling bigger workloads with no loss in quality of performance.
Cost to Build TMS Software
The cost of TMS software development ranges between $50,000 for a simple solution and goes up to $250,000 for a complex system with advanced functionalities. But that's a pretty big range, right? The fact is that it's difficult to calculate the software cost precisely, as the final price varies due to the project's unique requirements.
To simplify this task, we've analyzed the software development rates in the most popular outsourcing destinations. Here, you can examine the rates of the most demanded destination, including Central and Eastern Europe (CEE) region:
TMS Development Cost by Region
As shown, the numbers vary significantly. But apart from this, outsourcing TMS software development may appear even more beneficial than finding developers in the local market. This depends on the region you choose.
Regarding outsourcing TMS software development, Central and Eastern Europe appear as a golden mean. Here, you can address logistics software development services to widely known countries like Estonia and receive robust app quality for a reasonable price. The IT sector here is highly popularized, leading to the formation of many outsourcing development companies.
Real-Life Success Stories of Logistics Companies That Adopted TMS System
How Cleveroad Helped Logistics Businesses Build TMS System
To prove our expertise in Logistics, we'd like to present you with our recent case.
Our customer is a US warehousing and cargo long-distance delivery company. Their primary goal was to obtain a convenient solution for automated route planning, increase performance efficiency, streamline shipment delivery, and reduce manual labor. Moreover, the new TMS software had to be integrated with existing systems.
We've managed to build a customized, flexible, full-fledged solution that facilitated automated route planning with a manual adjusting option. Additionally, our team has created a driver's app for smooth navigation through custom routes.
Within the transportation management system development, we implemented the following modules:
Route planning module. This component helps logistics companies plan the quickest and most convenient route for more efficient deliveries, cost reduction, and increased customer satisfaction.
Fleet management module. This tool allowed the company to accurately manage the fleets by structuring vehicle groups and modifying them in case of changes in business process flow.
Delivery points management module. Here, it becomes possible for users to track fleets' locations and track them in real time.
An access system for company stuff. Provide access level management through Role-based Access Control (RBAC)
Jobs for delivery module. Each delivery process consists of a sequence of tasks. Jobs for delivery module allows companies to assign, track, optimize, and manage delivery tasks more efficiently.
As a result, the custom transportation management system enabled our client to minimize occasional shipment losses and optimize the delivery time. Also, operating within a single TMS environment, it became possible to cover all requirements for less time, resources, and financial investments, facilitating the gross profit increase.
Why Select Cleveroad for Transportation Management System Development
Planning a TMS system to develop, you should bear in mind too many details, like implementing third-party integrations, preparing a ground for system scaling, and so on. Facilitating the task, you can develop an efficient and successful transportation management system software with the help of an IT vendor experienced in logistics. Cleveroad is such an appropriate candidate.
We are a professional logistics software development company based in Estonia, Central Europe. Since 2011, Cleveroad experts have been assisting startups and organizations of all kinds in acquiring cutting-edge technology.
Cleveroad focuses on rendering a wide variety of IT services, from custom app building and design to legacy system modernization and third-party integrations. Our logistics digital solutions improve workflow efficiency, address business issues, and aid in the acquisition of competitive advantages.
Some numbers to tell more about Cleveroad activity:
11+ years of successful existence in IT market
More than 120 experienced engineers on staff
170+ successfully completed projects in our portfolio
So, what can you directly achieve, and how can you benefit while collaborating with us?
We provide high-end expertise based on hands-on software development experience in the Logistics domain
Our Solution Architect and Business analyst are always ready to provide detailed consultation on your logistics product engineering and integration tailored to your needs and unique requirements
Consistent and full-scale software development services, including app creation from scratch, cloud-based solutions, UI/UX design services, software upgrades and maintenance, etc.
Signing a Non-Disclosure Agreement (NDA) by your request.
A personalized development approach incorporating an advanced tech stack.
The convenient range of cooperation models for you to choose from: based on your timelines, personal preferences, and budget limitations. This range includes the Time&Material model, Dedicated Team model, Staff Augmentation model, etc.
Build a TMS with skilled vendor
Cleveroad team will offer you complete assistance on creating a robust logistics solution to address your transportation business painpoints
Frequently Asked Questions
Transportation management software is a sophisticated tool that helps logistic businesses streamline shipping operations and optimize the overall flow. Incorporating this approach allows them to avoid possible issues with cargo delivery delays and establish reliable and well-managed supply chains.
To build a TMS software, you'll have to define key project requirements, find a reliable and experienced IT vendor, and then proceed with requirements gathering. Then, you'll have to go through the development stage with your development team and integrate it with existing business systems while monitoring the process. Finally, if you need to, you'll have to go through the data migration process and educate carriers and stakeholders on how to utilize the completed software.
The cost of TMS software development ranges between $50,000 for a simple solution and goes up to $250,000 for an advanced complex system. However, these numbers are approximate. It's difficult to calculate the cost precisely since the final price may vary due to the project's unique requirements.
The custom option may offer a fully customized approach that will align with your specific needs. Besides, such an approach facilitates significant cost-savings, smooth integration with existing systems, easier adaptation to the regulatory landscape, and robust security.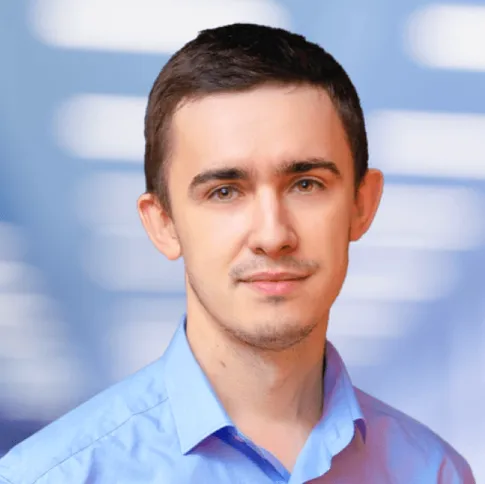 About author
Evgeniy Altynpara is a CTO and member of the Forbes Councils' community of tech professionals. He is an expert in software development and technological entrepreneurship and has 10+years of experience in digital transformation consulting in Healthcare, FinTech, Supply Chain and Logistics
Rate this article!
1122 ratings, average: 4.94 out of 5
Give us your impressions about this article
Give us your impressions about this article