Top 5 Problems Artificial Intelligence Can Solve in Logistics
Artificial intelligence tends to change logistics and supply chain. AI in the logistic industry brings such changes as predictive analytics, autonomous vehicles, and smart road.
In our article, we'll discuss the 5 artificial intelligence use cases in logistics as well as examples of companies that already utilize this powerful technology.
AI Use Cases in Logistics
McKinsey estimates that companies might gain $1.3 trillion to $2 trillion per year from integrating AI in the supply chain or manufacturing.
AI in transportation and logistics allows saving time and money due to the automation of time-consuming processes. No wonder giant tech companies like Google, Amazon, Intel invest their resources into AI.
Below we'll discuss five use cases of AI in logistics as well as examples of the companies that use AI in the supply chain.
#1. Automated Warehousing
AI is transforming all warehousing operations from collecting data to inventory processes. This technology helps improve efficiency and increase profit. For instance, the most obvious use case of AI in warehouse automation is to predict the demand for products. As a result, some products can be shipped to the regional warehouses reducing the transportations expenses. Vero Solutions claims that 30% of UK warehousing jobs will be automated in the next few years.
The automated warehousing system allows managing and doing a lot of everyday tasks. Below we provide you with an example of the company that has already integrated AI into the warehousing system.
Ocado
It's a British online supermarket that has created a highly automated warehouse. The robot is called the 'hive-grid-machine' and can fulfill 65,000 orders (that means approximately 3,5 million grocery item) over one week. The main tasks of these machines are to move, lift and sort grocery items. Then Ocado's workers pack and sent the food. As a result, the time needed to fulfill an online order is minimized.
The main technology of an automated warehouse is computer vision that will be able to recognize and organize the inventory. Moreover, new technologies will allow managing quality control without employee's oversight.
Whether the company has one or several warehouses, AI will provide an opportunity to connect them in order to find the best solution for transporting the good.
#2. Autonomous Vehicles
Let's discuss the use of AI in transportation. Nowadays, AI makes self-driving vehicles possible which means improvements in supply chain and reduction of expenses for the logistics industry. Driverless cars are good, but there are much more vehicles that can be autonomous. For instance, trucks or vans that deliver all necessary items, as well as buses, can benefit from self-driving opportunities. These vehicles are able to work in cooperation with a human driver or alone. However, the government of many countries claims that the driver has to be in the self-driving car in order to control the situation on the road. In the future, this decision can be changed.
Waymo
This company was the first to integrate a commercial taxi service that uses driverless technology. So, in December 2018, this service was launched in the suburbs of Phoenix, Arizona. The next step for this company is the create self-driving trucks. Trucking is important for the economy as well as logistics, so Waymo wants to make this sector safer and stronger. The Alphabet subsidiary expects to get $114 billion in revenue by 2030.
Rolls-Royce
This automobile giant cooperates with Intel to build self-driving ships. Rolls-Royce has been working on creating autonomous ships since the 2010s. In 2018, Intelligence Awareness system was launched. It is able to recognize and classify nearby objects in the water, monitor engine condition as well as pick the fastest routes. The greatest profit for logistic is the opportunity to find the best routes and increase delivery speed. The autonomous ship market is expected to reach $13.8 billion by 2030.
The logistics field will definitely benefit from integrating driverless vehicles. These vehicles provide an opportunity to reduce driving time, optimize routes and decrease fuel usage. Not talking about the reduction of human mistakes.
#3. Smart Roads
Cars are becoming more and more intelligent. So, one more use case of logistics and artificial intelligence is smart roads. There are some companies that are working on developing smart roads. They offer some different solutions that are based on regional needs.
As a result, in some areas, there are highways built with solar panels and LED lights. These roads can produce electricity as well as utilize lights to alert drivers about significant changes in road conditions. Moreover, the solar panels are heated so the road will not become slippery in the winter. As a result, the logistics sector gets some benefits because there're no delays in the supply chain due to the weather conditions.
Integrated Roadways
This company has developed the Smart Pavement system. Last year the Colorado Department of Transportation signed a five-year contract with Integrated Roadways to test its pavement system. Smart Pavement is able to connect all vehicles to the Internet and then give drivers a real-life data about traffic jams, road conditions, accidents, and so on. The company claims that its system can 'feel' the position of every car on the highway. As a result, Smart Pavement provides excellent navigation.
AI use cases in logistics (Part 1)
#4. Back Office AI
Back office operations can be forgotten when speaking about AI in logistics. The combination of AI and RPA (Robotic Process Automation) allows employees to improve the quality of their job. Some repetitive data-related tasks can be done by robotic assistance. Due to the automatization of back office operations companies with supply chains can save money and increase precision.
Cognitive automation consists of AI and RPA. These technologies give companies an opportunity to save time, spend less money, and raise productivity along with accuracy. So, the final purpose of cognitive automation is to replace office workers (e.g. accountants, human resources) with robots. Replacing employees with software robots will allow eliminating human errors. It leads to reducing costs.
Learn what RPA developers are responsible for and how RPA technologies benefit your business
UiPath
The main focus of the company is the robotic equipment. Its founders claim that their robots can manage 99% of tasks they are asked to do because UiPath's robots have the ability to 'see' screen elements. During the last two years, UiPath has grown ARR from $8 million to more than $200 million.
Such tasks as reading through the contracts and identifying clauses that can lead to losses are time-consuming. According to McKinsey Digital, 22% of the lawyer's job can be automated. So, AI-powered contract management software can offer a decent level of accuracy. The study conducted by LawGeex claims that the accuracy of AI applications is 94% but the human lawyers' precision is 85%. Additionally, the software reviews contracts in 26 seconds while it takes 92 seconds for a person.
Leverton
This company's main goal is to create applications of AI in logistics. So, it has developed a platform to help businesses manage their contracts. Leverton's AI-powered contract analytics software can work with more than 30 languages. Moreover, this technology can be taught to automatically extract necessary data from documents and contracts. Using Leverton technology it's possible to save from 30% to 50% of the time. Leverton's contract management platform is trusted by many companies in such fields as real estate, accounting and more.
#5. AI to Predict and Improve Customer Experience
Companies need to predict the number of required goods. If the inventory is limited but the demand is high, the company will have some serious loses. Business intelligence supply chain and artificial intelligence are the two main solutions used for forecasting as well as projecting.
AI can use algorithms in order to predict trends. Lots of studies claim that AI algorithms almost always predict better than human experts.
Nowadays AI allows tracking and measuring all necessary factors to improve the accuracy of demand prediction. This data helps in making warehouse management easier.
AI can also bring positive changes to the customer experience. Integrating this technology means personalizing the clients' experience and, as a result, increasing their loyalty.
DHL
The cooperation between DHL Parcel and Amazon is a good example of personalized customer experience. So, there is Amazon's Alexa, a voice-based service, that is able to answer your questions about parcels including their whereabouts, shipment details and more. Alexa works extremely simple. The user just needs to aks 'Alexa, where is my parcel?' and gets all the details.
AI use cases in logistics (Part 2)
There are a lot of ways to benefit from AI in the logistics industry. Nowadays, this technology plays an important role in the advanced supply chain and digital transformation of logistics. It increases effectiveness and automates many everyday time-consuming tasks, saving time and reducing expenses.
The Most Promising AI-Based Startups in Logistics
A lot of innovations come from startups. So, we've decided to create a list of startups companies that provide opportunities to use artificial intelligence in the logistics industry.
6 River Systems
This company offers to automate warehouses. 6 River Systems has developed a robot that is called Chuck. It is based on the same technologies as autonomous vehicles. Chuck can communicate with the Management System. As a result, it can put items away, pack things, count and sort them.
Moreover, Chuck is wireless. It is good at moving among boxes and even slow down when people or other equipment are nearby.
6 River Systems. Robot Chuck
Locus Robotics
It is a company that develops autonomous mobile robots. They are able to make any warehouse operation easy. Locus Robotics main focus is to assist e-commerce operations. This startup has created the LocusBot that is easy to work with because of the integrated touch-pad based user interface. As a result, there is no need to spend time training workers.
Locus Robotics. Autonomous robot
Valerann
Valerann is a startup company that tends to develop AI solutions for transportation. Its smart road system is a wireless network that is able to collect high-resolution data. Then the information is stored in the cloud. As a result, machine-learning algorithms can track and predict any action on the road.
Optimus Ride
This company specializes in driverless vehicles. Optimus Ride claims that their hardware and software solutions can be integrated into any vehicle type. The combination of technical expertise and industrial experience allow creating efficient mobile networks.
Shippo
Shippo creates technical solutions for marketplaces, warehouses, and e-commerce companies. The main focus of the company is to develop software that makes shipping easier and offers the best delivery options. Their clients can customize shipping process, get personalized tracking information and so on.
Transmetrics
One more startup company that focuses on assisting transport and logistics companies in integrating modern technologies (e.g. AI, computer optimization). Transmetrics offers technologies that consist of data cleansing, advanced forecasting as well as predictive optimization to make companies operations more efficient.
Convoy
The company specializes in integrating AI in the supply chain and truck dispatch software in particular. Convoy has developed software that can match appropriate trucks ('carries') with companies that need fast shipping. So, this startup has built a mobile app that gives carries an opportunity to find suitable loads, save time, and get paid fast. As a result, companies can spend less money on delivering goods and supply chain operations.
So, there were seven most promising AI logistics startups.
As you can see, every company tries to use a unique method of integrating AI in logistics. Of course, the list isn't full and can be extended.
How can Cleveroad help you?
Cleveroad is a logistics software development company. Our team of software engineers has been creating solutions for the logistics field as well as software for healthcare, finance, and more industries.
Looking for a tech partner?
Tell us the details of your software solution and we estimate its cost for FREE.
Frequently Asked Questions
AI in transportation and logistics stands for automation of time-consuming processes, which saves companies time and money. AI brings such changes as predictive analytics, autonomous vehicles, smart roads, etc.
AI changes logistics and supply chain by automating time-consuming processes. In turn, this saves companies money they would have spent on manual labor and reduces the load on staff members.
McKinsey estimates that companies might gain $1.3 trillion to $2 trillion per year from integrating AI in the supply chain.
AI, for example, makes self-driving vehicles, which reduces the expenses and load on drivers.
There are a few popular ideas to use AI:
Automated warehousing
Autonomous vehicles
Smart roads
Back office AI
Predict and improve customer experience
There are lots of software solutions from contract management software to software robots. Here are a few exciting startups:
Leverton works on AI-powered contract management software can offer a decent level of accuracy;
Shippo creates software that makes shipping easier and offers the best delivery options
Convoy has developed software that can match appropriate trucks ('carries') with companies requiring fast shipping.
The main challenge is the cost. AI software development and maintenance costs a lot these days. Same for equipment—that's why small or medium-scale companies don't always have enough resources to start implementing AI.
What's more, you need to train the staff to use new software and hardware, thus add training costs and time to the list of expenses.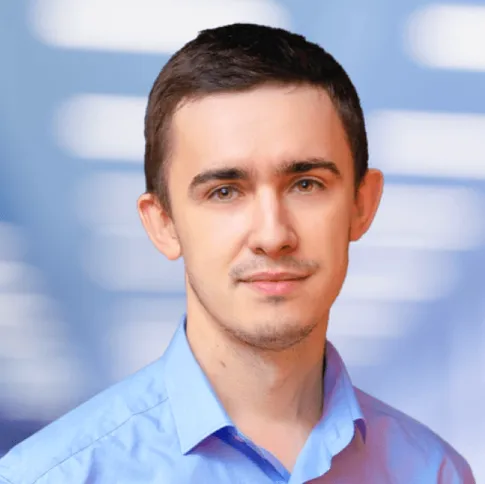 About author
Evgeniy Altynpara is a CTO and member of the Forbes Councils' community of tech professionals. He is an expert in software development and technological entrepreneurship and has 10+years of experience in digital transformation consulting in Healthcare, FinTech, Supply Chain and Logistics
Rate this article!
2681 ratings, average: 4.59 out of 5
Give us your impressions about this article
Give us your impressions about this article