Healthcare Cloud Computing: Meaning, Advantages, and Implementation Pitfalls
The global situation with the pandemic is testing the strength of the entire healthcare system, which is experiencing an unprecedented burden. As a result, not only doctors and nurses experience difficulties, but also the entire IT infrastructures of medical institutions. In order to cope with these times, it is simply necessary to introduce new technologies designed to boost the performance of IT systems. One of the ways out of the situation is the implementation of cloud computing in healthcare.
According to analysts, this technology is gaining popularity, and the size of the global cloud computing market in this industry will reach $35 billion in 2022. This clearly shows that healthcare facilities are actively investing in technology development and adoption.
In this article, we will take a closer look at what is hidden under the term cloud computing, what benefits they bring to the healthcare industry, as well as pitfalls that can get in the way of implementation.
The Practice of Using Cloud Computing in Healthcare
Jumping headlong into a new technology without knowing anything about it is not the best idea. So let's get down to the basics before moving on to the details.
At its core, "cloud" is a metaphorical definition of the Internet-storage, which can be accessed anywhere. Previously, software products strictly required installation on a specific device and were only available on that device (unless you tried to install it on multiple computers). The cloud removes this dependence, opening access to information and software products without any need to have them on user devices.
Meanwhile, the Internet is a communication channel without which nothing will work. In the modern world, it is difficult to find places without a good Internet connection, and thanks to this, cloud technologies are rapidly gaining popularity.
Elements of cloud-based structure
How Healthcare Institutions Can Use Clouds
Many companies have tasted the benefits of using cloud computing in healthcare industry. Now is the time to talk about the main ways this technology can be used to boost this industry.
The first thing that is usually transferred to the cloud is work with email since the number of different letters processed by medical institutions is huge. The binding of email only to on-premise solutions greatly constrains the work. At the same time, the cloud gives access to the processing of incoming letters from any device, speeding up work with them simultaneously. In addition, nursing staff can send important notes to patients wherever they are.
EMR and EHR software hosting
The first one stands for Electronic Medical Records while the second one is Electronic Health Records. This application is the transfer of EMR to the cloud, allowing access to this information from any device, anywhere. Doctors do not need to be at their computers to check a patient's medical history. All they need is a smartphone or tablet to check all the necessary data.
Cloud computing in healthcare industry also contributes to data security, as it is risky to have such important information on local storage in one place. No one is safe from local servers failing or being hacked by intruders. Cloud structures guarantee the safety and security of medical data.
Although fax seems to be a technology of the past, it is still used in many medical facilities. However, these are local cases, where faxes are exchanged between departments and doctors within the same hospital. The transfer of fax-related functions to the cloud entails the availability of mission-critical information on the go and in a much shorter time frame.
Typology of Cloud Computing in Healthcare
Cloud structure has its own characteristics that are worth knowing before adopting technology into your business. In this section, we take a look under the hood of cloud computing in the healthcare industry. First, it should be noted that this technology is divided into several types, depending on some criteria.
Clouds by Distribution
This criterion relates to the hardware part and how cloud structures are delivered to the business. Three types are distinguished among them.
Software as a Service
The vendor provides the cloud infrastructure while the customer has to deploy applications and operating system. At its core, you lease the cloud computing for healthcare facility for a specific amount of time.
Infrastructure as a Service
The vendor provides the cloud infrastructure and operating system, while the customer has to deploy their applications.
Platform as a Service
The vendor provides cloud infrastructure, operating system, and applications. At its core, the client receives a fully working and ready-to-use cloud solution with all the necessary tools for doing business.
Сlouds by Deployment Method
Structures also differ in terms of who owns them, and in this aspect, four types can be distinguished.
Private. The cloud is owned by only one client or company, and no one else has access to it. An extremely useful option when it comes to storing confidential data. Such a cloud is often located in the medical institution on its own equipment.

Community. It is a cloud shared between a specific group of workers with similar security, privacy, productivity, and compliance requirements.

Public. This cloud structure is open to everyone and is mainly used to disseminate general medical information unrelated to patients' confidential data. Basically, such structures are managed by the service provider and located at their facilities.

Hybrid. The last type is the cloud, with a combination of different access options. An extremely flexible option if there is a need to manage and transfer various data from one cloud to another.
Cloud structures diversity
Advantages of Cloud Computing in Healthcare
No one would be eager to accept cloud structures into medical businesses if they did not influence the state of affairs for the better. You must understand what you will get for your implementation efforts and the popular solutions on the market that are already benefiting medical institutions today.
Lower Costs
The main advantage of cloud technologies is that the medical institution does not need its own data centers located in the same building (if the correct distribution model is chosen). As a result, the purchase of equipment and its monthly maintenance can be deleted from the list of expenses. As a result, all the hospital pays for are actual services, which saves financial resources to a large extent.
In addition, cloud structures are more flexible and expandable, which is not to say about on-premise solutions. For example, buying new equipment to store more data can cost a pretty penny, while to expand the cloud, you just need to negotiate with the vendor and choose a slightly more expensive plan. This is one of the main benefits of cloud computing in healthcare.
All-Out Interoperability
The main goal of compatibility is blurring the boundaries between devices and the availability of medical information, regardless of its source. This greatly facilitates data collection for further analysis to draw up a general picture of the patient's well-being. In addition, the convenience of distribution of information between physicians and access to it increases, regardless of where a particular doctor is at a given time.
Storing information in a single cloud facilitates the interaction of various medical industries such as insurance and pharmaceuticals. In addition, patient data is easily transferred from one specialist to another, which improves the quality of medical services.
Better Analytics
Patient data is a vital resource for analytics to help identify patterns, diseases and find the best treatment. In addition, this information is the basis for medical research that propels the entire healthcare system forward. And all this can be done using cloud computing because they have enormous power and allow faster processing of large amounts of data.
In addition, analytics via the cloud is key to developing more personalized experiences for each patient, which greatly improves the quality of the services provided.
Control Over Data to Patients
Cloud technology in healthcare makes data much more accessible to patients, allowing them to be more involved in their care and make data-driven decisions. Previously, patient records were kept in file cabinets where each patient did not have direct access, making it difficult to involve the patient in their own treatment process.
In addition, moving all data in the cloud reduces the risk of losing any information. Backups are always on guard for safety, and there will be no more cases when clinics could accidentally lose the physical medical records of patients from file cabinets.
Rise of Telemedicine
The availability of cloud computing in healthcare is an excellent foundation for the development of telemedicine, tied to the Internet and cloud technologies. Cloud-based telemedicine systems and applications make it easy to share medical data, improve accessibility and provide patient health insurance during prevention, treatment, and recovery. Cloud can also be used for custom medical image analysis software and other complex systems development. However, it's better to build a health insurance mobile app separately to address all the health insurance-related details. In addition, many applications have more serious functions, such as remote monitoring of medication intake or doctor's appointments via video link. Cloud computing is the key to improved healthcare through telehealth.
Popular Cloud Solution Providers
Today, there are several providers of various cloud services that specialize in the healthcare sector. They have already proven their reliability, and their technological solutions are used by thousands of medical institutions worldwide.
The company is a popular provider of hybrid cloud storage for healthcare data. The platform's capabilities allow hospitals to receive data in real-time, which speeds up the performance of medical pipelines by reducing delays in the operation of EHR systems and a more convenient backup and data management process.
This provider specializes in cloud services for various sectors of the healthcare industry, from nursing to accounting. The technological solutions are based on the secure and extremely popular Microsoft Azure, and the company actively helps medical institutions implement various cloud infrastructures.
This cloud is a HIPAA-compliant solution aimed at interoperability with other public clouds. The main feature of this solution is to protect sensitive patient data through security measures, DevOps automation, and healthcare expertise. In addition, Cleardata has systems for automatically detecting changes in files for quick response to unauthorized actions.
This cloud platform specializes in document automation, eliminating the need for physical paperwork. The company's main focus is to meet the needs of various professionals in the healthcare industry, such as doctors, nurses, manufacturers of pharmaceuticals and medical equipment, and many others.
Barriers to Cloud Implementation in Healthcare
Despite all the advantages of cloud technologies and how they simplify the life of medical institutions, their implementation is a complex process with several pitfalls to be prepared for. This will allow proactive measures to ensure that the integration of cloud computing in medicine goes as smoothly as possible.
Security Risks
When dealing with confidential information, security risks are common, and patient health data is no exception. Attackers are trying to extract insurance and credit card data. Such information must be additionally protected by various security methods such as data encryption, security keys for access, and the use of the blockchain. Blockchain cloud computing interaction will enable better data protection by using unique secure codes. Protection measures should be thought out from A to Z because reputational and financial losses are at stake.
Compliances
Any healthcare technology solution and implementation must strictly comply with a number of data regulation laws. Storage of any information in the cloud also falls under this requirement, and the main compliances are:
HIPAA. Any technological solutions developed for the US market, which process, record, and store Protected Healthcare Information (PHI) must strictly adhere to HIPAA regulations. Since 1996, these regulations have ensured all electronically protected health information's confidentiality, integrity, and availability.

CCPA. This law is another foundation of confidentiality in the United States and is analogous to the European GDPR. This law involves informing the client about what data is collected, preparing a free report on the collected data at the client's request, deleting the collected data at the client's request, and much more.

GDPR. These personal data protection rules were introduced in Europe in 2018, and all healthcare apps operating in the European Union must comply with them. The important point is that the GDPR applies to the company that processes data (for example, cloud storage) and the company that collects it (for example, social networks).

NIST. This is another collection of standards, tools, and technologies designed to protect users' data of digital medical solutions in the United States. According to research, 70% of surveyed organizations consider the NIST framework as the best cybersecurity practice, but many say it requires significant investment.

HiTECH. These regulations focus more on the EHR systems' data security and are also valid in the United States. In 2013, the clauses of this law were later introduced into the HIPAA Final Omnibus Rule, and now HIPAA compliant apps are equal to HiTECH compliant.

PIPEDA. Cloud storage and other medical software working in the Canadian market must comply with PIPEDA. An interesting fact is that if your app is compliant with PIPEDA, it's most likely compliant with the GDPR since these two laws are quite similar.
Possible Downtimes
Despite the fact that cloud technologies provide maximum reliability, no one is 100% safe from possible downtimes. As a result, they should not stop the work of the entire medical facility. Planning the pipeline ahead of time in case of contingencies and being prepared for possible failures helps avoid disruptions in the hospital's work if they suddenly occur. Even if it never happens, you should be armed with a strategy for such a case.
How to Implement Cloud Computing in Healthcare Avoiding Risks
Cloud implementation is a multi-stage process that requires the coordinated work of a technical vendor and a medical institution. In addition, it is vital to take certain preparatory stages, which we will now talk about.
Define Your Implementation Goals
First of all, you must clearly understand why you are implementing cloud technology in healthcare business. If you don't have a clear answer, you won't make a specific list of things that require cloud computing. Often there are several reasons for implementation:
Dealing with compliances
Security boost
Better back-ups and data-protection
Cost-savings
Knowing the final goals will help you communicate with a technical vendor, as experts will clearly understand what they will have to work with and be able to come up with an ideal offer tailored exclusively to your business situation. So think about everything beforehand since it would be much better than coming to specialists with a simple "I just want to move everything to the cloud."
Make a List of Things Worth Moving to Cloud
While there are a lot of processes that can be moved to the cloud, you should have an understanding of the specific operations that require this enhancement. Assess your healthcare facility's current pipeline and identify bottlenecks that are holding back quality healthcare delivery or slowing down the work of your healthcare team. For example, it can be an outdated on-premise EHR system that tends to freeze under huge loads.
Analyze all enterprise processes and prioritize them from "Requiring immediate movement to the cloud" to "Minor processes that will receive benefits". It will also help when communicating with the vendor, so it will be possible to assess the scope of work more accurately and calculate the exact time required for the transfer.
Calculate Spendings
Moving the pipeline to the cloud requires certain investments, and it should be precisely understood whether a business can afford such a step at a given point in time. The main costs will go to the payment of technical specialists involved in the entire transfer process. In total, you have three options:
Hire freelancers. It is the most undesirable scenario for working with personal data of a medical institution, but it is also the cheapest.
Assemble an in-house team. An extremely complex hiring process is adjacent to high paychecks for each specialist, but at the same time, you get full control over the process of moving to the cloud.
Outsource tasks to offshore vendor. A reliable option that combines security, affordable prices, and flexibility, but you should be prepared for possible language barriers.
In the last two scenarios, the price will vary depending on the location of the experts. Of course, no one forbids you to hire developers in your homeland and assemble your own team, but in this case, the final price tag for implementing cloud computing in medicine will hardly please you.
Strengths and weaknesses of hiring options
For example, the average hourly rate in the US is $150, while in Eastern Europe (let's take the largest hub in the region - Ukraine), specialists of the same level will cost $40- $50 per hour. The difference is obvious, and outsourcing services save valuable financial resources.
Find a Reliable Vendor
This stage will be useful if you choose outsourcing as the main way of implementing cloud computing in medicine. Thousands of companies from different regions will open before you, ready to provide their expertise for the benefit of your medical institution. However, it is extremely easy to lose in such a variety, and it is difficult to make a balanced choice.
To facilitate the task, you can use specialized websites that aggregate information about various technical vendors. The most popular are:
These sites collect information about IT companies where anyone can get acquainted with information about vendors, their services, values, location, time on the market, and more. Also, users can easily find contact information and contact the company for further cooperation. But the most valuable thing is the user reviews. Anyone who has worked with a particular company can rate it and write a detailed review about the process of working with the vendor. Based on these ratings, the top of the best companies in various categories are compiled, which will also help you make the right choice.
How Cleveroad Can Help You
Cleveroad is a high-tier technical company specializing in developing various technical solutions for businesses of all industries. We are located in the IT capital of Eastern Europe - Ukraine. For more than ten years on the market, we have helped hundreds of companies find modern technologies and custom software that will boost their performance.
Cleveroad in numbers:
10+ years on the market
120+ in-house engineers
170+ successful projects
8+ expertise industries
Our portfolio of medical projects has recently expanded with an app aimed at helping and preventing various mental disorders. The Nedley Lifestyle Scorecard is based on the Nedley Depression and Anxiety Recovery Program, which helps users with depression and insomnia through various exercise programs and activities.
Nedley Scorecard is an ultimate helper in fight with insomnia and depression
Wrapping Up
The keystone of implementing cloud computing in healthcare facilities in cooperation with reliable and professional technical companies with relevant experience. This decision will bring only positive results since experts perfectly know how to tweak the migration pipeline to a specific business, avoid possible risks and make digital solutions 100% efficient.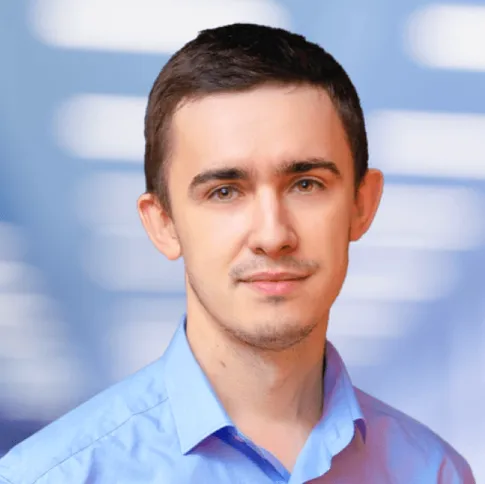 About author
Evgeniy Altynpara is a CTO and member of the Forbes Councils' community of tech professionals. He is an expert in software development and technological entrepreneurship and has 10+years of experience in digital transformation consulting in Healthcare, FinTech, Supply Chain and Logistics
Rate this article!
1223 ratings, average: 4.97 out of 5
Give us your impressions about this article
Give us your impressions about this article