What Is Healthcare Website Development and Why Turn To It in 2023
A powerful web solution for a medical domain is an essential operating tool to fulfill the needs of every medical organization. Why is it so important? Healthcare web development allows the managers to control different workflows in one particular system. A web solution is also easily accessible for patients who'll be able to get on-time prescriptions and appointments from their doctors.
Healthcare web solutions and functions they can perform
So, the role of web products in the healthcare sphere shouldn't be underestimated. This article will explain you more about such a role, enlightening its necessity for meeting the industrial needs and gaining purposes, types of web solutions for medical establishments, essential preparation steps to build a web product, where to find competent healthcare web developers, and many more.
Why Do Companies Need a Healthcare Web Development in 2023?
Every hospital, pharmacy, or clinic needs to increase its online presence to attract clients. The healthcare website is a virtual reflection of the medical establishment practice and the instrument to gain the said aim. It will allow patients to get answers for the issues they need in a user-friendly manner, and the medical managers will control all the healthcare establishment workflows more straightforwardly and efficiently.
Such effectiveness makes the medical organizations implement web solutions for monitoring their everyday flows and automating routine actions. Let's look into stats to prove the popularity of healthcare web development.
Different statistical resources on the Internet prove that the patient journey to the healthcare specialists typically starts from googling the web resources of the hospitals and clinics. They get acquainted with the information about the physicians, and, according to Software Advice's research, about 95% of patients make decisions about applying to one or another doctor through learning the reviews. According to the other source, the reviews are believed to be like personal recommendations by more than 80% of potential patients.
Such research and reading the reviews of the healthcare specialists make 52.3% of patients continue their acquaintance and make a telephone call to the particular expert. So, the healthcare website developer work is essential in attracting more patients to a specific medical organization.
A healthcare website can offer trusted reviews about physicians' work, as well as information concerning the diseases treated in the particular clinic. Along with the informative benefit, a medical website brings the following ones:
Benefits of healthcare web products
Makes your establishment unique. Let's suppose that there are many clinics and hospitals all around your city. So, to attract customers to your particular establishment, you need to boost its site by starting a healthcare web development.
Offers communication and support 24/7. The end of the working day doesn't mean the end of the clients' problems and illnesses. The people need doctors' accessibility day and night to ask the questions they need. The chatbots, feedback forms, or other communication channels implemented on the website will show users they aren't alone with their issues, and there's always somebody who cares about the solutions.
Assists in creating a highly reputable and trusted brand. When people look for the best care possible (as it always happens when everybody needs healthcare services), they check every tiniest thing starting from the clinic's website. So, the web resource should be regularly updated, as it's also an essential component of your brand's reputation.
Makes your customers' loyalty sustainable. The clients will trust your brand more, especially when your site developed by a skilled healthcare web developer is reliable and assists in the successful performance of multiple operations (e.g., paying medical bills, having an online consultation, or looking for an appointment timetable).
We discussed the most typical benefits the web platforms may bring to your business. However, you should consider that the list of healthcare website advantages is countless. It can also include the following points:
Cost-effectiveness. Provide your patients with better care or the latest information about their diagnosis through your website. Such a powerful means of offering data is affordable as to the building price (especially if you choose outsourcing services for building it).

Relevant data exchange. The opening hours, contact information, photographs of the facility or equipment, contact form options to simplify inquiries, and the ability to schedule an appointment online are all key aspects that hospital websites might provide. Relevant information, on the other hand, promotes a better user experience.

Reach expansion. A medical site also attracts data searchers beyond of local boundaries. This implies that information about your healthcare facility is available to anyone, anywhere in the globe.

Enhanced advertising. When your website appears on the top page of all the major search engine result sites, it has a higher chance of connecting with more of your potential target audience. Therefore, combining the use of search engines with Internet advertising is an excellent way to raise awareness.
Medical Website Creation: Features, Types and More
The healthcare sphere vitally needs speed in decision-making, as the delay may cost lives. Such a speed depends on an opportunity to quickly communicate with the required physician and obtain necessary recommendations, and the website for healthcare purposes can become the very same means of communication, education and patients' lives enhancement.
What are the essential characteristics of the effective web resource for medical purposes? They should be comprehensively informative, authoritative, reliable and secure.
Below, we'll list the core features that help the medical websites gain the said characteristics, necessary for people to quicker receive advice, schedule an appointment and do other things:
Information page. A qualitative information page can give your establishment a complete characteristics long before the potential patients see it. So, you should think out its design, representing there such information as ratings and comments of your physicians' work, their working hours when people can apply to them and receive more info, etc.
Blog. Medical sites are not surfed for fun. People look through them to obtain information which will be helpful to solve their particular health issues, and the medical blogs typically serve for that.
Forum. You can also make a forum, where people will be able to discuss and exchange the received data between each other.
Content management system. It will be essential for you to have the opportunity to add new content, and change the existing one (e.g., according to the latest world known healthcare data, or to your changed establishment information)
Practioners' search. Your patients should have access to contact information about each doctor in order to quicker book appointments. So, the search feature will help them find data they want as quick as possible.
Booking of appointments. Digital technologies allow us not to stand in clinics queue to book an appointment to the particular doctor. Instead of that, the corresponding feature helps us to do it without leaving a house due to the provided customizable forms.
Facility leader profile. The journey lead can sign in at the website to control the site activity, potential patients' applications, etc.
Below, we've prepared a set of medical website types for you to inspire and consider what of them can help you enhance doctor-patient communication in your medical establishment and optimize its everyday working processes.
Telemedicine solution for consultation and communication
Most patients know too little about their health condition or disease treatment. But, the circumstances (like pandemics or crises) necessitate contactless opportunities to obtain consultations.
The modern communication platform offers an instant connection between patient and doctor wherever required. As a consequence, doctors can give real-time consultations and monitor people's health by integrating medical apps into the existing communication system. The patients obtain timely support and prescription even being in total isolation.
What essential functionality is required here? Below we offer the set of the most crucial features for telehealth website:
Booking & scheduling appointments
Search
Communication means (videoconferencing, text chat, etc.)
Rating system
Notifications
Payment means
Integration with patient data management systems (e.g., EHR/EMR)
Repository and knowledge base
People must know more about their health to prevent inevitable consequences that would be dangerous to their lives. So, you can begin a healthcare website development to create a web portal that would contain self-educating materials concerning the prevention of illness or information about diseases. However, such data should be written in an accessible form, understandable for ordinary people, not only healthcare workers.
QuHarrison Terry proves the importance of such accessibility saying:
QuHarrison Terry

Growth Marketer at Mark Cuban Companies

Healthcare people traditionally speak the healthcare vernacular that they're taught. They live in that world. But it's very hard for a person that lives outside of the healthcare realm to interface and engage with what's going on.
What features are crucial to be implemented by a healthcare website developer for such kind of patient self-educating resources? They are the following:
Online libraries for patient self-education
Communication means (blogging, email/contact forms, etc.)
Payment features
Content management for doctors
Booking consultations online to have a direct contact with physicians
Solutions to Enhance the IT Infrastructure
As we said before, the price for medical delays or errors is the human's life. That's why the delivered services have to be qualitative. You can gain such a quality enhancing your medical organization's infrastructure.
For example, the Electronic Health Records (EHR) which are the basis of IT infrastructure in most of the medical organizations, typically lack the interoperability. The establishment managers can correct this situation by leveraging their existing solutions (or creating the new ones) with the help of cutting-edge technologies like Artificial Intelligence, Big Data or IoT.
What else can be used to optimize the hospitals' IT infrastructure?
Internet of Things (IoT)
Cloud technologies
Various protocols and encryptions
Chatbots, etc.
Medical Products With e-Commerce Functions
You may manage backend tasks like invoicing and paperwork with the aid of hospital billing & invoicing systems. As a result, the medical facility's profitability increases and mistakes are decreased.
The challenge is to select a solution that has the functionality you want in medical billing software. The vital functionality it should have is the following:
Information page
Blog content
Financial management
Client pre-registration
Healthcare claims processing and analysis
Compliance with regulations
Reporting
Database with clients' information
Data encryption
Health Web Apps for Disease Self-Control and Care for Patients
With the help of technology, health monitoring is now simple thanks to devices like sleep monitors and fitness trackers. The use of patient-centric apps is a wonderful strategy for improving team communication.
The web applications prepared during a healthcare web development workflow are perfect for enhancing services for the family you look after. Caregivers can concentrate on providing better care while delegating some work to applications.
Healthcare Web Apps For Data Collection and Analysis
Web apps for healthcare analytics will help you save medical expenses, anticipate disease breakouts, and even enhance quality of life. Big data analytics' use in healthcare has a variety of positive and life-saving effects.
An issue can be predicted and resolved by applying healthcare data analytics and data-driven insights. Additionally, there is a greater need than ever for big data analytics in healthcare institutions, and the growth of SaaS BI tools is supplying that requirement.
This is not the full classification of healthcare web products. However, we enlisted the most common ones the healthcare business owners typically use.
What Should Be Done to Prepare For Medical Web Development
It's not a secret that before choosing the developed medical web product or launching a new project you should do a great volume of preparation work. An outsourcing vendor experienced in medical software creation can help you consider all the ins and outs of this complex project.
So that, below we offer the most essential steps you should pass through with your software development provider.
Step 1. Start from the people's demands identification
Meeting a particular audience's demand is the primary goal of every product development. Thus, the business owner can choose an off-the-shelf solution, which satisfies the said demands and needs. If it's so, the working process is simplified to a ready-made solution's choice and its adaptation to your business flows.
But most customers today search for a unique web solution that will help them stay modern and sustainable in the domain market, leaving the possible competitors far behind. And in this case, collaboration with a software development provider will help them accomplish their set aims as more efficiently as possible.
Step 2. Conduct target audience analysis
The next preparation step the vendor's specialists will pass through will be studying the core audience for your future product. The ability to accurately identify target users will influence your healthcare web solution's success.
Conducting researches, the vendors will seek responses to basic questions some of which are represented below:
Who may be your upcoming clients?
Where your target market is located?
Why may consumers prefer your product?
When are clients most likely to purchase your goods or services?
What kind of digital solution is most popular with your audience?
Moreover, additional criteria, such as the normal browsing and shopping patterns of your core audience can be considered by vendors to have a better understanding of the products your target clients use the most.
How the target audience research is performed by software specialists? Check out our article to know more!
Step 3. Think out the necessary regulatory compliance
Every healthcare organization should obey the medical rules and regulations in order to work effectively and provide their patients with more qualitative services. So, when you plan a healthcare website development with your tech partner, you'll be able to discuss the regulations that will be essential for your website depending on its destination.
These are some of the most popular regulations your website should comply with:
Americans with Disabilities Act (ADA) standard for your website is intended to be used when your resource is used by the American patients having certain disabilities. As a significant part of Americans' lives is connected to online activities, ADA is essential to provide even the disabled people with the opportunity to be seamlessly included into the ordinary life. Due to this standard, a website should adhere to four fundamental rules: perceivability, effectiveness, clarity, and robustness.
Health Insurance Portability and Accountability (HIPAA) and Health Information Technology for Economic and Clinical Health (HITECH) are the US-intended regulations required to ensure website security which is essential while physicians handle patient information. These regulations were put into place to protect people and ensure that everyone has complete access to their individualized medical records. They require any person health information collected, kept, communicated, or utilized by anybody to be protected since it is a matter of civil rights.
General Data Protection Regulation (GDPR) applies to any institution that operates with data on EU individuals, regardless of where this data is processed, or kept. It presents an opportunity to enhance systems, policies, and procedures for the healthcare sector, which needs a variety of different forms of personal data, in order to stay ahead of any possible threats to the healthcare organization and clinical records.
Moreover, you may need to use the following regulatory compliances as PIPEDA (for Canada-intended web resources), Data Protection Act (for United Kingdom), IMLC, NIST, FHIR, and so on. The vendor will help you make your site compliant to the needed regulations to protect your consumers' data and offer the best healthcare services for them: thus, Cleveroad healthcare developers have practical expertise of creating unique medical web solutions that adhere to healthcare regulations as well as HIPAA, HITECH, and FDA.
What requirements should your software respond to in order to be HIPAA compliant? Our article will tell you more, start reading!
Step 4. Prepare a feature list
Feature list is a set of functionality to implement in an upcoming digital product, which has an impact on the project's timing and scope. This is a ground for a successful start of the project, a key reference, vitally essential on its early stages.
How to create such a feature list? Cooperating with an IT outsourcing provider which team of healthcare web developers will work upon your project, you may usually pass through the following steps:
Stakeholders surveys will be conducted by a vendor to collect the data as to the required product features and analyze the clients' needs and demands.
Competitor study will be helpful in a definition of what functionality is required for the first product releases when the vendor compares the feature sets of the rivals' products (as well as their content, branding or architecture peculiarities).
User journeys analysis is required to understand each of the steps the customer makes to finish a particular job. Moreover, if the product is not created from scratch (but updated, for example), the user journeys study helps the IT specialists find out which of the performed development stages are effective, and which ones require optimization.
Step 5. Identify the priority of the features integration
A functionality list creation is only the half-affairs, the next step is its successful implementation. So, how to do that in the most effective and cost-efficient way?
When you entrust your project in the caring hands of a software development vendor, one of the ways the vendor's specialists act is the following: they first define what features are the primary to implement, and what are the secondary ones. This order helps concentrate efforts on the essentials (e.g., a landing page creation and a website blog fulfilling) and then continue acting to promote the developed features (for example, winding up comments and ratings).
Step 6. Think out your promotion strategy and act upon it
One of the core healthcare website functions is to engage more patients through the information extensively disclosing your establishment activity and its usefulness for the future consumers. A promotion strategy greatly chosen by the software provider's marketing experts, will help you deal with it.
To give you a hint as to the possible strategies to choose, we'll mention some of the most common promotion ways you can choose to make your medical web resource more widespread:
Social media
E-mail marketing
Pay-per-click ads
Google profile for business, etc.
The modern marketing techniques to promote your developed software are disclosed! Let's look through our guide to find out how it happens!
Step 7. Define other tech issues to be solved
Passing through the previous steps is not the end of the preparation. You should also discuss with your outsourcing IT vendor various other technical issues to be thought out and solved beforehand. Some of them are mentioned below:
Deployment peculiarities
Data processing and synchronization
Killer features of your future product, etc.
The preparation steps may vary from project to project and we've named the most essential ones. After their performance you can start the healthcare web solution development.
Specifics of The Web Development For Healthcare Business Domain
Every software development company works upon their web projects differently. So, we'll tell you about the healthcare web development workflow according to the Cleveroad experience.
Starting the contacts we accept and analyze your request message left on our website. Then we schedule an additional meeting to talk more about details and collect precise information as to the project as well as your business aims.
Our Solution Team (including Business Analytics, Solution Architect and a UI/UX designer, if needed) also gathers for performing Solution Design Workshop activities. Particularly, this expert staff identifies your project aims, the scope of future work, quality attributes as well as major constraints.
After that, our experts make a rough estimation. We sign a Non-Disclosure Agreement (NDA) to keep your upcoming project confidential, if you require it.
Discovery stage is intended for project requirements gathering (feature list, third-party services, etc.). Moreover, there are the peculiarities of the project we should discuss. They are the following for a healthcare digital product:
Interoperability. Smooth and flawless integration with the existing systems, instruments, or equipment of the specific medical institution may be necessary while developing a health app. You should permit this procedure using healthcare APIs to make it safe, simple, and effective for them to communicate with one another.

Compliance to healthcare regulations. The laws and standards that must be followed by your software depend on the location for which your healthcare application is designed. Since your local laws may differ from those in other countries, you should familiarize yourself with any necessary legal requirements before developing any healthcare applications.
Furthermore, the discovery stage is essential to solve many other issues consulting the certified specialists. This way, the Solution Architect and BAs can help you create the feature list for your future medical web solution, or correct the existing one. The project specification, team composition and the detailed project estimate (as well as wireframes for the future product design) are also created during the discovery stage.
The solution design starts after you approved the prepared wireframes and chose the visual style of the future product. During the design creation, you should remember that making the app interface is something more than just preparing the icons, fonts and screens, perfect to every pixel (though, it's also an important thing). It's about creating a consistent and customer-friendly design based on the detailed study of patients' behavior and peculiarities of their health state.
When the prototypes and screens for different conditions are prepared by our UI/UX designers, the project is handled over the developers.
The project development is divided into sprints, according to Agile methodology Cleveroad works upon. Every sprint lasting for 2 weeks starts from planning activities and ends by a delivery of a developed functionality (or a part of it).
This is an example of the tech stack our team can use while preparing a web solution:
Languages used: JavaScript, TypeScript, C#
Typical frameworks: React (frontend), Express, Node.js, .NET Framework, .NET Core (backend)
Databases: MongoDB, ElasticSearch, MySQL, PostgreSQL, Redis, DynamoDB
Frontend markup: HTML, CSS, Microdata, Gatsby
After the healthcare web developers finish their part of work, the QA engineers start checking both frontend and backend of the product, and making bug reports for the devs to fix the arising issues.
The release implies moving your web project to a live server. Then, in case you are satisfied with the received result, the team will hand over the project documentation (including specification, project plan, source code, etc.) to you. However, it's not the end.
The support and maintenance stage means the Cleveroad team continues working on your project, fixing possible after-release bugs, enhancing the product's performance and stability or optimizing the written code.
What Determines The Cost of Developing A Healthcare Website?
After you've found out what stages the web development project consists of and the peculiarities to be considered, it's a high time to discuss the factors determining the project cost. Let's start talking about the standard ones.
Factors having impact on the healthcare web development cost
Team composition
Will you develop the web solution yourself or look for a team of IT specialists? If you choose the second, you should bear in mind that the best web product requires the work of certified specialists. Where can they be found?
There are two options to choose from:
Hiring an in-house team means you can find and employ local specialists to develop your medical web solution. However, you should remember that the cost of the project will be higher as you'll have to pay not only for the experts' salaries, but for the rent of the office, sick leaves and other expenditures. Furthermore, if you need an IT expert with a rare qualification, your employment activities may last for months. Keep in mind that choosing in-house team option, you'll also have to care about resource management, employees qualification checking, and other issues yourself.

Working with an outsourcing web development team implies you entrust your project or a part of it to IT specialists from another company situated in your country (onshore outsourcing model), in the neighboring region (nearshore outsourcing) or far abroad (offshore outsourcing). The outsourcing model is characterized by cost-effectiveness, wide pool of various IT specialists, quality and other beneficial aspects to think out. For instance, Cleveroad straightforwardly and successfully deals with various IT flow and specializations which allows our customers to fully entrust their projects to hands of reliable and qualified specialists, focusing on other business tasks requiring their attention.
Provider's terms and location
Choosing an IT provider, you may pay for the team's services considering the hourly wages for different outsourcing regions. Below, we give the approximate hourly rates for the most popular outsourcing regions.
Northern Europe — $35-100/h
Western Europe — $50-200/h
North America — $49-210/h
Latin America — $28-105/h
South Asia — $21-82/h
Southeast Asia — $21-61/h
Moreover, the cost will depend on the working terms of the web development outsourcing vendor. You may discuss these terms with your tech partner who will provide you with web building services.
Product's time to market
Time to market (TTM) is another essential aspect that defines the final project's cost. Let's talk more about it.
TTM is the time length required to develop the product and launch it. We'll give some examples of typical TTMs for you to consider.
Launch as fast as possible — the best for the fluid markets and MVP development
Strictly obeyed to the timetable — used when the product development is outsourced and the date of release is agreed between the IT vendor and the client.
Performance priority — typically utilized in outsourcing software development companies, when the managers have to deal with a number of projects or features to integrate.
Priority for sales — applicable when the team plans the solution launch to overcome the low outcomes. For instance, the project may be released on the day of the event which will boost the financial profit.
Features scope and complexity
If you need to build a custom website from scratch, it will be resource-consuming for your project budget but effective for your business, as you'll get a unique and scalable web resource customized for your clients' needs and user-friendly even for customers with health restrictions.
In order to be effective nowadays, a website must contain dynamic, changeable material that can be controlled from the admin panel (e.g., CMS, or admin console). The more features you add to a website, the more difficult the admin panel gets. As a result, it is vital to remember that the majority of the complex website development labor is performed by healthcare web developers behind the scenes by developing a complex backend website architecture.
Additional expenses
What other points should be considered as the project price influencers? We can name the following ones you should pay attention to:
The web project type
Tech stack to use
Design complexity, etc.
Where to Find a Healthcare Web Developer?
The cost of a future solution, as well as its quality is also determined by a choice of a future technology partner — a skilled software development vendor with the deep expertise in creating web products for the healthcare domain having enough capabilities and human resources. Cleveroad is a perfect choice for healthcare web development.
Let us tell you more about it. Cleveroad is an outsourcing web development provider headquartered in Estonia. Our turnkey digital products, like EHR, ERX and EMR, prepared for healthcare startups, SMBs and enterprises accomplish their business goals, simplify digital transformation and solve the arising problems.
Cooperating with us, you'll receive:
A modern web product fully satisfying the needs and requirements of your particular business
Cutting-edge tech stack used to develop your upcoming solution
The consultation with one of our specialists (PM or BA) as to your project
A team of agile-minded experts capable of turning an inspiring concept into a solution perfectly integrated into your business routine processes
Creating web products from scratch or upgrading the existing ones, as well as modernizing legacy systems
Quality assurance and control at all the levels of the product development
After-release support, maintenance and advertisement for our customers, etc.
In order to prove our expertise in healthcare web development, we'd like to tell you about one of our projects — a Quality Management System (QMS) for Medical Devices Manufacturers. Our task was to work with the outdated and inflexible existing platform to make it an automated and efficient one with a customer-friendly UI and a seamless UX. Moreover, we had to make the business scalable, increase customer satisfaction and the profit rate in conditions of the restricted budget.
A QMS system from Cleveroad
To gain the above purposes, we've created a flexible QMS system from the ground up. The built platform is helpful for lowering manual operations and liberating labor. It was also successfully implemented into the existing flows of our client and obtained a lot of positive reviews from users as to its flexibility and comfort in use.
The QMS architecture contains a complex business logic and a role structure. Among its core components we should mention the following ones:
Business Architecture. Any QSuite user may simply complete the steps involved in the procedure needed for FDA/ISO certification thanks to the Business Architecture's thoughtful design. The foundation of the business logic (documents and records) is fully configurable.

With the purpose to handle Documents, Actions, Training Records, and Human Resources, we have developed basic logical modules, features, and logical layers.

In addition, the QMS contains a role-based access control (RBAC) system with the roles of Super Administrators, Admins, and Users. Super Admin is the same as Admin, but exclusively for certain Organizations: it has complete access permissions to administer their systems and offer customer service support to them. Through settings at the User groups level, users' rights may be tailored to the organizational structure and hierarchy of the enterprise.

To help our customers increase their business value, we have set up a comprehensive consulting that is focused on each client individually. Deep business analysis was conducted on all levels, from corporate goals to non-functional requirements, as well as by our internal focus group, which was made up of top experts who had been particularly educated for this project.
Having successful cases for building medical software our team is ready to build a powerful healthcare web solution for you. All you need for that is to message us and describe your concept to work upon. Let's start a cooperation that will help you leave the competitors far behind, boost healthcare business performance, profit, and achieve success.
A skilled web vendor can help you
A reliable tech partner will assist you in building efficient and sustainable medical web solution!
Frequently Asked Questions
The healthcare website is a virtual reflection of the medical establishment practice. It will allow patients to get answers for the issues they need in a user-friendly manner, and the medical managers will control all the healthcare establishment workflows more straightforwardly and efficiently.
They are the following:
Telemedicine solution
Patient self-education
Staff training
Solutions for IT infrastructure enhancement
Medical e-commerce products
Health web apps for disease self-control
Web apps for health data collection
Start from people's demands identification
Conduct target audience research
Make a feature list
Define other tech issue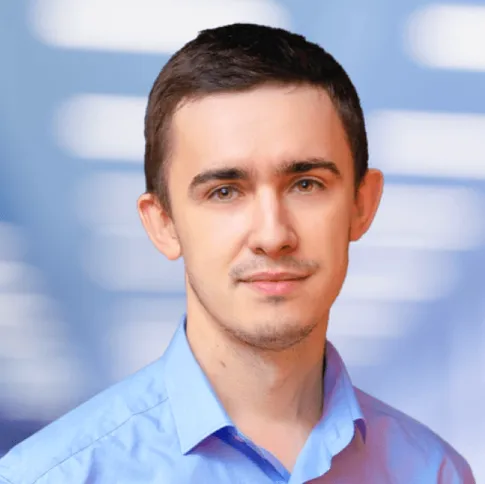 About author
Evgeniy Altynpara is a CTO and member of the Forbes Councils' community of tech professionals. He is an expert in software development and technological entrepreneurship and has 10+years of experience in digital transformation consulting in Healthcare, FinTech, Supply Chain and Logistics
Rate this article!
825 ratings, average: 4.57 out of 5
Give us your impressions about this article
Give us your impressions about this article