Why Custom Hospital Apps Prevail Against Off-The-Shelf Products
Do you know the right strategy to find a mobile app targeted at your business sector that will help you optimize and improve your business? Well, it is not a simple task. Because it will be impossible to find an app that meets all purposes of your business and has all the necessary features. That is why custom hospital mobile app development is a more appropriate option if you work in a healthcare sector. You just need to choose high-quality mobile app development services in your country or outsource the development to countries with lower rates. But let's find out in details why a custom app is a win-win solution to boost your business.
Off-the-shelf hospital apps: 3 reasons why they fail
It is important to find out why off-the-shelf apps are second to custom products, what mistakes developers of off-the-shelf hospital apps tend to make.

Disadvantages of hospital off-the-shelf app
Fast product delivery
There are really plenty of hospital apps and healthcare apps at all available on major app stores. So developers of such apps try to build their product as fast as possible and release it. Of course, this approach cannot be successful. Because the product that was built under such circumstances leads to many errors and defects that will appear during usage. But hospital apps are connected with health monitoring, and even one error may come at a high price.
The problem is that necessary development stage like proper quality assurance services may be skipped, so it eventually makes an app even dangerous. Besides that, some stages are skipped only for app cost reduction. As a result, such apps cannot be used efficiently since they are not created in a proper way.
Insufficient functionality
The goal of off-the-shelf app owners is to make their product attractive and gain as many users as possible. That is why they make a decision to build a hospital app for one type of physicians only, like attending doctor. They consider that these healthcare specialists mostly require an app for their field which will help them interact with patients better. In fact, off-the-shelf healthcare app becomes a multipurpose app.
However, it has limited functionality, and various specialists will not find a feature that they need in their specific case. That is why ready-made product becomes useless and doctors have no sense to use it, neither patients do.
Incompatibility
It is worth noting that many healthcare apps are used for their integration with existing medical systems, so it is necessary to make sure that the off-the-shelf app will be compatible with the existing system. It is very important since if various apps don't function synchronously, the information won't be transferred properly and data won't be updated.
But the problem is that it may be quite difficult to connect different apps since various providers often add security restrictions and one app cannot sync to another app, they are incompatible. That is why it is highly recommended that all medical systems for hospitals are to be created by one software development company.
What else do off-the-shelf app owners ignore?
Apart from the reasons listed above, there are a few simple things off-the-shelf app developers tend to forget (or they simply ignore it).

Why custom healthcare app is a beneficial option
Adaption to irregular changes
What do I mean? It is about the working day of a doctor. First, doctors rarely work from 9:00 to 18:00 every day, their schedule is quite unpredictable, and one task can be replaced with other tasks. Especially hospital physicians may perform a few tasks at once, or they interrupt doing something because they have a more crucial one. And it is quite a common workflow of any hospital doctor.
That is why a hospital app should provide users with a multitasking feature. Physicians should be able to switch from one task to another easily, and the app should be created considering all irregular changes that may occur in physicians' schedule.
Hospital apps always have a group of users
The problem of off-the-shelf healthcare apps, as I mentioned above already, is limited functionality and an attempt to focus only on one healthcare position instead of building different apps with different goals. Besides that, even when an app is built for an attending doctor, for example, app owners should take into account that an app has more than one users. For example, apart from a doctor, lab experts also can use an app for adding lab results or comparing new analysis with an old one.
These specialists have different tasks and they all need to work with an app without failures and conveniently. Thus, app owners don't consider that one app can be used by different hospital specialists and the functionality varies for each position.
App simplicity
A ready-made app isn't created to meet specific needs and goals, that is why sometimes it can be difficult for healthcare specialists to puzzle out how the app works. It takes too much time, but it is unacceptable. Trying to find a feature a specialist needs, they finally spend a lot of precious time. Many unnecessary features for them lead to complex UX and unattractive UI.
Many app owners forget that their app should assist hospital specialists, but not makes new obstacles for them. So the app should be simple and clear, that's all.
Summing up this section, I'd like to add that custom apps are able to solve challenges since they are created specifically for a certain hospital or network of hospital. Let's cover it in the next section.
5 challenges to solve with a custom hospital app development
Now it is time to pay attention to custom hospital apps and why they have much more advantages over off-the-shelf apps.

Advantages of custom hospital mobile app development
Specific goals and needs
Do you know that even two physicians of the same expertise area may have different needs in their work? And it is true. Therefore, a custom app focuses on customer's requirements and it is created considering all particularities of hospital or physicians. The same as off-the-shelf app, a custom app should implement a limited number of features, HOWEVER, these features are all required and all of them are useful for a specialist. And a custom app meets all their needs. Ready-made apps have too common functionality, without specific solutions.
For example, at Cleveroad we pay a lot of attention to market analysis and understanding of target audience when providing healthcare software development services. It helps them develop an app that will be both useful and practical.
Complicated UX/UI design
Off-the-shelf app owners often provide app developers with an opportunity to choose how the user interface and user experience will be created. That is why many ready-made apps are so complex, they have no intuitive design, it may include colors that don't fit together and the app turns into color cacophony. Hospital staff cannot use this app easily, and it has a direct impact on work quality.
So, during custom hospital app development, designers should understand the target audience and app purpose to choose appropriate colors that will fit each other. Moreover, experienced UI/UX designers find beta testers that may test an app concerning design usability and give their feedback. It helps designers create a crowd-pleasing app for their customers.
Keeping up with specific regulations and documents set
Hospitals may work with different healthcare standards like CCR, Health Level 7 integration, CCHIT, etc. There are a lot of documents related to each standard, and healthcare providers need to work with these documents. Also, specialists have to spend time filling out charts and other health records. Ready-made apps cannot provide with all regulations and document templates, so their number is also very limited.
But a custom hospital app is built considering all necessary regulation templates that their customers use. Thus, a custom app includes enough for continuous and reliable dealing with documents. Healthcare provider will spend less time on paper routine. And, finally, a custom app should HIPAA- or GDPR-compliant, depending on the region the app created for. It means an app should meet all regulations covering personal data processing.
Compatibility
I have already mentioned above that incompatibility may become a big challenge. It is, indeed. A hospital may have an existing EHR system that should be compatible with a new app for doctors.
However, practically, it is unlikely that ready-made app will work seamlessly with your existing system. It is necessary for both systems to be created by the same service provider. As a rule, different software development companies may add some security restrictions or simply specific, unusual settings. And then it is impossible to combine two systems in one chain.
Therefore, you should order a few custom apps from one vendor to make sure that everything will function properly.
Machine learning integration
Artificial intelligence is a popular and strong app development trend today, that is why many app owners integrate them into their hospital apps. You can find an off-the-shelf mobile app that already uses machine learning algorithms that make it possible to analyze huge volumes of data, make predictions, help doctors prescribe the right medicines for a patient, and so on.
However, ready-made apps with machine learning may provide with inaccurate results since there are too many possible combinations users may request. And ready-made solutions cannot provide with all of them. That is why a custom app, created with a view to solving specific problems of the specific hospital facility, may use right algorithms to process required information type and amount. Moreover, ML algorithms will improve continuously, and make a custom app smarter.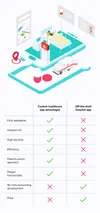 Custom hospital apps vs off-the-shelf app
In fact, the list of challenges which can be solved with a custom app may be extended. Although a custom solution is more expensive and it takes time to build it, you, as a healthcare provider, will be sure that your software meets all standards and needs, and it highly secure. So it is up to you.
How Cleveroad can assist you in custom hospital software development
Since Cleveroad is already not a newbie on a software development market, the company has a few custom healthcare projects in its portfolio, and I want to cover one of them to prove a high skill level of our development team.
One year ago we have built EHR software for the US-based clinic. The goal of a custom EHR system is to work with diabetics. It helps physicians monitor the frequency of blood tests taken by patients with diabetes, check test results, and also send reminders to patients with notification to do tests if they ignore it.
Besides that, patients should visit a doctor or speak via video chat. However, if an appointment is missed, the system will remind automatically about the urgency to visit a doctor. In fact, this custom hospital app was made considering all requirements of the clinic and our team created an app that meets set goals and particularities of that hospital department.
Thus, our business analysts spent a lot of time to study the market, analyze similar apps, find out what target audience is expecting (including both doctors and patients). Then, a large specification for 72 pages was created and approved by customers. The process took about 3 months of the development process, and it was implemented faster than it was expected due to basic packs with integrated features our developers already had. It helped them reduce development for almost 1 month.
This EHR system was made specifically for internal use and all our projects are built under NDAs (non-disclosure agreements). That is why we cannot show you images of this app, but during the workflow our UI/UX designers have created a few variants of UI for this EHR app, and the concept below is the variant we can share with you:

We appreciate our customers and do our job in good faith. And if you are looking for a reliable and dedicated software development team to create your hospital app (or any other type of app), just contact us! Our managers will find a solution for you.
Frequently Asked Questions
It's a mobile or web application made for healthcare providers. They may include EHR software, telehealth and telemedicine apps, CRM systems, patient portals, etc.
Software features depend on the type of hospital app. For example, a telehealth app development includes the following features:
Video conferencing tools,
Text chat
Appointment booking
Payments
Notifications, etc.
When thinking how to build an EHR system you include these features:
Electronic document management
Task management
Prescription management
Distributed access control
Integration with labs
Charting, etc.
Extremely important. Many ready-made hospital apps are too complex for hospital staff or older users because of UI/UX solutions.
That's why if you're creating a hospital app, especially for patients, it's better to work with a professional UI/UX designer.
In case you have no in-house development team (or want to enlarge it), cooperate with an outsourcing tech vendor.
You need a company that already completed a few healthcare projects and worked with HIPAA or GDPR-compliant apps.
You may start from firms listed on Clutch or GoodFirms. There you can look through the vendors' portfolios, client reviews, etc.
The cost depends on the type of the app—telehealth, telemedicine, EHR, etc.—and its functionality.
For example, a telehealth MVP with must-have features only will cost far less compared to an EHR system with complex functionality and custom UI/UX design.
Also, the cost depends on the region where you hire developers. For example, if you want create telemedicine app in Eastern Europe, Ukraine, it may cost you around $75,000 per $50/h rate. While in the US, you can pay $150,000 or more ($100/h).
Rate this article!
2199 ratings, average: 4.96 out of 5
Give us your impressions about this article
Give us your impressions about this article