Healthcare Mobile App Development: Cost, Features, and Compliance in 2023
Digitalization makes adjustments to every industry, and healthcare is no exception. App development for the healthcare industry is a great way to make the lives of doctors and patients easier with a wide range of improvements that apps can bring to medical services. As an IT provider with 10+ years of industry expertise in healthcare software development, we at Cleveroad are here to share our expertise and help you understand all ins and outs of healthcare app development.
Healthcare apps can:
Improve health data gathering
Provide timely care despite the location
Minimize medical mistakes
Lower spendings for hospitals and patients
Improve communication between physicians and patients
Increase customer loyalty and engagement
Provide time-saving features for medical staff
Offer healthcare data visualization tools
What Is the Potential of Your Healthcare App Idea
Healthcare mobile app development refers to the creation of applications for mobile devices aimed at aiding users in managing their health-related concerns in real-time. These concerns may include medical services, hospital experiences, electronic health records, or insurance claims.
The development of healthcare apps serves multiple purposes.
Doctors can benefit from the use of healthcare apps by utilizing a doctor's application to track and monitor patient progress, schedule appointments, and manage staff.
Patients, on the other hand, can use healthcare apps to book appointments, communicate with their doctors, receive recommendations, and access medical records.
In 2021, the mHealth market size was valued at over $ 54.25 billion, which is pretty impressive for a young industry. But the COVID-19 outbreak triggered a drastic surge in market value and it's now projected to reach nearly $ 243.57 billion by 2030 with a registered CAGR of 18.2% during the forecast period 2022 to 2030.
Besides the doubled market size, there's also a positive change related to overall app usage. From the start of COVID-19, the number of healthcare app downloads increased by 60% worldwide.
COVID-19 influence on app development for healthcare worldwide
The huge progress of the health industry digitalization is conditioned by the wide utilization of mobile devices as well as the demand for solutions avoiding conducting remote consultations and receiving electronic prescriptions. Needless to say, the global pandemic has accelerated the demand for such solutions many times.
Pandemic has raised the need of healthcare app development preventing the COVID-19 infection. Therefore, medical establishments were required to architect easy-to-use applications to fit these demands.
So now, we may observe the substantial progress of mobile solutions designed to track, monitor, and analyze the patients' health conditions, assembling essential medical data to share with a doctor or delivering e-prescriptions. Payment gateway integration is a simple way to pay for appointments without closing the app.
Types of Healthcare Apps
Active healthcare app development has led to more than 95 thousand healthcare apps available on App Store and Google Play at the moment. Those healthcare app development solutions can be split into two categories: apps for professionals and apps for patients. Each category has its own types of apps.
Let's consider each category and type.
Apps for Professionals and Medical Facilities
These apps are intended to bring value to physicians, nurses, doctors, and other staff at medical facilities. As a result, they're more complex and filled with advanced features that might be useless for the average user.
Even though physicians are pretty busy and are rare guests in popular social media, they also need a way to communicate with their colleagues, share expertise and improve the decision-making process. The well-known medical networking apps are:
Daily Rounds

,

Doximity

Sermo
Billing apps are made to streamline the overall billing process and digitalize operations like claims management, accounting, payment processing, and patient registration in medical facilities. There are several popular billing apps for mobile healthcare app development:
Advanced MD

EpicCare EMR

Waystar
These apps let physicians schedule appointments with patients and provide consultation using in-app messaging or video-calls. Telehealth apps are convenient for both medical facilities and patients as they reduce "no-shows" by 50%, and patients can receive medical consultation in the comfort of their homes. Famous telehealth apps are:
GoodRx Care

Doctor on Demand

Teladoc
Medical prescription apps
Prescription mobile healthcare application development lets physicians physicians pick the right drugs for each patient, pack it into a convenient list, set and control dosage avoiding adverse drug events (ADEs), or cancel prescriptions at any time. Some of the apps like RxEasy and STAT allow printing prescriptions so patients can easily show them in any pharmacy.
Simply put, medical records apps are intended to simplify collecting and updating the patients' health records. This includes vital indicators (blood pressure, temperature, etc.), medical examinations, prescriptions, appointments, and other information essential for physicians to track the overall treatment process. There are several apps that are quite popular among physicians:
DrChrono Practice Management

RXNT

Meditab
Apps for patients
The name speaks for itself. These apps are designed to make the patients' lives easier. Simple yet useful as along with basic medical assistance, these apps cover a wide range of wellness aspects.
Mental health app development aimed to make therapy more accessible, efficient, and flexible. They can assist with fighting depression, stress, anxiety, sleep disorders with the help of pre-recorded meditations, breathing exercises, gamification elements, and more.
We've recently worked on a mental health app called Nedley Scorecard. It's designed to cure insomnia, depression, and improve the overall psychological condition.
This type consists of apps that come with symptom checkers, give recommendations on medication intake or treatment advice. They can also help manage current chronic conditions like cancer, diabetes, and so on. The well-known examples of monitoring apps are:
The main idea of education health app development is to create a reliable database with up-to-date medical information for students, doctors, and regular users who want to know about healthcare more. There are great examples of this type:
Medscape

Clinical Sense

Lecturio Medical Education
Medication tracking apps are quite popular in health app development thanks for their overall idea simplicity. as they help users take their pills on time. Besides simple scheduling and reminding, these apps can track specific drugs in pharmacies nearby, letting users know where is the cheapest offer. Among all medication trackers, there are several established solutions like:
ScriptSave WellRx

Mango Health

Medisafe Pill Reminder
The main task of dieting app development for healthcare is to help users establish a diet and maintain healthy eating habits. Some of the common features in these apps are a calorie calculator, meal planning, reminders, a food and health information database, and much more. All these features can be found in apps like:
Lifesum

MyFitnessPal

Fooducate
This category brings together many different applications such as fitness apps, brain training apps, self-improvement apps, and many others that make a healthy lifestyle much easier to achieve. Notable examples of such applications are
Elevate: Brain Training

Remente

Results Wellness Lifestyle
Medical App Development: Best HealthTech Startups
Nowadays, the market for health applications comprises a wide range of solutions to choose from. The type and purposes of solutions are highly variable, so all users can benefit from provided opportunities of such diversity. Let's observe the list of the best modern solutions for the following health and wellness app development. The following range of startups may inspire you to build a health app and provide some ideas to apply to your own project:
SonderMind
This mental medical application development startup based in Denver raised $183 million in Series C funding. The platform offers access to mental health therapists for a variety of needs and insurance plans. The mission of SonderMind is to improve the accessibility and affordability of mental health care for everyone.
CareRev
CareRev aims to connect healthcare facilities with qualified and vetted healthcare professionals, offering flexible staffing solutions to facilities in need. This startup raised $51.3 million in Series A funding and is based in Los Angeles.
Clipboard Health
Based in San Francisco, Clipboard Health raised $94.1 million in Series C funding. The platform connects healthcare facilities with licensed healthcare professionals, offering a range of staffing solutions, including permanent, temporary, and per diem staffing.
Meru Health
Meru Health offers a digital mental health clinic, providing remote access to mental health care, including therapy and coaching. It is situated in San Mateo and has raised $53.3 million in grant funding.
Komodo Health
This is another San Francisco-based company that has obtained $514 million in an undisclosed series of funding. The Komodo Health platform uses big data and analytics to offer real-time insights into healthcare trends and outcomes, helping healthcare stakeholders make more informed decisions.
Talkspace
The modern world's hustle and bustle sometimes make us forget not only about the physical health significance but also about the mental one. Most of us face complexities in devoting enough time to dealing with our psychological condition challenges and finding the right therapist for our needs, but Talkspace makes this process a lot easier. This healthcare app for iOS offers a search for a licensed specialist using an initial survey to find the best therapists based on your needs. Every appointment can be held conveniently from the mobile app or desktop. You can also communicate with a therapist up to five times weekly outside of therapy.
Healthcare Mobile App Development Trends to Implement
The health application development market keeps offering new solutions trying to meet dynamic user requirements. The distant sessions need to be conducted simply and conveniently via the mobile device with digital therapy tools and modern architectural trends such as AI, ML, and chatbot implementation becoming essential. AI and ML can enhance decision-making processes and provide valuable insights, making accurate diagnoses and treatment methods possible. To keep your app user-friendly and up-to-date, it's essential to incorporate these solutions and technologies. Below you may find the range of trends that you can benefit from:
Telemedicine
Healthcare custom software development and telemedicine solutions are highly profitable for the healthcare industry. Previous apps avoided using its capabilities, but in recent years health app development has continued to generate profits with the introduction of telemedicine.
Modern medical meetings, e-prescribing, and other interactions within the healthcare industry have moved to the online format, especially with the global pandemic. Therefore, this is another path to performing health tracking, data access, recommendations receiving, and session completion remotely, at any time and location, to optimize the medical services delivery and provide a flawless client experience.
Gamification
The treatment process itself can be more engaging and be perceived more positively by turning it into some kind of a game with the help of digital health app development. Especially in case, patients are children. The on-schedule medicine intake and regular sessions attending may be encouraged with diverse achievements, motivating the patient to follow the prescribed recommendations. The other pleasant gifts ensured after the proper treatment can be discounts for appointments, a number of free-of-charge sessions, etc. Therefore, the entire process is more interesting, satisfying, and delightful.
Wearable medical equipment integration
Connecting the medical wearable equipment with a healthcare app is an individual process, as the integration depends on the software as well as the facility type. Via the solution, physicians can access the latest health conditions data of their patients. Or you may benefit from the API integration, which will transmit the information and indicators from the client's wearable device and alert doctors in case of need. You can also establish connectivity with equipment like a blood sugar meter, pace monitor, pulsimeter, etc.
Interoperability
Interoperability in the health system app development sector enables access to information from various health data frameworks and transmits this useful data to healthcare establishments, laboratories, and medical institutions — despite the solution or software applied to ensure excellent healthcare service remotely. The main benefit lies in the connectivity of the hardware and software and they're unlimited yet, safe data transmission. The interoperability process is performed at the 3 main stages: functional, structural, and semantic.
Healthcare data privacy and security
Solid healthcare data security and privacy is a crucial trend in healthcare app development. With the increasing amount of health data being collected, processed, and shared through apps, it's important to ensure that this data is kept private and secure. Patients need to trust that their sensitive health information is not being mishandled, and healthcare providers must comply with regulations like HIPAA to protect patient data. To address this trend, healthcare app developers must prioritize implementing robust security measures, such as encryption, secure login processes, and data backup and recovery systems, to ensure the safety and privacy of patient information.
Artificial intelligence (AI) and machine learning (ML)
These technologies are being increasingly adopted by developers to enhance the accuracy of the decision-making process, provide valuable insights, and improve patient outcomes. By leveraging these technologies, healthcare apps can be developed with advanced features such as predictive analytics, natural language processing, and image recognition. The use of ML in healthcare can help healthcare providers with tasks such as diagnosis, treatment recommendations, and patient monitoring. This technology is often implemented in custom medical image analysis software to provide faster operation and efficient diagnostics. ML-based mobile health app development comprising diagnosing solutions is also sought-after nowadays. Within the following years, AI and ML instruments will be used to assist and support clients prior to the real doctor's involvement. Apart from this, users are able to track their medication-taking and check the safety of pill combinations.
AI technology is applied in the production of new medicaments and vaccines. The ways to utilize AI technology are plenty, and lots of healthcare establishments have already implemented this solution, especially for the decision-making process, which is highly beneficial for therapists to detect the diagnosis and pick a proper treatment. From the years of the global pandemic till today, we will see constant AI progress within the healthcare sector. It can be applied to assess the possibility of specific issues based on provided symptoms, yet, the final verdict is essentially concluded by the specialist.
Prioritizing the patients
With the dangerous virus spreading, modern medical industry solutions have a development vector aimed at clients. When developing a health app previously, physicians, software engineers, and insurance organizations have focused on the architecture to assemble essential data from patients. For now, applications are primarily designed to deliver simplified usability and convenience for clients for an enhanced satisfaction rate. The demand for assisting customers in the shortest possible time has arisen, especially with the COVID-19 issues. Therefore, the user-friendliness of the application is a must to make it sought-after. Clients are pretty fussy nowadays and will pick the solution with a seamless and smooth operation, and obviously, with a perfect interface design. So the visual aspect of the functionality requires primary consideration.
Distant elderly patients serving
Healthcare services should primarily be delivered to the group of patients of older age. The United Nations insights indicate that two years earlier, our society comprised 727 million individuals globally whose age surmounted 65 years. These statistics are projected to multiply by two within the next 30 years, which is equal to approximately 1.5 billion people. The share of elderly society part in the entire population is assessed to extend from 9.3% two years ago to 16.0% in the forecasted period. Besides, by 2030 the number of individuals over 60 years is predicted to grow to 1.4 billion.
The population progresses in parallel with the expenses for medical services. The global pandemic has forced the need to focus not only on all the groups of patients but concentrate on the elderly ones' health monitoring notably. To enhance their treatment process, modern technologies also provide solutions for them. In practice, nowadays, there are applications to track the health state of elderly people remotely, helping to overcome issues with chronic problems. This way, patients are delivered an effective service without leaving their homes. In case of more dangerous issues, the application is able to ensure more rapid access to the therapist appointment. Moreover, by involving wearable gadgets, doctors don't have to constantly track the clients' health conditions manually. They will be notified by the software in case their participation is necessary.
In the current year, distant health tracking continues to progress considerably. Such handy solutions will be launched on the market in abundance to assist physicians. App development healthcare is also an effective way to schedule sessions and remind about them via convenient notifications. Chatbots can also be integrated to cater to the elderly part of society by making their treatment easy and efficient.
In-app waiting room
One more solution developed to cut down the worldwide virus spreading with medical mobile application development is architecting the digital waiting room. The feature is intended to design a patient's waiting room that can be used easily via the application installed on the mobile device. When the appointment time comes, users receive the automatic notification that they have entered. When accessing this virtual room, the verification process occurs, and then patients wait for their appointment.
You can see a similar solution in applications to hold remote meetings, for instance, Zoom. It's a well-known fact that traditional physical waiting rooms are much less hygienic— the crowd indoors is at risk of disease, which is minimized by the digital product. Regardless of the COVID-19 spreading, such technology can substantially cut down cases of infection of any other diseases and save the health of both patients and physicians. That is why medical institutions take care of their customers by applying the virtual room when building a health app.
Healthcare App Development: MVP Features Checklist
In healthcare app development, it's essential to have a clear understanding of the product you want to build before you start the development process. Creating a Minimum Viable Product (MVP) is a crucial step in this process. MVP allows you to test your idea, validate assumptions, and get user feedback while minimizing development costs and time. Let's explore the key aspects of creating an MVP for mobile app development for healthcare:
Secure authorization and authentication
This is an essential and primary feature in healthcare app development. It is the process of verifying the identity of users accessing the application and ensuring that only authorized users can access the sensitive information within the app. For instance, a two-factor authentication process may be implemented, requiring a password and a unique code sent to the user's phone or email, or biometric authentication, such as fingerprint or facial recognition, may be used.
Authorization/ registration feature
Profile screen
The profile is an essential part of the telehealth app. The user should be able to fill in personal information, add a photo, write a medical history, and more.
Search and filter options
Finding a physician should be simple yet effective. It's a good idea to add filters within medical mobile app development that'd let users find a doctor based on set criteria such as specialization, experience, or appointment cost.
Ratings and reviews
This feature streamlines the decision making process as reviews and ratings from previous clients can help users decide whether it's worth contacting a physician or not.
Appointment scheduling
This feature works well in both ways. The physician receives a calendar to schedule appointments and control their number during the week. Meantime patients have access to the doctor's schedule for a quick booking convenient for both parties.
Video and voice calls
This feature is the foundation of all telehealth apps. Video calls are often made using WebRTC, HLS, or MediaStream protocols. These technologies support real-time communication via the camera and microphone of mobile devices. During video and audio calls both parties should have a stable connection and no troubles with audio or video.
In-app video call feature
Online chat
If the doctor can't see the patient at the moment, the user should be able to ask a question or leave a message for a physician using an in-app chat. The chat is useful enough for both parties. The patient can send various documents and media files that are important for the consultation with medical mobile app development, while the doctor can clear up the course of treatment or send a file with the prescription.
Chat module in healthcare apps
Payment options
This feature is useful for everyone. Users can pay for the doctor's services, the platform holder gets a commission, and the doctors get paid for their work. The main way to add online payments is to implement a payment gateway. This could be PayPal, Stripe, or Braintree. Besides that, it's worth implementing payment directly from a patient's credit card.
Healthcare Software Solutions in Action: App Demo
The Cleveroad team designed and built a demo version of the Healthcare app, so you can see how the Healthcare platform can look and feel on the example of patient-side and provider-side solutions.
Healthcare Mobile Application Development Process Step-By-Step
It's impossible to develop a healthcare app without a clear understanding of your goals, app features, and a clear plan. Therefore, you should apply to the competent software development vendor. Reliable and experienced partners will assist you in selecting the kind of app you want, research target audience details, what problems it'll solve and how. We'll go over each step of healthcare mobile application development to unblur this process for you.
1. Problems' identefication
This is a foundational step. During it, the following range of factors will be considered by you and your IT vendor:
What problem do you want to solve with your app?
Maybe you want to create a fitness app to help users keep fit. Or you want to save users' money on buying medications. The opportunities for medical app development are vast, so your initial requirements and the tech team's research will help pick the relevant type of medical app. Your final decision will impact the following factors that will be considered and studied by your software development partners:
Number of competitors
Barriers to entry
Feature list
Target audience
For example, if you looking on how to create a fitness app, you're likely to have a hard time. This type of apps has probably the largest market share. In addition, you'll have to compete with well-known apps like Fitness Buddy, Map My Run, JEFIT Workout Planner, and others. Business Analysts will carefully study the most popular rivals and come up with a truly unique solution that'll make you stand out among them.
2. Partner with credible software development provider
The next step is to find a technical vendor who can help build the application. When selecting a vendor, you should consider the following things:
Experience in the medical industry and Healthcare app development
Availability of a portfolio that demonstrates experience in developing applications similar to yours
The healthcare mobile app development process the vendor will use, including testing and debugging the app
The cost to make healthcare app and the expected time it will take to develop the app
Availability of specialists who know the requirements and legislation in the medical industry
After selecting several vendors, you should create an RFP for software development. RFP stands for Request for Proposal, a document companies use to solicit proposals from vendors to complete a project or provide a service. An RFP typically outlines the project scope, objectives, requirements, and evaluation criteria, as well as any other pertinent information that vendors need to submit a proposal. The goal of an RFP is to ensure that vendors have a clear understanding of the project requirements and can provide a proposal that meets the company's needs. RFPs are commonly used in healthcare app development to help companies find the right vendor to help bring their vision to life.
In case you are experiencing difficulties with the RFP you can always order a consultation with a specialized IT provider to get the request for proposal template and professional recommendations.
3. First contact
The receipt of the partnership request traditionally goes to the Business Development Department, which processes it and assigns a personal manager with relevant expertise in the client's business domain. After submitting your healthcare app development RFP, the IT vendor can sign an NDA upon request to ensure confidentiality.
4. Solution design stage
Upon agreeing on the partnership, the selected vendor will contact you to clarify initial inquiries that are addressed to determine the primary objectives and business context. Then, you and your IT partner schedule a meeting with the Solution Team to have a more in-depth discussion, analyze the project, and specify requirements. The Solution Design team, comprising of business analysts, solution architects, and designers if needed, reviews the application and preliminary information.
5. Discovery phase
The Product Discovery Phase is a crucial step in any software development project that helps transform your project requirements into a comprehensive plan. It serves as a blueprint for the development process and ensures that the end product meets the client's needs and specifications. The goal of the Discovery Phase is to gather all necessary information and requirements that will help streamline the development process and improve the final product's quality.
During this step, the healthcare mobile app development team collects information about the project, such as the platforms that need to be covered, features to include, and third-party services to integrate. This information is then used to create a detailed plan that outlines the project's scope, objectives, timelines, and milestones. By establishing a clear plan at the outset, the development team can identify potential roadblocks and make adjustments to ensure the project stays on track and is completed on time and within budget.
6. Build healthcare app MVP
As we've already covered, a Minimal viable product or simply MVP is an app that only has essential features allowing users to solve their problems. MVP building is the best choice when:
There's a need to validate idea
You're low on resources
You need a fast time to market
Thus, before creating MVP, together with your IT vendor, you should determine the minimum set of features that will deliver the most value to your target audience. Focus on solving their main problems or pain points. This will help you prioritize development efforts, avoid feature bloat, and decrease the app development cost.
7. Collect feedback, update, repeat
So, you've released your MVP. Now it's time to collect and analyze user feedback. Don't neglect the audience's opinion, as it can fuel your ideas for future updates. After the release, you can support the app by expanding its functionality and implementing various quality-of-life improvements. This process involves expanding on the initial MVP and adding features that users have requested or that you have identified as necessary.
The primary step is to analyze the feedback and prioritize features based on their impact and feasibility. Then, the development team can begin building the additional features and integrating them into the app. This process may require changes to the app's architecture, as well as additional testing and quality assurance measures.
As the app takes shape, it's important to continuously gather feedback from users and stakeholders to ensure that the solution is meeting their needs. This can help identify areas for improvement and guide future development efforts.
Things to Consider Before the Healthcare Mobile Application Development
The vital question of how to develop a health app is the specifics of this industry. To comply with all the nuances of the solution architecture, it is worth considering the following points:
Solid data security
The first point that needs close attention is data protection. In the flow of delivering a medical consultation, the app stores, processes, and gives doctors access to users' medical data. Moreover, online payment through the app for the appointment is also an integral part of the functionality. To protect sensitive user data, it is worth considering the implementation of a solid security system. Neglect of potent security results in the risk of not only financial losses but also issues with the law.
The app architecture engages a diversity of methods to protect the software from data leakage according to its type and purposes. Yet, we may outline the most often applied ones:
Data encryption (end-to-end encryption)
MFA protection (multi-factor authentication to get to the private user details)
Expiration policy (requesting to log in again after a specific amount of time).
Guidelines and regulations for healthcare mobile app development
The region your healthcare application is architected for determines which regulations and guidelines your software must comply with. The impacting factors are also the type of data it will keep and processes, for which period, and the entire app concept.
The law regulations are not the same globally; therefore, you should get acquainted with obligatory law demands prior to the healthcare apps development. We'll cover the peculiarities of the existing guidelines and regulations later in this article.
Interoperability
Interoperability is one of the greatest complexities of the entire medical domain. It implies smooth data transmission among diverse platforms, gadgets, and software solutions. The process of building a health app may require integration with the particular medical establishment's systems, tools, or devices the institution currently possesses. To enable safe, seamless, and efficient communication among them, you should allow this process via APIs.
Know your target audience
Target audience is not just people who'll use your app. It's a whole market segmented by many factors such as country of residence, age, education, average income, and much more.
You obviously don't want to address the wrong audience, so researching and understanding your target users is extremely important. First off, you and your partners will decide on the region where your app will be available. There might be a huge difference in audience size, their needs, and local regulations. For example, Europe is one of the largest mHealth markets, while Latin America boasts a modest size.
Now, to the user base. There are several aspects that can help you segment your target audience. Your team will research and explore them carefully before getting to the health app development.
Divide your audience using these criteria:
Gender
Age
Average income
Place of residence
Pay attention to UI/UX design
UI/UX design is a vital process in healthcare mobile application development. Despite the fact that this stage involves a lot of creativity and freedom of choice, your team will adhere to several important rules to make the design beautiful and user-friendly.
The target audience of healthcare apps is quite extensive. Aiming for maximum reach, your design should be as user-friendly as possible. To nail it, your tech experts should follow several important UI/UX design rules:
Optimize user journey inside your app. Creating a user persona and based on desires and expectations of this "persona", inspect each touchpoint in your app to find weak spots of your UI/UX design.
Minimize the number of actions a user should take to complete a task. Your team may group related content to make it accessible in one click. For example, Use the Progressive Reduction method. Start from your standard design layout and gradually reduce unnecessary elements to lower the number of actions that lead to a completed task.
Show important information at the beginning of the user journey. It's pretty simple. If you're making a fitness app, the burned calories and steps taken should be placed right away on the first screen. If it's a pill reminder app, show the nearest scheduled pills and how much time is left before taking them.
In addition to the visual component, it's worth taking care of how the app will look on screens of different sizes. This aspect is highly dependent on the platform you are aiming at. If iOS doesn't have too many devices and screen sizes, then Android is much more complicated. The variety of devices and screen sizes can make it difficult to create and test the design for your healthcare app.
Show empathy with your design
This aspect is rather complicated because it's practically impossible to please all users. But you can try to show empathy to users through your design.
For example, older people prefer larger fonts, minimum animations, and easy layout. In the meantime, the younger generation appreciates the flexibility of setting and loves bright colors along with smooth animations. Thus, the whole design process and healthcare app development come down to balancing between two extremes and finding the golden mean.
Choose a monetization model
Almost any digital product is designed to generate revenue. To do it successfully, you and your tech partners will choose a monetization model. There are several common models for mHealth solutions:
In-app ads. The app is completely free, but it shows ads to users.
Freemium. The app is still free, but some features can be unlocked through in-app purchases.
Subscription. The whole app or some of its features are available on a subscription basis. Users must pay for a subscription (weekly, monthly, yearly).
Paid. Users buy an app with a one-time payment.
Popular healthcare apps that use diverse monetization model
Integration with third-party applications
Seamless integration with third-party applications is crucial for healthcare app development. This ensures that patient data is easily exchanged between different platforms, providing a more comprehensive view of their health. Without integration, the scope and utility of healthcare solutions are limited, hindering the ability to offer better care and improve the patient experience. As such, integration is a top priority for medical application development companies.
Compliances to Consider in Mobile App Development for Healthcare
The healthcare industry is very strict when it comes to compliance with various legal and privacy regulations. Different countries have their own regulations that you should know about and take care of within health mobile app development before launching there:
HIPAA

. Apps developed for the US market, which process, record, and store Protected Healthcare Information (PHI) must strictly adhere to HIPAA regulations. Since 1996, these regulations have ensured the confidentiality, integrity, and availability of all electronically protected health information.

CCPA

. This law is another foundation of confidentiality in the United States and is analogous to the European GDPR. This law involves informing the client about what data collected, preparing a free report on the collected data at the client's request, deleting the collected data at the client's request, and much more.

GDPR

. These personal data protection rules were introduced in Europe in 2018 and all healthcare apps operating in the European Union must comply with them. The important point is that the GDPR applies to the company that processes data (for example, cloud storage) and the company that collects it (for example social network).

NIST

. This is another collection of standards, tools, and technologies designed to protect the data of users of medical applications in the United States. According to research, 70% of surveyed organizations consider the NIST framework as the best cybersecurity practice, but many say it requires significant investment.

HiTECH

. These regulations focus more on the EHR systems' data security and are also valid in the United States. In 2013, the clauses of this law were later introduced into the HIPAA Final Omnibus Rule and now HIPAA compliant apps are equal to HiTECH compliant.

ADA

. The Americans with Disabilities Act is the regulation that you must comply with when designing an app that sets the prohibition of discrimination of individuals with disabilities and guarantees that companies have accessibility standards.

DPA

. Data Protection Act (UK legislation) is leveraged for personal data, which is associated with individuals. It ensuresusers the right to access their own privatel data via subject access requests and contains guidelines which must be met when personal data is processed.

PIPEDA

. Applications working in the Canadian market that store and process personal data must comply with PIPEDA. An interesting fact is that if your app is compliant with PIPEDA, it's most likely compliant with the GDPR since these two laws are quite similar.
The Cost of Healthcare Application Development
Finally, it's time to discuss how much it costs to make a healthcare app. In general, the healthcare app development cost ranges from $75,000 to $250,000+. The price varies depending on the software types, features complexity, design, integrations, and vendor's hourly rates.
To make the estimate as precise as possible, our certified team will assess the scope for basic features and make an approximate cost of a basic telehealth application.
NOTE. This estimate is approximate and includes MVP development expenses only For a more precise calculation of your project, contact us and get an estimate from our professionals.
The approximate cost of MVP features for telehealth app.

| | | |
| --- | --- | --- |
| Feature | Approx development time (hours) | Approx cost ($) |
| Registration and login (Patient + physician) | 76 | 2660 |
| Profile screen (Patient + physician) | 81 | 2835 |
| Search, filter options and ratings | 103 | 3605 |
| Appointment scheduling (Patient + physician) | 185 | 6475 |
| Video and voice calls (Patient + physician) | 136 | 4760 |
| Online chat (Patient + physician) | 121 | 4235 |
| Payment options | 36 | 1260 |
| Admin panel | 271 | 9485 |
| Backend part | 1120 | 39200 |
| Frameworks and libraries implementation | 56 | 1960 |
| Code documentation | 17 | 595 |
| Total | 2202 | 77070 |
There are many specialists involved in the development process. Their services are also included in the final price. Using our telehealth app as an example, we want to show who participates in the development and the project's final cost.
The final price and development team structure.

Development team member
Task
Approximate hours
Approx cost ($)

iOS and Android developers ($35/h each)

MVP features development

1280

89600

Frontend developers ($35/h)

Admin panel development

160

5600

Backend developers ($35/h)

Backend part development

1120

39200

UI/UX designers ($30/h)

Wireframes and mockups creation

160

4800

Project Manager services ($35/h)

Development process overseeing, development reports

400

14000

QA engineer services ($25/h)

App testing, bug reports creation

600

15000

DevOps ($35/h)

Development process automation, implementation of DevOps methodologies

120

4200

Business analyst ($25/h)

Discovery phase, creation of final estimate and specification

160

4000

Team lead ($35/h)

Project architecture development, code review

180

6300

Total

4180

182700
To get a more precise estimate, you should contact a professional software development vendor. Healthcare domain applications have a number of key peculiarities that can significantly affect the cost for their architecture. Therefore, each project case is worth considering individually with an expert to get accurate calculations.
Cleveroad Experience in Healthcare App Development
One of our recents work is a mental health app called Nedley Scorecard that's available for iOS. The NLS app is a tool designed to complement the Nedley Depression and Anxiety Recovery Program, which was created by Dr. Nedley. With this app, users can track their daily progress and receive notifications on their psychological condition. The app also provides personalized timetables and activities to help users improve their mental health over a designated period. To ensure the best results, our team of specialists utilized Big Data algorithms to select the most effective activities for each user. The app analyzes data from all users to suggest the activity that has been most helpful to others with similar conditions.
Mental health app from Cleveroad
Our second case is the telemedicine management system. Our client is a healthcare provider based in the UK, specializing in online healthcare consultations delivered by certified general practitioners and clinicians registered by the UK healthcare regulators. The client was in need of a comprehensive and streamlined telemedicine solution to automate their business process and expand their online presence. The project objectives included developing a system that could facilitate online healthcare services and telemedicine consultations, implementing a user-friendly appointments management system, and ensuring that the solution could be easily certified by UK local authorities.
As a result, we developed a fully customizable and scalable turnkey system that could be used by both the provider and its patients. We built the system architecture and functionality with the GDPR and UK healthcare regulations in mind, including the CQC and MHRA. The developed SaaS platform allows for 24/7 access to general practitioners and clinicians, video and audio consultations, and convenient appointment booking.
The tapGP platform perfectly aligns with the client's business model and allows them to earn income from their telemedicine services. The platform fully complies with UK healthcare regulations and data processing requirements and can be certified by local authorities in the shortest possible time. The platform is ready for use and takes into consideration the goals and needs of both patients and healthcare providers operating within the same system.
Telemedicine management system app from Cleveroad
So, if you're searching for experienced healthcare mobile app developers, Cleveroad wil be a good choice. Here are some details about us and our competencies in software development for Healthcare and Telemedicine.
Cleveroad is a top-tier custom software development company based in the CEE region. Since 2011, we have been helping businesses get unique digital solutions for their businesses of various domains, including Healthcare software development services. Our team has proven expertise in delivering medical solutions such as healthcare CRM software development, EMR system creation, patient portals, telehealth apps, and other custom solutions for Healthcare and Medicine. We help established businesses such as hospitals, laboratories, and pharmacies, create turnkey products, and accelerate digital transformation.
Each of our cases is unique, and we adapt to the client's business and financial capabilities thanks to flexible cooperation models.
Time and material. We give a client an approximate estimation of the scope and start a project without having an exact scope of work in hand. We plan each sprint and agree on all the project details with the client. According to this approach, we can make changes even in the middle of the software development process.
Augmented team. This model implies hiring an expert into the existing team to extend your current tech expertise. In case your project requires a specific competence, you can always expand your opportunities with us.
Dedicated team. This type of contract is the right solution for large-scale and complex projects like warehouse automation. We agree on cooperation terms and submit software developers to the client's project.
Healthcare apps have made it easier for patients to access medical care, track their health progress, and manage their medical records. Developing a such software requires careful planning, a deep understanding of this industry, and expertise in software development. In case you are looking for a tech vendor, Cleveroad can help you create a high-quality, user-friendly app that meets your unique needs. Our team of domain experts can help you build a custom healthcare app that is secure, scalable, and easy to use.
Build medical app with experts
Contact us, and our domain experts will guide your healthcare project from planning to release
Frequently Asked Questions
Any healthcare app that works with patients' personal data must be HIPAA compliant as these regulations oblige to comply with the strict rules for the protection of personal data.
Any application that facilitates interaction between doctors and patients, helps to maintain a healthy lifestyle is called healthcare app.
Healthcare app development is very beneficial since these apps can:
Improve health data gathering
Provide timely care despite the location
Minimize medical mistakes
Lower spendings for hospitals and patients
Improve communication between physicians and patients
Increase customer loyalty and engagement
Provide time-saving features for medical staff
The average cost of healthcare app development can hit $40,400 and above, depending on nuber of features and development time spent on their implementation. Besides that, the final cost depends on the location of your development team, since in different regions different hourly rates.
There are several common monetization models for mHealth solutions:
In-app ads. The app is completely free, but it shows ads to users.
Freemium. The app is still free, but some features can be unlocked through in-app purchases.
Subscription. The whole app or some of its features are available on a subscription basis. Users must pay for a subscription (weekly, monthly, yearly).
Paid. Users buy an app with a one-time payment.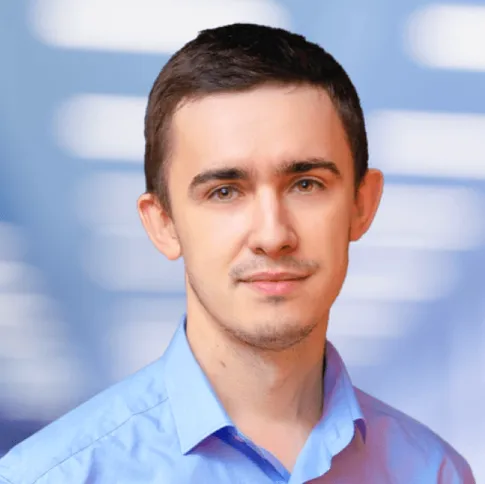 About author
Evgeniy Altynpara is a CTO and member of the Forbes Councils' community of tech professionals. He is an expert in software development and technological entrepreneurship and has 10+years of experience in digital transformation consulting in Healthcare, FinTech, Supply Chain and Logistics
Rate this article!
6312 ratings, average: 4.82 out of 5
Give us your impressions about this article
Give us your impressions about this article
bharatlogic
08.08.2023 at 09:38
Thanks for sharing this informative article. A must-read for anyone interested in healthcare app development.

Alina Rovnaya
14.08.2023 at 07:48
We're glad that you found it useful
Akshay
17.11.2022 at 05:34
I have an idea to build an healthcare app but I don't know what steps I should follow. Your blog is really awesome with full of information.
Bhavna
11.11.2022 at 06:33
Hi there, Thanks for sharing such an awesome blog with us. It's really helpful for me to build an healthcare app.
Bhavika
15.07.2022 at 07:39
Hi there, I really appreciate your work! I am a researcher I do research everyday, but never find such articles, I visited your all pages, and it's really very impressive, Keep sharing such articles to help us. Good Luck
Sophia Korean
21.06.2022 at 13:36
Such a wonderful Article In the last few years, the sciences and health care industries have been undergoing significant disruptions. This year's COVID-19 revealed how vulnerable the health care industry is to change and how it needs structural and technological change. If you are looking for a health mobile app development company, then no more Visit consagous.co Keep Posting
Tracy Shelton
15.06.2022 at 04:40
You are posting a very good article. Thanks for sharing this useful article with us. keep posting.
Steve Ways
26.10.2021 at 13:37
yes, 40% of physicians believe telehealth apps could reduce in-office visits. 74% of the hospitals that used mobile apps to collect patient data showed higher levels of efficiency than their counterparts not using any apps. mHealth is the future and we should find solid reasons to before investing in mHealth app.