How to Build a FinTech App: Types, Requirements and Development Stages
FinTech is an industry that encompasses all financial technologies. Despite its complexity, FinTech is gaining popularity, replacing traditional e-commerce, payments, banking and wealth management.
Let's examine some insights on FinTech apps:
Software development for finance is the creation and implementation of solutions that meet the financial industry's specific needs and challenges, including applications for banking, investment management, financial analysis, and other financial services.
FinTech app development provides many benefits to businesses, including technical development, ensuring data protection, attracting new customers, etc.
The FinTech application market has shown tremendous revenue growth in recent years and is predicted to reach $197.8 billion by 2024.
As an experienced FinTech app development company, we at Cleveroad are here to share our expertise and help you understand how to build FinTech app, empowering you to develop your own platform and start profiting.
Before Building a FinTech App: What Is the Potential of Your Idea
Building a FinTech app has a number of benefits and opens up many prospects. Among the benefits of FinTech solutions are:
Innovation and new opportunities. FinTech application development allow you to implement new technologies such as Machine Learning (ML), Artificial Intelligence (AI), and others. Using them will enable you to offer new financial products and services, automate processes, improve analytics accuracy, and provide a personalized approach to each client.
Security and data protection. FinTech app development emphasize ensuring a high level of security and data protection. These solutions use encryption, two-factor authentication, and other measures to protect the confidentiality and integrity of financial transactions and users' personal information.
Convenience and accessibility. FinTech apps provide convenient tools for managing finances, making payments, keeping records, and monitoring investments. They provide accessibility to financial institution services and the ability to conduct financial transactions anytime, anywhere via mobile devices.
Numerous statistics also confirm the prospects of building a FinTech app:
According to research by

Deloitte

, the leading financial advisory, the FinTech industry value is predicted to reach $188 billion by 2024. Moreover, the industry's revenue by 2024 will amount to $197.8 billion, more than $100 billion more than in 2017.
The

KPMG

, the financial services advisory, states that investment in FinTech has increased 3.5x since 2015.
Considering the market potential and people's need for quick and convenient access to financial services, now is the right time to think about creating your own FinTech application and start generating income.
Types of FinTech Apps
Fintech is a compilation of technologies and financial sectors like blockchain and banking platforms, or budgeting apps. With more expansion in recent years, this sector makes the business more customer-oriented.
If you want your team or the IT company you've chosen for development to understand your idea, you need to determine the value of your product to consumers.
Let's find out what types of fintech apps are and take a look at the most popular ones.
Insurance apps
This type of app is suitable for the insurance industry to speed up claims processing, policy administration, and for reducing the insurance likelihood of fraud. Besides, it may be as basic an insurance website as a complex CRM.
Insurance apps should have such main features as payment processing, filing a claim, quotes, policy details, and the ability to search for policies by selected parameters.
If you want to create insurance app, check out the good examples:
Geico Mobile. It's one of the best auto insurance apps with such key features as digital ID cards to access insurance policies, a virtual assistant that quickly answers questions regarding the policy coverage and billing, a parking locator that helps users find parking and make a reservation in advance.
Lemonade. This app is designed to provide policies to homeowners and renters. Its unique feature is that it takes a maximum flat fee to run a business and any over premiums get distributed between different charities during a year.
Investment apps
Choose such an app type if you want to start working in the stock market. This app will allow you not only to research financial assets and invest in them but also to improve your investments' efficiency.
If you decide to create an investment app, don't forget about such the main features as currency, savings, and credit management, product comparison, real-time alerts, and client support.
Here are some ideas for investment app:
Robinhood

. Robinhood is a good solution for smooth trading. Its main advantages are quick access to the stock page, a trading quick start by the instant delivery of the first $ 1000 of any funds deposited into the account, and a channel with stories from news and investment sites, so that you can know the latest news.

Wealthbase

. Wealthbase is the best stock market games app. The app combines stock picking and social media, so you can see a feed of stocks that your friends or colleagues are choosing.
Banking apps
Banking apps are designed so that users can independently and quickly manage their bank accounts and carry out financial transactions.
Many traditional banks create their mobile apps, becoming more competitive. This is because all services are becoming mobile, financial transactions are carried out faster and more conveniently.
Creating a banking app, you can integrate it with payment systems like Google/Apple Pay or PayPal like the UK financial company Monese did that in its app.
Here is the example of several banking apps:
Starling

. The app allows customers to open an account for free and without documents quickly, manage overdrafts, savings, draw up a budget, and transfer funds to bank accounts in 38 countries safely.
Monese. This app is specially designed for expats who have moved to the UK. You can open an account anywhere in continental Europe and the UK even if you don't have a UK address, credit history, fixed income.
Regtech apps
Regtech (Regulatory Technology) is designed for companies that deal with finance to help them meet compliance with the law set by regulatory bodies. Regtech solutions help compliance departments to monitor risks, regulatory changes, transactions, reduce the number of false non-compliance alerts, and build reports.
If you want to create such an app, don't forget to include the ability to identity and risk management, and identification of financial crime.
Here are a good regtech app examples:
6 clicks

. This platform is designed to help automate and manage risk identification, assessment, and analysis for all stakeholders of the risk management lifecycle.

PassFort

. This platform allows automating compliance checks with the principles of KYC (Know Your Customer), AML (Anti-Money Laundering), and others. It enables you to transform CLM (Closed-Loop Marketing) processes into digital automated onboarding tasks.
Lending apps
Lending apps make the processing of loan requests and the interaction between the borrower and the lender more efficient and faster. It's a good way to improve businesses for both independent digital lenders and traditional financial institutions.
Lending apps may include features like credit score, loan application form, billing, payment. You can also provide users with the ability to loan repayment right from the app.
The examples of popular lending apps are:
Earnin

. It's the leader among fintech apps that provides low fees. This app stands out because it doesn't charge fees when you borrow money.

PaySense

. This platform provides short-term personal loans to salaries professionals within 5 hours after applying for a loan, affordable and convenient EMIs and interest rates. It provides loans even to those with a low credit rating.
Consumer finance
Consumer finance apps don't usually offer payment processing services. They are designed to help users plan and manage their expenses, save money, and forecast future account balances so as not to spend more than planned.
This type of apps should include such features as financial goals setting, expenses and bills tracking, investments analysis, payments categorization, fraud and identity alerts, etc.
Here are fintech apps that you can consider to understand how they work:
Mint

. It's a free app that allows users to budget, track payments and enrollments. Mint can be synchronized with various credit cards, bank accounts, and PayPal.

Money Patrol

With this app, you can oversee and manage your transactions, savings, make effective financial decisions, data about which the app provides, reveal fraudulent transactions and penalties for late payments.
Neobanks
Neobanks are applications that allow you to provide banking services without going to physical branches. They operate and provide services exclusively digitally through mobile applications or online platforms. The main focus of neobanks is to provide customers with convenient, innovative, and personalized financial services.
The core functions of neobanks include account opening and management, investments, lending and borrowing, and financial planning and transfers.
Some of the most popular examples of neobanks include:
Monobank. Monobank is a Ukrainian neobank that provides financial services entirely online. This application allows users to create and manage accounts and investments.
Chime. Chime is an American financial company providing mobile banking services. The app allows users to open accounts and manage debit, credit cards, and savings.
Technical Side of FinTech App Development: Must-Have Features
While FinTech applications vary in types and features, now we will look at the must-have features that every successful FinTech solution should have.
Secure authorization and authentication. To keep your customer's data as safe as possible, you must provide functionality for secure user authorization. Use two-factor authentication to protect accounts from unauthorized access.
Secure authorization screen designed by Cleveroad
Account aggregation. This feature will allow users to view information about their bank accounts, investments, and loans from different financial institutions in one place, providing convenience and control over finances.
Account aggregation screen designed by Cleveroad
Budgeting and savings tracking. Tools for setting budgets, analyzing expenses, and tracking savings will help users effectively manage their finances.
Budgeting feature example (Source: Dribble)
Payments and transfers. These features will allow users to quickly and easily make payments or money transfers in just a few clicks.

Payment feature example (Source: Dribble)
Card and account management. Provide complete account management such as locking and unlocking cards, setting and changing limits, viewing transactions, and ID.

Card management feature example (Source: Dribble)
Custom notifications. Allow users to customize notifications based on their needs: notify them of in-app updates, account transactions, investment status, etc.
FinTech app's notifications example
Customer support. In the case of FinTech app development, customer support is important as users may have difficulties or questions at any time. You can provide round-the-clock customer support with AI chatbots to advise customers and answer their questions.
Customer support screen example
Integration with payment gateways. You need reliable payment gateways to ensure safe and secure payments within the app.
Payment gateway integration example
We have covered the basic features required to build a FinTech app. This list can be supplemented depending on the selected type of solution and its characteristics.
Stages to Create a FinTech App
FinTech application development requires a lot of technical knowledge. To understand how to create a FinTech app, look at the main steps that we've outlined for you.
Choosing your FinTech niche
Choosing a niche is a crucial step when you decide to create a FinTech app. Firstly, you should analyze the target market. Then choose whether you want to create your own FinTech solution, like conduct DeFi lending/borrowing platform development, etc., or improve a ready-made one (reduce clicks' number for the operation, add integration with the social network).
If you want to be competitive, it would be good to create a complex solution. There are too many simple FinTech apps like budgeting apps, so you have to be unique. After you've chosen a niche, you can move on to finding a software provider.
Selecting an experienced IT partner
Your next step is to find and hire an experienced tech partner to help you build a FinTech app. Here are the specialists are usually part of the FinTech app development team:
Back-end developer
Front-end developer
Business analyst
Project manager
Designer
Product manager
QA specialist
If you choose a financial software development company, pay attention to the company's experience, hourly wages, specialists' training level. also consider feedback from clients on platforms like Clutch or GoodFirms and vendor's portfolio with previously created projects.
Another important factor is choosing the cooperation model you need. You can go for one of the following options depending on your needs and budget:
Outstaffing. This option will suit you if you already have an in-house team but still need to fill the talent gap with a few specialists. For example you need 1 iOS and 1 Android developer. You can contact a software provider to get the right people in the shortest time to work on your product.
Outsourcing. This option will suit you if you need entire FinTech app development team and are limited in time and budget. If you turn to an outsourcing software provider, you will get a full team of experts ready to start working on your product. This option will help you save money and time on hiring and maintaining an in-house team and get a high-quality product quickly. Moreover, this form of cooperation gives you the opportunity to hire specialists all over the world without being tied to a specific location, and to find a partner who fits your budget.
Passing the planning phase
The next important step is to engage in the planning phase with your software vendor. This step includes important processes such as:
Market analysis. Your partner will provide data and analytics on the current state of the FinTech applications market, helping to identify the best market opportunities. The research will help identify gaps in the offering and potential target audience segments.
Target audience identification. The vendor will also help define and understand your target audience by providing analytics and statistics on user behavior and preferences.
Selecting a monetization model. Identifying the desired monetization model is equally important, as your developers will build a FinTech app with it in mind. Vendors can offer different monetization models based on experience with other FinTech apps and knowledge of market trends. Among the most common options are usually paid subscriptions, transaction fees, and advertising.
Choosing features and tech stack
The next phase of FinTech app development is the Discovery phase. This stage aims to detail all the product's requirements and create a clear development plan. This phase includes:
Platform selection. In this phase, developers determine the key requirements for developing a solution for your chosen platforms, or help you decide which platform is best suited to your needs for FinTech app development, such as mobile devices (iOS, Android), web apps, or cross-platform frameworks. They consider your requirements, the target audience's needs, and each platform's functionality.
Choosing the features. An important step is to determine the functionality and features of your FinTech app. Your vendor will select functional elements based on the type of solution you want to create. Design concept. Design teams develop a design concept considering the user interface (UI) and user experience (UX). The design should be intuitive, attractive, and consistent with your company's brand.
Ensuring compliance and security. The team also focuses on security and compliance with regulations and standards in the financial industry (e.g., PCI DSS, GDPR, KYC, MiFIR, etc.) Specialists take measures to protect user data and ensure compliance with legislation on economic activity.
Architecture and technology stack selection. The team defines the application's architecture, including client and server sides, databases, and communication protocols. The technology stack includes the programming languages, frameworks, and tools used during development.
Let's take a look at a possible tech stack for FinTech app development using the popular Revolt app as an example:
Cloud services: Google Cloud.
Databases and stores: PostgreSQL.
DevOps solutions: Docker, Git, Visual Studio, Bitbucket.
Frameworks: Gatsby, Node.js.
Programming languages: Java, JavaScript, Kotlin, Python, Scala, Swift, TypeScript.
Extras: nginx.
Development and QA
The team can start FinTech application development once they pass all the preparatory steps. It is a good idea to start by building a Minimum Viable Product (MVP). MVP creation is an excellent decision to test your app idea before launching a full-fledged fintech product. With the MVP you can launch an app without extra costs and save money on a product development. Minimum viable app includes enough features that users can try out at first and review your app. MVP building will allow you to easily attract investors, get feedback and minimize the risk that your idea won't pay off.
After launching your MVP app, the development process doesn't stop. You need to conduct an A/B testing stage to check customer reviews, based on which add new features or improve old ones (design, functionality).
Launch and user feedback
Upon completing the FinTech app development, your software vendor will launch it on the selected platforms and provide you with all the documents. After establishing an app, you should collect feedback from target users and improve the solution through regular updates based on them. Improvements may include bug fixes or extention of the app's functionality. Maintaining communication with users and making the application more convenient, safe, and functional is important.
Key FinTech App Development Requirements
The fintech sphere is complex enough so let's consider how and what features help you to succeed with your startup. Let's look at the requirements for fintech apps development.
Security
Security is the most important thing in fintech application development. If users face security issues once, they'll lose confidence in your app and delete it.
Here are the main common features that may help you make your fintech app secure:
Two-factor authentication
Biometric security
Registration via phone number
Dynamic CVV2 codes
It'll be best to make your app penetration testing to ensure your system's security. This way you'll analyze how hackers can break into your software, and think about steps to prevent it. It's also necessary to constantly maintain, update, and check apps for security.
The fintech industry is one of the most regulated. Therefore, if you decide to create a fintech app, then you must definitely know how to become PCI compliant and comply with the requirements of regulatory acts such as PSD2, FCA, and privacy laws like CCPA, GDPR, or PIA. Implement the security techniques at the beginning of fintech app development.
Integrations
The basis for building the platform is API. As you know, APIs are used to link different software apps to each other. In the fintech industry APIs are widely used to issue commands to third-party service providers.
With the API, you can improve overall cost-effectiveness. Developers can design and develop FinTech APIs or use ready-made ones. For example, they can integrate your app with Plaid API. It's a financial technology company whose platform connects the apps to bank accounts. So users and entrepreneurs can interact with their bank accounts, check balances and make payments.
Payment processing APIs simplify the payment and checkout processes when shopping online. You can integrate your fintech app with a payment service such as PayPal so that your customers can purchase around the world.
Simplicity
Building a fintech app, make a simple and user-friendly design. Fintech app users should be able to use advanced services to manage their financial transactions easily. The idea of fintech app development is to create analytical tools for collecting financial data and creating financial programs with a simple interface.
All fintech apps should have analytics and statistics that are displayed in real-time so that users and companies can easily recover their revenue.
If you want to attract more customers, make your fintech app functions simple and intelligible so that they want to stay (provide the ability to quickly view payments, choose a currency card in one click).
Support
The fintech segment deals with a lot of confidential data. It isn't easy to provide companies with external customer support. Consultants must be technically trained to operate under very strict safety rules and requirements.
If your app's support service isn't available 24/7, create a chatbot. This way, users can quickly find out about their finances or banks' offers. Thereby, banks will be able to unburden their support staff and engage employees in more complex issues.
Multi-platform support
Multi-platform support is essential in app development for FinTech. By providing support for various platforms such as iOS, Android, web applications, and desktop versions, the FinTech application becomes available to a wide audience of users, no matter what device they use. Also, it allows for a better user experience.
In addition, cross-platform development t will ensure that your FinTech solution attracts users from different geographical regions, which helps to expand the market and increase the number of customers. This will allow you to develop more effectively in a competitive environment.
How Much FinTech App Development Costs?
How Much FinTech App Development Costs? If you plan to create a FinTech app with basic features, development can cost you anywhere from $40,000 to $300,000+. These numbers are indicative and depend on your requirements, required features, development time, etc.
If we take fintech app development with basic features (MVP) as an example, the average time to build such a solution is 750-1500 hours. In this case, the cost of FinTech app development in different regions can be:
Central and Eastern Europe: $35,000 - $75,000 (based on $50/h)
Western Europe: $75,000 - $150,000 (based on $100/h)
North America: $110,000 - $225,000 (based on $150/h)
South America: $45,000 - $90,000 (based on $60/h)
India: $30,000 - $60,000 (based on $40/h)
Africa: $30,000 - $60,000 (based on $40/h)
Australia: $75,000 - $150,000 (based on $100/h)
Our Experience in Developing FinTech Applications
Cleveroad team has 11+ years of experience in creating various FinTech solutions. We want to introduce to you our featured fintech projects:
Micro-investment platform
Our client is an investment company from Saudi Arabia. The customer wanted to launch a startup and needed a reliable technical partner experienced in building FinTech solutions complying with regulations and standards. They contacted us with a request to help them expand to the micro-investing market. To address our client's needs, we offered them the following solutions:
Built a micro-investment platform from scratch, making it scalable and enabling growth in the number of users and capabilities of the solution
Ensured compliance with local financial regulator requirements and analyzed for compliance with FinTech regulations in Saudi Arabia and other Middle Eastern countries subject to SAMA
Provided the customer with in-depth expertise and the platform's post-release maintenance and support for the company's total revenue growth on a long-term period
As a result, the client received a cross-platform mobile application that allows the customer to master the niche of mobile micro-investing in the shortest time and address all the pain points and needs of the target audience. The client also got full support and maintenance of the platform after its release to grow the company's total revenue for the long term.
eBanking software system
Our client is a Swiss bank offering online investment, lending, and trading services. They turned to the Cleveroad team to help us create a flexible system that could expand their business and attract new customers. To accomplish the task at hand, we:
Replaced a legacy software MVP and created a holistic system that would support the needs of B2B/B2C clients and operations teams, automate key internal workflows, and enable the bank to build new global business opportunities.
Improved the user experience (UX) for registration, digital account opening, and e-banking portal so that users complete the registration process and become and remain customers of the bank, increasing retention rates.
We created the software considering all regulatory requirements for investment bank software. Namely, the new system and operational processes must be FMIA compliant, and the development team must comply with operating and data processing rules as part of a "need-to-know" access control framework.
As a result, the client received a new eBanking system that helped to ensure client acquisition and retention rate growth by 20-30% due to improved UX. Moreover, thanks to continued practical cooperation, the customer received business process improvement, acceleration of operators' work, and tech staff free-up.
Now, let us introduce our company and tell you more about IT services we provide.
Cleveroad is a FinTech software development company with more than 11 years of experience. We develop a wide variety of digital solutions for startups and businesses. Among our services, we create financial software that facilitates online payments, financial analytics, and banking, ensuring security, legal compliance, and data protection.
Choosing us for FinTech app development, you will get:
Practical expertise in custom Fintech app development to enhance finance and banking (e.g., trading platforms, digital wallets, financial management apps, etc.)
Experience building FinTech software solutions compiant with GDPR, ePrivacy, MiFID II, KYC, etc.
Experience in integrating FinTech software with a wide range of third-party services such as Paypal, Braintree, financial APIs, etc.
Full consultation with our FinTech subject matter experts on FinTech app engineering
Signing a Non-Disclosure Agreement (NDA) during the initial stages upon your request to preserve your project idea
Flexible cooperation models depending on your needs: Outstaffing, Dedicated Team, Time & Materials, Fixed Worxscope
Planning to develop a FinTech app?
Get full-fledged FInTech development services to improve your financial services provision
Frequently Asked Questions
These are all apps of the financial sector created so that entrepreneurs, companies, banks, and ordinary users can easily compose, manage their budget.
Define your target audience (users, banks, businesses), list the main features that will satisfy their needs (fast transactions, integration with payment systems), create and test a prototype, find a development team. Also don't forget to provide your app with the security.
First, choose the niche, secure your system with different regulatory acts (PCI-DSS, PSD2) and privacy laws (GDPR), select a development team that'll help you define the main features of your app, and think over the design. It'll be great to release the MVP to see how users will react to your product.
Alternatively, it can be P2P lending, which allows individuals to receive loans directly from others. You can provide users with the ability to free subscriptions so they can try and evaluate your app. You can also contact specific banking advisors or trading firms to advertise your fintech app.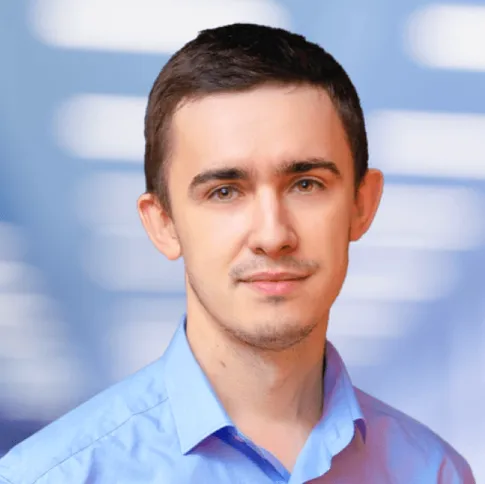 About author
Evgeniy Altynpara is a CTO and member of the Forbes Councils' community of tech professionals. He is an expert in software development and technological entrepreneurship and has 10+years of experience in digital transformation consulting in Healthcare, FinTech, Supply Chain and Logistics
Rate this article!
1642 ratings, average: 4.70 out of 5
Give us your impressions about this article
Give us your impressions about this article