How to Create a Custom CRM Software for Your Business
8027 Views
|
01 Jan 2019
|
15 min
If you plan to have more than five customers for your business, you definitely need a CRM. A Customer Relationship Management system is an inevitable tool of all modern entrepreneurs who want to keep all the records neat, always have important information at hand and never lose a thing. If you are one of them, then it's time to consider how to make your own CRM tailored to business needs.
In this article, we'll clear up why custom CRM development can save your money, nerves and what it actually takes to build your own CRM from scratch.
Benefits of Custom CRM Development
The first and, frankly speaking, very logical question is why you need to build CRM from scratch if there are so many turnkey solutions which you can start using right now?
The answer to this question is pretty straight: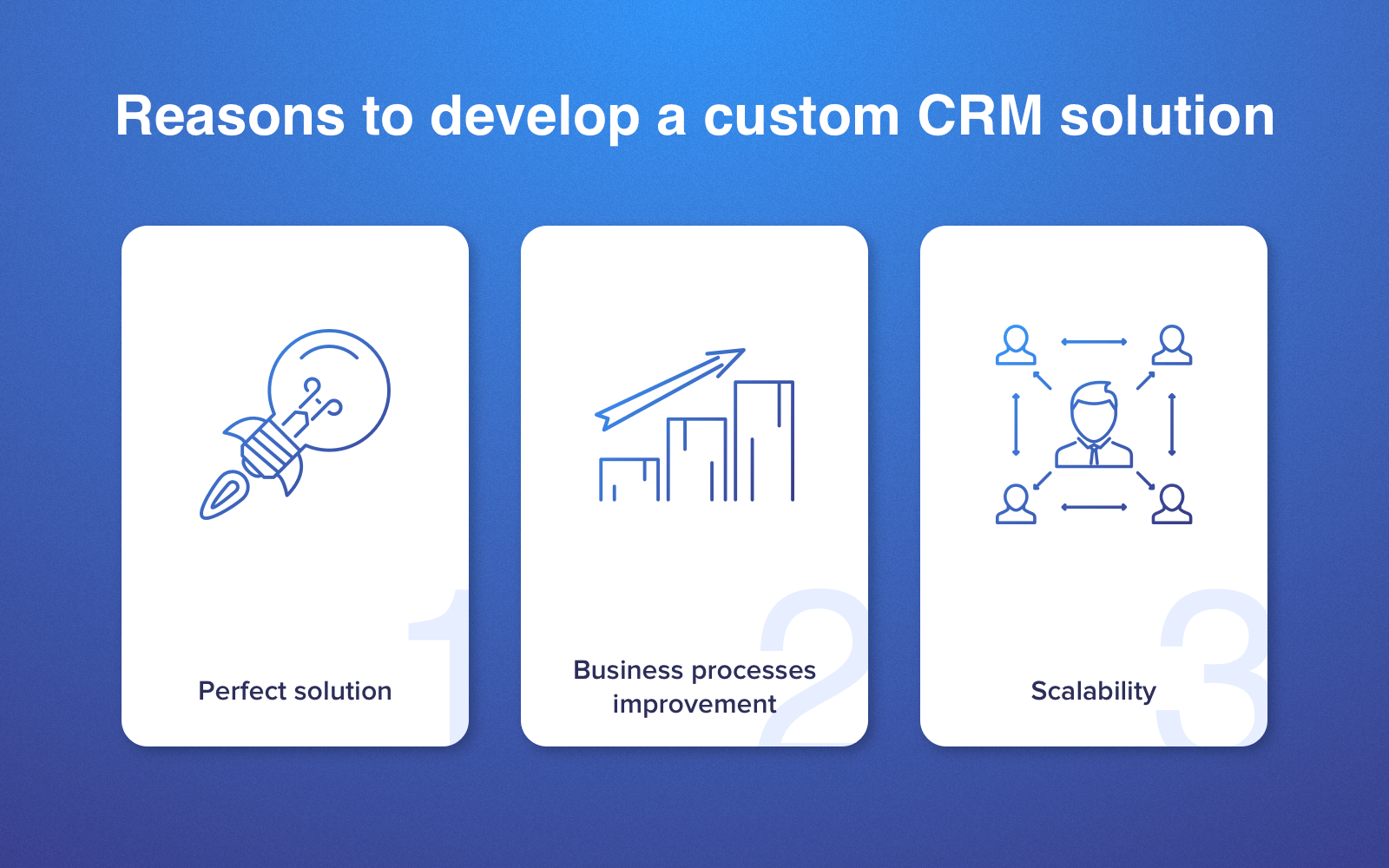 Why do you need to build custom CRM?
1. Perfect Fit to Your Needs
Have you ever tried to find a pair of shoes for yourself in someone else's closet? It's not only difficult, but almost impossible to find the ones which would fit all your parameters. The same with CRM. They all seem to be good, but what's the guarantee a chosen CRM will have the required functionality when the company scales up?
Out-of-the-box CRM developers often strive to pack their software with all sorts of features trying to cover the bigger market. Imagine, a manufacturer who wants to sell their shoes to a bigger audience with different needs. For this reason, they make a hybrid of shoes for skiing, running, and hiking. First, it seems like fun: you can do a lot of things and wear them under different weather conditions. But soon it becomes clear how uncomfortable these shoes are.
A Customer Relationship Management system should contain only those features which you and your team require. Otherwise, you risk paying too much for a ready-made platform, waste ages teaching your staff to work with it as well as lose important information in this pile of features and functional departments. As you understand, the custom solution is a perfect match, because it's created specifically for your company and can be scaled whenever you need.
2. Business Processes Improvements
Building a CRM from scratch can do much more for your business than the turnkey solutions. Especially it's seen when you want to integrate the platform throughout different departments. Usually, all out-of-the-box CRM system features are specifically designed for only one department. In a case, you make your own CRM software from scratch, you can choose what department and processes you want to include and automate.
?
Need an e-commerce CRM system? [Learn what it takes to create a perfect Customer Relationship Management platform](internal: undefined) for this sphere of business!
If your company already uses some software to simplify business processes it'll be difficult to integrate them with a turnkey platform. And on contrary, quite easy in the case with a custom platform. You get a smooth data transmission from one department to another, fast processing and sharing. This is how you can not only save a lot of time but also improve interdivisional communication in your company.
A CRM can work as a standalone piece of software (in the case of a ready-made platform) or can become a core of your enterprise software. You can use CRM as a base to build additional applications for different departments. All of them would have a single database. If you decide to make such a trick with the turnkey solution, you'll need at first find a vendor which provides an API for developers. And then pay for every user in a system and every additional program you add to it.
Building a CRM system for yourself, you can do anything! You can scale it when needed, change, expand, and modify. In all these cases you'll be paying for [web development services ](internal: undefined not for the use of the platform.
When it's clear that a CRM software development from scratch has lots of advantages, you need to choose what type of CRM you exactly need. This information will help you to define the feature set required for your CRM system.
Here are the main three types of CRM systems: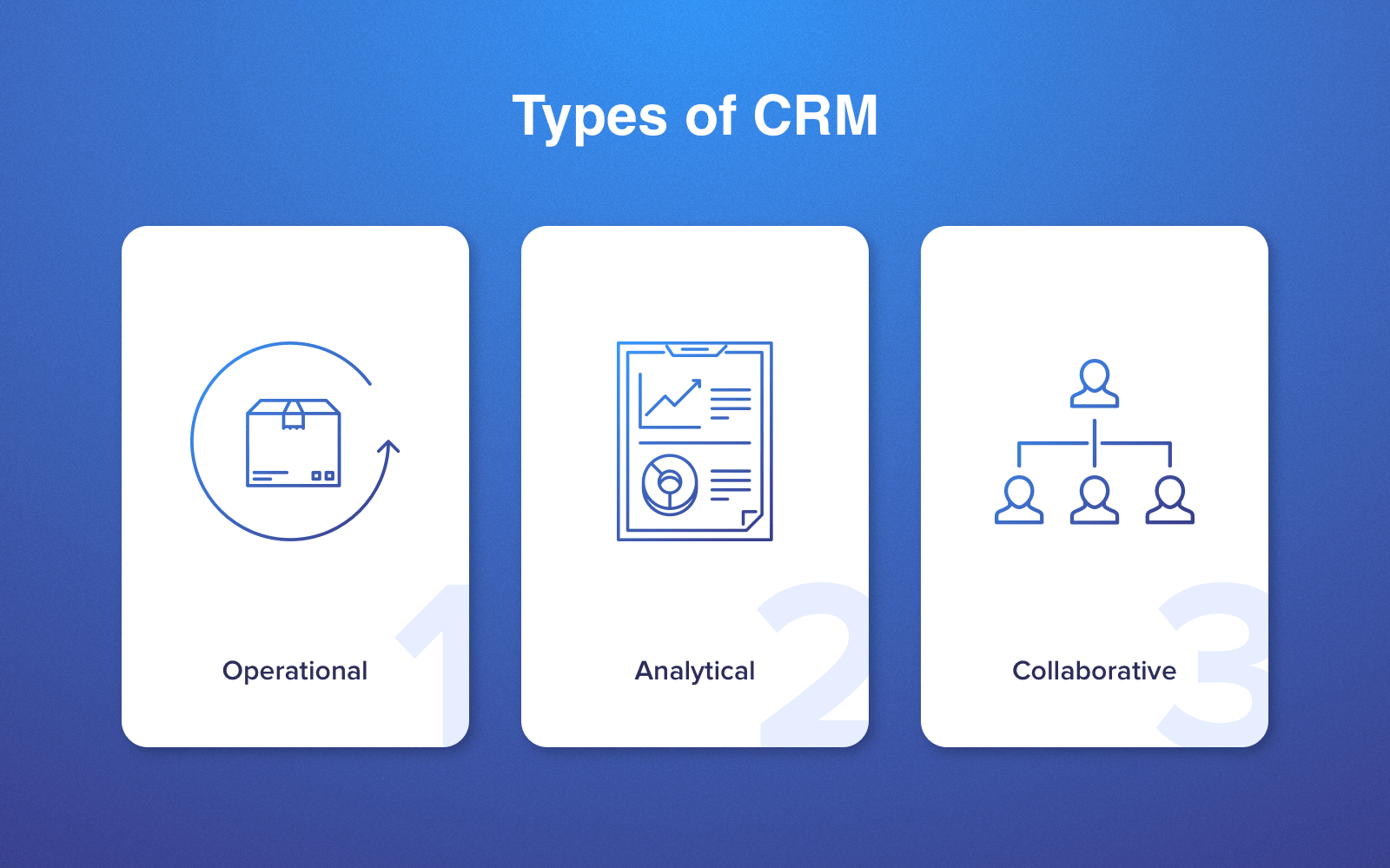 Different kinds of CRM software
This CRM focuses on streamlining and automating workflow in such aspects as sales, customer service, and marketing. If you want your CRM to have a similar specialization, you'll need to add features for lead and contact management, sales pipeline, and helpdesk (later about that).
This type of CRM is able to source a huge amount of information from numerous touch points and process it. In such a mode, the system provides you with the insights, statistics, and analytics data. The main purpose of such a CRM is to help you with planning and deeper understanding of the processes. The great advantage of these systems is that they provide you with real-time data and analytics so you can keep an eye on the current situation in the company.
All collaborative CRMs are designed to improve communication and teamwork. They create a transparent data sharing environment for better results. The platforms of this type usually have great facilities for collective discussions, chats, shared boards. Here, users can easily share files and stream activities.
All these types can be combined together into one versatile CRM system. Now, you can understand what type(s) of a CRM you need and start thinking over features set.
CRM Software Features for Your Business
It's completely clear that every company looking for custom CRM development services is in need of a unique feature set. To make this section as helpful as possible, I've singled out three modules with must-have, basic, and advanced functionality. So you can choose the ones appropriate for your case and make up your own CRM features list.
These are the very core features every CRM system must be equipped with to carry out its mission. So entry-level customer relationship management software must be capable of:
Managing contacts
Setting reminders
Editing calendar
Managing tasks
Generating simple reports
Such functionality gives you basic options for task management, keeping contacts at hand, and collaborating with the team.
Let's face it: the features mentioned above aren't enough to call CRM an all-in-one management solution. So I suppose they're not the reason you're reading about how to build a CRM system from scratch. This module includes more niche features that can be used across diverse industries and companies.
Interaction tracking
Email marketing
File sharing
Mobile access
Pipeline view
Invoicing
Integration with social media
Custom reports
This feature is needed to track all the communication between you and your clients. This CRM system feature allows you to store information about customers and the whole history of cooperation with them. Such a mode improves your customer service. As well as that, there won't be any problems if you decide to pass a customer to another manager and won't need to spend hours filling this manager in.
The integration with an email system allows you tracking the communication with each customer. This CRM software feature is really very helpful if you need to send a lot of similar emails. The CRM can perform mailing automatically using different letters for different groups of customers or prospects. Also, you can set a sequence of letters which will be sent by the system in accordance to given parameters.
This piece of functionality is needed to store all the documentation in one place and share it throughout the departments. In such a mode you have a guarantee that you (or anyone else) won't lose any important files. The system will store all the file records, so you can see where it's now, who's been working with it and what edits have been made.
If the solution is going to be used mostly by sales representatives, then you should consider building CRM software that can be accessed via mobile. Why is that? According to different studies, the productivity of sales representatives grew by 26.4% after the adoption of mobile access and 24% more of them began to achieve annual sales goals.
An opportunity to work on-the-go can greatly affect the sales. Especially considering that modern customers expect to contact a company outside normal business hours and want to get instant feedback.
If you want to build CRM software with mobile access, the better option is developing a separate native application running on Kotlin or Swift. But it'll certainly affect the CRM development cost. So if you don't need much functionality in a mobile version, you can try to adapt a part of your web-based CRM to be used via mobile browsers.
This CRM feature allows you to see all sales processes in a view of a simple scheme. Such a breakdown is needed to show in what section each lead is at the moment (new leads, contact made, qualified, and so on). The view is really helpful if you keep losing leads and still don't know the reason. Thus, you can see what stage of a lead processing is the weakest, find out why, and solve the issue.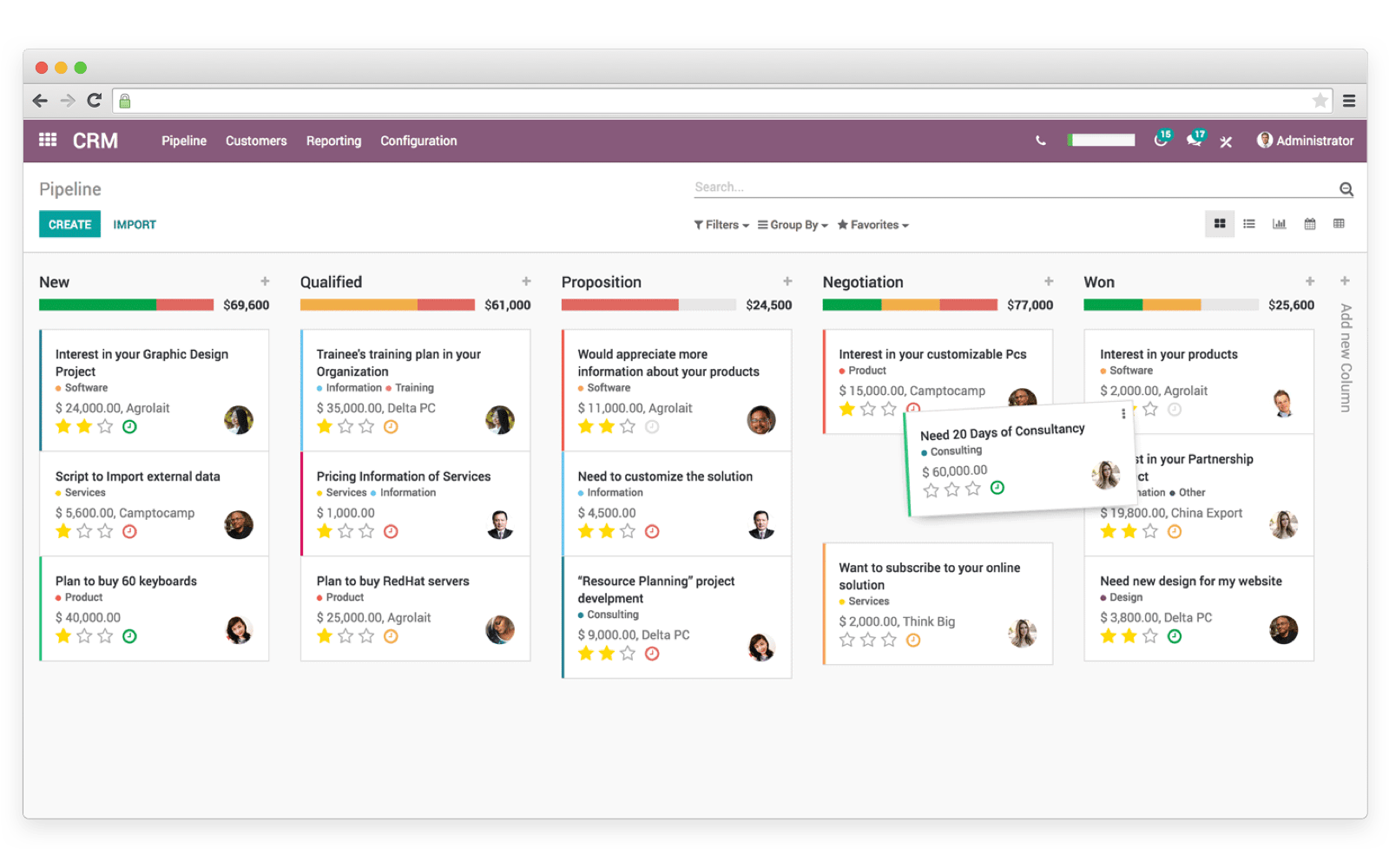 How pipeline view may look like in your CRM
A sales-oriented CRM can be equipped with diverse invoicing options like a searchable invoice history, quick invoice shipping to clients, status tracking, etc. One of the considerable reasons to create your own CRM system is that you can integrate this and other features with whatever software you need, including different kinds of internal accounting software along with third-party payment systems.
For instance, you can synchronize an accounting software you use (e.g. FreshBooks) and your CRM with the help of API.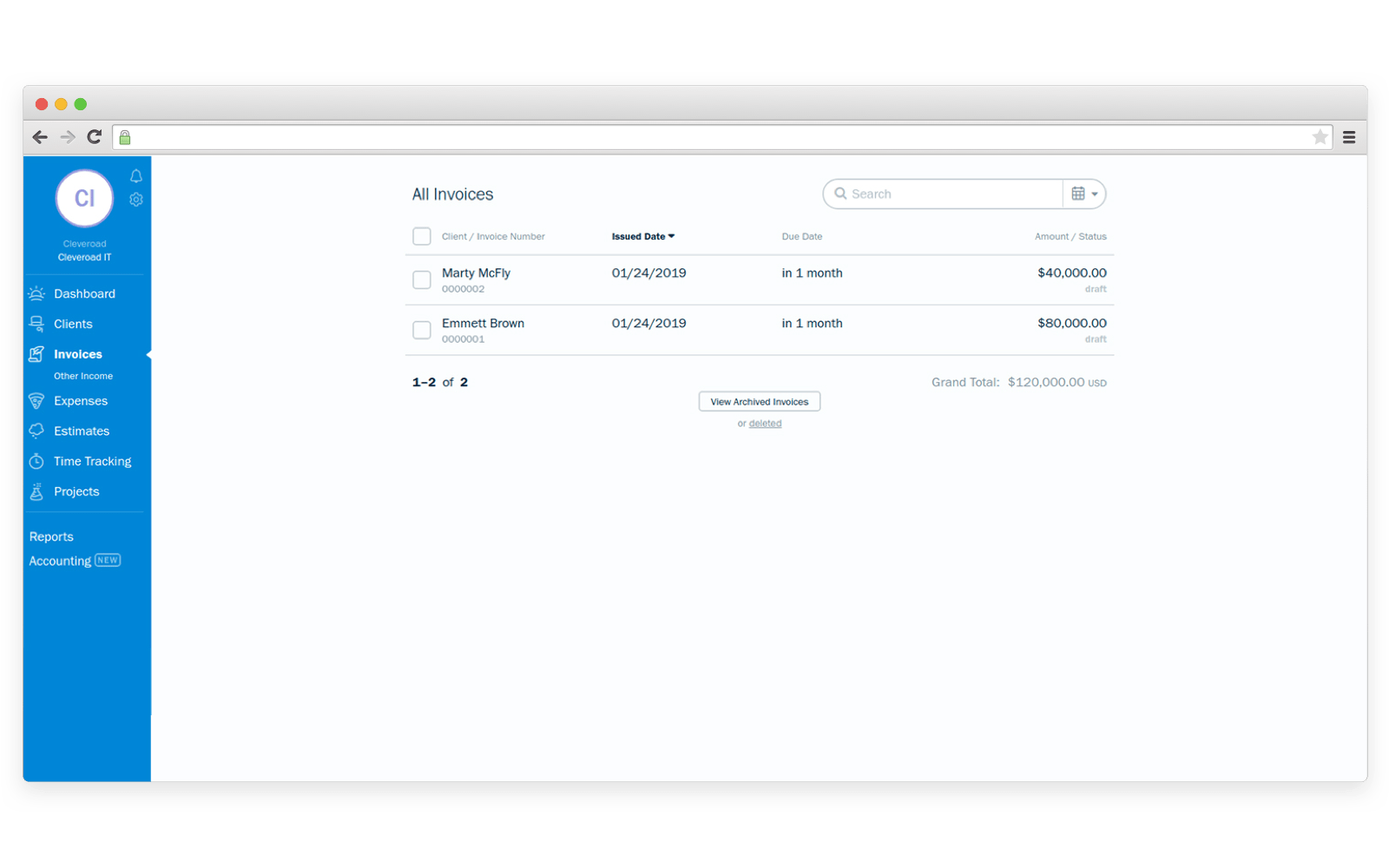 How invoices may look like in accounting software
7. Integration with social media
Studies prove that 51% of sales representatives are more likely to reach their quotas due to social selling and they sell 78% more compared to colleagues who don't use social media channel. That's why I believe social media integration can be one of the key features in custom CRM systems of social media presence is an important part of your business strategy.
How can it be used in your CRM? One of the use cases is to build a system for tracking social mentionings (e.g. by hashtags). It can be used for measuring the level of interest to the brand as well as increasing customer service (e.g. reply messages with reviews).
Custom reporting is a source of insights and one of the most useful CRM software features. However, reports themselves and tracking methods entirely depend on your business needs. While for some demographics data, sales stage, and lead type are all that it takes, it's not really the case for others.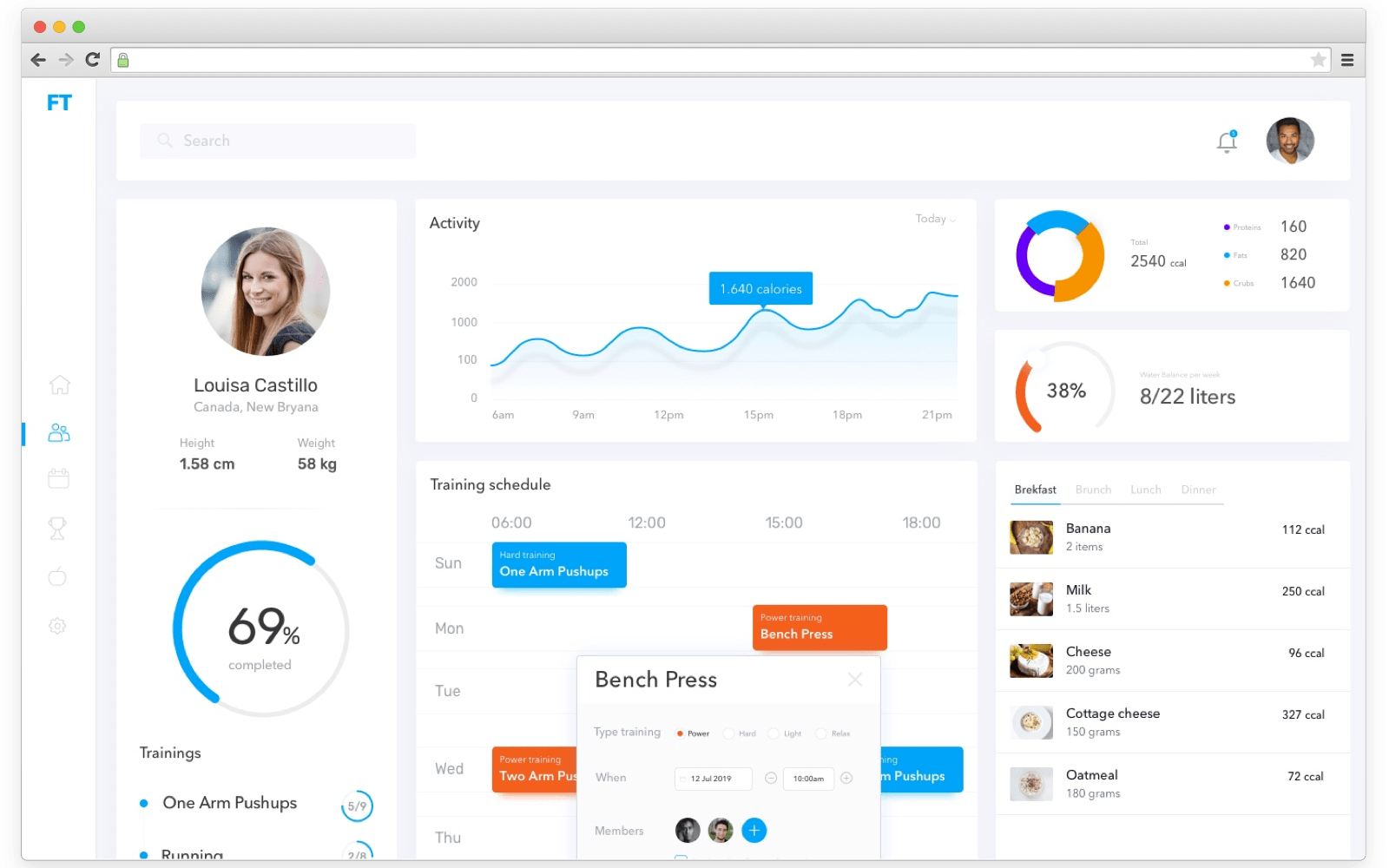 The concept of CRM reporting in the healthcare industry for personal trainers by Cleveroad (Source: Dribbble )
Advanced Features of Custom CRM
We've already considered must-have and key CRM functionality. It's time to move to a more complicated frontier and discuss how to design CRM with advanced functionality suitable for larger businesses and enterprises.
Advanced CRM feature list for your business may look as follows:
Integration with third-party applications
Unity with other internal software
Call center management
Referral customers tracking
Lead scoring
Chatbots
1. Integration with third-party apps
Depending on a position, different departments of a company can use dozens of popular tools (e.g. G Suite) to make their workflow smoother. There is no sense for building analogs of those tools to exclusively use them within the company, it's better to consider integrating them into CRM system. GetApp Lab research found out that 62% of SMBs would like to integrate Google Apps with their CRMs.
In fact, similar integrations are a wise approach to developing a CRM system. It allows wasting no time on data duplication between various systems. Be it documents, letters or whatever else from G Suite environment.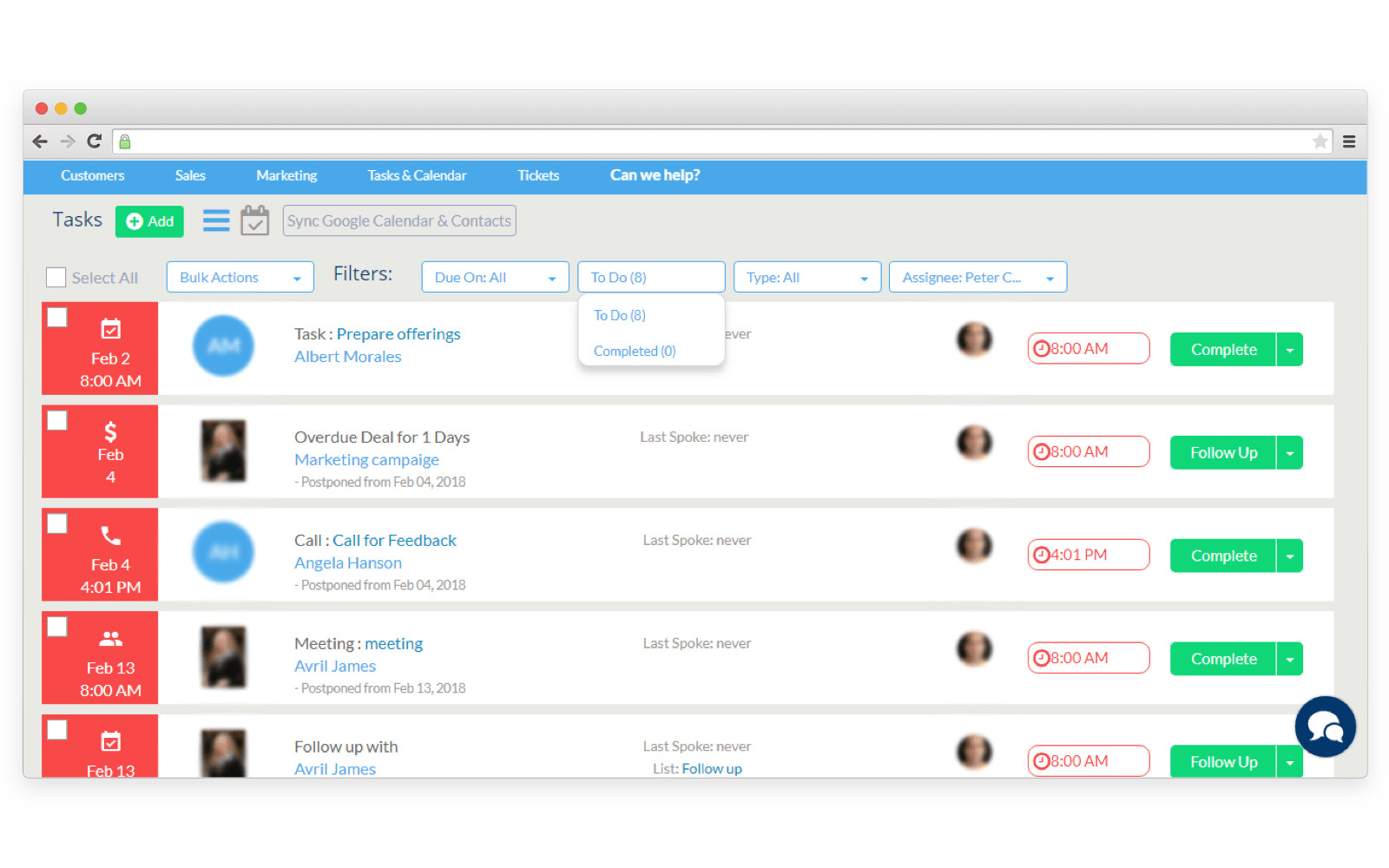 An example of Google Calendar integration into a CRM
2. Unity with other internal software
Under "unity" I mean interaction between in-house software of a company. It's especially relevant for enterprises since the armory of their active software is often not limited to customer relationship management systems. It may include the following:
Enterprise Resource Planning systems (ERP)
Warehouse Management Software (WMS)
Logistics Management System
etc.
All these pieces of software have to be interconnected to provide a smooth and seamless workflow for the entire company. Otherwise, the poor user experience is guaranteed which, in turn, can adversely affect business processes.
So the main advise on how to build CRM software properly is to keep in mind all the internal software and clearly explain to your in-house team or vendor what to do with this.
3. Call center management
The main features might be: calls right from the system and automatic tracking. This feature can be added in case a lot of people in the company call clients on a regular basis.
4. Referral customers tracking
92% of buyers trust referrals from their acquaintances. This tells a lot about the perspectives of referral programs in general. If you already have one, it's a good reason to think over how to track referred customers' performance in your own custom CRM system. For example, you can monitor leads that have eventually become customers and made a purchase/ordered something.
Score your leads to concentrate the efforts of sales representatives on the ones ready to buy from you. It's possible to build a scoring system (e.g. 1 to 10; 1 to 100) by using parameters that really matter for your business. Here are just some of them:
Opened emails ration
Revenue, age, location, and other demographics
Behavior on the website (e.g. filled contact form)
Depending on the importance of each parameter, you can assign them more or less value. For instance, people who have filled in the contact form on the website gets +5, the ones from target countries — +2.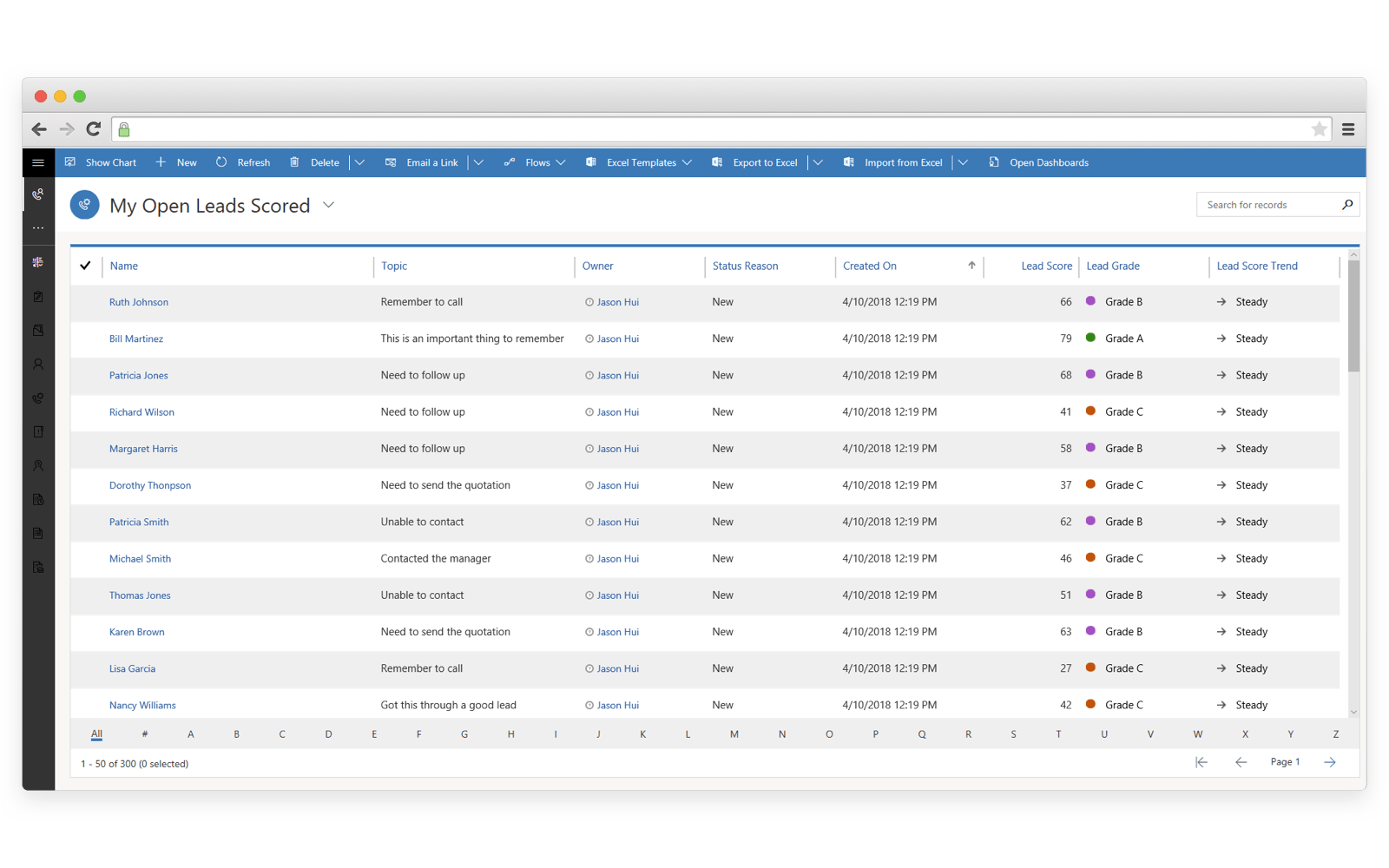 How the lead scoring system may look like in CRM
There is always a question of automation when building a CRM system. I mean to spare employees from routine work and improve their overall efficiency of using CRM. Chatbots are surprisingly useful here since they are able to automate dozens of tasks, including the following:
Answering FAQs
Setting up reminders
Organizing meetings with colleagues
Providing newbies with answers to their questions (e.g. How to score a lead?)
No doubts, it's impossible to predict the needs of every company in every existing industry. The above-mentioned features were formed based on our clients' frequent requests and market demands.
!
If you haven't found the feature solving your problem, you can drop us a line on email to get a professional consultation or send us a message in live chat you see in the right bottom corner to get instant feedback in business hours.
Things to Consider Before You Build a CRM from Scratch (Our Recommendations)
To build CRM software packed with features you need in a timeframe you set and make development process effective, you have to identify the following:
It's remarkably important to know what you want from the final product. Otherwise, the development process will last much longer than you would like it to.
Our advice on this point is to have clear goals for your CRM, set of features, and your expectations towards how the system should simplify business processes in a company. In the ideal world, all this should be documented and handed to your development team or tech partner.
Of course, the more features you would like to see in the CRM and the more complex they are, the more you're going to spend to create your own CRM system.
It's a good idea to create a breakdown by roles in the CRM (e.g. marketing, sales). Each role will have access to certain functionality as well as information. This will help you eliminate possible risks of data breaches between departments that aren't supposed to see it.
3. SaaS Platform vs. Internal Software
If you have any intention to turn your custom-built CRM into a software as a service in the future, it's preferable to start building a tech background for this from the very first iteration of the product.
Custom CRM Development Cost
Well, let's sum up and see how much does it cost to build a CRM system.
| Type | Feature | Approx time (hours) | Approx cost ($) |
| --- | --- | --- | --- |
| Must-have | Contact management | 40h | $2,000 |
| | Reminders, calendar management | 60h | $3,000 |
| | Task management | 200h | $10,000 |
| | Basic reports | 160h | $8,000 |
| Possible key functionality | Email marketing | 60h | $3,000 |
| | File sharing | 60h | $3,000 |
| | Pipeline view | 200h | $10,000 |
| | Invoicing | 140h | $7,000 |
| | Integration with social media | 160h | $8,000 |
| | Custom reports | 70h | $3,500 |
| Advanced | Unity with other internal software | 180h | $9,000 |
| | Call center management | 200h | $10,000 |
| | Referral customers tracking | 60h | $3,000 |
| | Lead scoring | 100h | $5,000 |
| | Chatbots | 160h | $8,000 |
It's hard to tell the exact how much does it cost to build a CRM system for many reasons, so the numbers above are approximate. Custom CRM cost may vary from $5,000 to $300,000 and even more. It heavily depends on complexity so it's impossible to say for sure how much your CRM will cost without any details.
How to Find a Tech Partner to Build Custom CRM?
Try platforms like Clutch or GoodFirms which provide listings of service providers in different fields including software development. Once, you've found an appealing company — dig deeper. Read reviews on a platform, check their website, social networks, try to contact them both via messages and phone calls.
In case you need any assistance with CRM for a company, you may contact our managers to get professional consultation at no charge. Our team has experience in building CRM software for financial institutions as well as e-commerce, healthcare, and entertainment industry.
Summing up it's worth mentioning that a well-built CRM system can double the effectiveness and productivity of your team. This tool is a must-have if you want to compete with your competitors and provide your customers with the best service and treatment.
Rate this article!
Bad!
Strange!
Boring!
Good!
Love it!