Client Guides
Custom CRM Development Bypassing Common Pitfalls: Cleveroad Experience
If you plan to have more than 5 customers for your business, you need a CRM. A Customer Relationship Management system is an inevitable tool of all modern businessmen who want to keep all the records neat, always have important information at hand and never lose a thing. If you are one of them then it's time to think and choose the best system for your business. Today, we'll clear up why custom CRM development can not only save your business but also save your money and nerves and what it actually takes to build your own CRM from the scratch.
Benefits of a custom CRM development
And the first and frankly speaking very logical question is why you need to build CRM from scratch! There are so many open-source, turnkey and customizable solutions which you can start using right now. So why do you need to spend your time and money and build your own CRM software from the ground up? The answer is simple, here are the main reasons why:
Why you need to build your own CRM
Have you ever tried to find a pair of shoes for yourself in someone else's closet? It's not only difficult, it's actually impossible to choose the best option which would fit all your criteria and peculiarities. The same here. They all seem to be good, but what's the guarantee that a CRM you choose will have the features you need?
We also see the opposite situation on the market. When CRM developers want to pack their solution with all sorts of features trying to cover the bigger market. Imagine, a seller wants to sell his shoes to the bigger audience with different needs, that's why he makes a mixture of skiing, boots, slippers, rubbers and many more. It seems like you can do a lot of funny things and wear them under different weather conditions. But I think you and I understand how ridiculous this type of 'shoes' would look like.
A Customer Relationship Management system should contain only the features which you and your team require and some additional tools which you may need in the future. Otherwise, you risk paying too much for such a platform, waste ages teaching your staff to work with it and lose important information in this pile of feature and functional departments. As you understand, the custom solution is a perfect match, because it's created specifically for your company.
Don't understand all the benefits of an MVP development? Learn how to attract investors, acquire customers and get maximum advantages from an MVP from our short video!
Why Should You Start Your Business from MVP?
2. Business processes improvement
Building a CRM from scratch can do much more for your business than the turnkey solutions. Especially it's seen when you want to integrate the platform throughout different departments. Usually, all the out-of-the-box CRM system features are specifically designed for only one department. In a case, you make your own CRM software from scratch, you can choose what department and processes you want to include and automate.
If your company already uses some software systems for any processes it would be difficult to integrate them with a turnkey platform. And very easy if you choose a development from scratch. What you get in such a case are an easy data transmission from one department to another, fast data processing and data sharing. This is how you can not only save a lot of time but also improve interdivisional communication in your company.
It may seem that the custom CRM development cost will be much more than a ready-made solution. But only at first sight. You never buy these platforms, you rent them! Which means you'll have to pay for it every month and a lessor can change the conditions of lease anytime he wants.
What is more, when you take a ready-made CRM, you'll have to pay for every user who has access to it. In such a way, you'll need to restrict the use of the system for the majority of your staff. And it slows the whole process down and affects the efficiency of your company. In a case you use rented software and want all your employees to work with it, you'll have to pay a fortune.
Here lies the biggest advantage of a custom CRM system. You can use it as much as you need and want. All your employees can get access to it and you don't have to pay every month for a non-effective solution.
A CRM you use can work as a standalone software piece (in a case of a ready-made platform) or it can become a core of your enterprise software. You can use your CRM as a base to build additional applications for different departments. All of them would have a single database. If you decide to make such a trick with the turnkey solution, you'll need at first find a company which provides their CRM with an API for developers. And then pay for every user in a system and every additional program you add to it.
Building a CRM system for yourself, you can do anything! You can scale it when needed, change, expand and modify. In all these cases you'll be paying only for the development services but not for the use of the platform.
When it's clear that a CRM software development from scratch has many more advantages, you need to choose what type of CRM applications you need exactly. This information will help you to define the functionality set required for your CRM system. Here are the main three types of CRM systems: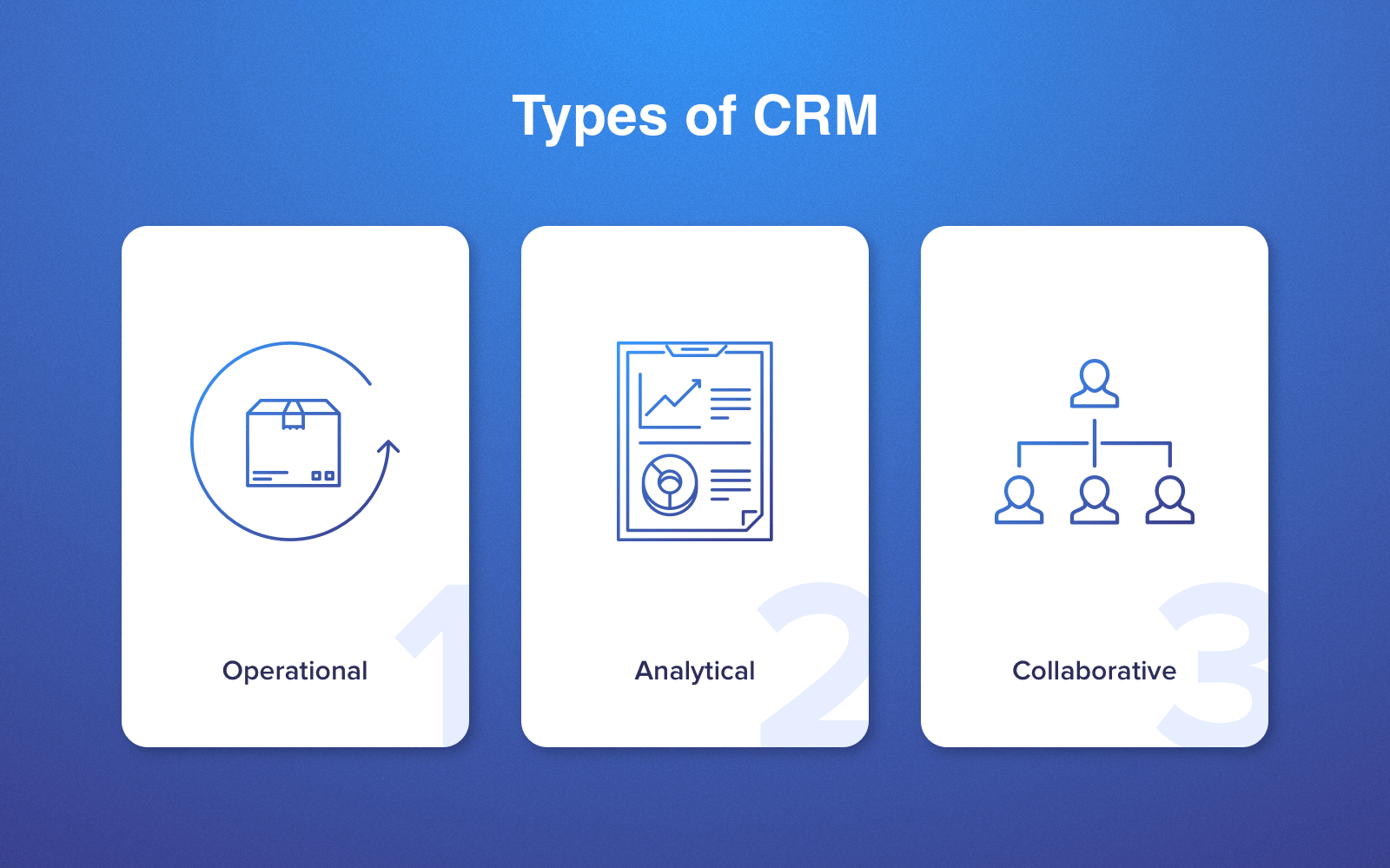 Operational
The operational CRM focuses on streamlining and workflow automation in such aspects as sales, customer service and marketing. If you want your CRM to have a similar specialization, you'll need to add features for lead and contact management, sales pipeline and helpdesk.
Analytical
This type of CRM is able to source a huge amount of information from numerous touch points and processes it. In such a mode, the system provides you with the insights, statistics and analytics data. The main purpose of such a CRM is to help you with planning and deeper understanding of the processes. The great advantage of these systems is that they provide you with real-time data and analytics so you can keep an eye on the current market situation.
Collaborative
All collaborative CRMs are designed to improve the communication and teamwork. They create a transparent data sharing environment for the better results. The platforms of this type usually have great facilities for collective discussions, chats, shared boards. Here, users can easily share files, and stream activities.
It's clear that these types can be combined in order to get the best results. Yet, now, you can understand what type(s) of a CRM you need more and choose the features accordingly.
Despite a fact that every company needs some specific CRM features list, there's a set of the core functionality which should be present in every CRM platform. Let's take a look at it:
Interaction tracking
This feature is needed to track all the communication between you and your clients. This CRM system feature allows you to store information about a customer and the whole history of your cooperation. In such a mode, you improve customer service. As well as that, there won't be any problems if you decide to pass a customer to another manager and won't need to spend hours filling this manager in.
Email tracking
The integration with an email system allows you to track the correspondence with each customer. This CRM software feature is really very helpful if you need to send a lot of similar emails because your CRM can perform mailing automatically using different letters for different groups of customers or prospects. Here, you can also set a sequence of letters which a system will send according to the given parameters.
File sharing
This piece of functionality is needed to store all the documentation in one place and share it throughout the departments. In such a mode you have a guarantee that you (or anyone else) won't lose a file or delete it accidentally. The system will store all the records about a file so you can see where it's now, who's been working with it and what edits they made.
Pipeline view
This basic CRM feature allows you to see all sales processes in a mode of a simple scheme. Such a breakdown is needed to show in what section each lead is at the moment (new leads, contact made, qualified, and so on). The view is really helpful if you keep losing leads and still don't know the reason. Thus, you can see what stage of a lead processing is the weakest, find out why and solve the issue.
Reports and Analytics
This is a typical CRM feature which helps a company to develop. Every company has its problems and a task of a leader is to detect them on time. Custom reports can give you tones of insight and answer millions of questions.
There are many more powerful and functional features you can add to your custom CRM. You should choose them due to a type of a needed platform.
How to build your own CRM system
Follow the steps below to create your own CRM without any fails:
Step 1. Define your business needs and objectives
Step 2. Create a list of key features for your custom CRM
Step 3. Revise the list you made to make sure there are no features you do not really need for CRM
Step 4. Find and hire developers or an experienced software development company to build the CRM
Step 5. Remember that CRM is just an instrument. Do not expect all the problems in your business will vanish after you create it
After you've completed the aforementioned steps, figured out the type and the functionality set, you contact a development team and want to start the process as soon as possible. We offer you to wait a minute and read the common mistakes which can turn the whole CRM system development into a complete frustration.
How to make a CRM - common pitfalls
Too many features
If you and your staff have never worked with any CRM, it would be difficult for all of you to start with a complex and massive system. You may not need all the multiple boards and tools from the very beginning, besides it will also take much more time and money to create all of them at once. That is why it is better to begin your bespoke CRM development with an MVP version. This approach requires less time and costs cheaper than a fully-functioning platform.
Development team
Different companies and freelancers can charge you less than the others. But the development of a system which the whole company would rely on isn't a piece of cake. Make sure that your potential vendors can prove their experience in this sphere. It's very important to find the customers of the vendor and listen to their feedback. You can visit Clutch or GoodFirms portals, for instance, where you'll find a lot of feedback about different software development companies. The reliable vendors are always proud of their works and would be happy to provide you with their portfolio as a proof of experience and knowledge.
High expectations
Some product owners truly believe that some sort of software can solve all the problems in their companies. It's very important to remember that CRM is a useful and very convenient tool which can help you a lot. But only if you apply it wisely. A purchase of a complex and expensive solution won't teach your salesmen to sell better! It can only help your staff perform all the routine tasks much faster or even make them automated. You need to invest in your staff just as much as in the software.
A well-built CRM system can double the effectiveness and productivity of your team. This tool is a must-have if you want to compete with your competitors and provide your customers with the best service and treatment. If you are ready to integrate it into your everyday life and feel all the benefits a CRM application development can bring, contact our managers because we know how to make it right for you!
Did you like this article? Find more interesting investigations and researches in our blog, and don't forget to subscribe!