How To Make A Dating App in 2022: Features, Monetization Methods and Development Cost
Dating apps are booming nowadays, making them one of the most profitable app types on the market. According to researches, the global revenue of dating applications exceeded $3.08 billion in 2020. This figure is generating the buzz around dating app development since many companies want to have this type of app in their arsenals, but they don't know where to start.
Numerous websites and apps hold the responsibility of matching people resting on similarity, compatibility, and mutual sympathy. Dating apps boast with their accurate and innovative algorithms. It's time to learn the ropes, I suppose.
App development services for creating dating app can be both profitable for you and a good solution for people that want to find a soulmate. So check this article out to see how to build your dating app.
In this article, we'll walk through the dating app development process, discover must-have features for this app and make an approximate development cost estimate.
How to create a dating app
To give you a hint on how to create a dating app, follow these steps below:
Step 1. Study the functionality principle of the dating app. If you want to enter a new market, you must thoroughly know how the product you want to develop should work.
Step 2. Discover all benefits before creating a dating app. Discover all strengths of the chosen app type to understand what your users will receive.
Step 3. Choose a monetization strategy. To generate income, you should discover common monetization methods and apply them to your app wisely.
Step 4. Create the structure and design of a dating app. This is your plan sketch in which you'll describe the app name, your target audience, and your marketing strategy.
Step 5. Use a right tech stack to create dating app. You should choose the right tools that'll help bring all your ideas to life.
Step 6. Add MVP features to your dating app. Minimal Viable Product includes only the most essential features that ensure the basic functionality of the app.
The principle of dating app functionality
Dating apps belong to a 'family' of social apps; that's why special attention is normally paid to supporting human interaction and meeting user's particular needs. Certainly, there are no two identical dating apps: each existing app (Tinder, OkCupid, Bumble, Grindr, just to name a few) has a specific set of features and concept that ensure the needed result. Nevertheless, we can sort out a few things that you can't pass round if you want to build a dating app.
Getting started with dating apps
The first interaction with an app is like the first date of great importance. So, it's always a good idea to introduce your app's functionality to the user. Top existing dating apps do not neglect the power of the first impressions and have a little onboarding stage, which points users to interesting functionality and explains how the app works. You also shouldn't. Something like a sliding tutorial will make the user fall in love with your app at first sight and tell them how to use its features..
The technology of attraction: Matching algorithms
It's impossible to create a dating app without these algorithms. Matching and its correctness is a cornerstone of every dating app. The better the algorithms, the higher chance that the user will stay with your app. After inputting valuable information about themselves, dating app users are ready to get down to business and do what they are supposed to do find Mr. or Mrs. Right. The first step in this fairly delicate process is matching users. Dating apps may use a wide variety of matching techniques to match up partners who like each other. Let's explore some of them.
Location awareness
The name speaks for itself. It's always nice to make a new acquaintance within your area chances of success increase. You are more likely to live happily ever after with someone in your city than on another continent. No wonder, dating apps tend to employ GPS components in their matching algorithms. Having suggested a list of users nearby and brief information about them, the app lets you decide who you like and wish to start communication. If the algorithm is flawless and you want to match with other people within your area, the chances that you'll see people from other countries are close to zero. Location-based matching is an essential feature, so don't neglect it when making a dating app.
Mathematical basis
Another technology, which is widely used and you should implement when making your own dating app, is the mathematical algorithm that connects people by finding similarities in answers given to a suggested questionnaire. Such algorithms are mostly based on the compatibility percentage of answers given for each question separately or all questions collectively. Some dating apps, like OkCupid, for example, determine the compatibility rate in a more complex way taking into account not only your answers but also how you would like someone else to answer and how important this question is for you.
Behavior-based matching
It should seem that question-based compatibility is enough to give users a clue who can suit them best. However, the reality is that people tend to provide inaccurate information about themselves. It may happen unintentionally, or someone may consciously conceal certain things. This leads to incompatible matches.
How did popular dating apps succeed? Watch this video to find out:
Best Dating Apps: What Stands behind the Success?
But how to overcome this challenge? More advanced algorithms always come in handy in these situations since they are made for processing large datasets in minimal time with extreme preciseness. Algorithms for behavior-based matching are more complicated than mathematical and location-based ones as they operate with data gathered from outside sources (social networks accounts, profiles, groups they visit, musical playlists, etc.). Generating and analyzing large datasets require significant resources. It's where a Big Data analytics approach helps to increase chances of the right match.
Advanced matching methods
Dating platforms become smarter. Way smarter. They apply new technological advances to improve user experience and ensure more accurate matching. Machine learning technology, artificial intelligence (AI), VR & AR all these influence dating apps evolution as well. To be specific, the particular machine learning technology that powers Netflix and Amazon's personalized recommendations can be applied to dating apps.
Data, available in social networks and other media is being thoroughly analyzed, layered and structured, which allows not only efficient matches but also make predictions. Facial recognition, GPS, and biological data supported by AI are going to boost matching algorithms and connect people in entirely new ways.
So it is the time to mention a few benefits to understand how dating apps can be advantageous and why people need it. It will help you understand how to make a dating app.
Why are dating apps beneficial?
Before you start dating app development, it's vital to learn about your competitors. Research the most well-known apps on the market, discover their features and user ratings, and testimonials. Once competitor research is done, you'll see that these apps are very popular since the number of downloads and testimonials can show you. But how to create your own dating app that will be this popular? We'll say that 50% of the job is already done since dating apps have undisputed benefits that make them popular among the other apps. The rest of the job depends on the uniqueness of your application, the marketing aspect, and more. It would be better to list 5 main benefits that let such apps prevail and be popular.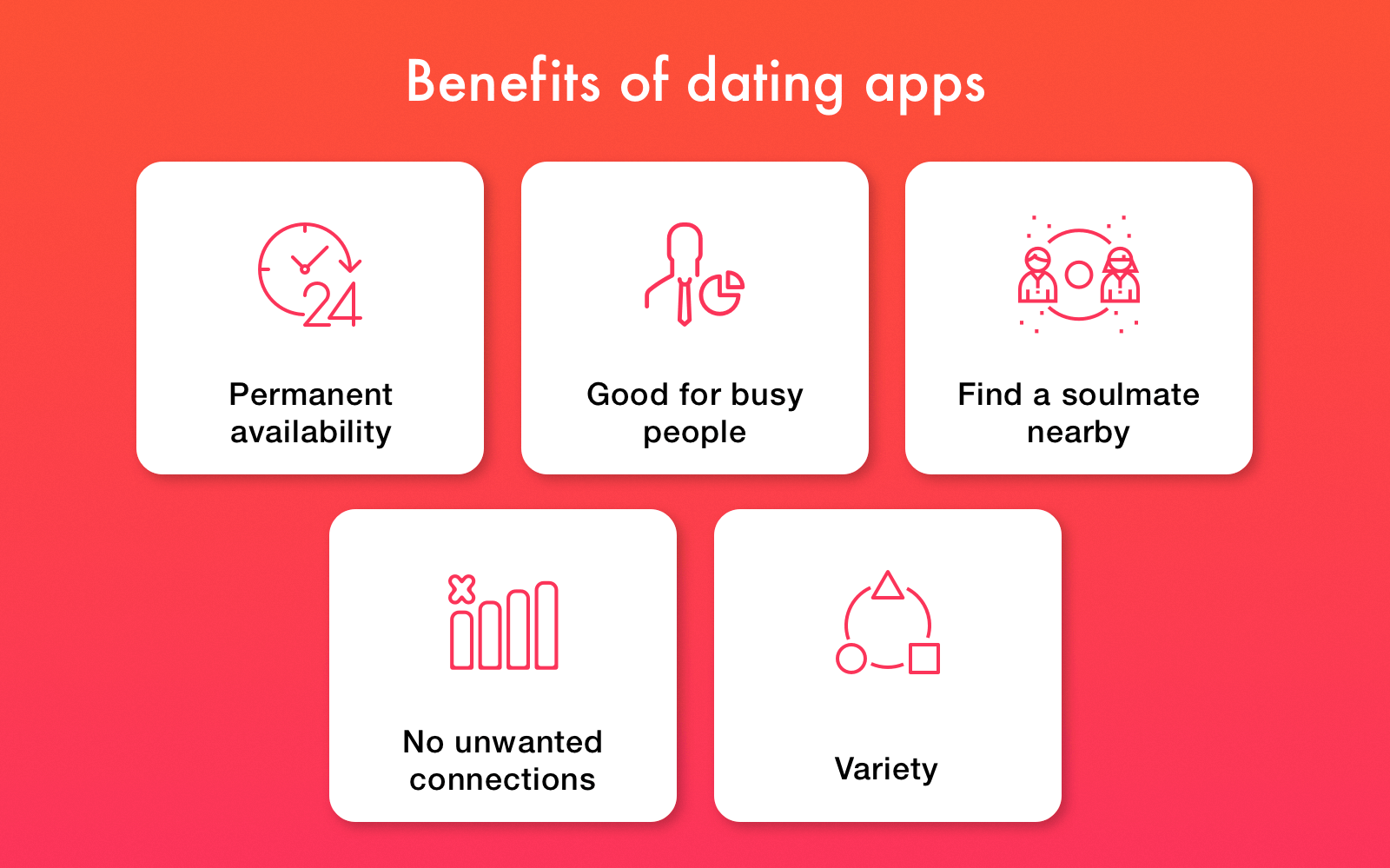 Strong sides of dating apps
Fast and efficient. It would be folly to deny that apps are much faster than regular websites. Besides that, dating apps provide users with an opportunity to get a quick access to their account when they hit the road, for example. With the help of a dating app, users can simply look for a soulmate wherever they are at the moment. Life becomes more flexible, people can build relationships on the go.
Good for busy people and introverts. Some people literally live at their work. They want to build new relations, they want to love and be loved but they simply have no time to visit different places to meet somebody. That is where dating app comes in. It helps such people always find some time to meet an interesting person. The same concerns introverts - people which don't have good communication skills. An app can help them fight with this personal fault and find a good interlocutor.
Find a soulmate nearby. The majority of dating apps offers users a geolocation feature that makes it possible to find a person nearby. It means that user will not only meet somebody, but a new friend can also even live on the distance 1 km from him or her. It is a really impressive thing.
No unwanted connections. Not every person wants to receive thousands of messages from strangers and modern dating apps have a small feature in their arsenal. As a rule, in almost all dating apps it is possible to start chatting only when users put likes to each other. It means that when you like photos of man/woman, they need to like you back. So you have a fellow feeling and you need to go on.
Variety. Due to online dating, it is possible to meet somebody you didn't even expect to meet in real life. People of various professions, from different regions, register in the dating app and all of them have a wide choice of potential soulmates in this service. So it is possible for the user to find who they have been waiting for.
Build an app structure and design
When we have listed the main benefits, we can proceed directly to the development process and start with making a dating app structure. Let's see how to do it!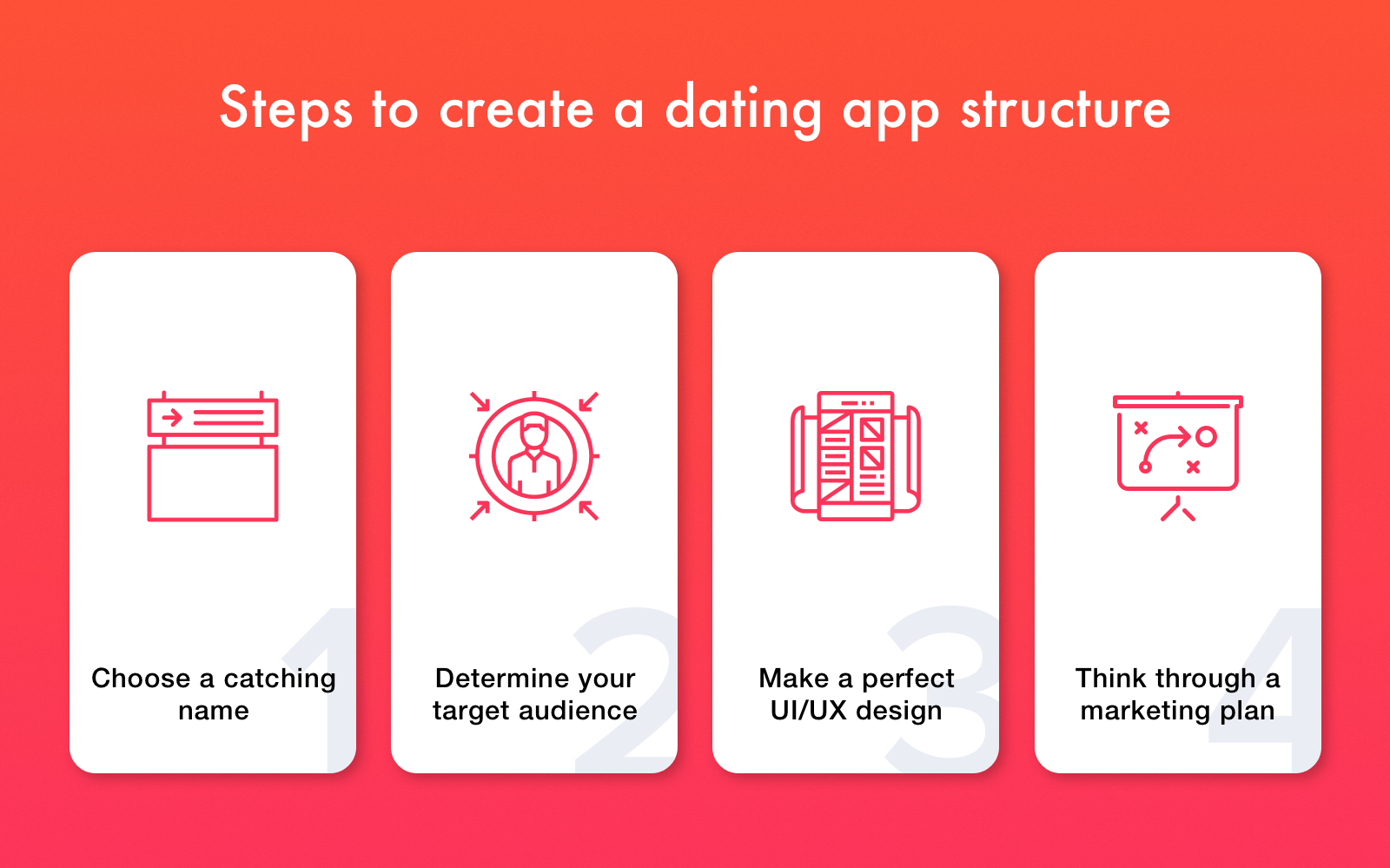 Main steps to create a dating app structure
Choose a catching name
Defining the name is the best is how to start dating app development properly. But besides uniqueness, your app name must include a certain amount of catchiness to draw users' attention and stay in mind. 'Catching' word is the most appropriate word in this case. People need to remember the name of your service, it should be short and associative so users will be able to hear it once and remember forever. Word of mouth will also work here since users will share the name of your app with their friends.
Determine your target audience
What is the age range of users you create an app for? Of course, you can create a general dating app that can meet the requirements of both youth and an older generation. Ok, then, what will be a distinctive feature of your app? It will be similar to other counterparts and you will gain nothing. So, it would be a better option to create an app for a specific audience, a specific region and so on. It will help your app stand out from the crowd and achieve a success.
Make an amazing UI/UX design
The interface of the app should be catchy as well so users will feel positive when they start using it. Keep up with a simple principle - build simple and intuitive design. Users want to deal with a clear UX that is not extremely unique and that isn't confusing. As for UI, bright colors and clear buttons will surely be adopted well by users. Don't complicate - and you will succeed!
Deal with a marketing plan
This is another preparation stage in dating app development. Apart from good design and the right target audience, you shouldn't ignore brand promotion and increase your customer base when you create your own dating app. That is why you should create a marketing plan and think over each step to increase customers' loyalty and engage more users in your app. Marketing plan plays a very important role in the brand promotion and it should be competent, so mind it.
On our behalf, we can advise you several tips that'll help promote your dating app in 2021:
Create brand awareness through the media. This tip can be your first step in a marketing campaign. To start with, you can search for platforms that know how to make a buzz around new apps and ask them to make a press release for your dating app.
Use paid promotion. Investing money into promotion can boost your audience and make your app visible. For example, Tinder uses paid advertisements to market new features or special offers.
Do not neglect App Store and Google Play Market optimization. Shortly speaking, this is basically the same as SEO optimization but within popular online app stores. You're also working with keywords, app titles, descriptions, and other information that impacts your search results.
Make viral content for social media. Viral content always grabs attention if done wisely. For example, you can make short stories on social media with different hints and interesting facts about your user base. For example, OkCupid creates stories with interesting data, revealing various fan facts and common user profile features.

Tech stack for dating app
To make a dating app, you should get acquainted with the main tools that can be used for the development of a dating app by Cleveroad specialists. But our developers can use different tools. Everything depends on your specific requirements.
Tools needed for your dating app development

| Types of tools | Mobile/back-end |
| --- | --- |
| Programming languages | Java, Kotlin, Swift |
| Frameworks | Node.js, Express.js, Next.js, React Router |
| Database | PostgreSQL, MongoDB, Redis |
| Cloud storage | Amazon S3 |
| Web servers | Nginx |
| Payment gateway | Stripe, PayPal |
| General utilities | Optimizely, Twilio, Elasticsearch, Google Maps, Google Analytics. |
As we have just noted, a toolset can be extended and modified depending on the personal requirements of the customer.
MVP for a dating app
Although you want your future dating app to be a unique product that will not be similar to any existing apps, there is a range of features that should be integrated into your app mandatory to create a working app. So pay your attention to these features that will be listed below to see how to build a dating app.
Social sign-in
Long registration processes already seem like a prehistoric fact that cannot survive today. So sign-in feature is a first must-have feature. Let users register using their Facebook, Instagram, Twitter or LinkedIn account and start looking for a soulmate. Moreover, social sign-in gives users an opportunity to share your service in social media.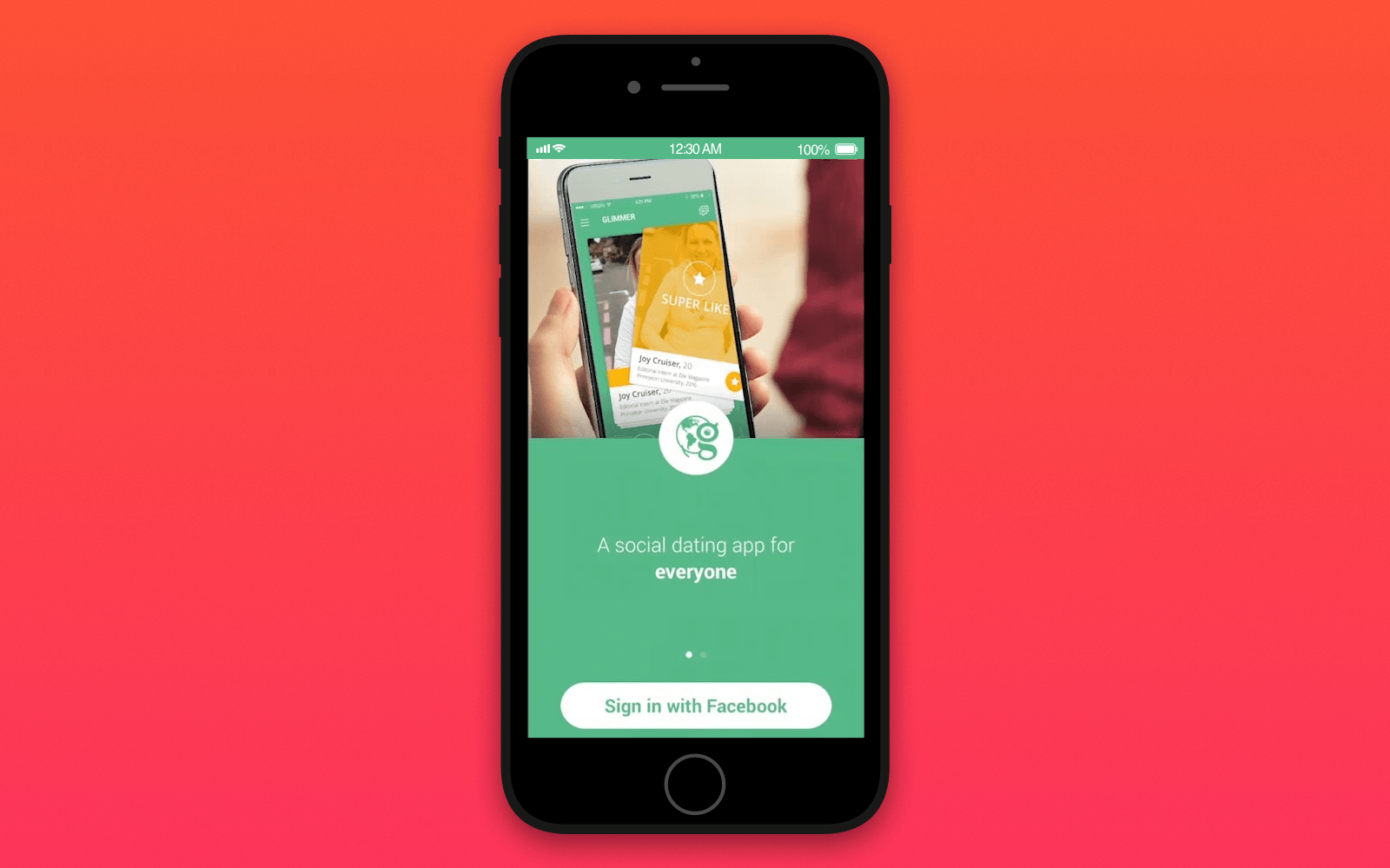 Sign-in feature in dating app
User profile
Each user should have it's own profile where his/her interests and hobbies will be indicated. As a rule, all main information is extracted from social networks so users don't need to spend their time on it. Users can read profiles of each other to understand better what an individual likes or dislikes.
Geolocation
Due to this feature, it will be possible for people to choose the region where they want to find a soulmate and even choose nearby locations. It is unlikely that users from different parts of the country will ever meet, so this feature must be included in your app.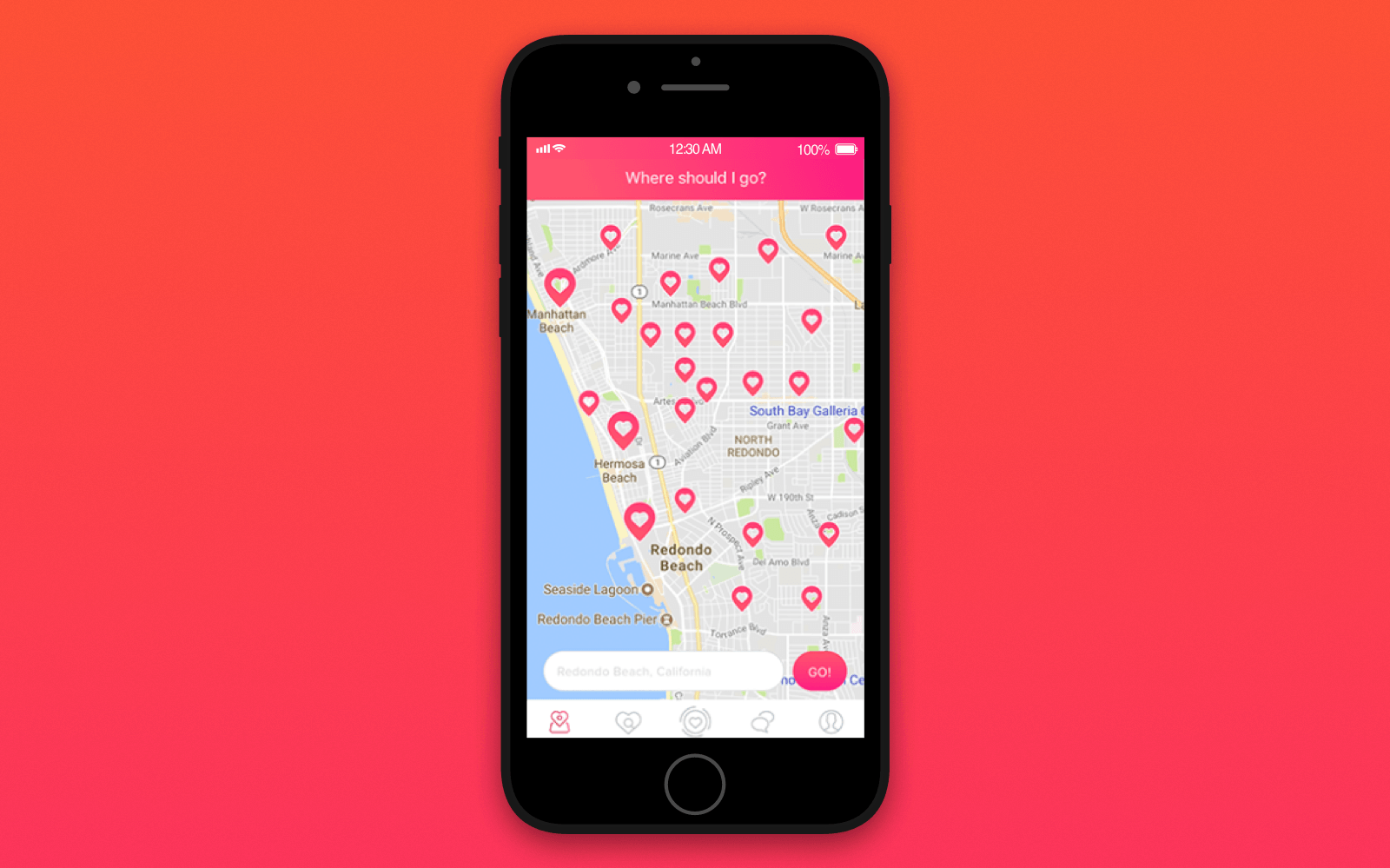 Geolocation feature: find a soulmate nearby you
Matching
Without this feature, there's no dating app development at all. Modern technologies allow developers to integrate AI-based algorithms to activate smarter matches, including all hobbies, location, age, etc. Searching for perfect soulmates becomes more convenient and flexible, so users will quickly see potential candidates they can try to meet.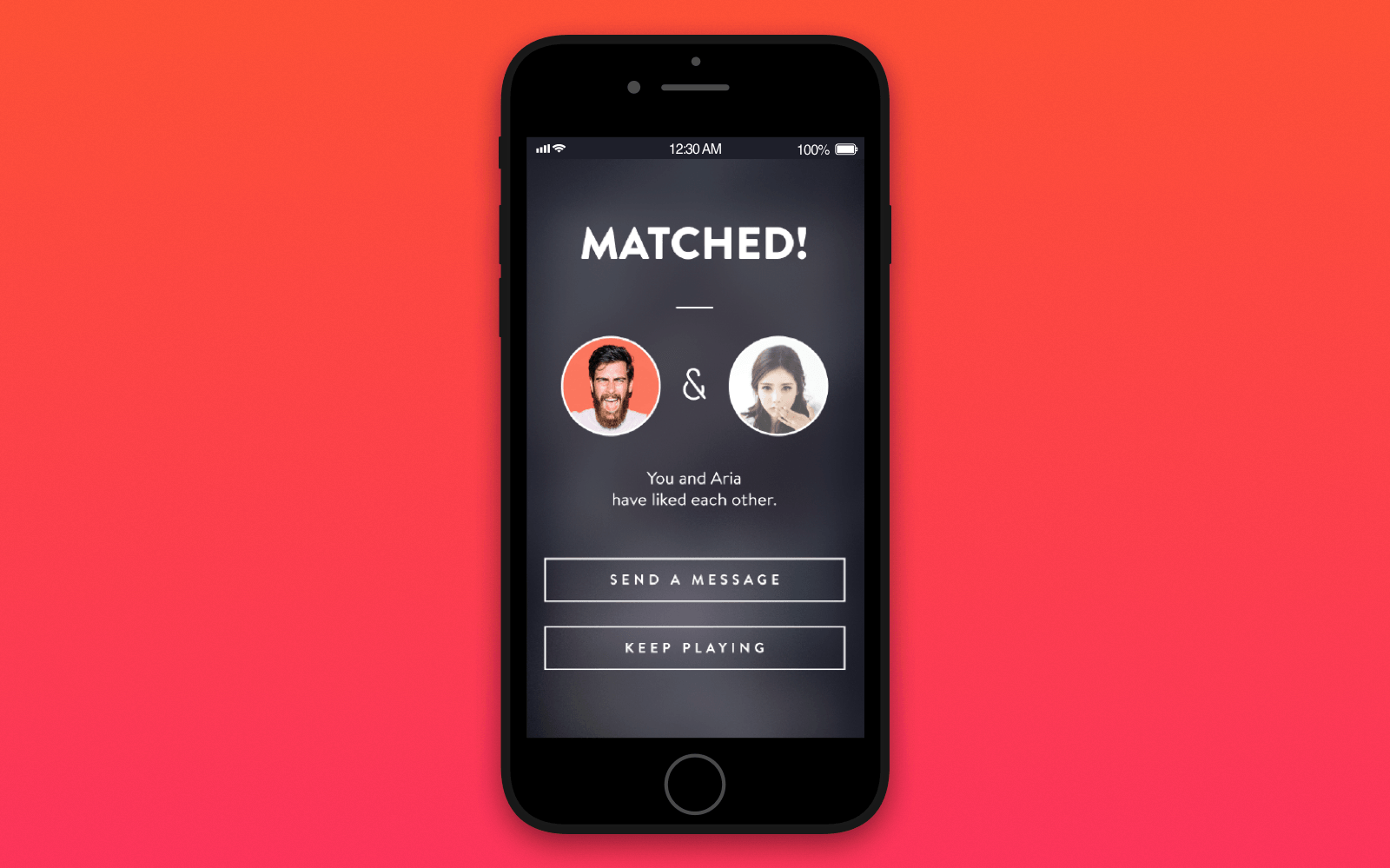 Matching feature in dating app
Chatting
How is it possible to communicate with each other without the chatting system? When users have a match, they can start chatting and get know each other better. Also, it is possible to add stickers and GIFs optionally to make messages more vivid.
Push notifications
Users will see important reminders from the app as well as notifications about matches when they are not in the app. So users will not waste their time and they can switch to chatting with their potential soulmate.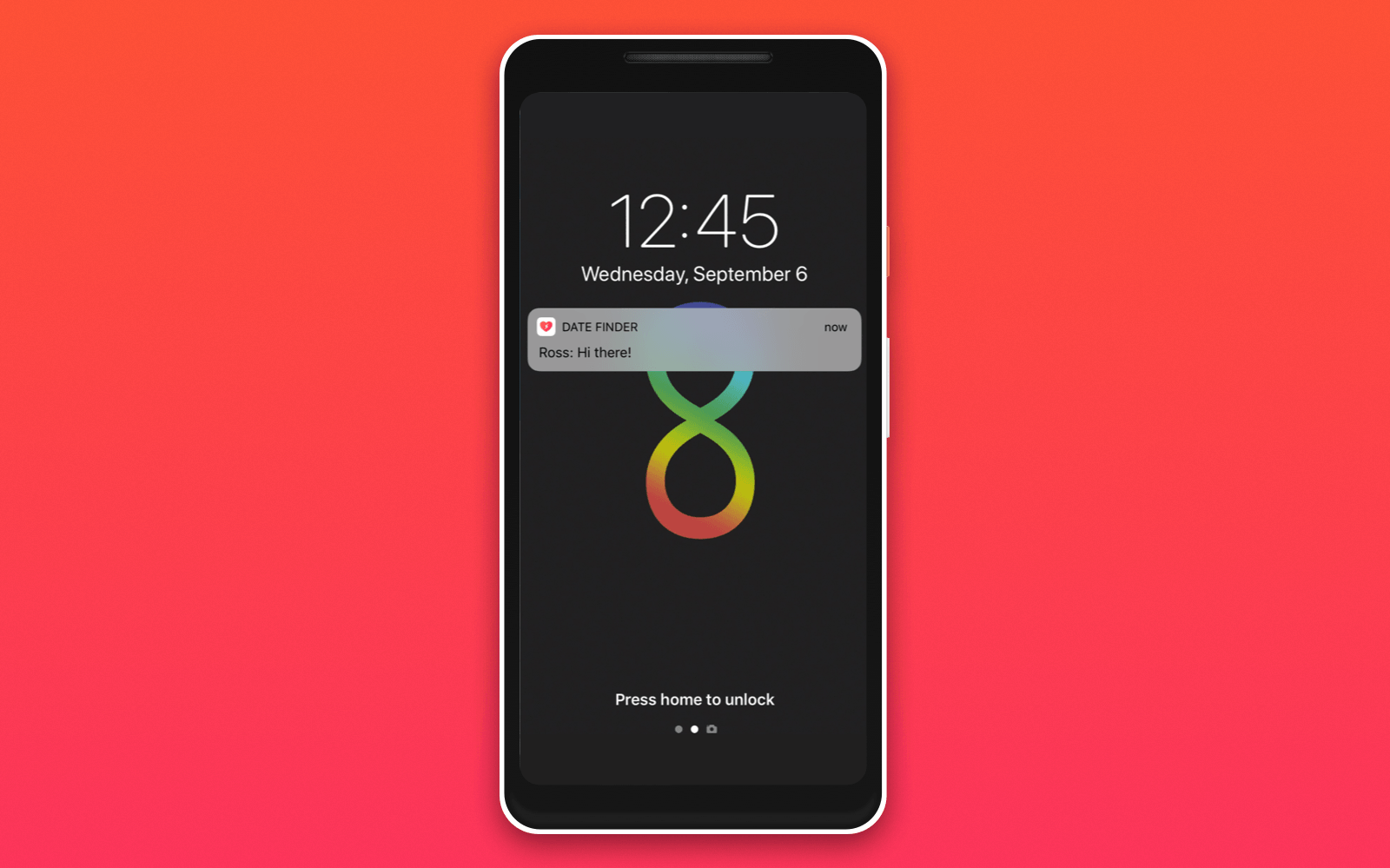 Push notifications in Date Finder app
Swiping
If you build a dating app with the foresight to traditional matching model, then swiping feature is necessary. When you browse photos of women/men, swipe to right side means you like a person, swipe to left means you skip this photo. Everything is simple.
Settings
Settings include main features like select by categories, on/off the sound, customize different filters, and so on.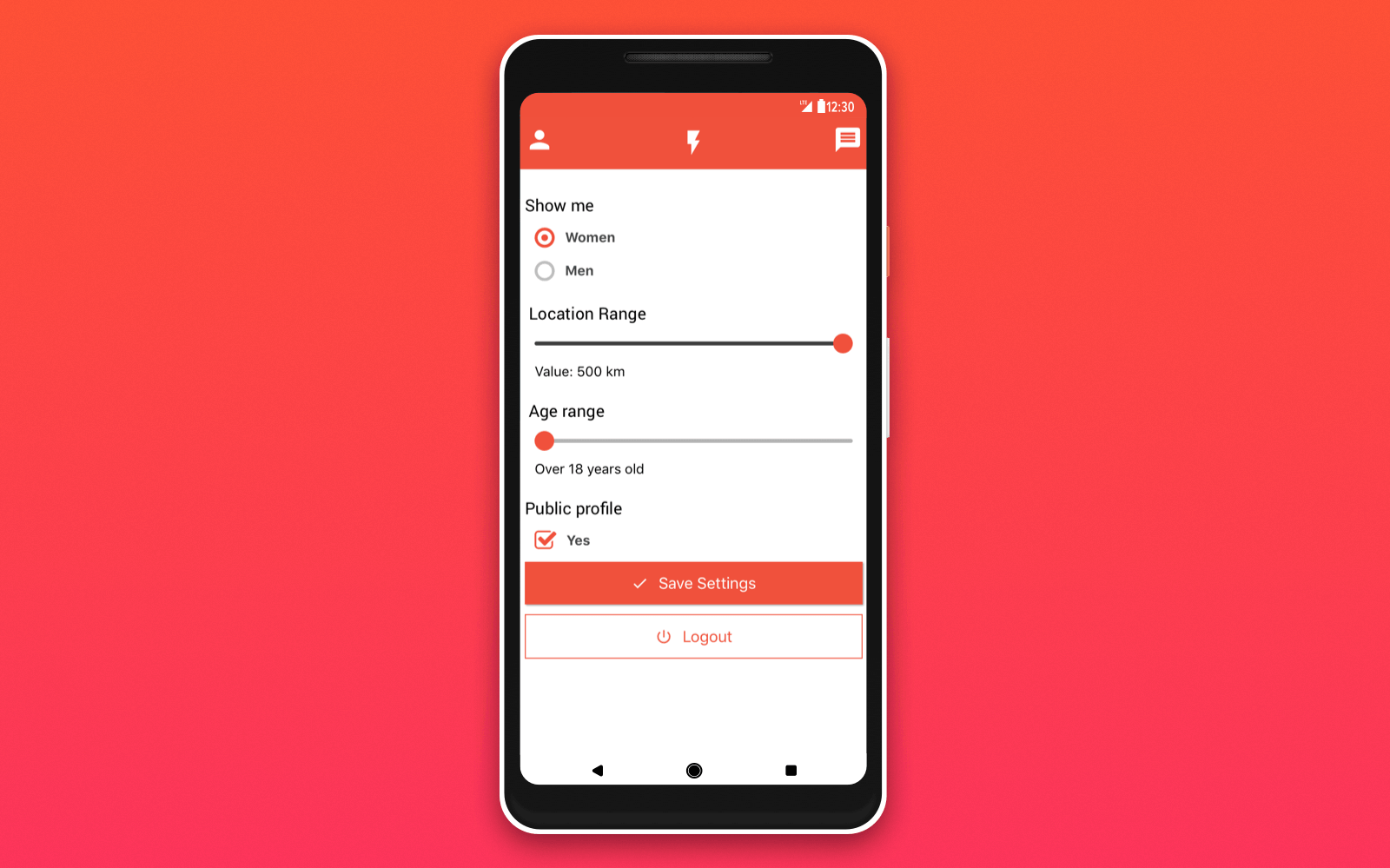 Customize your preferences in dating app with settings
Admin panel
You should have your personal admin panel that you will enter using a common PC. You will be able to block users, solve main issues that may arise, provide an with total control.
User Data Security
When you create your own dating app, data security is essential. Users entrust you their personal data, and you must keep it safe from malware and hackers' hands. That's why your app must comply with modern security standards like GDPR, PCI DSS, ISO 27001, and many others.
Additional Features for Dating App Development
Once you create the MVP version of your dating application and raise the first stable audience, it's time to think about implementing new features that can broaden functionality horizons and bring a new user experience.
AI-powered chatbots
Chatbots are everywhere, and their main purpose is to help people. In the world of dating apps, chatbots are the real icebreakers. They can help pick the first line for conversation with a match. Besides that, a chatbot can notify that there's a conversation left unanswered or a new message arrived.
Video calls
Why restrict conversation ways? Once matches get to know each other well, they can arrange a video call session to chat in person. Besides that, it's a really great feature for far-away matches that can't meet up in real life.
Profile verification
It's always good to know that person you're chatting with is real. Many famous dating apps have verification features that require sending separate photos to moderators that tell you what should be on the photo to verify your identity.
Cost of making a dating app
Of course, you probably want to know how much money you will need to invest in the development of your dating app. This section will highlight everything concerning the price.
We'll take iOS and Android versions of the dating app for our approximate estimate and include each MVP feature development time and Backend work. As for platform type, there is almost no difference in iOS and Android app cost. So, first, we will show you the time required to develop each basic feature for one platform (iOS or Android).
Approximate development time of a dating app.

| Feature | Backend (in hours) | iOS (in hours) | Android (in hours) |
| --- | --- | --- | --- |
| Social sign in | 30-37 | 50-62 | 50-62 |
| User profile | 90-112 | 140-175 | 140-175 |
| Geolocation | 10-12 | 24-30 | 24-30 |
| Matching | 90-112 | 160-200 | 160-200 |
| Chatting | 80-100 | 140-175 | 140-175 |
| Push notifications | 20-25 | 29-25 | 29-25 |
| Swiping | 6-7 | 42-52 | 42-52 |
| Settings | 32-40 | 44-55 | 44-55 |
| Admin panel | 200-250 | 0 | 0 |
Considering the average European hourly rate of $50, we can calculate that the development cost of the dating app for the two platforms will be $160,000. However, it is an approximate dating app development cost since development time always includes meetings, DevOps, QA, Team Lead, designers services, release sequence, and so on. As a result, the final price will be clear only after Requirement Analysts gather all information about the project and draw up the final estimate.
How do dating apps make money?
Nowadays, almost every dating app is free in order to cover a larger audience. We have already discussed a few times that there is no need to make your app paid to generate revenue. A number of widely accepted monetization methods are at the service of savvy app creators. So you need to pick monetization strategies before you start dating app development. To make you aware of them, we've made a short list of ways how you can monetize your app:
Premium apps. The majority of dating apps offer free services to anyone, but some of them use premium app version as well. So you should think about this option to gain a good profit. The premium app can offer a few additional features like the following:
Boost the account. Users can pay a fixed fee and become the first one in the search list for an indicated period of time. Everything is fair. The most popular apps on the market that use this monetization feature are Tinder, Bumble, and OkCupid.
Smart swipe. Integrated machine learning algorithms change the way how users can see your photos. Order of the photos can be changed depending on the interests of the user who browses them. It gives more chances for a candidate. This feature is pretty rare and the only app on the market that uses it is Tinder.
Unlimited right swipes. In a free app, the number of daily right swipes can be limited, so people can use a premium app that will give them an unlimited number of right swipes. You can monetize your app this way, as many famous apps like Bumble and Tinder did.
Ad-free. Premium apps will be ad-free and users will not see any advertising content that may irritate them. OkCupid, HER, and Grindr use this monetization strategy.
Gifts. This feature is for those who are looking for love - that is why users should have an opportunity to send gifts to each other like flowers, kisses, greetings, and so on. It may be offered for a fixed fee. Users can send gifts to their matches in apps like Dating.com, Meet24, and Grindr.
Advertising. The way of monetization for 90% of apps. Integrate different advertising into your app, but don't overfill the app with an ad, otherwise, your users will stop using the app and find another counterpart.
Our Experience
Cleveroad is a praised Ukrainian software development vendor with many years of experience on the market with several successful dating projects. One of them is an iOS-exclusive Greenlight Dating app. Find more details about this project on our portfolio page.

The app is targeted on the US regions where Tinder is not quite popular. It's main idea is to help people find a friend or soulmate using a well-known mechanic. Greenlight also offers chat to matched users and daily questions so that they could learn more about each other.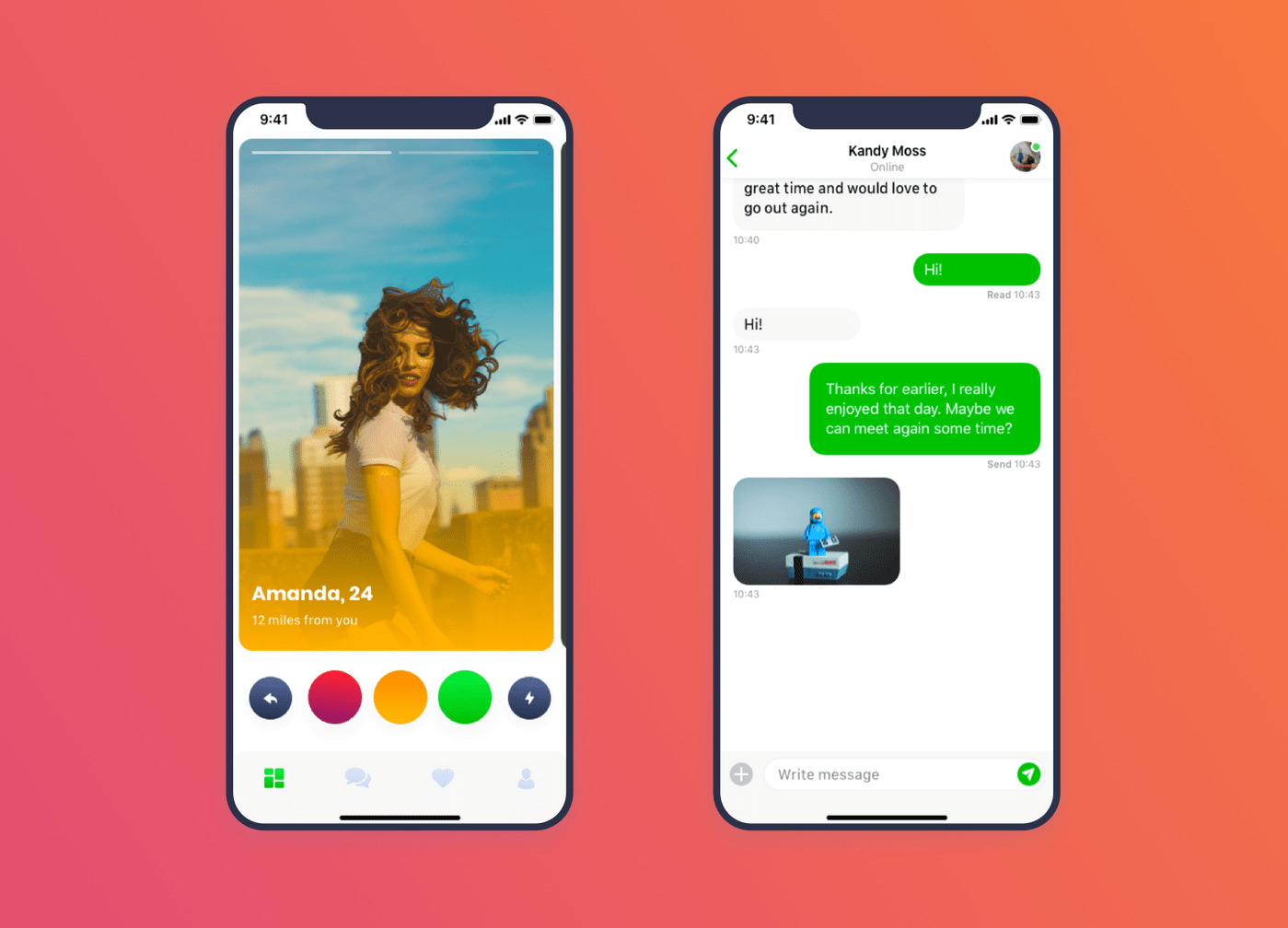 During the whole development of GreenLight app, we stick to a user-friendly design and traffic lights color scheme. Users must press three-color buttons instead of making swipes. The green button is sympathy which is an analog of Superlike in Tinder. The yellow button is a simple like and the red one is a dislike.
The app is currently available on iOS. Our team has used a bunch of technologies to embody the client's idea and deliver a reliable app with great user experience.
You can see the technologies used for this project below.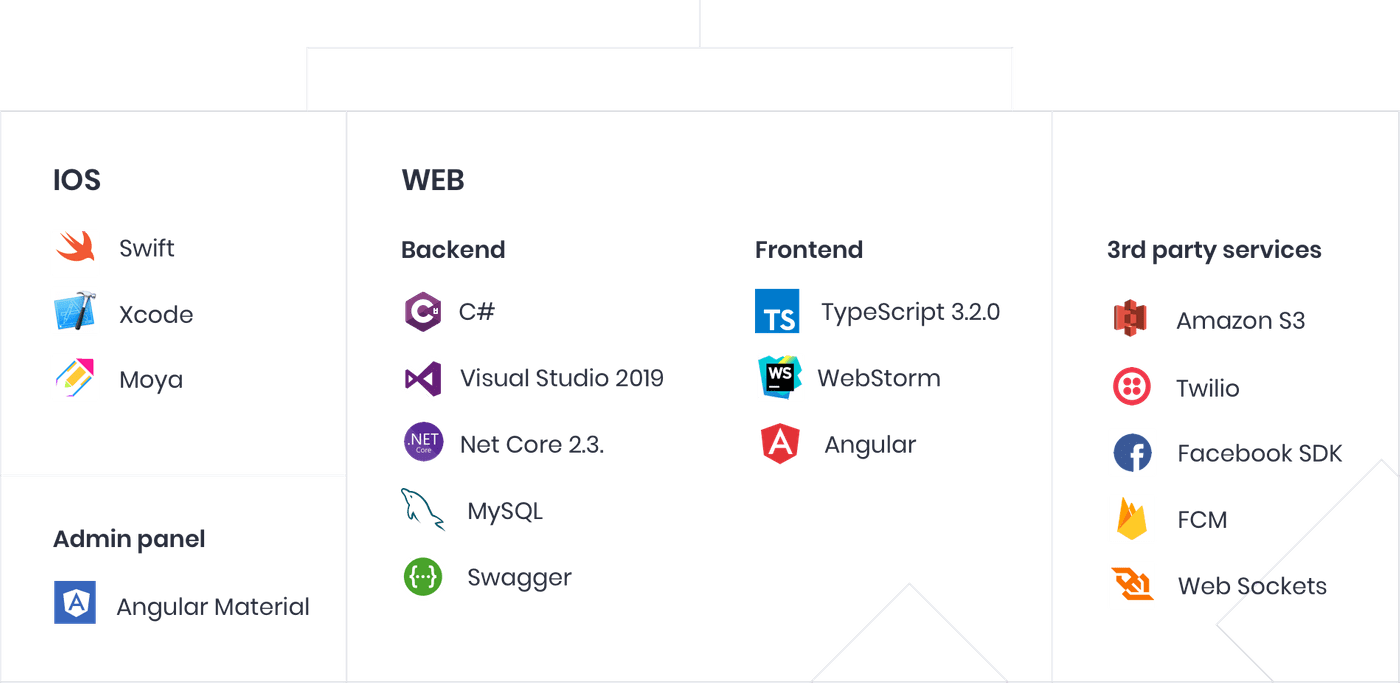 Greenlight Dating tech stack
Of course, today there is a huge number of dating apps which can fit every taste, but imagination has no bounds and we have a great field for the creation of innovations which can make a breakthrough. Being armed with the everything said above, you can enter the competition with your product creating a dating app of high level.
Ready to build a dating app?
Leave the tech part to us. Our specialist will consult you and estimate your project at no charge.
Frequently Asked Questions
The approximate development cost of one dating app for Android or iOS is $160,000 minimum, considering $50 as an average hourly rate. However, everything depends on your requirements and services we will provide you with.
To monetize your dating app, you may use three options like a premium app that includes account boost, smart swipe, unlimited right swipes, and no ads. Then you can provide users with an opportunity to send gifts that cost a specific money amount. Finally, you may add advertising that is the most popular monetization way.
First, you need to find the right and unique niche. That is, you need to give your future users something new they haven't seen before. Then, think about choosing a proper business model for your app. And, finally, make sure your app is bug-free. If everything is done, you may launch your app and succeed.
You need to study the functionality principle of a dating app first. Then, analyze the main advantages your app will provide future users with. Build the structure and design of a dating app, choose a tech stack, add MVP features, and think about monetization types.
The minimum development time of a dating app starts from 330 hours. But it includes basic features only, and the final estimate may be different.
Rate this article!
20495 ratings, average: 4.96 out of 5
Give us your impressions about this article
Give us your impressions about this article