Why Outsource Web Development: Reasons, Rates, and Where to Find a Partner
Well-taught developers want to be well-paid, but not all the projects get enough funding for hiring top-notch local engineers. Along with the cost, there may be not plenty of specialists in your city, or you may be looking for a candidate with a particular set of skills. Or have to deal with strict time-frames.
In all these cases, outsourcing web development services is the best way out. Offshore development costs less, there are more engineers available, and they are often more qualified than locals. But one thing sure: outsourced development may be a bit complicated.
We've created this guide to explain why big enterprises and small startups outsource web development projects, what are the hourly rates worldwide, and where look for the right tech partner.
Why Outsource Web Development?
There are lots and lots of reasons why tech managers, business owners, and startupers outsource web development services. There are several key reasons why offshore development is becoming more and more popular.
Lower Pricing
The first and most powerful motivation is cost savings. Website development in say Eastern Europe will be 2-3 times cheaper than in the USA, Canada, or Australia. (We'll discuss outsourcing development rates a bit later).
So it doesn't matter if you're hiring freelance developers, offshore devs or even outsource website development to a local team – it's cheaper than building your own team of web developers in any case.
Example
Alex Turnbull, the creator of Groove (an online customer support platform), had no funding and tech skills required for launching a SaaS product. So he decided to outsource the entire early development to an offshore agency. Today Groove is a company with $2.5 million annual revenue and more than 6,000 paying users.
Strict Time Frames
If you are working on a billion-worth main project but ready to go for another one, outsourcing its development is the best possible solution. Or, if there are some issues with an existing high-stakes product that must be fixed quickly, hiring an offshore team will take less time than recruiting local devs.
Example
Google, this tech-giant, has been taking advantage of outsourced web app development for years. The company delegates lots of side-projects to remote teams, one of them – phone and email support for AdWords. It's one of their top-growing products, and they are getting the most of it.
Top-Rated Experts at Service
Let's imagine you're looking for a candidate with a particular set of skills like AR & VR developers. They are hard to find and recruit, and if we're talking about just one product – not very cost-effective.
But if you're dealing with offshore developers, there's always a wide range of skilled engineers. That allows you to pick out of the best software development service providers for your project.
Example
GitHub, the most popular platform among developers, was created in 2008 as a way to store, document, edit, and share code samples. But the startup was lacking finances to hire top back-end developers for the project of that scale. As a way out, they turned to the outsourcing model. Now, GitHub has over 24M users and 96M software projects posted.
Better Teamwork, Better Product
Another good reason to outsource web development is a dedicated team of specialists. They will be assigned to your particular project. And each member contributes to creating a first-class solution.
This way, the team more surely meet all the deadlines and make the development go faster. If you're working on a brand-new startup, the faster you launch your product, the better.
Tight Project Management
Once you outsource the development, the IT firm will allocate web developers and assign a project manager to track their progress. This helps with meeting deadlines and making the development process smoother and faster.
Project managers keep in touch with product owners and report to them during the entire process.


Why business owners prefer outsourcing website development projects
Finally, there's no need for business owners to take care of HR operations, hiring, sick days and vacations, taxes, renting an office, and so on.
Outsourcing Web Development Rates
Outsourced web development looks good, right? It's time to find out what regions offer the most attractive prices.
But first, let's figure out the options.
Onshore development. If you don't want to deal with time zones and languages, look for a vendor from your country. For example, if you do business in California, you may outsource the development to Washington.
Nearshore services. That means outsourcing the website development to nearby countries (2-4 time zones in difference). For instance, it may be a US startup that orders services from Canada or Mexico.
Offshore web development. Means delegating the project delivery to a company located overseas – further away than 2-4 time zones. In most cases, offshore cooperation works best in terms of price-quality.
Next, let's check the key outsourcing destination and average hourly rates developers charge there.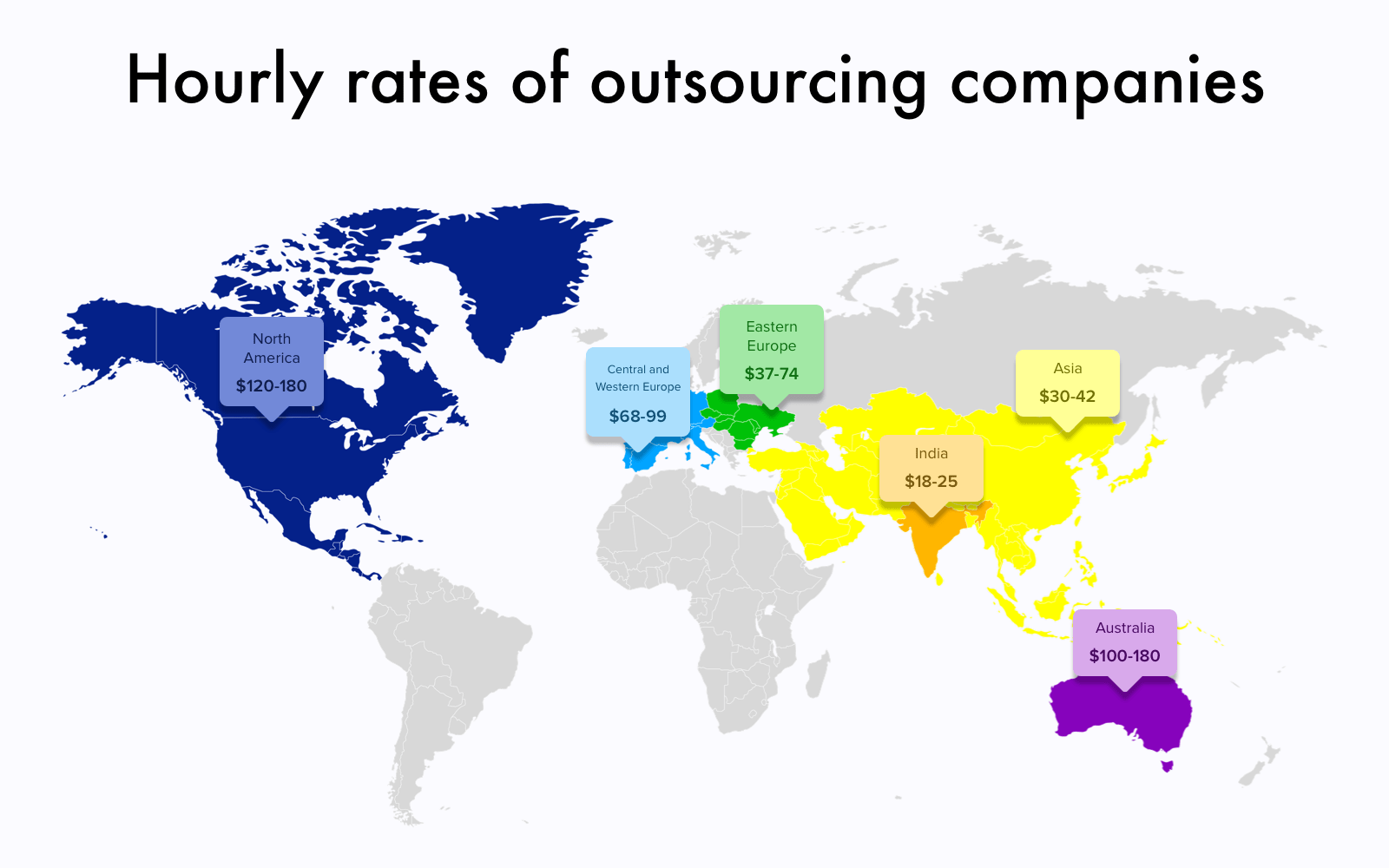 Outsource website development cost worldwide (Sources: Clutch, GoodFirms)
Eastern Europe combines affordable hourly rates with a rich pool of tech talents. The IT sector in this region is constantly growing, so it becomes an attractive offshoring destination.
For example, product owners often outsource web development to Ukraine. Now, there are 598 Ukrainian IT firms registered on Clutch, and most of them have positive ratings.
Where to Find Outsourcing Partners?
Since we've covered the prices and found the best place to outsource web development, time to discuss where and how you can actually find reliable vendors .
Hiring an offshore team may drag some risks. Get a more detailed overview of outsourcing risks and ways to cope with them.
There are several platforms that can help. But we're going to review the best of the best.
Сlutch
Clutch uses its own ranking algorithm to compare companies in various industries, focus areas, and countries of residence. The rankings are based on four criteria:
Number and quality of client reviews;
Company's expertise;
Market presence and awards;
Services offered.
The platform regularly updates companies' rankings. So once an IT firm gets a new award, more clients or high-quality reviews, it get a higher place in the list.
The information provided by Clutch shows whether a company is registered, active, and trustworthy.
Every year Clutch makes a list of top developers. And Cleveroad is proud to be featured in it! Check more details in our short overview.
By the way, if you're an interested buyer, you can take advantage of their free Matchmaking Program. All you need to do is submit your project details and wait for the offers from interested vendors.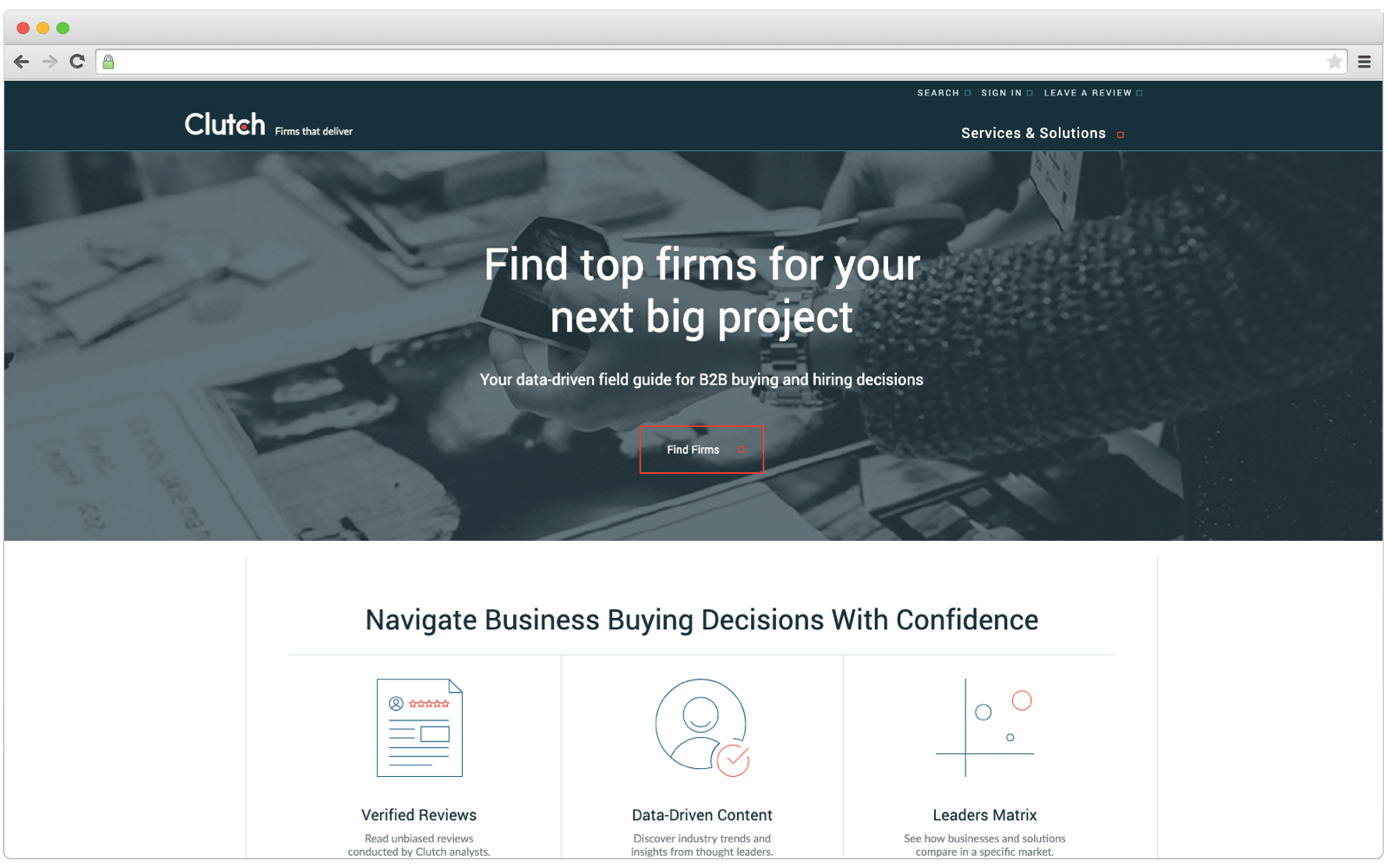 Clutch offers hundreds of best web development outsourcing companies worldwide
GoodFirms
GoodFirms lists the best performing software development companies according to their ranks. It's a free-for-users platform that offers 6,000+ services & software firms, 9,000+ verified reviews, and 600+ validated surveys.
To give a rating, GoodFirms directly contacts IT companies' clients and takes note of their experience of cooperating with the company.
The platform keeps the list of firms that specialize in mobile app development services, web development services, eCommerce projects, blockchain, and many other fields.
So it's win-win cooperation – IT firms have a platform to show their works to the right audience while customers can find a trustworthy company for their business.
GoodFirms is one of the best platforms that helps to outsource web application development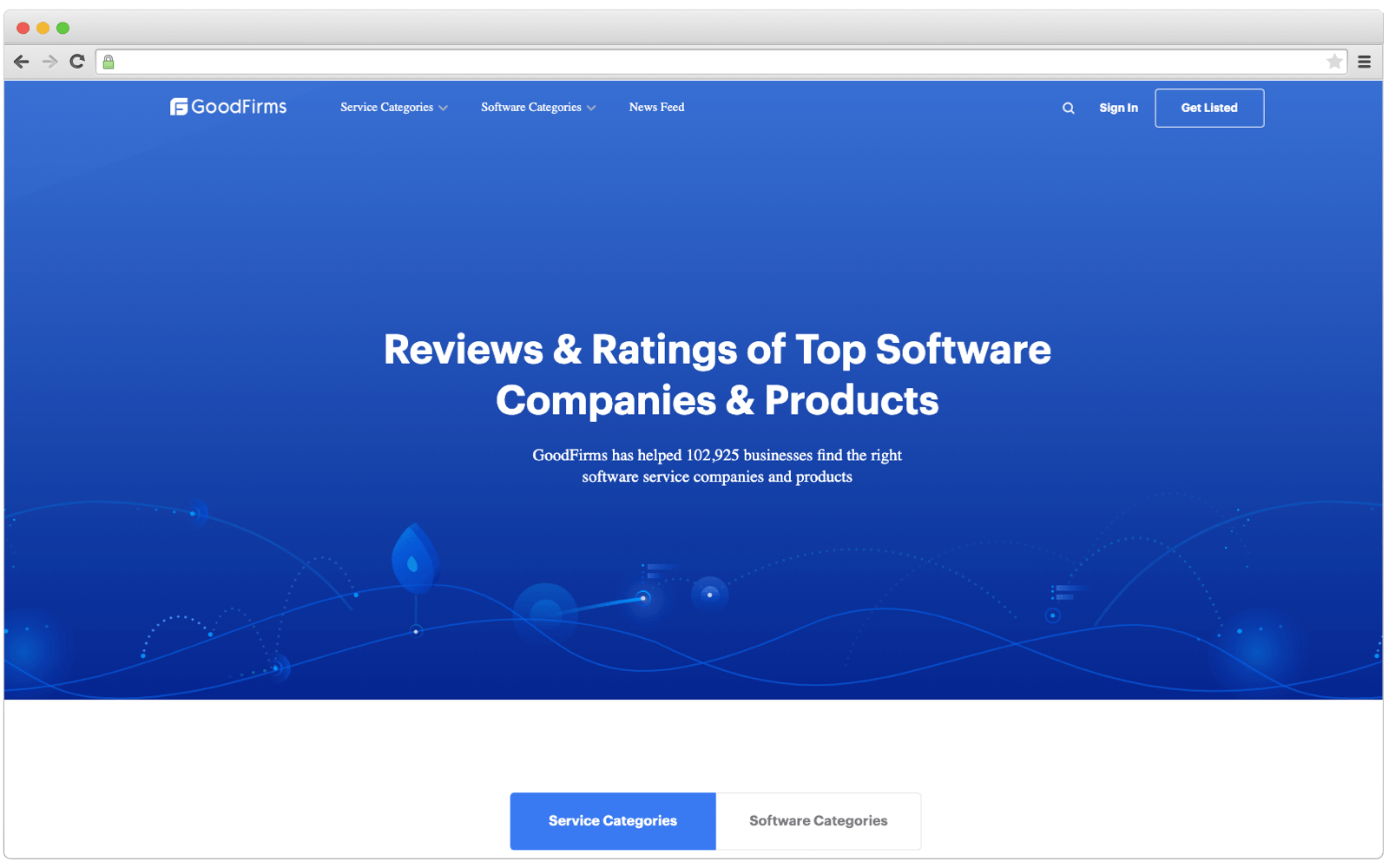 GoodFirms is one of the best platforms that helps to outsource web application development
Upwork
Upwork offers a range of best freelancers and agencies – from web developers to designers and marketers.
Users need to write a clear and concise job post and wait for workers to apply. Then, they review matches and interview candidates via chat or a video call before hiring them.
You can evaluate freelancers and firms by checking their Upwork profiles. Information placed there includes experience, feedback, and lots of other details.
Besides, the platform offers the Upwork Business package that provides access to a team of dedicated advisors. They help to find top-notch developers faster and for reasonable prices.
When you and your outsourced web development team agree upon the price, you can transfer the sum right on the platform using:
MasterCard
Visa
American Express
PayPal
The platform charges a 3% processing fee.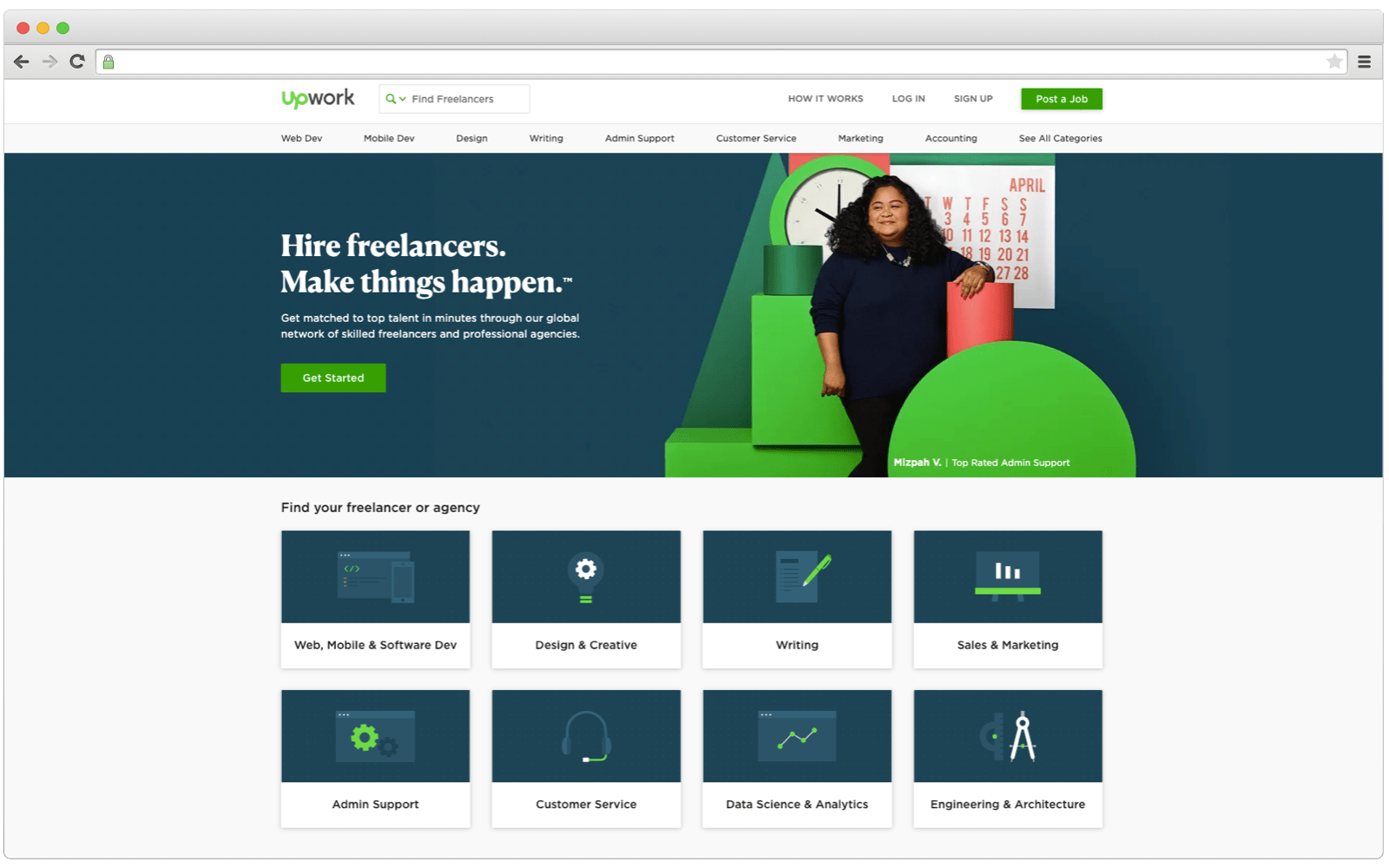 Upwork is one of the best websites to look for freelancers and agencies
How to Outsource Web Development Projects?
Finally, we got to the most important question – how to outsource web development. So here comes our framework using which you can arrange the process quickly and efficiently.
Understand what you want
Before dealing with a web outsourcing team, you should clearly understand (and be able to describe) your goals.
Do you want to get a simple project that supports your place of business? Or you're looking for a platform that is going to be an extension of it?
These are two completely different projects. The vendor needs to know what exactly they're going to deal with.
Only have an idea?
That's enough to start working with us! We'll consult you on each step of the way.
Here's what you can do to make the process faster and even cheaper:
Make a full description of your future website;
Define what features you want to include, what are the business goals, and so on;
Come up with the budget you can spend on the web project.
Look for a proper vendor
Once you've decided what you want to get from a business and tech perspective, it's time to select an outsourcing web development company. You may go to one of the platforms I've mentioned or check our list of 15 best software outsourcing companies.
To evaluate the vendor's experience, check the following points out:
Company's portfolio;
Tech specialization and capabilities;
Ratings and reviews, number of years on the market;
Company's profiles like GitHub for code samples;
Behance and Dribbble for web design.
Then you can make a list of the best outsource web development companies you're most interested in and get in touch with them.
Once you decide on the vendor, there are other important points to check:
Learn more about the company's workflow: ask what methodologies they use, clarify QA testing and bug fixing questions, discuss support and maintenance;
Pay attention to the communication flow: what is their level of English, how clearly they present information.
Ask for recommendations and references.
Here's a tip: don't go for the first website development outsourcing company that promises to deliver your project in two weeks and for two bucks. Software developers with decent experience will ask lots of clarifying questions related to your product before coming up with tech solutions.
At this stage, it may be the time to sign an NDA & draw up a contract. They protect both your investment and the web developers' interests.
Then, you need to agree on payment terms and cover other organizational questions.
Discuss a meeting routine
During the website development, you will surely want to keep in touch with the outsourced web development team. Luckily, there are lots and lots of tools that can help – Skype, Slack, Facebook Messenger, and WhatsApp.
Still, they can't fully help with monitoring the workflow. It's better to also use tools like InVision (web design sharing), JIRA, GitHub and Confluence.
Besides, in most firms, there's a project manager who controls the workflow and reports to you. This person will mind all your comments and answer all questions, just don't hesitate to ask.
The next thing to arrange is the meeting schedule. For example, in the beginning, you may ask for daily meetings to get constant updates on how the development goes.
And mind that web developers won't be able to deliver the expected result without proper communication with product owners.
Plan forward
Once the website is up and running, don't hurry to cut ties with the outsourced web development agency. Sometimes things go wrong and keeping good relations with your vendor will ensure that any issues like bugs will be resolved quickly.
And there's another good case. Let's say you decide to continue the website development, move to the second phase. No one will be able to deliver it faster and with fewer resources than the team who worked on the project initially.


Outsourcing web app development: step-by-step
Why Cleveroad Is a Good Tech Partner?
Cleveroad is an Eastern European mobile and web development company that provides high-end services for reasonable prices. We deliver software solutions of any size and aim at productive long-term relationship.
What can we offer?
Experience in offshore and nearshore development for any-size companies and projects;
Flexible way of communication that adapts to your requirements;
No expenses on lecturing and training;
Flexible specialists that follow your schedule;
Developers that constantly work on their self-improvement, eager to learn and up for challenges.
Take a few minutes to check out Clutch, GoodFirms, and Upwork profiles with examples of work and client reviews.
If you want to learn more about us, drop us a line! Our managers will get back in less than 24 hours.
Frequently Asked Questions
There are several steps that'll help you to outsource web development and make no mistakes:
Step 1. Understand what you want
Step 2. Look for a proper vendor
Step 3. Discuss a meeting routine
Step 4. Plan forward
Outsource web development can bring several benefits which you should be aware of:
Lower Pricing
Strict Time Frames
Top-Rated Experts at Service
Better Teamwork, Better Product
Tight Project Management
There are several regions where to you can outsource you web development:
North America ($120 - 180)
Central and Western Europe ($68 - 99)
Easters Europe ($37 - 74)
India ($18 - 25)
Asia ($30 - 42)
Australia ($100 - 180)
Rate this article!
818 ratings, average: 4.79 out of 5
Give us your impressions about this article
Give us your impressions about this article