Telemedicine App Development: Costs, Features, and Pitfalls
Statista's report shows that the global telemedicine market will grow almost four times in six years. This means that healthcare will inevitably go online. But what benefits does telemedicine bring to businesses?
Telemedicine lets both doctors and patients to simplify the consultation process and always keep in touch. Doctors running a private medical practice no longer have to rent a working space, while hospitals can reduce the readmission rate. Besides, both of those healthcare providers gain a new powerful channel for distributing their services.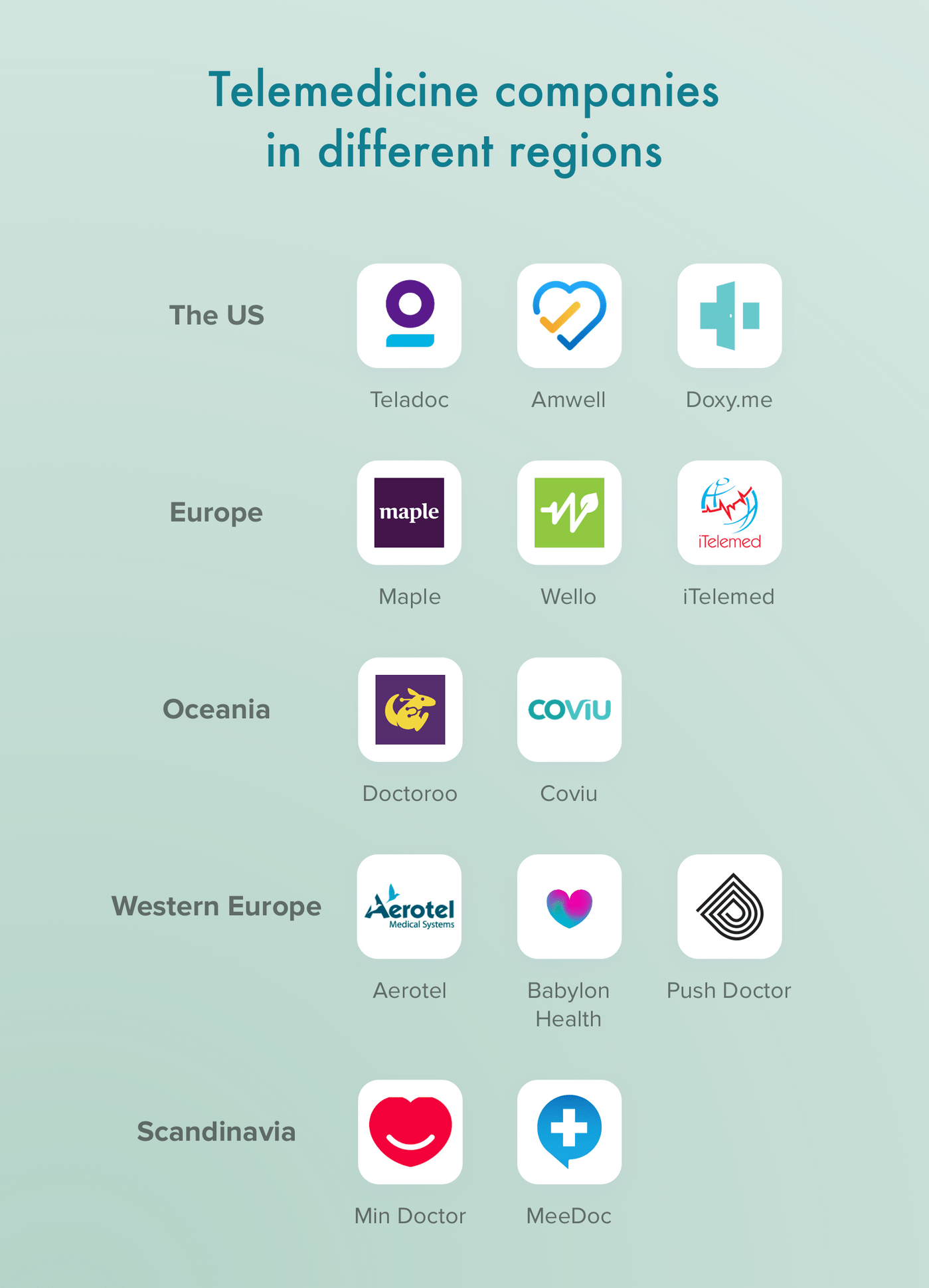 Top favorite telehealth companies in different regions
Keep up with this article to know more about telemedicine app development, its cost, and features.
How Do Telemedicine Apps Work?
First things first: you have to understand what telemedicine really is.
Simply put, telemedicine is a method of delivering healthcare services to patients remotely. There are three main things that patients and doctors need to use telehealth:
Custom software
Camera
Microphone
Software is responsible for connecting physicians with patients and storing EHRs. The camera is used to examine patients, and the microphone is used for voice chat. However, telemedicine app development solutions can be divided into different types.
Online video conference. The most common type of telehealth app. It lets doctors examine patients via the camera of their devices. Sometimes patients already know what stands behind their symptoms, so they just need a confirmation of the diagnosis. Instead of going to the hospital and waiting in lines, patients can simply reserve an online appointment with a doctor.
Treatment advice. This type applies to patients who already have a treatment plan. In case users have any questions concerning their treatment, like a drug schedule, they can text their doctors. Text messages don't distract doctors from other clients, so these messages are prioritized. For any more serious question, these apps usually have a voice call feature.
Prescription management. This type allows patients to get drug prescriptions online. Technologies behind telehealth apps store users' EHRs, so physicians can decide on prescriptions based on medical history. The only thing users have to do is to apply for a recipe and wait until this appliance is submitted. Then, they can come to the pharmacy with a printed prescription or simply show it on their devices.
Why Develop a Telemedicine App?
Now we're clear with the concept of telemedicine. However, what are the benefits of this software for both patients and businesses? Let's single out each of them.
Reduced Healthcare Costs
With remote healthcare services, businesses don't need to rent a working space. Thus, more self-employed and experienced doctors can offer their services. Previously, they've worked in a company, but telemedicine app features allow them to become independent and provide services on their own. Startups like Doxy.me allow physicians to provide telemedicine services on a subscription basis. Thus, doctors don't need promotion because of the in-app rating system. With more self-employed doctors, the competition on the market rises. And it's a well-known fact that the competition brings higher quality service at a lower price.
Self-employed doctors aren't the only one who can benefit from telemedicine app development. Clinics get higher customer flow because patients don't have to wait in lines, and the overall consultation process becomes faster. Thus, hospitals can earn more revenue in shorter terms.
Time-Efficient Treatment
In a conventional hospital, some doctors are working, while others may have a day off. A complex health screening could take several weeks and hours spent on commute. But not with telemedicine.
How to build a telemedicine platform that saves time for your customers? Let users book an appointment with a doctor at a convenient time without even leaving their house. The consultation starts right in time, so you can plan several appointments in a row.
Easier Access to Healthcare
Telehealth apps can be of great use for people who live in distant, rural areas. If there are no healthcare facilities nearby, it's enough to have an app and a cellular network or WiFi. Besides, people from countries with a low level of healthcare can get consultations from foreign physicians.
Effective Time Management for Doctors
Both self-employed doctors and employees at hospitals and clinics can effectively manage their time. With the help of in-app schedule and push notifications, doctors won't miss any appointments.
As for the companies, they can sync CRMs with the software during telehealth app development. This telemedicine app feature provides an extended functionality both to administrative staff and for doctors. Administration can track the doctors' workload to maintain their work-life balance, while doctors can apply for sick days and shift changes via the app.
Convenient Access to EHR
Telehealth software keeps EHRs (electronic health records), so that doctors could access them on demand. A single place for a patient's clinical records saves the doctor's time. Patients can also keep updated about the amendments made in EHR. The only issue is security. Health record leaks are unacceptable, and one mistake can lead to enormous fines. We'll discuss the safety issues later on.
Technical Side of Telemedicine App Development
How to build a telemedicine platform? You have to come up with a feature list and decide on tools for telemedicine software development. Any telehealth app should have a physician's side and a patient's side. They will have different feature sets according to their roles.
Telemedicine App Features for Patients
The patient's side should have features like registration, video/voice calls, uploading EHRs, and more.
Now, we'll single out each of them.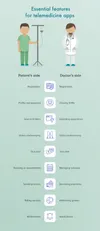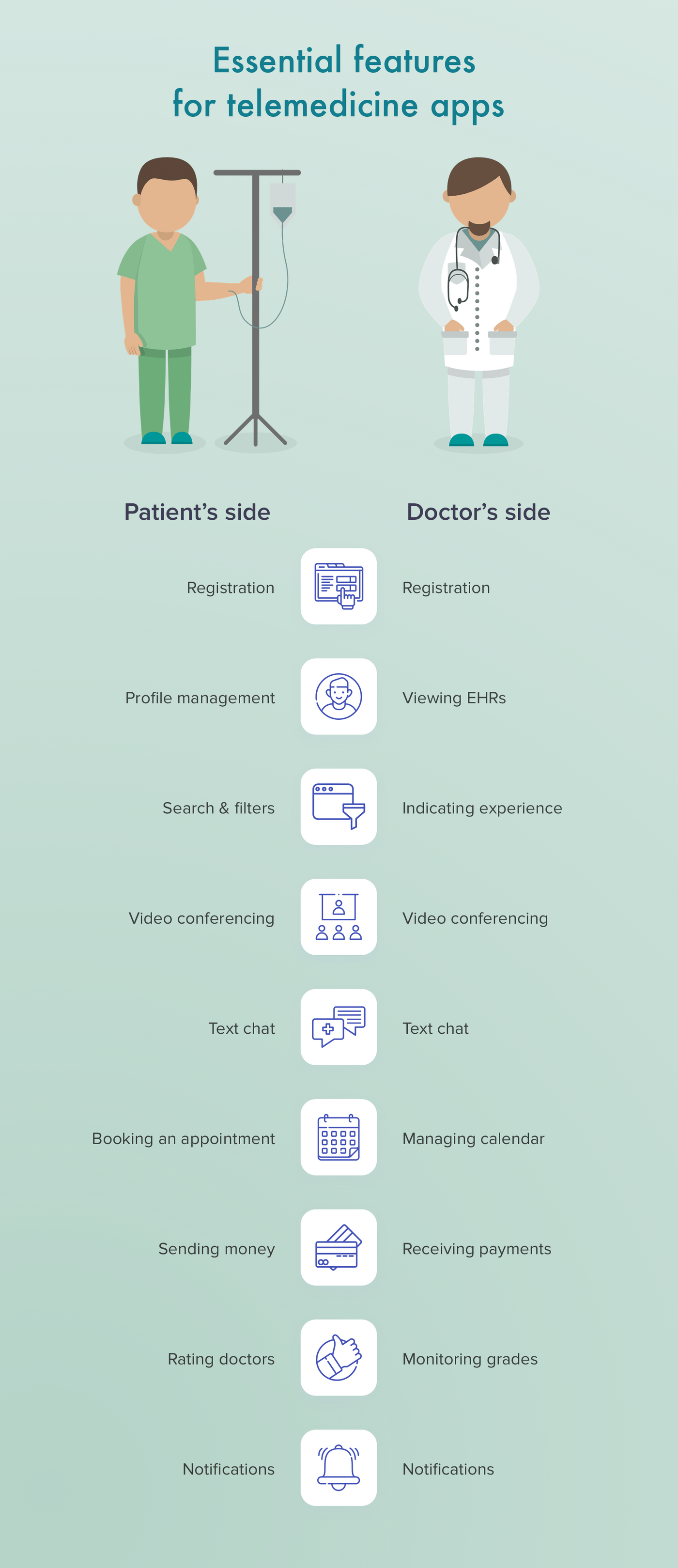 Must-have features for both doctor's and patient's side
First and foremost, sign-in feature. The personal account is required because telemedicine apps store a lot of personal data, like EHR. Besides, it's more convenient to monitor appointment schedules in-app rather than keeping them in mind. Patients can sign-in via email or with the help of third-party tools, like Facebook Login and Google Sign-In. However, personal accounts have to be secured, so take care of two-step authentication via SMS or email.
After the registration, a user has to set up their personal profile. It includes general personal data like name, gender, age. The most important data in a profile is the user's EHR. With the help of it, doctors can assess patients' health conditions and look through their previous treatment history. Mind that this information is private and should be available only to doctors and the owner. HIPAA regulations prohibit the access to EHR of unverified third-parties, so take it seriously.
Search algorithms will help patients find the right doctors. With the help of filters, users can search according to medical specialty, proximity, language, rating, and more.
A key element in telemedicine app development. The video should be transmitted in the highest possible quality so that the doctor could see possible traumas and symptoms. Audio should also be loud and clear. Needless to say that every user has a different internet connection, so your app has to adjust the video quality automatically to avoid bufferization. Still, you have to optimize the real-time connection as best as possible. Streaming protocols like RTMP (Real-Time Messaging Protocol) and WebRTC (Web Real-Time Communication) are great telemedicine technologies examples for building a video chat.
When there's no need to make video calls, users can send a text message to physicians. This is an option for solving minor issues because text messages don't require a separate consultation. Video calls can distract the doctor from other patients, while text messages can be answered in spare time. Attachment of photos and files is a great addition to the text chat. As for the tools, Twilio is a platform for building live chats for applications. Twilio has recently become a HIPAA-eligible platform, so it's safe to use it for telemedicine app development.
The in-app calendar allows patients to monitor and manage appointments with physicians. In case users need to reschedule the consultation, they can make changes right in the calendar and wait for the doctor's approval. The schedule can be synced with Google Calendars with the help of Google Calendar API. Thus, users will receive notifications from Google Calendar and see the specified dates with the help of a widget.
A vital feature for any telehealth app development process. You can choose between a custom payment service or a third-party system. Either way, mind security matters. Before using third-parties, you have to conduct a research and choose a reliable provider. When building your own payment system, follow every up-to-date data regulation and security protocol.
As for the payment gateways, Stripe, Braintree, and PayPal are the most popular telemedicine app development solutions on the market. They grant high-speed transactions and secure payments. However, the breaking point of third-parties is fees.
Most popular payment gateways rates

| Service | Stripe | Briantree | PayPal |
| --- | --- | --- | --- |
| Standard fee | 2.9% + $0.30 per transaction | 2.9% + $0.30 per transaction | 2.9% + $0.30 per transaction |
| Supported countries | 39, including UK, USA, Australia, Westen and Central European countries | 46, including USA, Canada, Australia, UK | 202, including USA, Canada, Australia, UK |
| Chargeback fee | $15/transaction | $15/transaction | $20/transaction |
Usually, third-party systems can meet all the business needs. However, if you plan to build a custom payment system, it's better to hire a professional software development company.
Rating systems, reviews, and grades will help patients to find a trustworthy physician. You can make an Uber-like scale of one to five. Users can rate the doctor after their appointment and leave a short comment. A telehealth app's top priority is the client's health, so think about penalties for indecent doctors. Again, you can follow Uber's example. If the doctor has a grade of three or less, they are asked to improve the quality of service. If nothing changes in a period of time, the account gets banned.
Clients can also get grades. If an appointment was scheduled, and the patient never appeared, the doctor might put them a grade of one for the wasted time.
If you've decided to give up on sync with Google Calendar, you definitely need to develop notifications for your app. They'll remind users about appointments and keep up with the updates of your app. Firebase Cloud Messaging is a platform that helps you to send notifications from your server to users' devices.
Telemedicine App Features for Physicians
The doctor's side also has some specific telemedicine app features. Some of them are similar to the patient's side, while others are different.
Let's take a closer look.
Here, physicians have to specify their specialization, medical competencies, experience, and more. The more information doctors provide about themselves, the more credible they become for clients.
Telehealth technology tools allow you to give the doctor an admin role in the patient's calendar. This way, it'll be easier for doctors to place the appointment in their schedules. Plus, there will be one less issue for the client. In case if a patient has to postpone the consultation, they have to leave a request for a doctor and wait for feedback.
Unlike patients, doctors should be able to browse through their clients' EHRs. Make sure that doctors can't download EHRs from your database. In case they lose the phone with this sensitive data, both of you will be fined.
Telehealth app development requires a two-sided communication between patient and doctor. Doctors should be able to text patients to inquire about the treatment process and health condition. In case a patient needs a planned physical examination, the physician should be able to arrange appointments independently from the client.
Technologies Behind Telemedicine Apps
As it comes clear, there's plenty of telemedicine app features to develop. But what are the technologies behind telehealth, and how can you make your app even better? The majority of current development trends can come in handy during the telemedicine app development. Artificial Intelligence, the Internet of Things, Cloud technologies, and more can be applied to your project. Let's discuss these use cases in brief.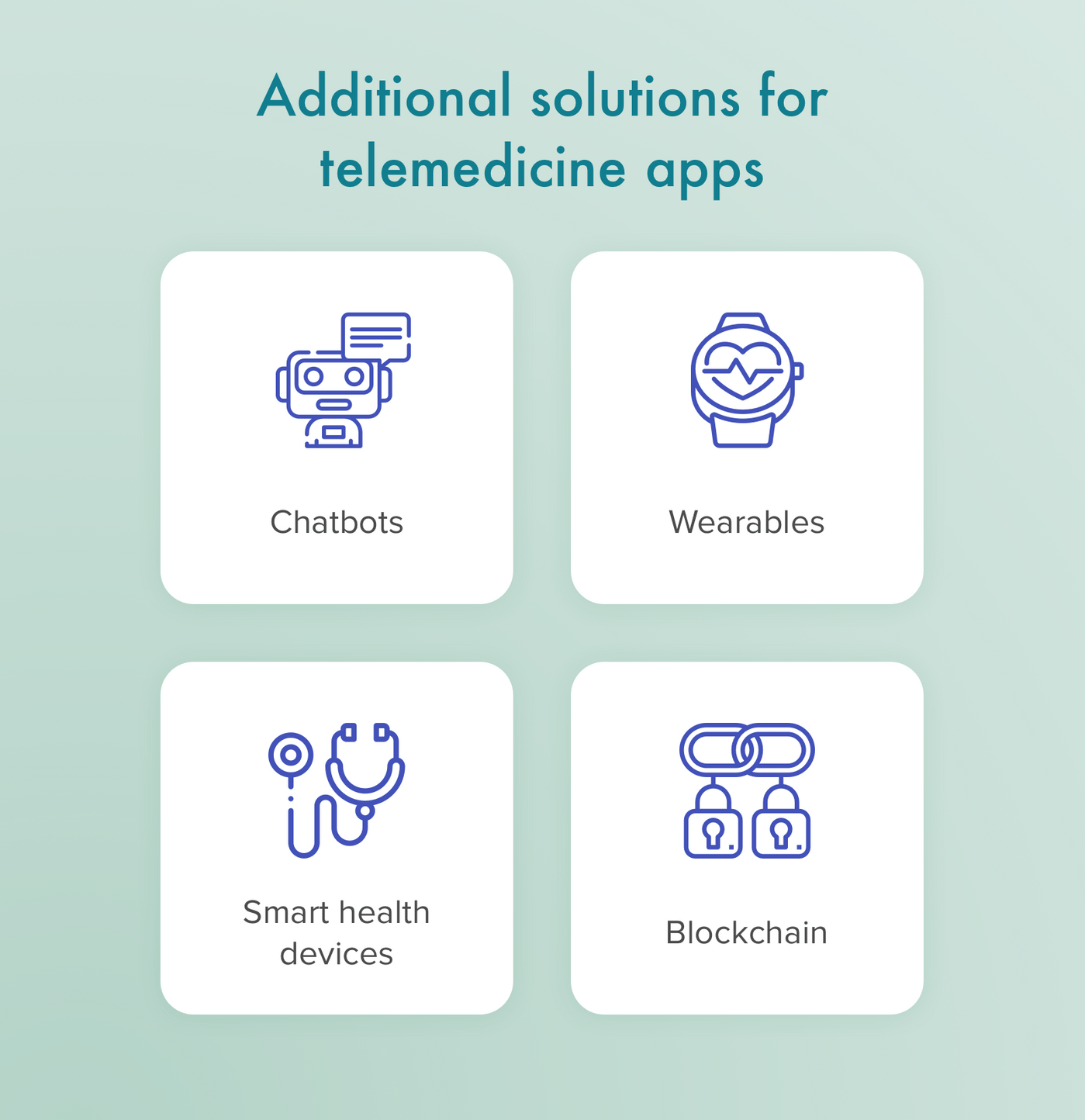 Technologies that perfectly combine with telemedicine
Chatbots are the most promising use case of AI in telemedicine. It's obvious that doctors can't always be available. A simple FAQ chatbot can answer users' questions about the doctor's schedule, competency, and more. If a patient doesn't have any specific requests, chatbots can even reserve a consultation. Of course, chatbots can't prescribe medicines or set up a treatment plan, but they can automate some routine processes and simplify the doctor's workflow.
The Internet of Things is another telehealth technology example. With the help of wearables, doctors monitor a patient's condition and get urgent notifications in case of emergency. Fitness trackers, stress meters, scales, and more allow doctors to gather the patient's health statistics and adjust treatment plans according to the data. Smart drug dispensers allow physicians to set a pills schedule without involving the patient. A dispenser will send notifications to the user's phone when it's time to take pills.
When thinking about storage for all the gathered data, you have two options: cloud vs. on-premise. With an on-premise model, you'll have to rent a place for servers, buy the hardware, and build a fault-tolerant network. Eventually, you get storage that you can manipulate and scale as you want. However, the expenses are way bigger than they would be with cloud storage.
With Amazon S3, you can get a gigabyte of space for $0,022 per month. Even though the price depends on your region and the amount of space you need, it's still significantly cheaper than renting and maintaining your own servers. Plus, you don't have to build a security system from scratch. Amazon made everything for you.
Blockchain technology allows patients and doctors to share the data in a secure encrypted format. Considering the sensitivity of the data, blockchain becomes an answer to the question: how to make a telemedicine app more secure? Healthcare professionals currently focus on health information exchanges through distributed networks to seamlessly share patient information.
Technical Stack for Telemedicine App Development
We're clear with technologies that can make your app even better. But what about the telehealth technology tools? Various programming languages, frameworks, third-party tools, cloud storage, are used during telemedicine app development.
Here are the tools that can be used for telehealth projects:
Mind, this tech stack is approximate and based on the features for doctors and patients listed above!
Kotlin, Java (Android)
Swift (iOS)
Programming language: Node.js
Videoconferencing: RTMP, Twilio, WebRTC
Chat: Twilio, Socket.io
Database: MySQL
APIs and frameworks: Stripe, EC2, S3
Search & filters: Elastic search
Mailing: Elastic Emails
Geolocation: Google Maps Platform
Notifications: Firebase Cloud Messaging
Telemedicine App Development Cost and Examples
Since you already know all the features and the tools for telemedicine app development, it's time to know the price to build a telemedicine software.
Remember: this price is approximate. It varies according to your business needs and features. The total price is specified for two mobile platforms and web development.
At first, take a look at the price for the development of patients' features.
Patient's side

| Features | Approx web development time | Approx mobile development time | Approx Cost ($) |
| --- | --- | --- | --- |
| Registration | 12 | 26 | $1,900 |
| Profile management | 13 | 40 | $2,650 |
| Search & filters | 9 | 20 | $1,450 |
| Video conferencing | 97 | 113 | $10,500 |
| Text chat | 90 | 209 | $14,950 |
| Calendar | 25 | 138 | $8,150 |
| Prescriptions | 17 | 50 | $3,350 |
| Payment system | 26 | 100 | $6,300 |
| Rating system | 8 | 28 | $1,800 |
| Notifications | 12 | 36 | $2,400 |
| Frameworks | 17 | 10 | $1,350 |
| Total | 326 | 770 | $54,800 |
Now, we proceed to the price for physicians' features and admin page.
Physician's side and admin page

| Features | Approx web development time | Approx mobile development time | Approx Cost ($) |
| --- | --- | --- | --- |
| Registration | 12 | 12 | $1,200 |
| Profile management | 14 | 28 | $2,100 |
| Video conferencing | 41 | 54 | $4,750 |
| Viewing EHRs | 18 | 36 | $2,700 |
| Calendar management | 26 | 42 | $3,400 |
| Payment system | 11 | 10 | $1,050 |
| Rating system | 13 | 12 | $1,250 |
| Admin page | 62 | - | $3,100 |
| Total | 197 | 194 | $19,550 |
As you can see, a full-fledged telemedicine app is a costly project. It will take around 1,500 hours of development time to build such a software. With a rate of $50/hour, the development will cost you around $75,000. However, the price is approximate, so it's better to contact a software development company for a personal estimate.
Examples of Telemedicine Apps
Some healthcare providers went online a long time ago. Entrepreneurs realized all the benefits of remote healthcare services for both doctors and patients. We're going to discuss the best examples of telemedicine app development to learn from their experience.
Doxy.me is a free telemedicine software for patients. The company was founded in 2013 and reached the annual revenue of $42.5 million. It has both web and mobile versions, so clients can see their doctors from anywhere. It's equipped with AES 128 Bit and SHA 256 algorithms for video and audio encryption. Doxy.me doesn't keep patients' health information, so it has no HIPAA issues.
As for doctors, there are two different plans. Self-employed physicians have to pay $35/month or around $350/year, while clinics have to pay $50/month for each provider or approx $500/year plus $300 for the initial setup for clinics. Doctors can consult patients in video conferences or via text chat. This software also has a waiting room, so the doctor can see how many people are waiting for the consultation.
Teladoc is another telemedicine app available in the US only. It was founded in 2002 it's currently the largest provider of telehealth services with the annual revenue of $605,5 million.
Teladoc has a number of telemedicine app features that improve user experience. Apart from video/audio calls and text chat, Teladoc allows users to add family members to their accounts. This way, users can schedule visits for every family member from a single account. Users have to describe the reason for the visit and attach several pictures that highlight the issue. Patients can also choose the nearest pharmacy. When they get a prescription, it'll be automatically sent to this pharmacy.
At the end of the visit, customers get the doctor's medical opinion, invoice, and prescription. Teladoc doesn't have a fixed price plan. The cost varies depending on the type of visit and the patient's health plan.
Amwell is a close rival of Teladoc. It connects healthcare providers, patients, and insurers in the US and globally. The company was founded in 2006 by Ido Schoenberg and reached revenue of $75 million.
Amwell offers a full set of healthcare technologies used in telemedicine, combining pediatrics, telepsychiatry, urgent care, chronic disease management, and more. This solution allows customers to browse through the profiles of all physicians in particular organizations. It also provides some additional telemedicine app features like the support of users who are trying to quit smoking, and breastfeeding support. Because of the variety of services, Amwell doesn't have a unified price. Each service costs differently, so it's better to see prices on Amwell's official page.
Pitfalls of Telemedicine Apps
Despite a ton of advantages for businesses and users, telemedicine app development has some pitfalls that you should be ready to deal with. Strict security requirements and some limitations are discouraging entrepreneurs from getting into this niche.
Let's figure out the main problems.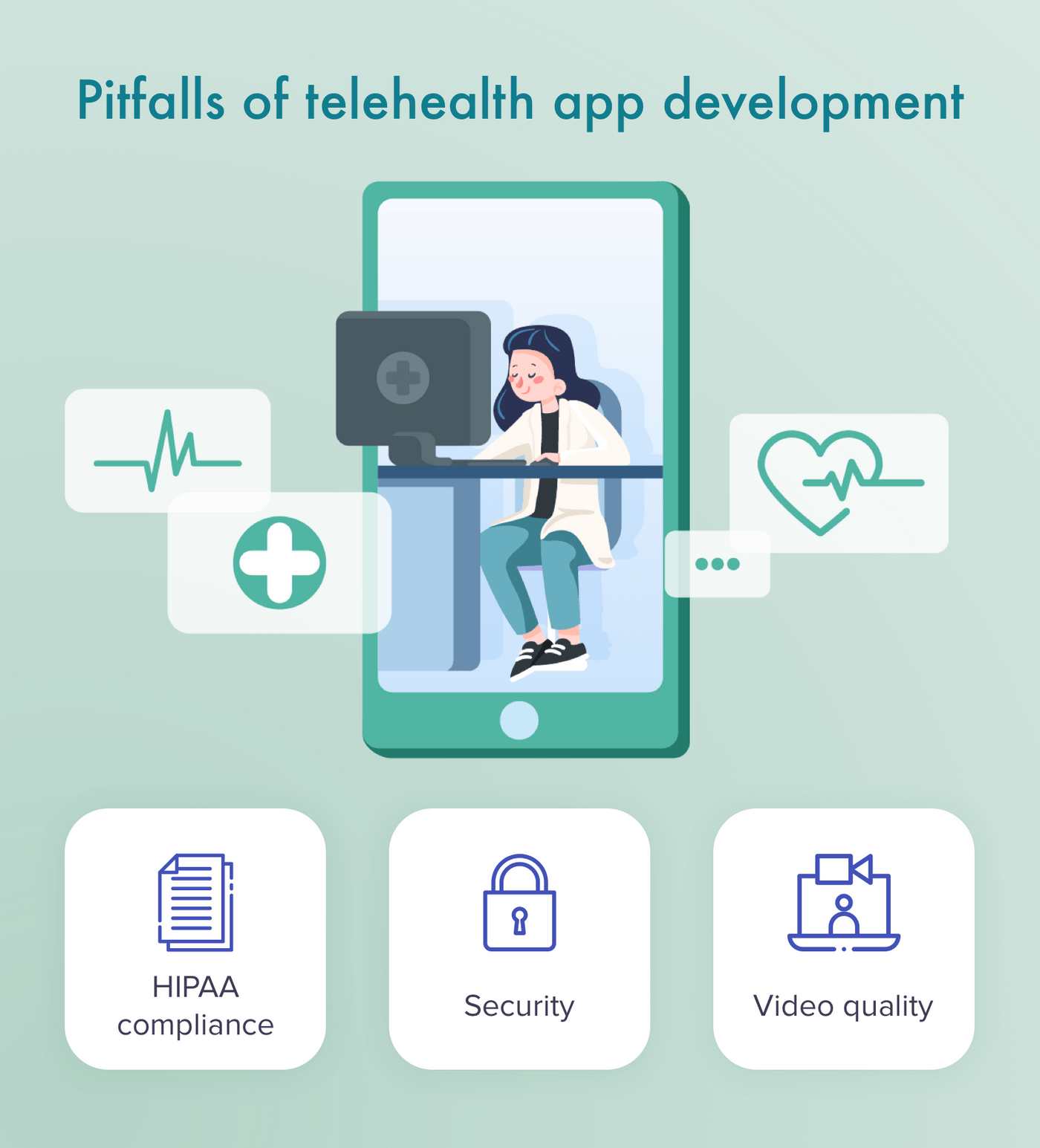 Points to watch out during telemedicine app development
HIPAA Compliance
Before the development of a healthcare app, entrepreneurs have to be aware of HIPAA. The Health Insurance Portability and Accountability Act also known as HIPAA was designed to modernize the flow of healthcare information and protect personal data from fraud and theft. How to make a telemedicine app and not to fail? You have to know each of 155 pages of this act. The major issue of this regulation is enormous fines that may amount up to $1,500,000 per year, so it's better to take it seriously.
HIPAA requires strong security measures and restricted access to personal health information. Some of the main advice on HIPAA compliance are:
Control the access to the app
Use strong encryption algorithms
Take care of log records
Log-off users automatically
Backup sensitive data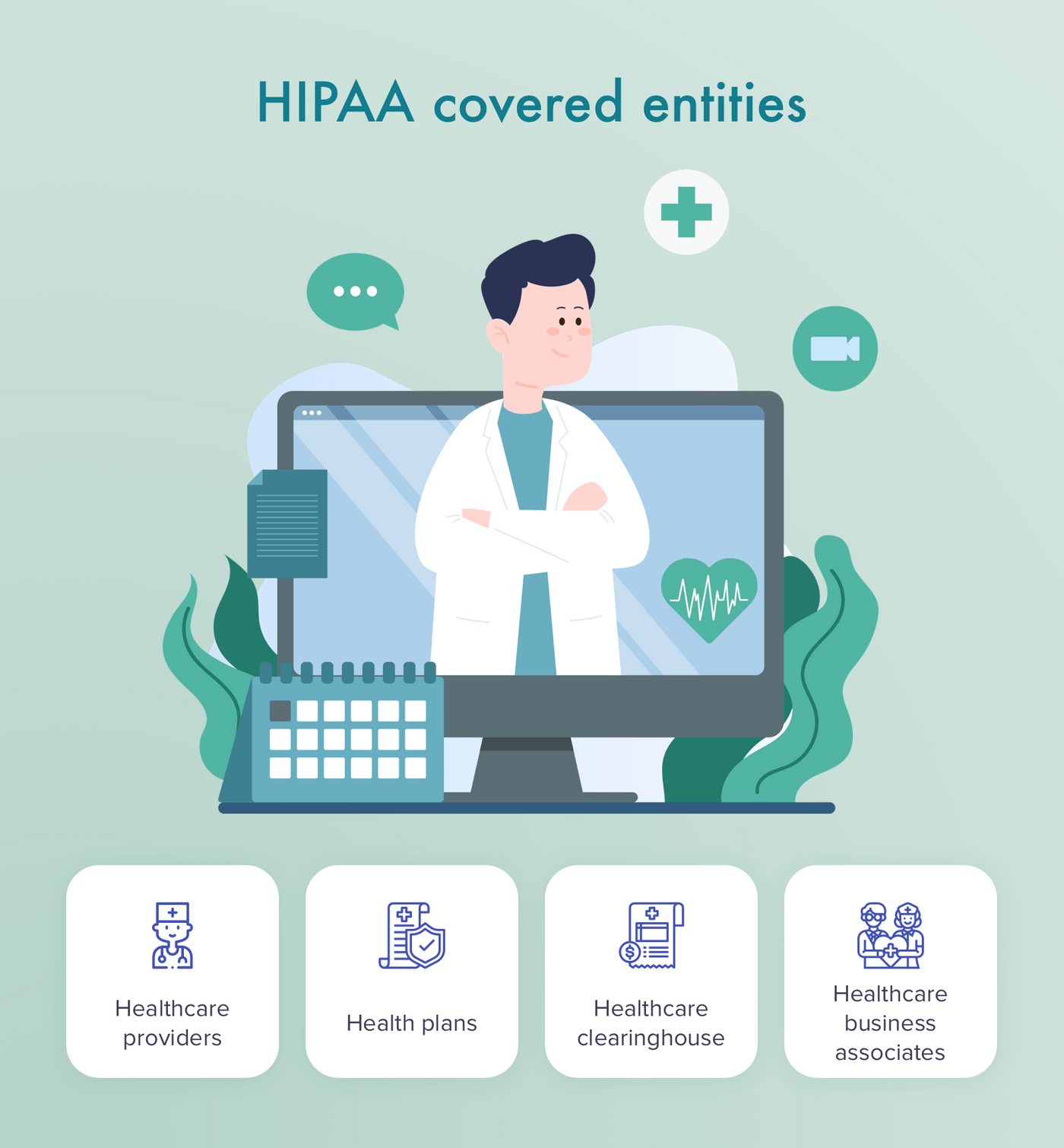 4 types of HIPAA covered entities
As you can see, most of the tips concern security, so that's the second topic we'll cover.
Security
Data safety is ensured by various telehealth technology tools, protocols, and algorithms. Some of the most common for telemedicine app development are AES 128 Bit and SHA 256. However, implementation of these algorithms is only half the battle. To provide complete protection, you have to conduct security self-assessment and search for new vulnerabilities after each update. Besides, clinics have to hold employee training and testing to make sure they know what details can't be disclosed.
Video Quality
A slightly less terrifying issue that depends on the quality of users' cameras and the appliance of streaming protocols. Video quality matters in cases when users have to show traumas to doctors. Poor video quality can lead to incorrect diagnosis and ineffective treatment. It's a sure thing that device cameras play a vital role in video quality. But the poor video quality may also be a result of a weak code or bandwidth issues. Choose a vendor that knows how to make a telemedicine app with videoconferencing and has a solid streaming experience.
Limitations for Doctors
The last point concerns the telehealth niche as a whole. For now, remote medicine can't provide the same results as a conventional. Physicians can visually examine the patient and provide them with prescriptions. But when it comes to serious health problems, remote medicine can't do anything. X-ray, ultrasound, and comprehensive examination is only possible in hospitals. Telemedicine is a great tool for preventive and maintaining medicine, but it can't totally replace physical healthcare providers.
Monetization Strategies for Telehealth Apps
Helping people is certainly an honorable thing, but any app won't last long without funding. It's time to go through the main revenue strategies for telemedicine software development.
Freemium
With a freemium pattern, the company offers some basic services for free. However, the app has additional features that users can access with a premium subscription. This strategy means that customers who purchased a premium version subsidize those users who use a free model of this app. The more users are interested in the free version, the more will convert into paid subscribers with time.
For example, Fitbit offers a free version of its fitness app. It's not exactly a telemedicine software, but with a premium membership, this app provides great fitness and health insights.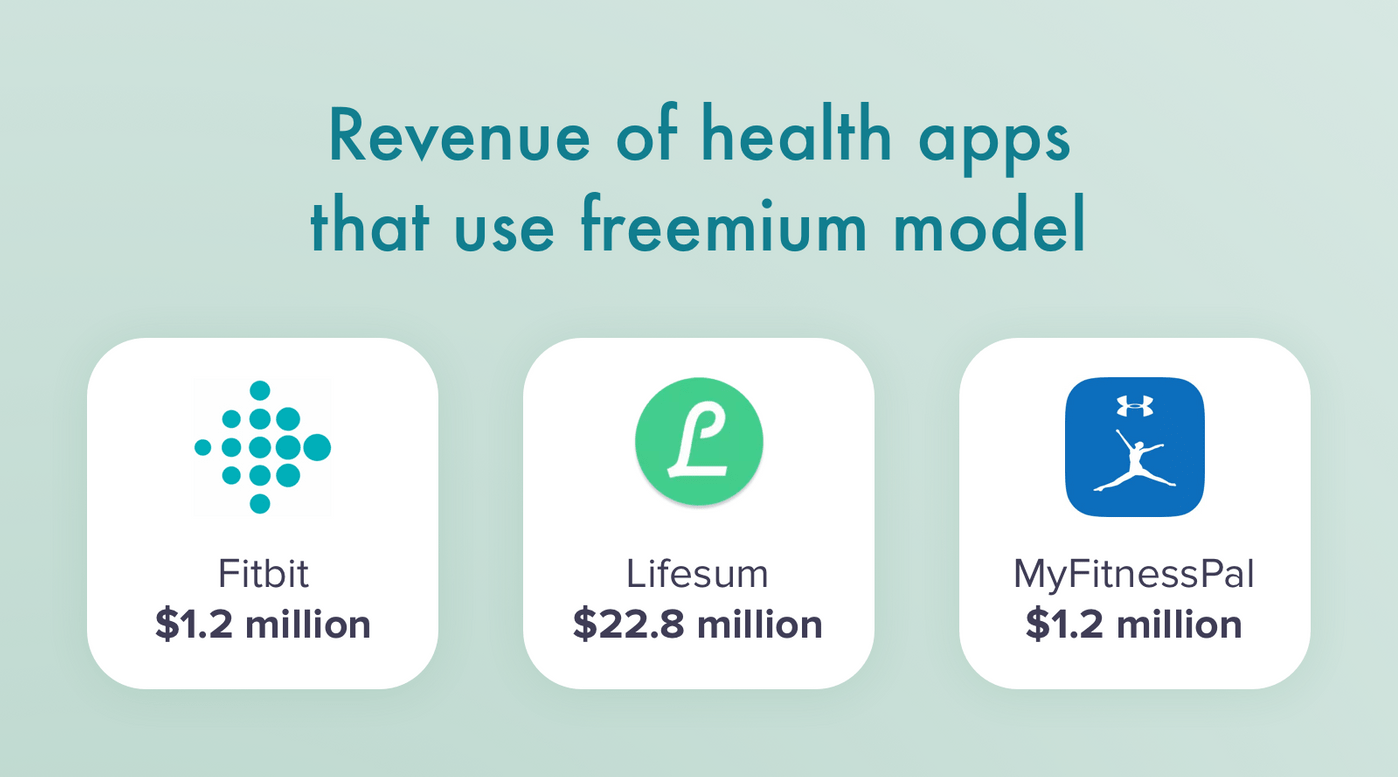 Major players among the health apps
Subscription
With a subscription business model app will generate revenues on a repeated periodic basis, like monthly payments. This model requires users to pay regardless of whether they use the app or not.
Doxy.me is a great example of how to develop a telemedicine app using a subscription model. Following Doxy.me's example, you can charge healthcare providers exclusively. Or you can charge payments both from doctors and patients.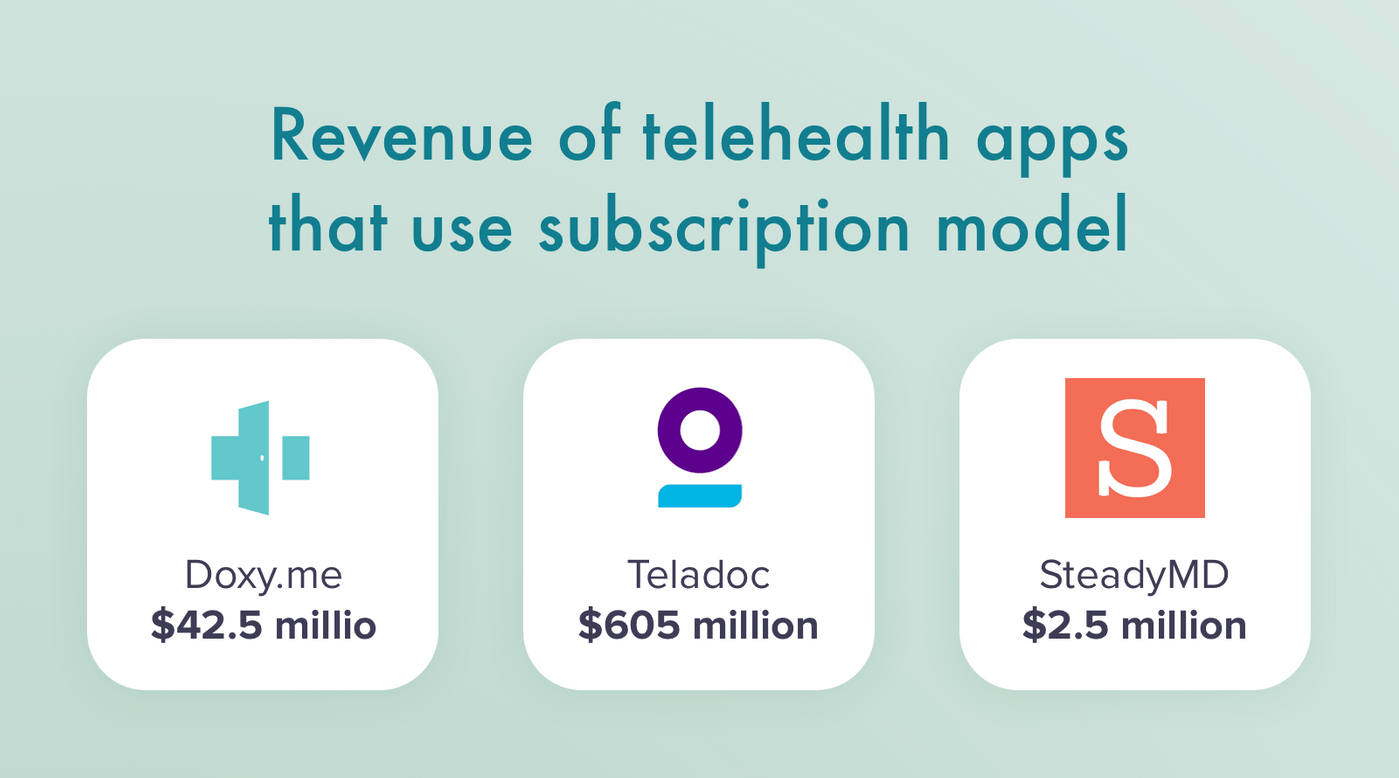 The best apps using the subscription model
Fees
The most popular and profitable revenue model for telehealth app development. The app will charge a fee from each transaction made from the patient to the doctor. Teladoc became the most expensive telemedicine company due to this model. Teladoc is a B2B app that sells its services to clients on behalf of their employees. So, apart from transaction fees, Teladoc also charges businesses for working with their employees.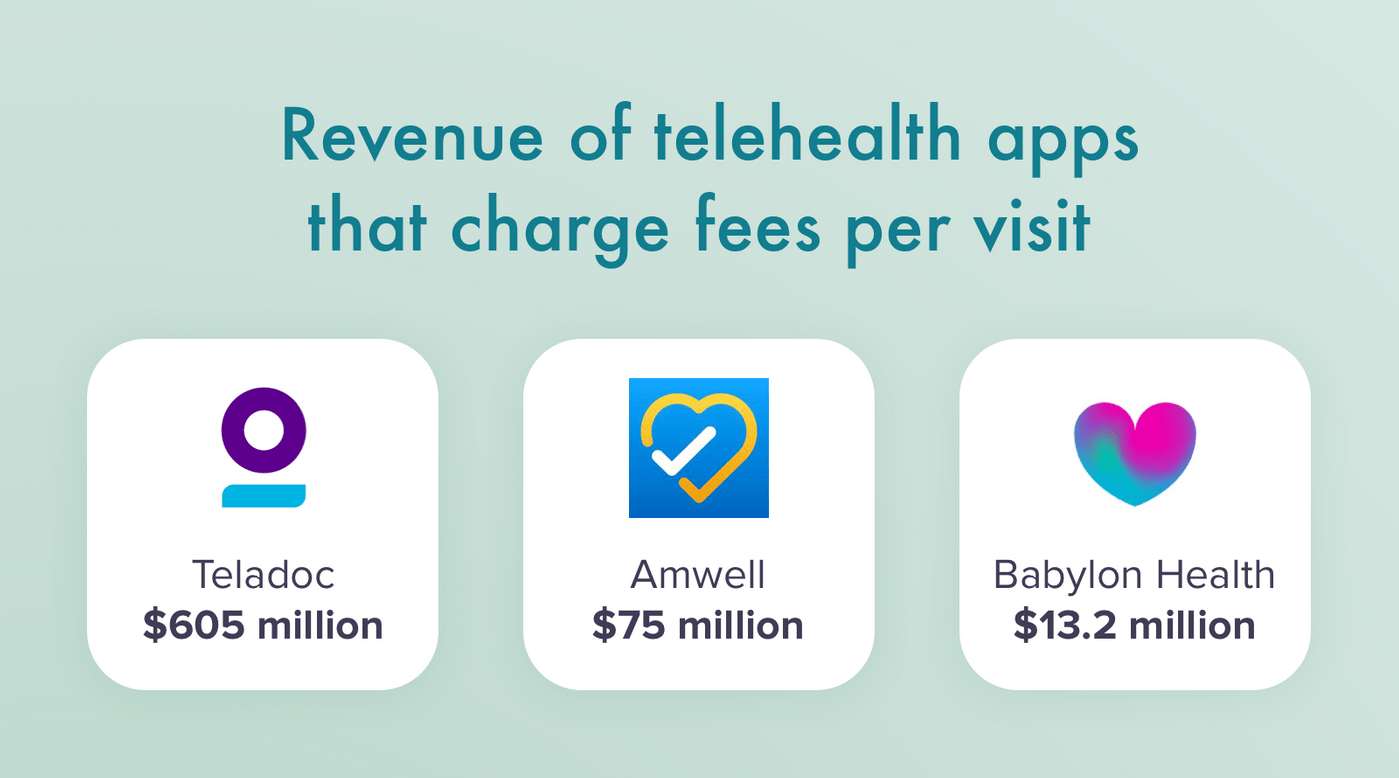 Apps that charge fees and their revenue
Build Your Own Telemedicine App
Telemedicine will be only growing in the future, and maybe exactly your company will appear at the top of the telehealth companies list. An outstanding telemedicine app should combine:
UX friendly interface
Pure video and audio connection quality
Precise filters for the search system;
Secure payment system;
Safe storage for patients' EHRs;
Transparent rating system
Besides, you have to comply to a set of laws and regulations:
HIPAA (The Health Insurance Portability and Accountability Act)
GDPR (General Data Protection Regulation)
IMLC (Interstate Medical Licensure Compact) is an agreement between 29 states, the District of Columbia and the Territory of Guam that allows licensed physicians to practice medicine across state lines within the Compact if they meet certain agreed upon eligibility requirements.
Prescribing regulations in particular states
Telemedicine regulations in particular states
The last but not the least is professional software developers that will deliver the high-quality telemedicine app. Our team has considerable experience in telemedicine software development and HIPAA compliance.
Our Expertise
Recently we've worked on a project that helps people who suffer from mental disorders. Nedley Lifestyle Scoreboard is available for iOS and allows users to input the mental issue they're facing, like insomnia, anxiety, depression, and more. The app offers healthy advice, timetables, and activities. Also, users can check statistics and track their progress over time.
During the development process, we've used Swift and Alamofire for the iOS client side. This app also has a web admin page that was developed with TypeScript and .NET Core. As for the third-parties, we've used Elastic Email for mailing patients and Amazon S3 as cloud storage for keeping patients' data. If you're interested, you can learn more in our case study.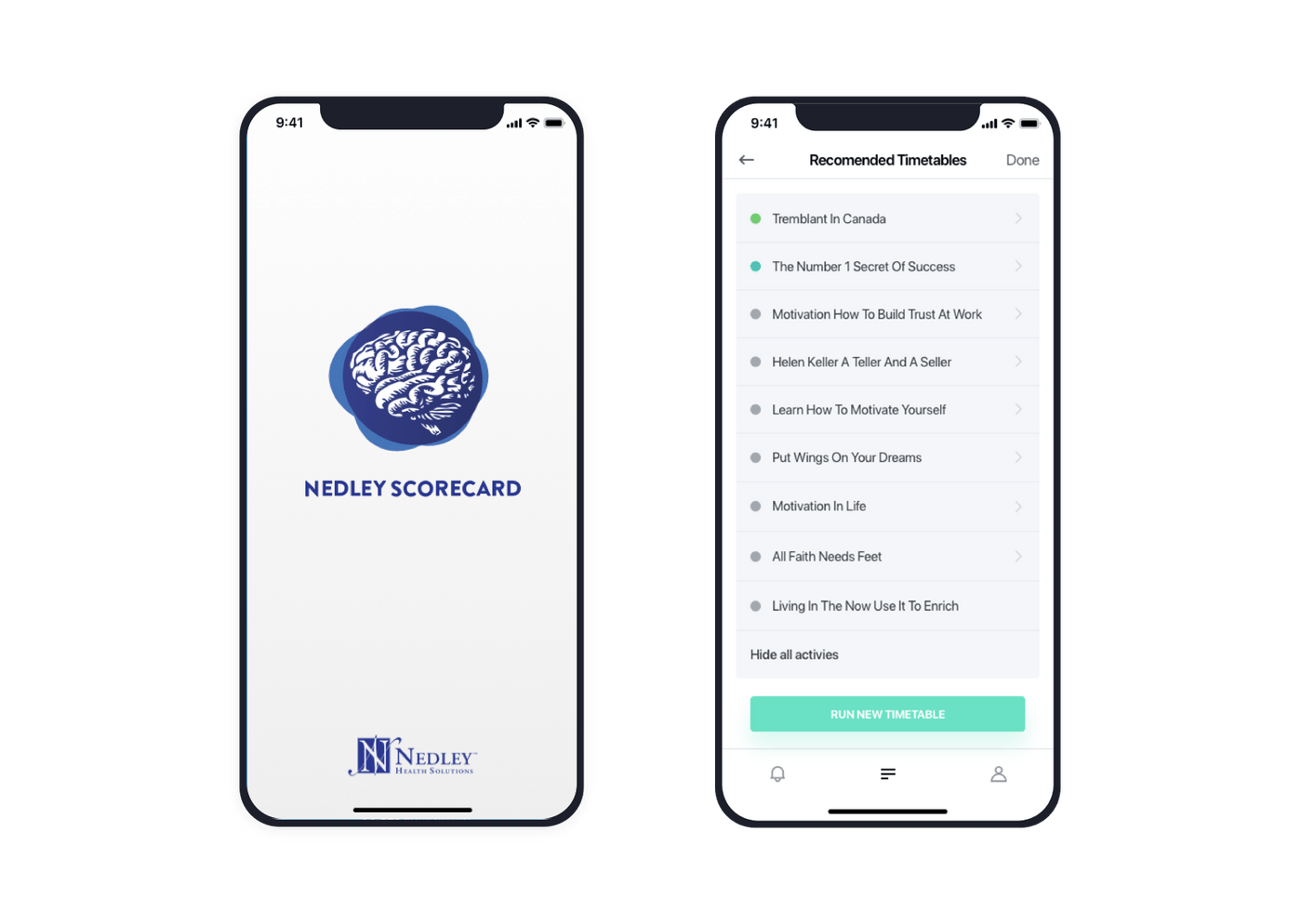 Main and timetable screen
Frequently Asked Questions
To develop a telemedicine app you have to build a feature list. Then, together with your software development company decide on technologies and app development cost. Besides, don't forget to comply with every regulation that concerns telehealth.
Telemedicine is a method of delivering healthcare services to patients remotely.
Telemedicine app development cost depends on a set of features you need for your software. A full-fledged telemedicine app takes around 1,500 hours of development time and costs $75,000 with a development rate of $50/hour.
The most important features for telehealth app are:
Profile management (both for doctors and patients)
Video conferencing (for remote health consultations)
Calendar (for arranging meetings)
Notifications (reminders about consultations)
To build a telehealth app you have to develop an outstanding design, reliable back-end logic, and deliver great video quality. Here are the tools our developers use during the development of a telemedicine app:
Programming languages:
Kotlin, Java (Android)
Swift (iOS)
Back-end development:
Programming language: Node.js
Videoconferencing: RTMP, Twilio, WebRTC
Chat: Twilio, Socket.io
Database: MySQL
APIs and frameworks: Stripe, EC2, S3
Tools:
Search & filters: Elastic search
Mailing: Elastic Emails
Geolocation: Google Maps Platform
Notifications: Firebase Cloud Messaging
The most promising trends in telehealth industry are:
Artificial Intelligence
IoT
Natural Language Processing
Blockchain
To create a telemedicine app you'll need to find an experienced team. Here are the key members of it:
Business analysts (for conducting research, and estimating the app price)
Designers (to create an outstanding design of every button in your app)
Back-end developers (to build a fault-tolerant logic of your app)
Trained HIPAA specialists (to prevent HIPAA violations)
Rate this article!
2489 ratings, average: 4.86 out of 5
Give us your impressions about this article
Give us your impressions about this article
Ismail
11.07.2020 at 03:35
Superb content Most comprehensive blog about telemedicine I have ever read

Oleksandr Sh.
13.07.2020 at 01:37
Thanks, Ismail! Keep up with our blog for new posts concerning telemedicine!
Ridwakson
21.07.2020 at 12:39
Wow This is fantastic the training is really good and superb

Oleksandr Sh.
21.07.2020 at 12:49
Thanks! We're doing our best to keep our readers informed about the latest tech trends
Every single word is on point. Truly informative. Expert advises. Superb content in n out. Rating it 6/5
Bonnie Pete
14.04.2021 at 08:46
Hello! thanks for sharing an informative post. It's worth reading. I have been using a couple of telemedicine apps and found Prescribery. It is HIPPA compliant and super easy to access. I would suggest you to give it a try and review if found useful!