The Ultimate Guide to Hire iOS Developers: Salaries, Skills, and More
When picking a platform to build an app for you have only two options: iOS or Android. These two take up almost the entire mobile OS market share and 86% of it belongs to Android. Why do you even need to hire iPhone app developer and build an app then? The thing is, the remaining 14% still represents a tremendous army of users which developers and businesses simply cannot ignore. Apart from that, iOS generates more in profit despite a smaller market share.
Apple's App Store has more than 2.2 billion apps. Consumers spend as much as 80% more on iOS apps compared to Android ones. Such a tendency led to $38.5 billion in revenue, $26.5 billion of which was paid off to iOS developers for 2017.
However, iOS is loved by developers from all over the world not only for financial reasons. The simplicity of development and minimalistic approach which company sticks to also make a difference. There are no fragmentation problems as the lineup of Apple devices is relatively small and all of them have a unified UI.
To build an iOS app, you'll need to hire iOS app developer working with Objective-C or Swift in Xcode or any other IDE. In this guide, we also cover the vital points you need to learn before you hire iOS programmers.
iOS developer roles and responsibilities
Many fail to understand the full scope of responsibilities that lay on shoulders of iOS developers. In fact, the borders of iOS developer responsibilities go beyond writing code. They take part at every stage of app development from planning and design aspects (wireframing screens, building UI) to testing and publishing the ready-made app to the App Store. In other words, an iOS developer turns the specifications of your mobile application into a working and user-friendly product.
Design awareness is what you should pay a due attention to while looking for iOS developer candidate. The point is, the care for design isn't something that only mobile designers responsible for since developers are also in charge of transferring good experience to final users. That's why among iOS developer key skills should be an experience with both UI/UX, understand their principles, and, of course, be good at programming in Swift or other languages.
Junior, middle, and senior iOS developers
Typically, the versatility of developers depends on their working experience. Respectively, the more projects a developer has worked on, the more complex and diverse tech problems he/she can solve.
In the IT industry, the skills of programmers are divided into three levels: junior, middle, and senior.
Junior iOS developer
This is the entry level iOS developer. In companies, junior developers most commonly work alongside their more experienced colleagues to improve their knowledge and enhance skills. It usually takes a few years for junior developers to level up.
Middle iOS developer
After working on a variety of complex projects, developers move from beginners to a more advanced level that's called middle or mid level iOS developer. Here they have more independence in terms of working on projects.
Senior iOS developer
Senior iOS developer is an experienced developer that has seen tons of code and released dozens of apps. Typically, such developers not just code and design an app, but deal with testing, integration of APIs, and security matters.
Taking into account everything mentioned above, you're willing to choose whether your project requires less or more experienced iOS software engineer. The key factor here is your budget, as salaries for each level may vary dramatically. The project complexity also matters since the junior developer will barely cope well with a large project having a complicated business logic behind.

iOS developer skill set
The iOS developer technical skills largely depend on your project. However, the general skills needed for iOS developer should look something like this:
Proficient with Swift or Objective-C programming language;
Knowledge of Xcode IDE;
Experience with APIs like Cocoa Touch and UIKit;
Understanding of RESTful APIs;
Understanding of UI and UX design standards;
Knowledge of Apple Human Interface Guidelines;
Experience with Metal or OpenGL;
Advanced knowledge of code versioning tools like Git;
Knowledge of Core Data framework.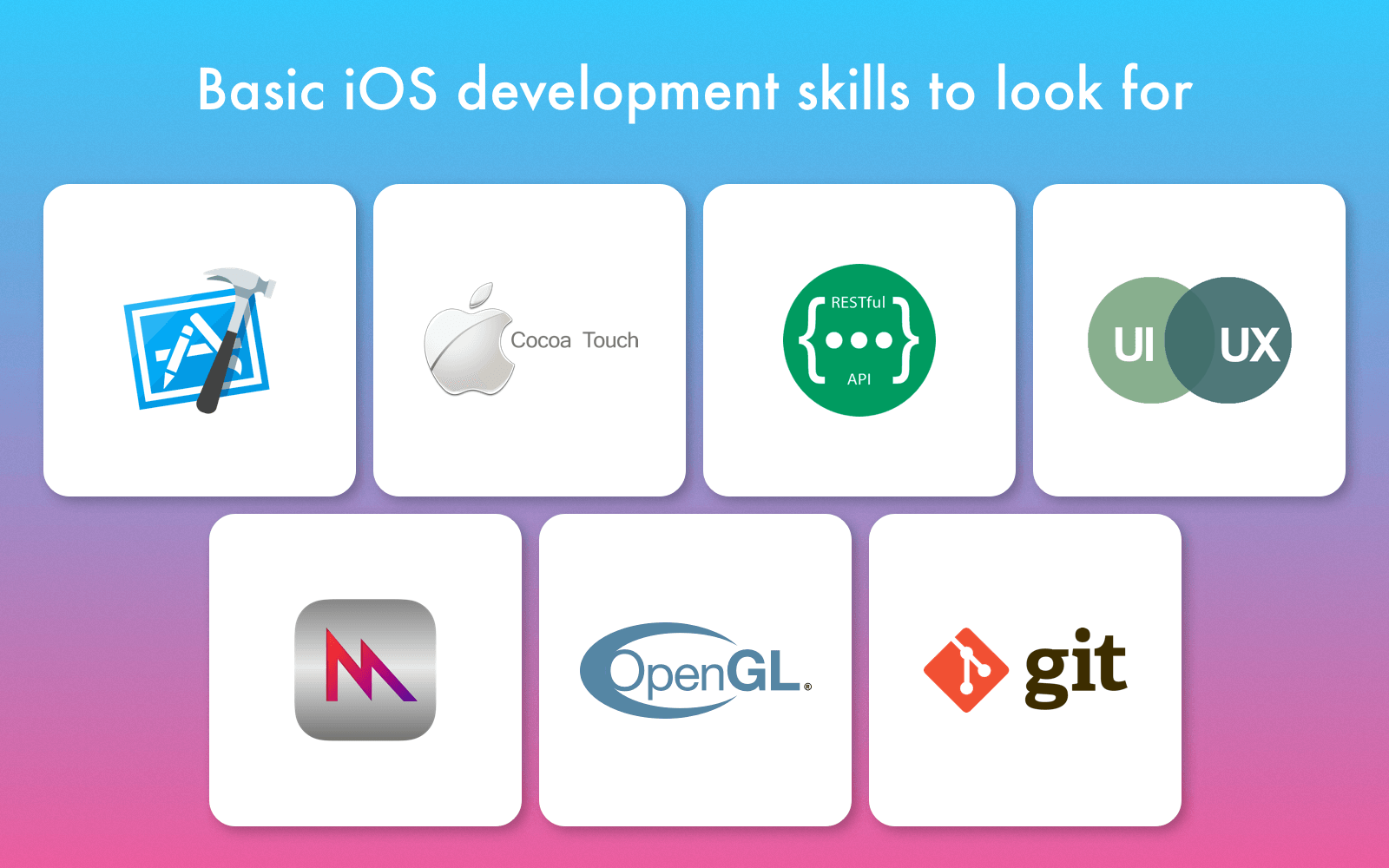 iOS developer requirements
What hiring options are there?
Now when you understand the roles and responsibilities of iOS developers and know what skills you should look for it's time to talk about where and how exactly to hire iOS developers.
In fact, there are three main options to find iOS developers for hire and we suppose that each of them is well-known to you. They are:
Hire a freelance iOS developer;
Form an in-house team of developers;
Hire a software outsourcing company.
However, which one is the most suitable in your case? Let's sort this out.
When to hire a freelance iOS developer?
Freelancers are a quite wide-spread option when it comes to any kind of services and it's not a problem to find and hire someone who'd make an app for you. However, freelance iOS app developers aren't the best option in case you're looking for a long-term cooperation.
It may be more reasonable to hire freelancers to complete a project with set requirements and time frames. For instance, you can hire freelance iOS developers for bug fixing or perform tasks related to adding some additional features to a ready-made app.
Probably, you wonder where to find freelance iOS developers for hire? While there are literally dozens of websites allowing to find freelancers from all around the world, Upwork is among the most popular and credible ones. What's more, freelancers love this platform and you definitely won't feel a lack of talents there. Also, the resource has flexible search filters and offers an opportunity to carefully explore freelancers' profiles.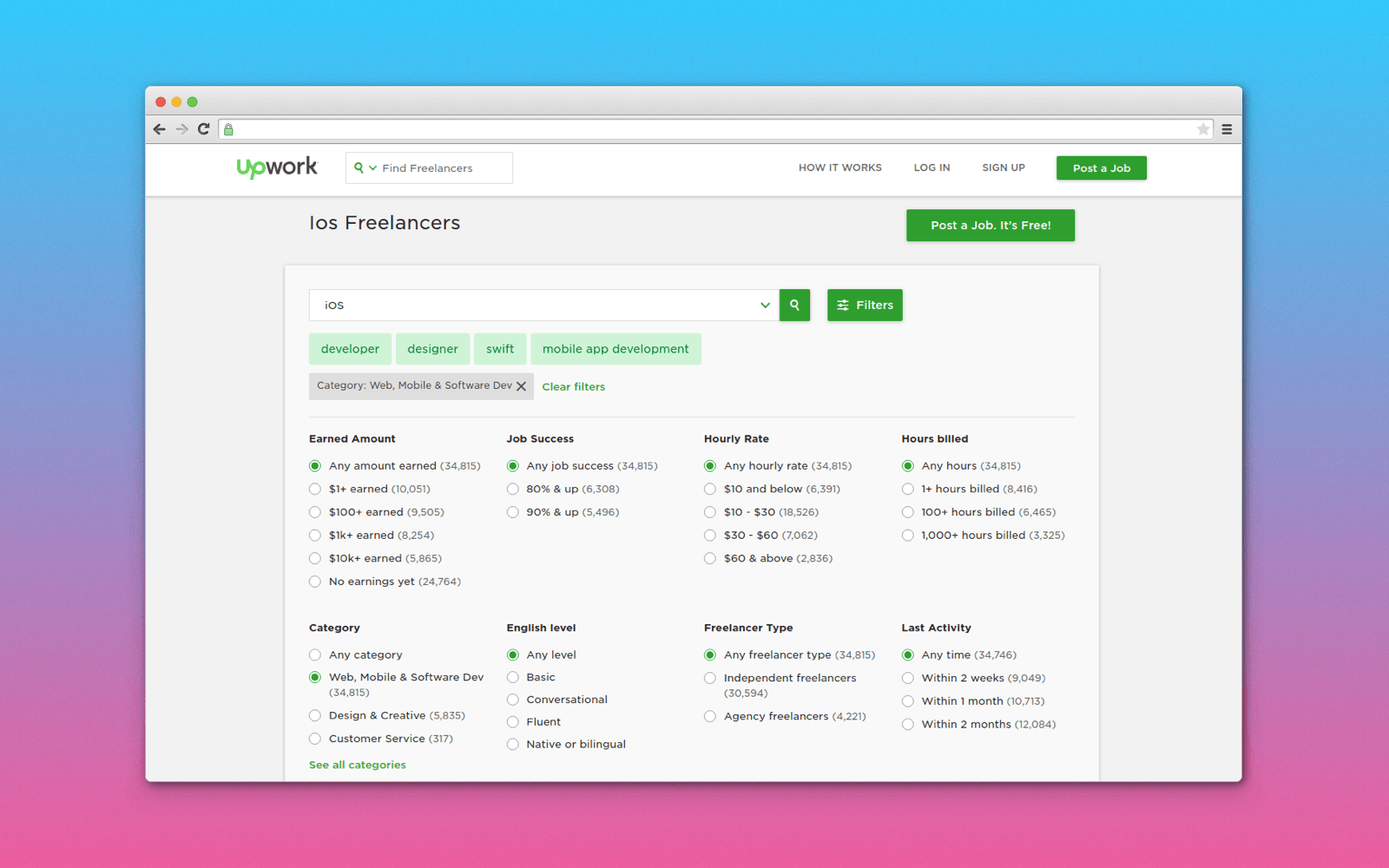 We can also recommend you using LinkedIn to find iOS developers and hire them. First, that's the main idea of this professional social network. Second, there are a lot of freelance (and not only) developers looking for a project. As a rule, it's quite simple to find not only iOS developers for hire but any other specialist by simply entering the position you're looking for in a search line.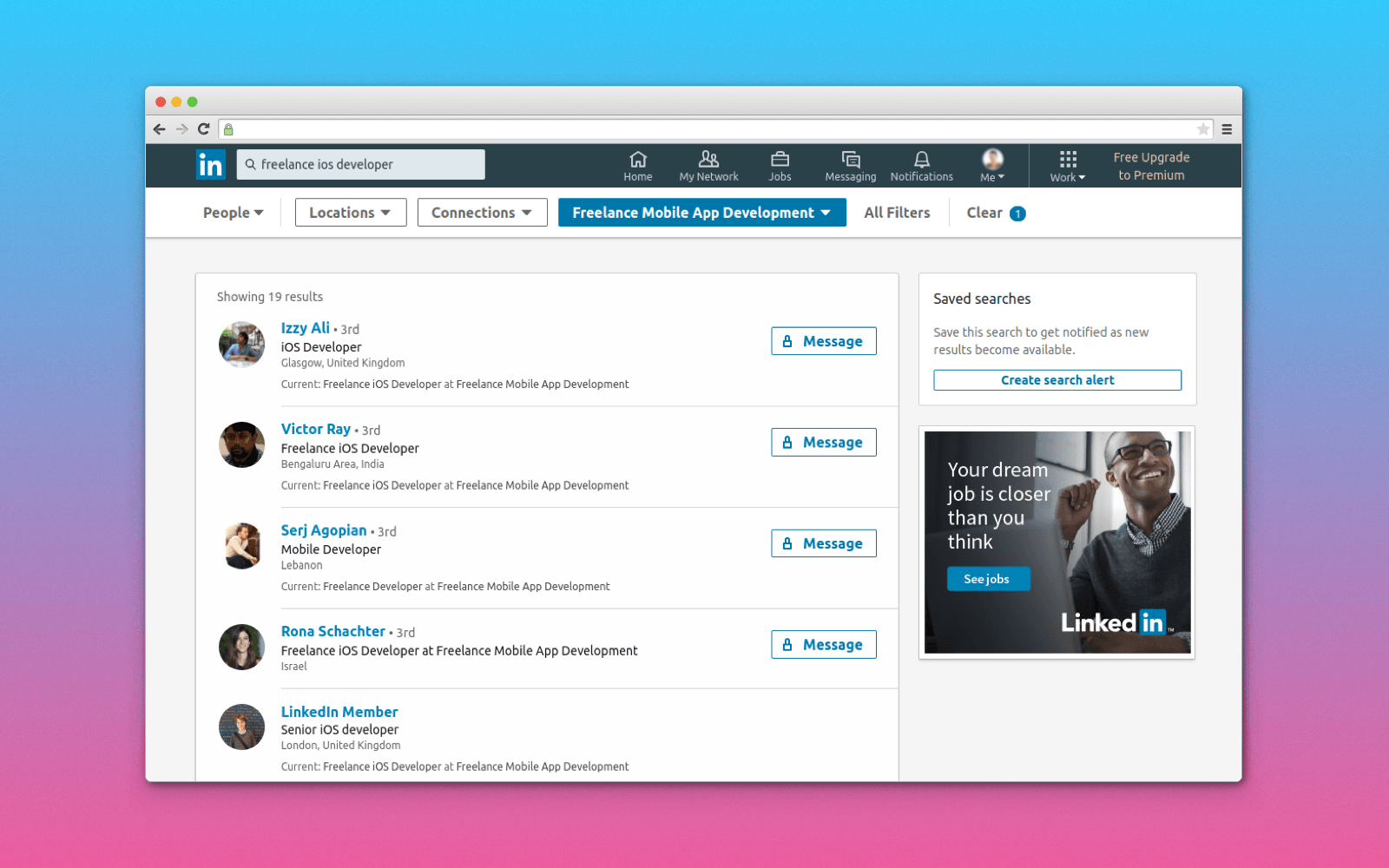 Searching for freelancers on LinkedIn
However, you can use other social networks as well. Facebook and Twitter fit pretty well too. In case you have a technical background, you can use GitHub to find the right talents judging from their projects.
Pros
The freelance market is full of iOS developers you can pick from and, respectively, you're unlikely to face problems with finding the right developer for your project.
Hiring a freelancer is often cheaper compared to other options.
You don't have to pay salary to a freelance worker in case you have no work for him/her.
No need to worry about taxes, office space, vacations, sick leaves, etc.
Cons
Freelancers can't cooperate with other developers participating in a project as closely as, let's say, in-house or outsourced workers can.
Nobod

y can give you a 100% guarantee that your freelance employee won't abandon the project one day and simply disappear.

Failed deadlines is a widespread problem among freelancers.
Languag

e and cultural barriers are also among the problems of working with freelancers

.
Yo

u can't be sure your freelance developer is involved only in your project and have no side customers

.
Th

e work of a freelancer implies frequent changes of projects and your freelance developer may simply switch to another project if he/she get bored or got stuck on a problem.
To learn whether a developer has the required expertise, you can check the iOS developer portfolio or ask about expertise directly. In case you're considering an iOS app development company, look for a dedicated page or case study on the website.
When to form an in-house development team?
A plethora of startup companies have outsourced the development of their products and only then started thinking over forming an in-house software development team. Skype, Slack, Opera and many other giants are among them.
If you're a startup company, it's a more balanced solution for you to outsource software development and put the in-house team together when a viability point will be reached. What does it mean? The viability comes when you have launched a product to the market and see that investors or users (or both) start taking interest in it. This fact alone may indicate the perspective of attracting fundings or generating profit from monetization in future.
Thus, you can start allocating resources to hire dedicated iOS developers along with other tech staff to work in-house and keep the entire team afloat. It's definitely not a one-size-fits-all strategy for startups but still a good option.
On other hand, hiring in-house tech staff is more reasonable for some middle-sized companies and enterprises which build specific products with complex business logic requiring constant cooperation between developers and other departments.
Definitely, in-house development has advantages and disadvantages.
Pros
Opportunity for you and your employees to cooperate with each other 24/7.
No limitations in communication and distance.
Developers get in-depth knowledge of your product as they don't work on other projects.
Cons
In-house

team is on the payroll which means you pay them even in case you have no tasks for them.

Hiring the right talents is a challenging task and don't forget they leave from time to time, so you have to be ready to find new ones again and again.
Taxes, office space rent, hardware, software and other related stuff you have to pay for.
Vacations, sick leaves, and other benefits your employees enjoy, while you're paying them off.
When to hire an outsourcing company?
If you're looking for a cost-effective and fast way to hire iOS developers, you should pay your attention to software outsourcing companies.
As a rule, they offer two cooperation models:
#1
You hire iOS app developer (doesn't matter one, two, three or more) and pay in accordance with a per hour rate of that company on each individual. This model is sometimes called outstaffing or dedicated team. In case you pick it, all the management aspects lay on your shoulders and the hired developer can work both as a part of your already existing team (if any) or carry out your tasks.
#2
You contact company's representatives, explain your requirements and they build an app for you from scratch. In this case, all the management aspects, as well as responsibilities for the entire chain of processes (from design to release), lay on the company.
You can search for outsourcing companies on specialized resources like Clutch or GoodFirms. There you'll find detailed information about firms, reviews from their customers, as well as flexible search by countries, industries, hourly rates, and more.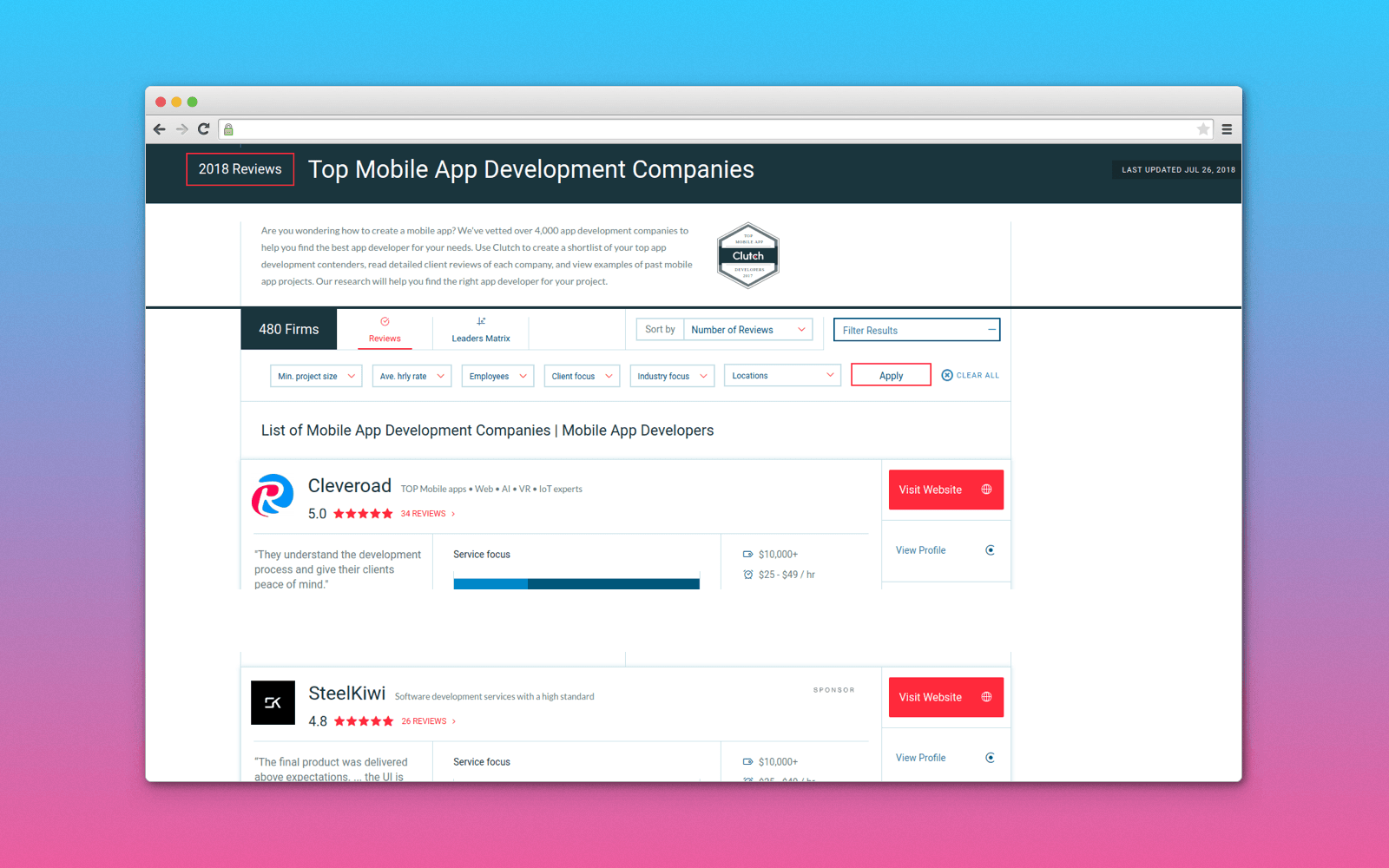 Searching for firms on Clutch
Pros
If you urgently need to find iOS developer with extensive experience, outsourcing company is one of the best options as such firms keep an eye on their employees' skills and train them all the time to stick to high industry standards.
No need to worry about vacations, dismissals, recruiting and anything else that may freeze the project development.
Unlik

e freelancers, iOS developers who work in one firm can communicate all the time and share the experience with one another.

As a rule, freelance iOS developer rates and rates of experienced developers working in a firm are the same and sometimes even lower (it depends on a region).
It's still cheaper than hiring an in-house developer and you don't have to pay taxes.
The entire management process lays on the company's project manager and you get the constant feedback from him/her.
Cons
In case the company you've picked is situated in another country, you may face delays in communication which though can be solved by setting up a simple schedule.
Cultural gap and language barrier with some countries.
Factors to consider before hiring an iOS developer
So, you've picked the most suitable hiring option for your case. Is there anything else to pay attention to before you hire iOS developers? You bet!
#1. Full-on experience
Experience is a vital factor especially when it comes to software development services. We've already touched upon the division of software engineers into levels. Those levels are often assigned to developers depending on their work experience in the tech industry:
Junior -- up to 2 years;
Middle -- from 2 to 5 years;
Senior -- over 5 years.
However, the number of years the iOS developer has spent writing code app isn't a marker of full-on experience. Pay your attention to the number of projects this specialist was involved in rather than the time he/she works as a developer. Otherwise, you put yourself at risk to hire a narrowly focused developer who has spent the entire career supporting one specific app.
#2. Hands-on expertise
Experience and expertise are two different notions. The expertise means that the developer has already dealt with certain types of apps or worked on projects focused on a specific industry (e.g. real estate). It's a good idea to pay your attention not only to experience but expertise as well.
To learn whether a developer has the required expertise, you can check the iOS developer portfolio or ask about expertise directly. In case you're considering an outsourcing company, look for a dedicated page or case study on the website.
#3. Portfolio
This is another important factor to pay attention to. By checking the portfolio of a candidate or company, you can see both their experience and expertise. What's more, you can try out apps they've developed and evaluate the overall proficiency as well as their attention to details.
Hint: Companies often write comprehensive articles on their blogs about their past projects. There, you'll definitely find tons of information to understand the level of their proficiency.
#4. Communication
If your remote iOS developer or software development company is placed in another country or continent, you have to establish a stable communication channel. As a rule, a bit of scheduling and specialized software like Slack or Skype solve this problem. However, discuss this point beforehand.
Set up your iOS developer requirements
Before hiring someone, you have to learn your project inside and out. That's the only way to make informed decisions and set the right requirements for iOS developer.
Here are several tips that'll help you approach this process:
Describe the overall idea
Write down the general idea of your application in order not to get lost in your thoughts. You can devote a small paragraph or a sentence to this description and focus on the app's use cases or the main problems it should solve. This will help you concentrate and put your thoughts together.
Set your goal
Describe goals you plan to reach both in short term and long run. E.g. get a thousand downloads, find investors, hit the top on app stores etc. By evaluating your goals you can understand the scale of your app and set the direction for further development.
Describe the functionality
It's pretty simple to describe app's functionality. Just think and make up a list of features you want to be implemented in your application. Thus, your iOS developers will better understand what they are going to deal with.
Set priorities
It's a good idea to prioritize features so that developers know what they should focus their attention on first. There is a variety of prioritization strategies that can help you decide what features should come first.
iOS developer salary rates
The iOS developer hourly rate is one of the decisive factors for most customers. Those rates vary depending on a hiring option you choose as well as the region you're intended to form an in-house team in or hire remote iOS developers from.
Average iOS developer salary
If you want to recruit experienced talents who will work as a part of your full-time team, you have to offer them a competitive salary. As for the US, the average iOS app developer salary is about $108K.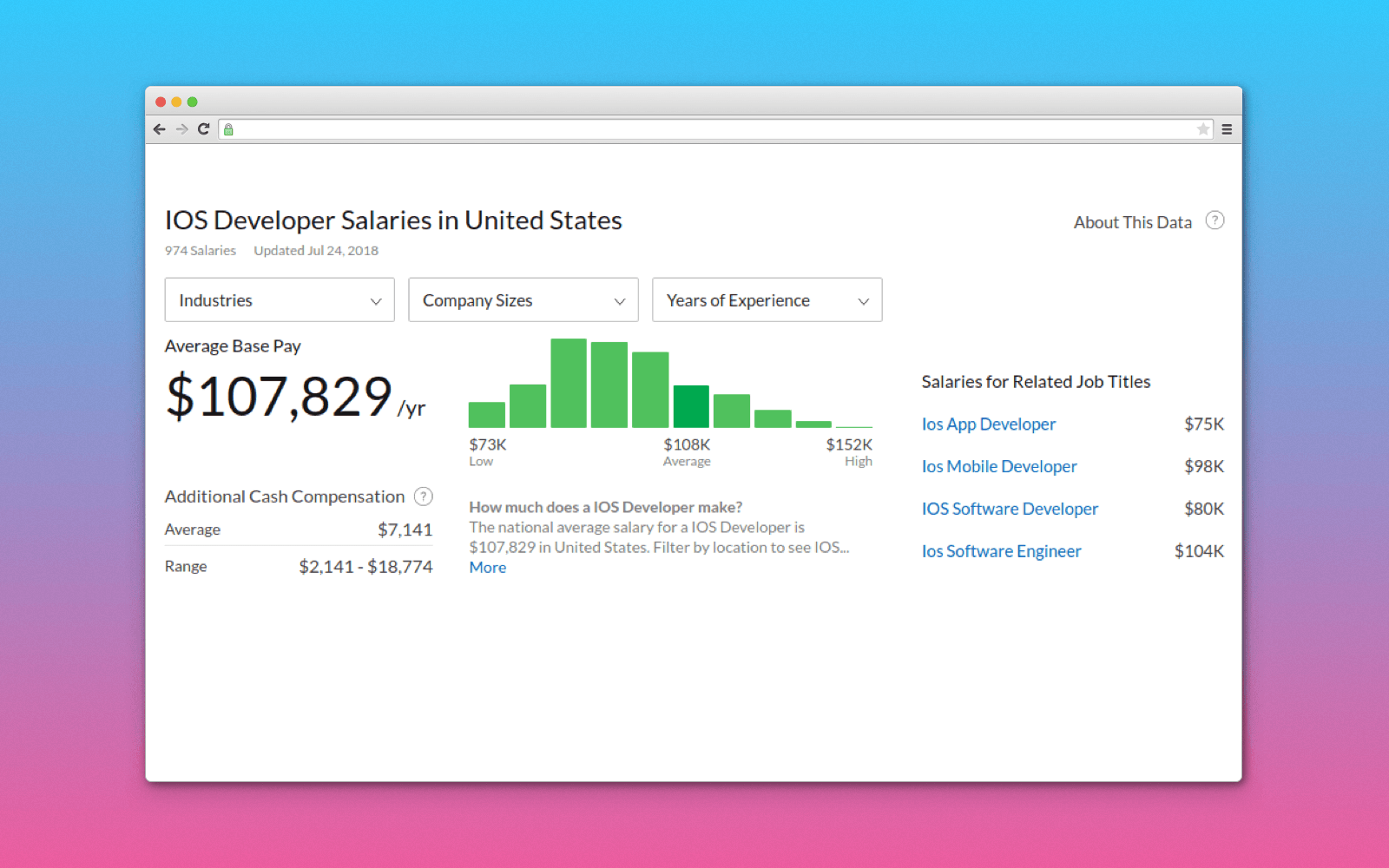 Average iOS software engineer salary (Source: Glassdoor)
However, iOS app developer salary in USA largely depends on a state since each one has a different number of talents and supply for them not talking about the cost of living.
Freelance iOS developer salary
According to the data published by Codementor (it covers freelance iOS developers from all over the world), the average iOS developer hourly rate ranges between $80-100.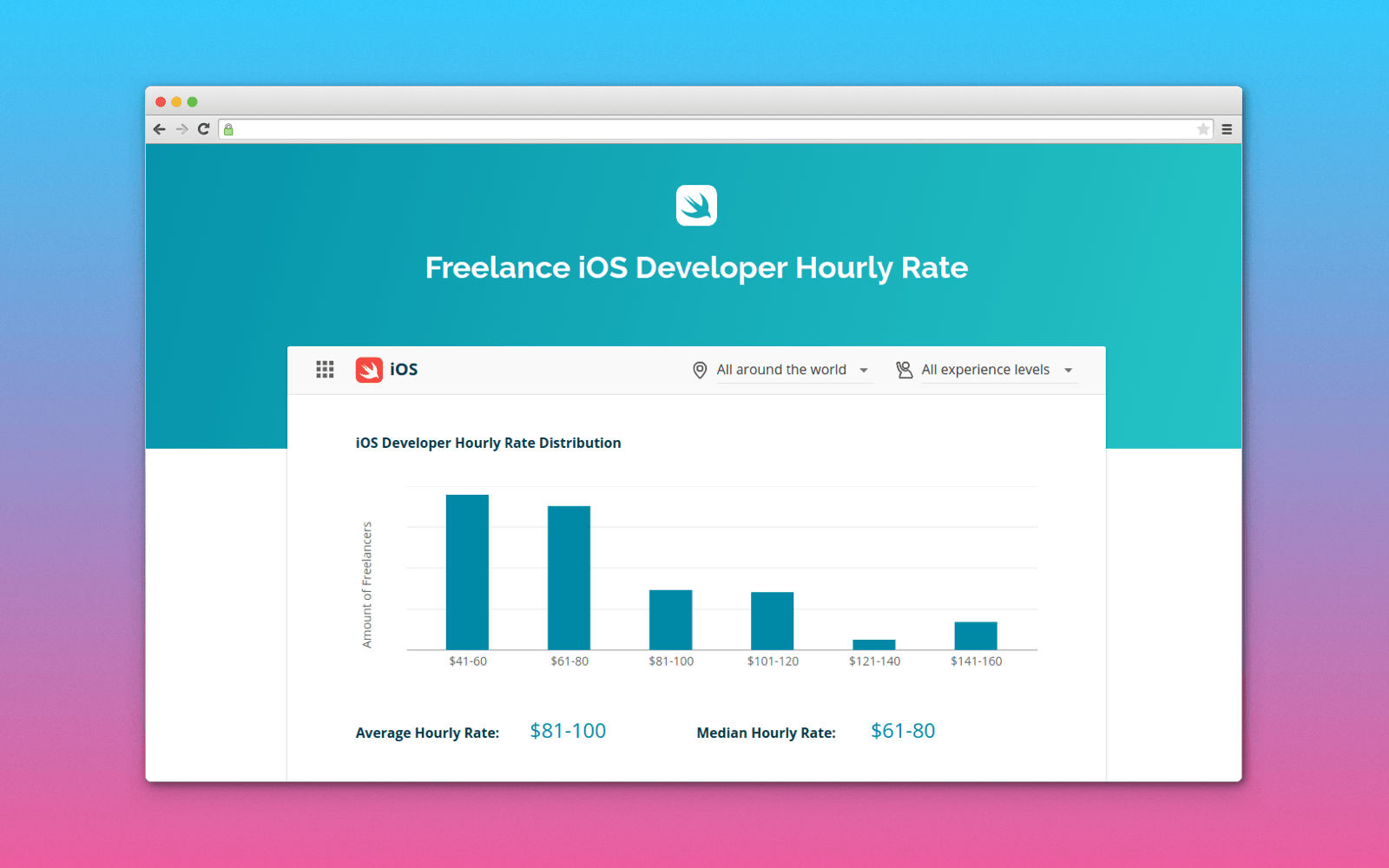 Average hourly rates of freelance iOS developers coding in Swift (Source: Codementor)
This way, the eight-hour workday will cost you $640 on average. It's $3,200 a week and $12,800 a month. But remember these figures are approximate. You can find specialists who will have rates above or below average.
Cost to hire an outsourced iOS developer
The cost to hire iOS developer working for the software outsourcing company depends on the country and even continent this company is situated in.
As the salaries of tech workers in North America are pretty high, you can expect bills with lots of zeros. The same thing with Australia and most countries of Western Europe. Asia is a pretty cheap option, but you may encounter a language barrier and a cultural gap when working with local companies.
If you're seeking for the perfect value for money, you should consider Eastern Europe in general and Ukraine in particular. The price for development is low, while the number of experienced specialists is high. That's the reason why tech giants like Oracle open offices in Ukraine and why the country hits the list of top outsourcing destinations.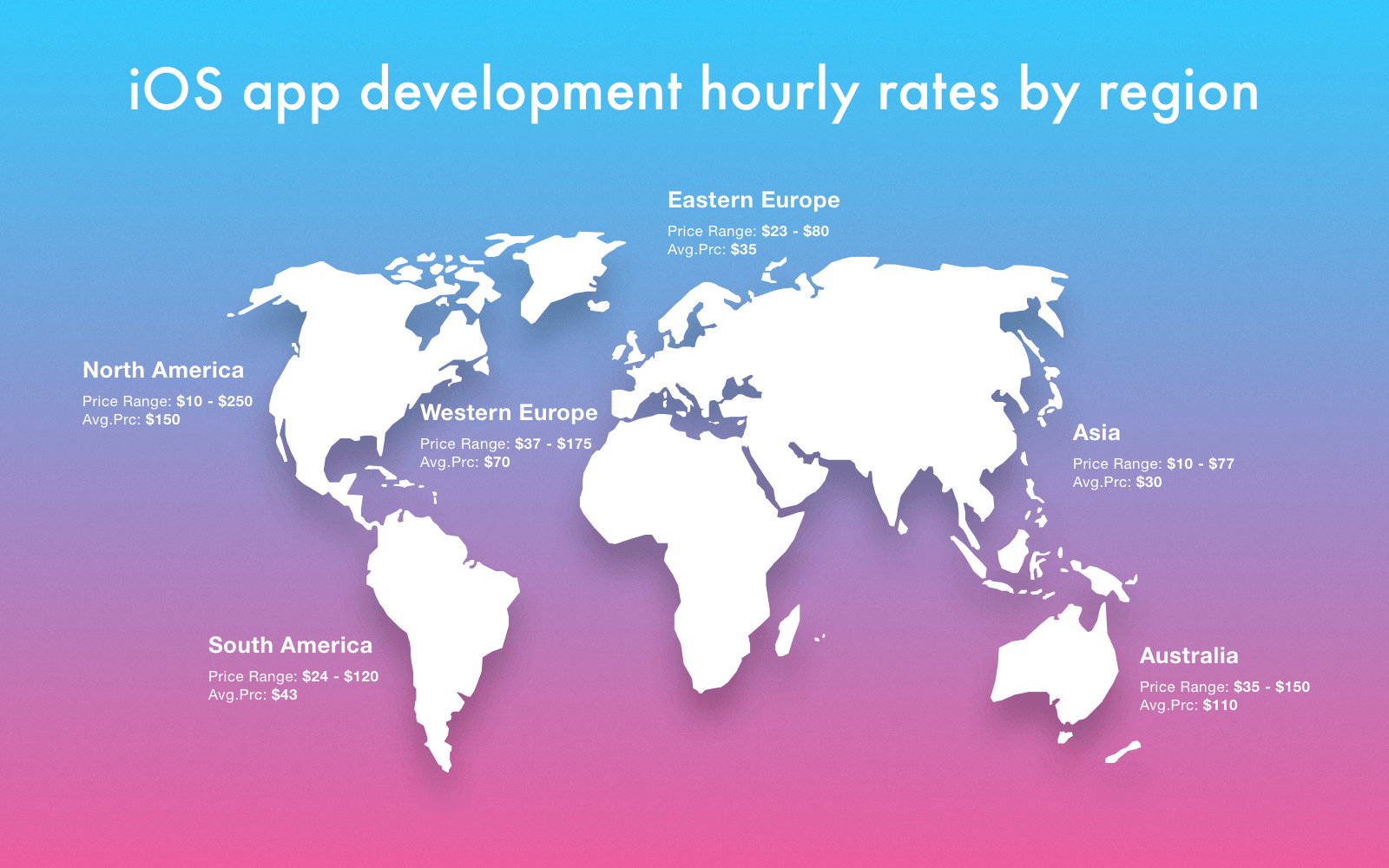 iOS app development hourly rates by regions on a world map
Use Clutch to filter companies by countries on and pick the most reliable one.
Reasons to hire iOS developers at Cleveroad
Mobile app development is one of the key services we provide to our customers. Our iOS developers have successfully released dozens of apps. As each project is unique and has specific requirements, we have worked with a variety of technologies and industries including real estate, banking, retail and more. Thus, we have an extensive expertise in a variety of industries.
The iOS department in our company works with both Objective-C and Swift programming languages. However, most projects are built with Swift as it has a variety of advantages (e.g. clean syntax) which allow to speed up the development process and build more quality products.
We use Agile development methodology in order to provide our customers with a high level of flexibility and transparency. This methodology allows customers to see the result after each sprint (a set number of features for the set period of time) and make changes to app requirements if it's necessary.
We hope this guide will help you overcome challenges on your way to hire iOS developers. If you have some questions regarding cooperation with Cleveroad or you need consultation concerning your iOS app idea -- contact our managers. It's free of charge.
If you like this article, subscribe to our newsletter to get the latest videos and articles from our team to your inbox once a week! Also, you can watch our video underneath regarding the benefits of outsourcing software development to Ukraine.
Why Americans Choose Ukrainian Outsourcing Companies? 5 Reasons!
Frequently Asked Questions
First off, you have to decide what hiring option is right for you:
Freelancer
In-house employee
Vendor
Freelancers are often unreliable but offer pretty low rates. Picking this option, you should be ready for delays and mediocre product quality.
In-house employees are a good but very expensive option for some regions. They're the only choice you have if you want to hire a developer to your office, not a remote one.
Software development vendors usually offer the best value for money especially talking about outsourcing companies. Pay your attention to vendors from Ukraine offering iOS developers as a dedicated team. Rates are competitive while the quality is high due to thorough recruiting and optimized processes.
Again, everything depends on what type of employment you're considering: freelance, in-house employee or outsourcing.
Here are the platforms where you can find iOS developers under any suitable option:
Freelancers — Upwork, Fiverr, Toptal
In-house employees — LinkedIn, Indeed, Glassdoor
Outsourcing — Clutch, GoodFirms, AppFutura
It depends on the type of employment (freelance, in-house, outsourcing) and even more heavily on the region.
Underneath, I'm attaching the average rates per hour for iOS developers in different regions of the world:
Eastern Europe (Ukraine) — $35/h
Western Europe — $70/h
North America — $150/h
South America — $43/h
Australia — $110/h
Asia — $30/h
Rate this article!
3276 ratings, average: 4.75 out of 5
Give us your impressions about this article
Give us your impressions about this article
Alicia Thomos
23.04.2021 at 07:37
Thank you so much for sharing informative blogs about how we can hire the best developers. Hire dedicated iOS developers you can also hire hourly or part-time developers as we know some projects did not require a full-time developer. Must check the experiences and skills of developers. Waiting for your next blog which is relevant to hire a developer on a part-time or hourly basis which topics must be required.