Yard Management System: Concept, Principles, and Implementation Value
The Yard Management System (YMS) implementation is an efficient way to delve deeper into the Logistics domain. Moreover, it helps improve warehouse area safety, boost warehouse capacities, as well as optimizing loading and unloading operational costs, and minimize disruptions in delivery schedules and item shipments. However, it is full of specific peculiarities every entrepreneur should be aware of to make the YMS system profitable.
As an experienced IT provider with 11+ years of expertise in logistics software development, we will share our experience as to the yard management system concept, benefits, core features of such solutions, their costs, and more.
What Is Yard Management System?
The Yard Management System (YMS) refers to a solution architected to track the movement of trucks in the enterprise yard, manage workflow in the distribution hub or warehouse. It connects transportation and storage, so this solution provides significant capabilities for higher control levels and productivity.
Let's explore yard management operation logic. The system allows you to create transport routes according to control points in the yard warehouse area. The RFID technology automatically identifies vehicles and checks the correctness of the route.
The diagram below shows you the main steps of the YMS business process.
Let's explore the yard management process in detail.
Step 1. Freight transport access to the primary control zone
It involves providing access to the designated area where yard management activities are coordinated. The system likely employs mechanisms such as gates or entry points equipped with technology to identify and regulate incoming vehicles.
Step 2. Transport identification
The state license plate of the vehicle is automatically recognized. The system checks the existence of a contract and issues a command to the information display. If the number is recognized and the vehicle is not on the blacklist, the system gives an invitation to travel to the checkpoint.
Step 3. Passage of vehicles through a checkpoint
The system automatically locks the vehicle before entering the checkpoint. The vehicle is identified through license plate recognition and RFID labels. If the vehicle is not registered in the system, the driver receives a one-time coupon with a barcode
If the vehicle is registered in the system, then the driver places the RFID card on the reader. After scanning, the system receives permission or a ban on entry in real-time. If the vehicle is allowed to pass, the barrier opens automatically. If a vehicle is prohibited from passing, an alarm event is generated and sent to the security service
Step 4. Arrival at the weighing zone and weighing of transport
The car drives up to the scales. The vehicle is identified through a number or an RFID tag. Then, the vehicle drives onto the scales. The positioning system checks that the vehicle is correctly positioned on the scale. The yard management system automatically synchronizes data on the vehicle and weight with the ERP.
At the time of weighing, screenshots of the vehicle are generated concerning the business transaction. After the weighing is completed, the traffic light turns green, and the barrier automatically opens to exit the weighing area.
Step 5. Loading/ unloading transport
If the system detects an overload, an alert is automatically generated and sent to the security service. The display shows information about the overload and the requirement to change the load. In this case, the vehicle will be prohibited from leaving the warehouse yard area.
After successfully completing the weighing process, the traffic light turns green and the barrier automatically opens to exit the weighing area
Step 6. Leaving warehouse area
A vehicle approaches a checkpoint barrier. The vehicle is being identified. The system verifies weighing data. The system synchronizes data with the ERP and controls the access control system (permission or prohibition of exit, control of barriers and traffic lights)
What Businesses Can Gain From Yard Management Systems
The impact of YMS extends far beyond the confines of a single industry. Its versatility allows it to cater to many sectors, each with its challenges and requirements. We'll embark on a journey through the diverse landscape of businesses that benefit from YMS implementation.
Businesses using YMS and potential benefits from that

Business
Value of using YMS

Retail

Optimizes the flow of goods in and out of retail distribution centers

Real-time visibility

Reducing the need for manual labor in managing warehouse and yard operations

Logistics and freight companies

Streamlines the movement of cargo trailers within yards and distribution centers

YMS allows logistics companies to create automated delivery schedules based on real-time data

Streamlines yard operations, reducing labor and equipment costs associated with manual yard management

E-commerce

Ensures that order fulfillment is carried out efficiently

YMS generates valuable data and analytics that e-commerce companies can use for strategic decision-making

Optimized returns management

Chemical

YMS helps in automating compliance checks and ensuring that all operations align with regulatory standards

YMS provides real-time visibility into chemical inventory

YMS assists in optimizing routing and scheduling for chemical shipments, ensuring that hazardous materials are transported via the safest and most efficient routes

Automotive companies

Minimizes storage costs and reduces excess inventory

Streamlines yard and warehouse operations, reducing labor and equipment costs associated with manual yard management

Generates valuable data and analytics that automotive companies can use to improve their operations further

Agriculture

YMS minimizes the risk of spoilage during transit or storage, preserving product quality and reducing waste

Supports the efficient use of resources, including labor, equipment, and storage space

Enhance customer satisfaction by ensuring that fresh produce reaches customers on time and in optimal condition

Manufacturing

Streamlines the flow of materials within the warehouse, minimizing congestion, ensuring that materials are readily available for production

Reduce production downtime

Provides real-time visibility into the status and location of materials within the yard and warehouse
YMS are versatile solutions that cater to a wide range of industries, from retail and manufacturing to logistics and pharmaceuticals. By maintaining the balance between incoming and outgoing product flow, scheduling warehouse operations, and providing cargo visibility, YMS empowers businesses to optimize their logistics and supply chain operations.
Classification and Types of YMS
The market offers two primary types of yard management systems to profit from in the logistics domain. Here are the most common solution options to choose from.
Use ready-made solutions
You can use ready-made solutions for yard management. As an example, the following YMS software is typically utilized by logistics businesses as:
Quantum Qguar
Tocan
YardManagementSolutions
JDA Yard Management
Oracle Yard Management Cloud
TopLog WMS
WEZOM
HighJump
These yard management systems are designed to be implemented quickly, saving both time and resources compared to developing a custom solution from scratch. Additionally, they often come with a set of standard features and functionalities that have been tested and refined by multiple users.
But choosing the ready-made YMS system, you should be aware that it may not seamlessly integrate with other systems that your company is using. Integration challenges can arise in terms of compatibility with existing software or hardware, leading to additional costs and potential disruptions in operations. Moreover, ready-made yard management solutions offer a quick start but their customization options can be limited, and businesses might find themselves adapting their processes to fit the predefined functionalities of the software rather than the other way around.
So, if your company needs a YMS system highly adjusting to your business requirements, you should consider the custom yard management solution development.
Custom YMS system
This type refers to a separate solution with extended functionality as well as opportunities. To illustrate, some vendors offer two separate YMS parts: one for dock appointments and for yard operations control. What's more, the most efficient solutions support smartphones, so your yard team will be able to make use of them in a more convenient way. Or you may apply to vendors building software that primarily ensures real-time visibility of yard assets.
Custom software for yard management may be built for diverse logistics domains, like manufacturing, chemical supplying, food supplying, and third-party logistics. Full-fledged separate YMS software provides both essential and advanced features. In addition, you may apply to providers allowing 24/7 center and regular software upgrades.
Pros:
Creation from scratch according to your business goals and purposes
Custom analytical system and tools
The full list of features and advanced capabilities
No regular investments required
Quick development investments recoup
Seamless integration with third-party solutions
Cons:
More financial resources needed
The more time-consuming creation process
YMS functionality integration
In case your supply chain business owns a ready-made warehouse optimization software, transportation management solution, or custom order management software, you have an opportunity to expand your capabilities with a YMS integration as well. Companies architecting enterprise resource planning software or system applications and products commonly have expertise in YMS modules creation.
Yard management tools for integration comprise essential functionality like dock appointments, gate control, real-time yard assets tracking, and workflow optimization for the driver. Yet, such opportunities may be insufficient for large-size entities, as they can't satisfy all the requirements within the internal companies' processes due to the limited functions available.
Pros:
Ability to expand the existing system
Decreased costs
Basic features accessibility
Cons:
Limited functionality
Lack of customization
Complex integration in ready-made solutions
How Do Yard Management Systems Work?
A yard management system is multifunctional software allowing you to control and organize all the operations, equipment, vehicles, containers, and resources through the entire warehouse, distribution center, or manufacturing facility.
The YMS opportunities may be integrated into the warehouse management software (WMS) in the warehouse yard management system to fulfill the entity's requirements as well as aims, as it was stated earlier. You can also integrate yard management functionality during inventory management software development. Yet, companies that need all the advanced solutions in one product should choose the standalone software.
Now, let's see what logistics business processes can be automated and enhanced through a yard management system.
How YMS processes can be automated

| | |
| --- | --- |
| Automated Business process | YMS impact |
| Delivery schedule | Minimizes disruptions in delivery schedules and product shipments |
| Queue management process | Automates vehicle queuing in the loading and unloading area. YMS registers vehicles, creates electronic queues, and provides notifications to drivers about their assignments |
| Supplier management process | YMS automates the process of calculating ratings for carriers and suppliers, based on performance and compliance metrics |
| Cost calculation | YMS optimizes costs associated with loading and unloading operations by reducing idle times, fuel consumption, and labor costs |
| Vehicle distribution | Optimizes the distribution of vehicle flows near the warehouse, ensuring a smooth and efficient process for loading and unloading goods |
| Status monitoring | Providing real-time visibility and alerts for any issues or delays |
| Errors and issues handles | YMS helps eliminate errors in vehicle placement near ramps and loading areas, reducing the risk of accidents and delays |
| Shipment time planning | Allows for the automated monitoring of planned shipment times, ensuring that products are loaded and unloaded as scheduled |
By automating tasks, enhancing safety, and providing real-time insights, YMS contributes to streamlined and efficient supply chain management. Now, let's consider the core features you should add to your yard management software.
Basic Features of Yard Management System
We'll delve into the specific YMS modules for improving real-time visibility into yard operations.
Planning load and unload schedules
This is a robust module for planning load and unload schedules. This functionality enables businesses to optimize their resources by scheduling vehicle arrivals and departures with precision. With real-time updates, this module ensures that resources are allocated efficiently, minimizing idle time and reducing operational costs.
Management of loading and unloading sequences
The YMS provides seamless management of loading and unloading sequences. It allows for the prioritization of tasks based on various parameters, such as shipment urgency or vehicle capacity. This feature ensures that the most critical shipments are processed first, improving customer satisfaction and overall logistics performance.
Registration of additional parameters for vehicles
YMS goes beyond the basics, allowing for the registration of additional parameters for vehicles, such as weight and the condition of seals. This data not only aids in compliance but also enables better decision-making in terms of resource allocation and load distribution.
Control and reporting of deviations
The system's ability to control and report deviations in load and unload schedules is invaluable. It helps logistics managers quickly identify and address issues, reducing delays and improving overall efficiency.
Measuring the duration of logistics operations
Understanding how long logistics operations take is crucial for continuous improvement. YMS provides insightful metrics on the duration of various tasks, helping businesses identify bottlenecks and streamline their operations for maximum efficiency.
Registration of vehicles at checkpoints and parking lots
Managing the flow of vehicles in and out of checkpoints and parking lots is a critical aspect of logistics. The YMS simplifies this process, ensuring accurate and efficient registration while minimizing congestion.
Communication with the driver
Effective communication with drivers is essential for smooth logistics operations. The yard management system includes communication features that allow for real-time updates, ensuring that drivers are always informed and aware of any changes or delays.
Pedestrian traffic control
Safety is a top priority in logistics, and the YMS caters to this with pedestrian traffic control features. It helps prevent accidents by managing the interaction between vehicles and pedestrians in busy logistics areas.
Restriction of movements
For security and operational reasons, certain movements within logistics facilities may need to be restricted. The YMS provides tools for managing and enforcing these restrictions, ensuring a safe and secure working environment.
Kindly note that we've described only the core modules that must be included into the YMS system. The ultimate feature set will differ from business roles. The table below represents the YMS business roles and functionality for each of the roles to seamlessly perform their work.
Business roles and core functionality for each of them

Role
Features

Driver

View and edit own profile
View assignments
View trip details
Access maps and navigation
View vehicle details
Report vehicle issues
Communication chat with coordinator
View and print all necessary documentation
Receive alerts and notifications

Security guard of the access control point to the territory of the warehouse yard

Badge generation and printing
Manage access permissions based on roles and levels of authorized
Visitor registration
Live monitoring
Emergency response

Dispatcher

Create and update transportation for drivers' trips
Real-time navigation to guide drivers and ensure on-time arrivals
Manage incidents that may occur during transportation
Generate reports related to logistics operations

Shift supervisor

Monitor waiting cars
Assign the appropriate ramp for unloading based on priority and type of delivery
Live chat with dispatchers and drivers
Messages and notifications related to incoming deliveries, updates on waiting cars or urgent requests
Track the progress of unloading for each delivery, ensuring that it is carried out efficiently
Assign priority levels to deliveries based on urgency, criticality, or specific instructions
However, it's important to understand that these roles roles their responsibilities, and intricacies within a YMS for logistics may vary based on the unique requirements and business needs of each logistics and transportation organization.
What You Need to Know to Integrate YMS Successfully
After defining the basic functionality to implement, let's go through the yard management system integration steps.
Step 1. Assembling requirements
This stage is also called discovery phase. It implies defining gathering your project needs, which goals the YMS implementation should help achieve, and the scope of work. Draw up your entity's objectives and the yard management software role and value within its frameworks. Think over the specific indicators which are set individually for each organization. These benchmarks should be set in order to assess the YMS efficiency and how successful aims were obtained. Besides, during this stage, a detailed project roadmap on the implementation process in created. Each step should be maximally precise. The more in-depth your implementation process will be, the more the final system will meet your expectations and requirements. During the discovery phase, your software development partner will guide you, advising and gathering additional information.
Step 2. Picking credible vendor
Now you should select a trustworthy and experienced software vendor who will architect a custom YMS solution for your specific needs. Let's briefly overview the most popular hiring options to choose from:
Freelancers
This option is highly affordable and may considerably decrease your development expenses. Yet, such a sophisticated system as YMS has a complex functionality, which requires the high competence. Besides, you'll have to verify the expertise of the potential partner yourself or hire a tech-savvy assistant. Freelancers often require a prepayment, after which they may simply quit your project development. Apart from this unpleasant possibility, you may face time differences, cultural and language barriers, and many other issues which will affect the product quality.
In-house team
It is worth mentioning that the in-house team ensures excellent communication level and great system maintenance as well as support capabilities. Yet, this option requires huge financial resources contribution. This is conditioned by the fact that you have to rent the office for your development team, purchase costly hardware, regularly pay salaries regardless of the scope of work done, etc. As a result, an in-house team is a perfect choice for vast enterprises which require an accessible team of experts and will be able to cover all the essential expenses.
Outsourcing companies
Outsourcing your project is considered to be the most cost-efficient option of all the three discussed. Such companies take over all the product creation responsibilities and have all the proficient software engineers for this goal (in contrast with the two previous models where you have to check the competence on your own). Apart from this, you pay only for the work completed with no extra investments.
The cost varies from country to country; still, the market research indicates that the most adequate price range at a remaining top-notch performance is provided by the software development companies from Central Europe, particularly Estonia. This tech hub allows receiving a high-quality YMS solution at a reasonable cost. And it's not the only benefit of this country within the outsourcing- let's define more reasons to select an Estonian software development partner:
Reasonable hourly rates allow building complex software solutions for an affordable cost
The large pool of talented and proficient experts to choose from
Free trade to EU and EFTA countries, a 1-hour time zone difference with Western Europe
Step 3. Communicating
Arrange regular meetings with the chosen YMS development vendor in order to track the progress of the project accomplishment. The reports provided by your tech experts should be checked and discussed in case you would like to implement specific changes in the final result.
Step 4. Team training
The yard management system is complex software that may serve as an efficient tool when employees know how to make use of it. That is why a detailed guide and practical training for your yard team on the YMS application is a must.
Provide your staff with in-depth instructions and answer the arising questions (if any) concerning the further workflow with this solution. Therefore, the number of issues and errors related to the YMS usage will significantly decrease or be entirely eliminated.
Step 5. YMS integrating
Here are the aspects to consider when transmitting to a YMS solution:
Internal support resources for all locations, every shift, and all business fields applying the YMS
Vendor support, both on-premise and distantly
Setting the issue-reporting system for employees
Ensuring that the team knows how to react in the situation of possible system flaws, or the personnel will look for workarounds and will try to avoid the software application
Step 6. Ensure safety/security
In this aspect, the choice of competent and high-qualified developers is extremely important, as such a solution as YMS requires top-notch security. Due to the fact, that the yard management system processes and stores sensitive data, you should select an experienced software vendor who is competent in choosing and working with safe and stable data centers according to the location of the entity, so that hosted information will remain within the location and comply with its requirements. The protection potency impacts how safe all the automated processes will be completed, so it is significant to architect YMS software with solid and powerful security.
Here's an example of a robust yard management system architecture designed by Cleveroad team.
Yard management system's solution architecture made by Cleveroad
Step 7. Integration with other business solutions
In order to streamline your logistics operations, you should care about integrating your YMS with other of your shipping systems. The choice of integrations depends on the specific needs and objectives of the organization and the complexity of its supply chain processes. Here are some related integrations that can enhance the capabilities and efficiency of a yard management system.
Systems you can integrate your YMS with

| | |
| --- | --- |
| Integration | Purpose of integration |
| Transport management system (TMS) | Integrating with a TMS allows for seamless coordination between yard operations and transportation activities. This includes optimizing routes, carrier assignments, and real-time tracking of shipments |
| Warehouse Management System (WMS) | Integration with a WMS helps manage inventory and warehouse operations, ensuring the availability of products in the yard for loading and unloading. Real-time data exchange between YMS and WMS is essential for efficient operations. |
| Labor Management System (LMS) | Integrating with LMS can help optimize labor allocation and improve workforce management for loading and unloading operations. |
| Barcode and RFID Systems | Integration with barcode and RFID technologies allows for efficient vehicle and cargo identification, reducing errors and streamlining operations |
| IoT Sensors | IoT sensors can provide data on vehicle location, cargo conditions, and environmental factors, which can be integrated into YMS for better decision-making |
| Electronic Data Interchange (EDI) | EDI integration facilitates the exchange of electronic documents and data between trading partners, helping automate the transfer of shipment and order information |
| GPS Systems | Real-time tracking of vehicles and assets through telematics and GPS systems helps improve visibility and provides data for decision-making in the yard |
Step 8. Maintaining and support
Stable, smooth, and secure operation is a key for every YMS solution. Make sure that you have an advancement strategy for your yard management system. The team of tech experts should regularly conduct support, maintenance, configuration, functionality updating, newer versions testing, and other actions to enhance the current YMS solution.
Challenges of Integrating Yard Management System
We've prepared the list of complexities and intricacies that you may encounter when implementing a Yard Management System into your logistics business processes.
Meeting specific local regulations
Meeting regulatory requirements is one of the most widespread challenges you can face while implementing a yard management system.
Let's explore the critical regulations that govern YMS processes in Europe and understand how compliance is essential not only for legal reasons but also for fostering a safe, sustainable, and efficient supply chain ecosystem. Regulations related to Yard Management Systems (YMS) in Europe can vary from one country to another and may also be subject to specific industries or regions.
However, there are some general regulations and standards that may be applicable to YMS processes across the European Union.
The regulations your YMS should comply with

| | |
| --- | --- |
| Regulation | Description |
| Data privacy | YMS systems often involve the collection and processing of data, including information about vehicles, drivers, and shipments. Organizations using YMS must comply with data protection and privacy regulations, such as the General Data Protection Regulation (GDPR) in the European Union |
| Import/Export regulations | For international shipments, customs and import/export regulations play a significant role. These regulations are essential for managing cross-border movements and the flow of goods |
| Electronic documentation | YMS often relies on electronic records and documentation, so it's essential to ensure compliance with local regulations regarding electronic archiving and record-keeping. |
| Safety and health standards | Yard management can contribute to safety in warehouse yards. Local regulations and standards related to safety and occupational health, such as the EU's Workplace Health and Safety Directive, need to be followed to ensure the safety of employees and drivers |
| Transportation regulations | YMS processes are closely related to transportation and logistics. European countries have their own transportation regulations, covering issues like vehicle safety standards, road transport permits, and environmental regulations. Companies implementing YMS must adhere to these regulations to ensure the legality and safety of their operations |
Tech demands for yard management system
We'll also talk more about the crucial tech requirements for the YMS solution you should consider while creating this logistics system:
Operational transport planning
Operational transport planning begins with the generation of daily or shift-based tasks. These tasks comprise ordered and time-coordinated processing operations, specifically loading and unloading of transport units, known as Transport Requirements.
Manual creation by operators
Operators can manually create Transport Requirements, combining various commodity documents such as shipment orders and invoices into a single transport unit.
A user-friendly interface facilitates the grouping of documents by multiple criteria, making it easy to include them in transport requirements either entirely or line by line.
Automatic creation via router
Alternatively, Transport Requirements can be generated automatically through specialized external software known as a "router." The router employs algorithms based on electronic map data to optimally combine several invoices for delivery into one vehicle, considering factors like delivery addresses, product readiness time, and planned delivery time
Calculation of time restrictions
A crucial preliminary stage in operational transport planning involves the calculation of time restrictions. The common time restrictions are represented below:
Warehouse terminal time constraints as factoring in the limited operating hours of warehouse terminals, considering the processing of warehouse tasks by factory warehouses.
Recipient address parameters. Considering parameters of specific recipient addresses, including travel time, product readiness time, and planned delivery time.
Visit and warehouse task constraints, like creating one or more visits for each Transport Request, which may involve loading at one distribution center and unloading at another, along with corresponding warehouse tasks. Moreover, it should be mentioned about calculating time restrictions for each warehouse task, including processing time, minimum acceptable start time, and maximum allowed completion time.
Optimization Strategies
The heart of operational transport planning lies in optimizing the process. There are optimization strategies you should consider while planning to develop your YMS.
Capacity optimization. Optimizing the use of warehouse capacity, ensuring that resources are allocated efficiently.
Transit time minimization. Minimizing the time spent by cargo in transit, which is critical for timely deliveries.
Flexible scheduling. Adapting to factors like terminal hours, the availability of loading windows, cargo types, and window-specific or interval-based loading window availability.
Handling exceptions. Managing exceptions, such as the inaccessibility of loading windows, with adaptive solutions.
Overcoming challenges of integrating YMS lies in the cooperation with a proficient IT vendor. Our team has 11+years of experience in Logistics technology and knows how to deal with issues a logistics business may encounter during software product integration.
Cost of Yard Management Systems
After discovering all the essential information about the YMS feature set, let's consider the approximate development time and price for this logistics system creation. First let's consider the basic YMS features as well as their approximate timing and cost.
Approximate time for creating YMS core functionality

| | |
| --- | --- |
| Features | Time (hours) |
| Real time visibility on yard assets | 180 |
| Yard driver task optimization | 90 |
| Dock scheduling | 120 |
| Gatehouse management | 90 |
| Integration of external services | 60 |
| Analytics and reports | 80 |
| Manual corrections making | 50 |
| Integration with the other management systems (e.g., CRM) | 60 |
| Access to RBAC by roles | 70 |
However, you should keep in mind that the estimate includes only development time without expenditures for other IT specialists. The approximate team composition to create the yard management system is the following:
Developers (backend/front-end)
Business analysts
Project managers
UI/UX designers
Solution architects
QA and DevOps engineers
Thinking out the team composition and the amount of work given above, the rough cost of your YMS will be $70,000-$250,000. You can book a consultation with our Logistics Business Analysts to know more about the future project estimation details.
Cleveroad Expertise
Cleveroad is a logistics systems development company from Estonia with a solid 11+ years of experience in ensuring diverse IT-related assistance and logistics software development services. They optimize internal company's operations, solve entity challenges successfully, and help to gain competitive advantages.
We are sure that honesty and transparency with our partners, as well as the team is a key to building top-quality products. Our clients are free to choose the most suitable among the three flexible partnership models: dedicated team, staff augmentation, time & materials.
Working with us, you obtain the following benefits:
Automating yard management flows through the development of the robust YMS system to provide high logistics and shipping operational efficiency
Experience in working with third-party logistics systems (e.g., Google Maps, LogistaaS, Shiptify, etc.) to integrate with your YMS software and streamline your internal flows
Hands-on experience of creating YMS logistics software meeting regulatory requirements like GDPR, Regulation (EC) No 561/2006, Regulation (EEC) No 3821/85, Regulation (EC) No 2135/98, Regulation (EU) No 165/2014, etc
A team of agile-minded software development specialists with a profound expertise in Logistics, ready to set to your timetable changes
A comprehensive consultation with one of our Logistics software development specialists like Solution Architect, Project Manager or Business Analyst as to your project
Cleveroad has in-depth competence in the creation of LMS, like Transportation Management System (TMS), digital transformation in Supply Chain Management (SCM), Enterprise Resource Planning (ERP), Warehouse Management Systems, Fleet Management Solytions and many more. We develop products to decrease operational outgoings, optimize supply chains and workflows of warehousing, transportation, cargo delivery, etc. You are welcome to verify our expertise by taking a look at our portfolio, or rates and reviews on sources like Clutch and GoodFirms.
YMS system from experts in Logistics
Get a robust and resilient YMS system from a software development team with 11+ years of experience in Logistics
Frequently Asked Questions
Basically, yard management refers to the operation that involves your enterprise managing inbound (receiving supplies or materials into a business) and outbound (supplying goods and products to clients) vehicles and trailers, employees, cargo, dispatch, and all objects and their objects and their actions in the yard to your docks. The equilibrium between inbound and outbound supply is the primary target of efficient yard management.
Yard management system is a solution architected to track the movement of trucks in the enterprise yard, distribution hub, or warehouse. It serves as a connection between transportation and the warehouse, so this system provides significant capabilities for higher control levels and productivity.
No vehicle assets tracking
Lack of shipment information
Workflow disturbance
The inefficiency of yard jockeys
Assemble project requirements
Pick credible vendor
Communicate
Train your team
Integrate YMS with other business systems
Care about security
Integrate IoT solutions
Provide maintenance and support if needed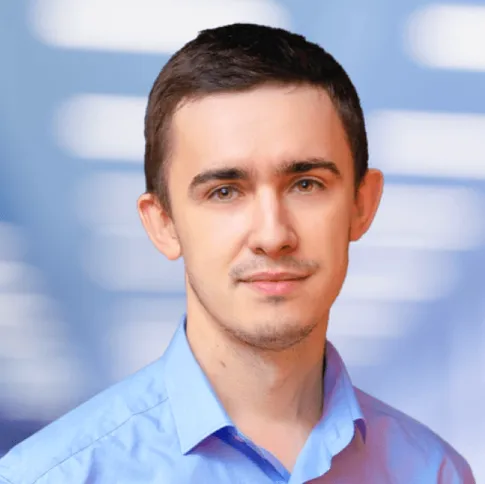 About author
Evgeniy Altynpara is a CTO and member of the Forbes Councils' community of tech professionals. He is an expert in software development and technological entrepreneurship and has 10+years of experience in digital transformation consulting in Healthcare, FinTech, Supply Chain and Logistics
Rate this article!
1225 ratings, average: 4.70 out of 5
Give us your impressions about this article
Give us your impressions about this article