Healthcare Cybersecurity Frameworks: Benefits, Best Examples, and Usage Tips
Just like in any other industry, cyber attacks in healthcare are quite common. Healthcare's vulnerable to security threats. And there are lots of specific risks, as well as security risks, for health organizations to address.
The healthcare entities have to prove that devices, technologies, and methods they adopted bring no risks to clients. And compiling their security with recognized standards and frameworks is a great way out.
In this guide, we're going to find out what exactly are the security healthcare frameworks, and how to apply them in the field. Along with getting acquainted with widely-known cybersecurity frameworks.
What Is a Cybersecurity Framework?
In general, a cybersecurity framework (CSF) is a guide, based on already existing guidelines and practices. It helps organizations with reducing cybersecurity risks in healthcare and other fields and with maintaining the management process. Besides, an adaptive and effective approach the framework offers helps administrators with managing sensitive data and predicting cybersecurity-related threats.
So, in short, the frameworks are the roadmaps for securing IT systems.
But a framework doesn't equal a prescription. It provides a common language and methods for fighting cyber threats, not claims to be the only way to secure the information.
It's a living document intended to be updated when the staff learns from its adoption. Same when technologies and risks change. That's the reason why the CSF focuses on questions organizations need to ask themselves – to manage their risks in the right way. And while technologies, means, and standards may change – the principals remain.
We can define the main goals of cybersecurity frameworks:
Describing the current security situation
Describing target security posture
Non-stopping improvement
Assess progress towards target posture
Communication risk
But what these frameworks consist of?
There are three base components of a CSF:
The core
Implementation tiers
Profiles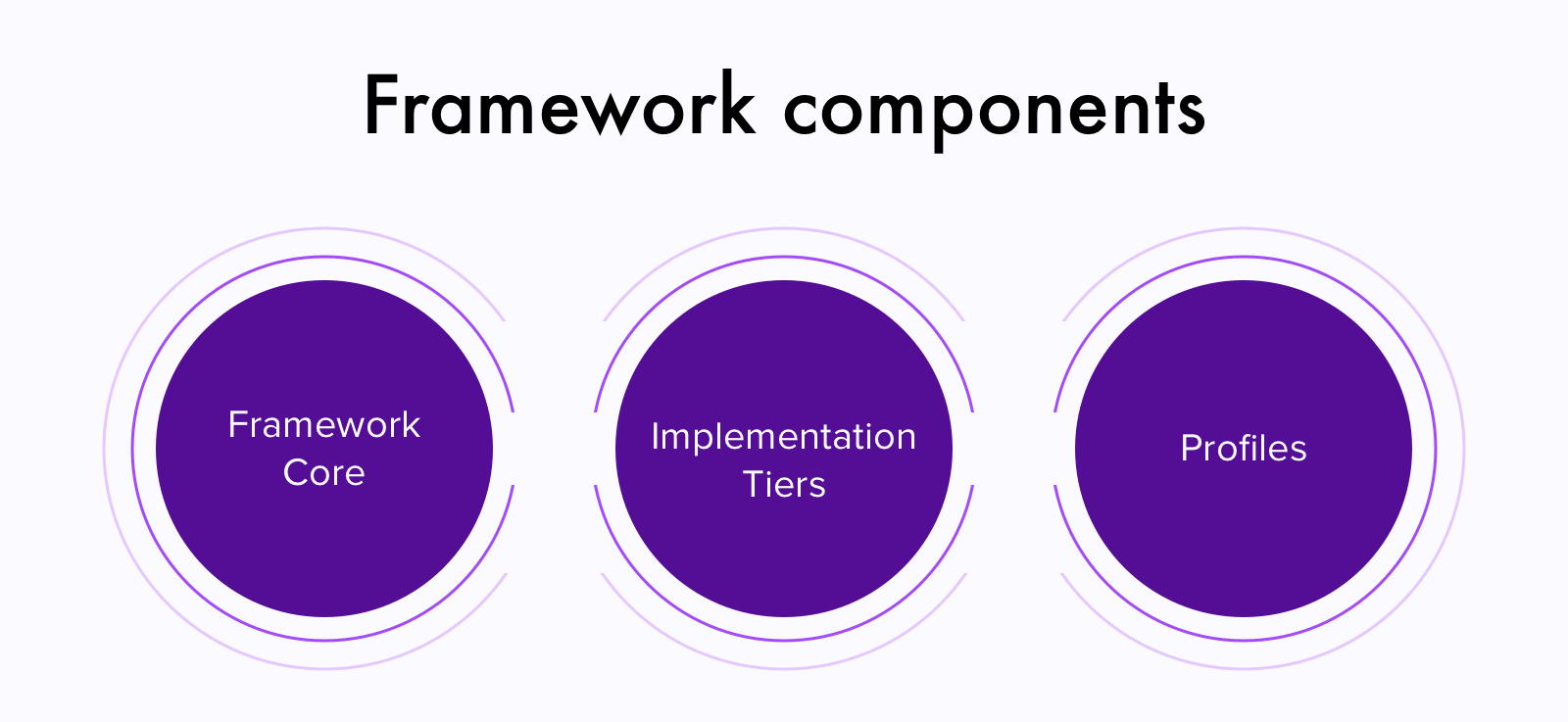 Base components of cybersecurity frameworks
Let's take a closer look at them.
Framework core is an arrangement of cybersecurity activities and references, organized to reach a particular outcome. Its function is to enable communication of cybersecurity risks across an organization.
Implementation tiers help associations by defining how they see cybersecurity management. They help to find the right level of thoroughness for a security program and enable communication of cyber risks across an organization.
Profiles are an arrangement of organizational goals and premises, and assets against the framework core results. They align industry standards and best practices, support prioritization, and measurement according to the business needs.
Why Use CSF in Healthcare?
Hospitals and other healthcare providers have always been in need for data security and privacy. That's why they apply safeguards to secure sensitive data within an organization and to show compliance according to industry, state, and federal requirements.
Besides, healthcare is the only industry where inside cybersecurity threats are more dangerous than outside ones. And on top of that, they're more frequent according to Verison report (59% of internal compared to 42% of external incidents).
There are a few reasons for such strangeness, but human error contributes the most. Hospital employees may abuse their access to internal systems and information they store. For instance, it happens when the hospital staff's checking on what procedures celebrities take. No wonder in 6% of breach cases 'just for fun' appears to be the only motivation.
Custom CRM software often comes with different access levels. Check our 'How to Create a Custom CRM Software' article to learn how to develop the best and most secure solution – and breaches will never make it.
So how exactly health information security frameworks help to resolve these matters?
Let's find out how CSF work on an example of the most popular health cybersecurity framework – NIST. (You'll find a more detailed look at common CS frameworks below).
First, CSF is implemented specifically to identify, detect, respond, protect and recover from the impacts of security threats and their consequences. It's not a set of strict rules for hospitals, but a guideline of best practices of IT security. And healthcare institutions adopt these guidelines to enhance their existing cybersecurity policies.
Second, NIST healthcare cybersecurity framework ensures security using its core elements, implementation tiers, and a profile that aligns them by business requirements, financial capabilities, and risk tolerance.


Main functions of cybersecurity frameworks
CSF allows stakeholders – both external and internal – to understand and manage cybersecurity together, as a team. It's a tool that helps healthcare entities with aligning business and tech policies.
Software testing is a great way to eliminate security breaches. Order QA testing services and make sure the software is well-protected.
That results in better management of security risks across the whole organization. And, thus, better outcomes which is vital when it comes to delivering healthcare services to patients or improved operational efficiency with personnel.
Health CSF Implementation
Finally, time to ensure medical cybersecurity and work on CSF adopting. For now, most institutions use a seven-step process when it comes to framework implementation:
Step 1: Define priorities and organizational components.
Step 2: Identify current risk management approaches.
Step 3: Create a risk management profile (Target Profile).
Step 4: Evaluate the risks.
Step 5: Make a risk management profile based on the assessment results (Current Profile).
Step 6: Create an action plan.
Step 7: Implement the plan.


The implementation process, step by step
Now, let's discuss the steps in more detail.
Prioritize and make the scope
Hospital cybersecurity begins with defining the main objectives and priorities of the organization. That's required for making strategic decisions regarding the security means and finding the systems and tools that support the selected process.
And CSF adoption starts with developing a strategy for framing, assessing, monitoring, and responding to risks. This way, a healthcare organization defines how and where to use the framework and analyzes threats and impacts.
Orient
First, the organization figures out what resources they have (tools, technologies, data, personnel). They also identify the appropriate regulatory, looking for authoritative sources like security standards, means, and methods, risk management guidelines, etc.
Second, they calculate the overall risk approach. And define what weak points their means, tools, and systems may have.
Work on a Target Profile
The entity defines its own risk factors and makes an overlay of the healthcare framework. Next, the organization sets the overlay to prevent any unique threats and breaches. Besides, entities may also develop their own Categories and Subcategories to account for unique risks.
They create a Target Profile by pointing out the category and subcategory of the outcomes they are working on from the framework core.
Estimate the risks
The main purpose of this stage is to evaluate the level of risk to the information system. The healthcare organization analyzes the possibility of a security breach and the consequences it may trigger.
It's important to look for incorporate emerging risks as well as for threat and vulnerabilities – to better understand the possible outcome of security events. The estimation can be based on general risk management or previous risk evaluations.
Create a Current Profile
Healthcare entities make a detailed risk assessment and define their current status. This evaluation's better to be conducted from both the functional area and independently across the organization.
The main goal's to give the organization a clear understanding of current cybersecurity risks in healthcare – those they may face due to security breaches. So it's where all the threats and vulnerabilities should be identified and properly documented.
Determine, analyze and prioritize the gaps
Now, knowing the risks and impacts they bring, healthcare organizations move to a gap analysis. The idea's to compare the actual scores with the target ones. For example, they may create a heat map showing the results in a clear way. And, with this approach, it's easy to highlight the areas to focus on.
Next comes brainstorming – entities find out what to do to fill the gaps between current and target scores.
Make the action plan go live
Finally, having a clear picture of possible cybersecurity issues in healthcare, available defensive means, target goals, a thorough gap analysis plus a list of necessary actions, medical organizations start to implement the framework.
Still, it doesn't end just with adopting the action plan. Companies need to organize and check metrics to be aware of their efficiency and make sure that their CSF is fulfilling the company's expectations. It's an ongoing process aimed at getting the maximum benefit and further customizing of the framework to totally meet the business needs.
Healthcare and Cybersecurity: Best Framework Examples
In 2018, HIMSS conducted a 'Cybersecurity Survey', finding out what medical cybersecurity frameworks are the most popular in the sector. So we're going to check on five widely used cybersecurity frameworks, and find out why healthcare organizations adopt them.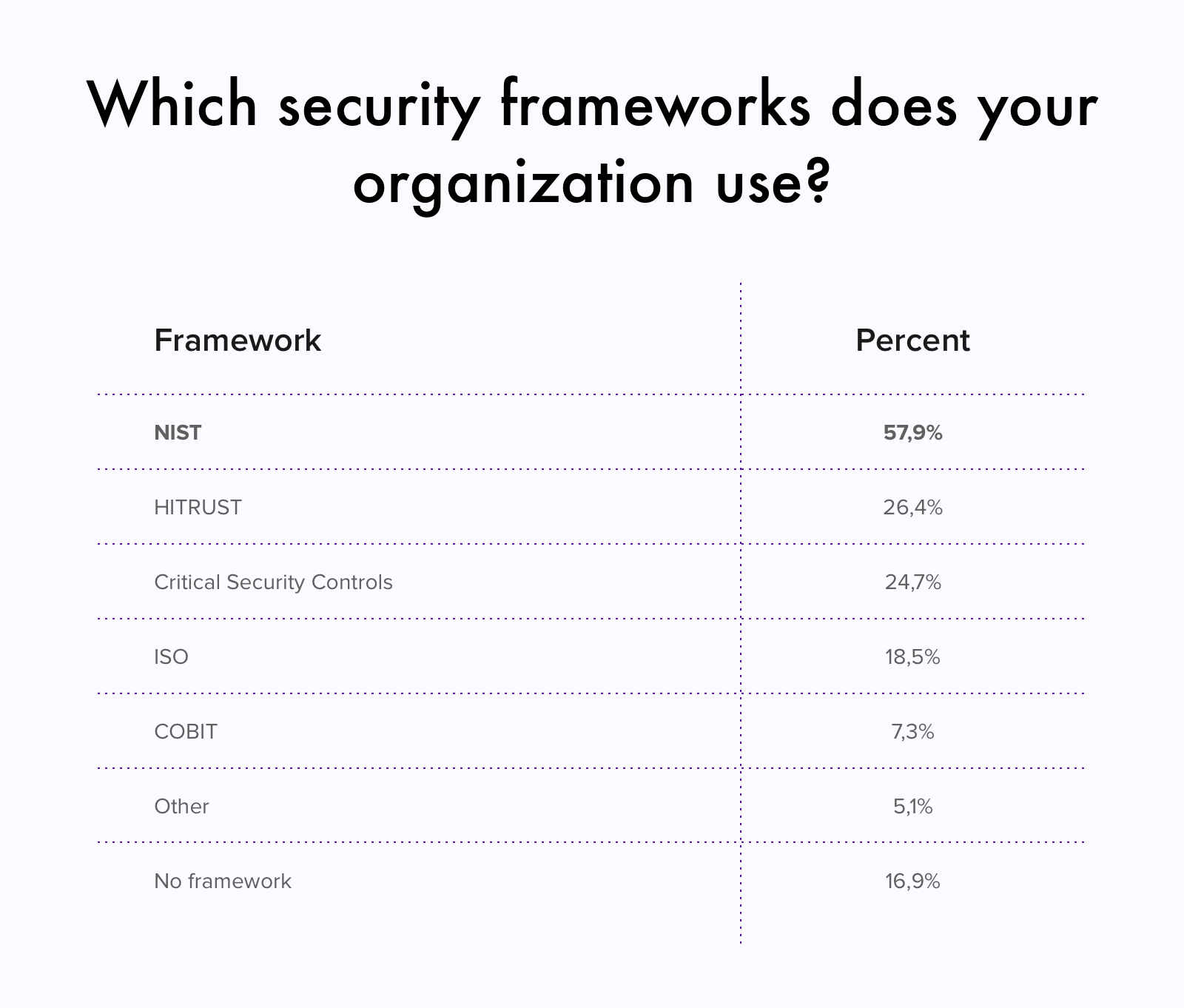 Cyber security frameworks, by usage
NIST Healthcare Framework
NIST CFS remains the most popular security framework in many industries, including healthcare. NIST stands for National Institute of Standards and Technology, a USA-based agency that creates lots of tech standards and guidelines, data security included.
NIST maintains quite a few documents, and the best-known are:
NIST Framework for Improving Critical Infrastructure Cybersecurity
NIST SP 800-53: Security and Privacy Controls for Federal Information Systems and Organizations
NIST SP 800-171: Protecting Controlled Unclassified Information in Nonfederal Systems and Organizations
NIST developed the CSF basing on threat modeling, intelligence, and collaboration. By utilizing it, healthcare institutions not just perform a required analysis of possible risks, but address emerging threats and cooperate with other entities.
HITRUST
HITRUST framework ranks second: 26,4% of healthcare frameworks users claim to follow the guidelines created by the Health Information Trust Alliance.
HITRUST is a private organization led by the best specialists in the healthcare industry. Their main goal is to make data security the basis of information systems. That's why their CSF strives to meet the needs of institutions in providing specific guidance.
The programs include common risk establishment, an assessment and assurance methodology; advocacy and awareness, and so on. Besides, the framework makes use of the ISO/IEC 27001:2005 Information Security Management system, while supporting non-US business associates.
Critical Security Controls
Critical Security Controls, developed by Center for Internet Security, is a list of practices aimed to prevent or stop the most common healthcare cyber attacks. In CSC, all the controls are listed according to their priority – starting with the most important ones like managing vulnerabilities, building an inventory of assets, etc.
Although the CIS Controls play a great role in security insurance, it's not a stand-alone solution. CIS is mostly used with other CFS, for example, NIST.
ISO 27000 Series
ISO stands for International Organization for Standardization which a non-governmental company that develops standards to support world trade. ISO maintains standards aimed at building and maintenance of an information security management system – ISO/IEC 27000.
This framework can be applied in the healthcare sphere to cope with the challenging and constantly evolving requirements of data security.
COBIT CFS
Control Objectives for Information and Related Technologies (COBIT) framework (developed by ISACA) is an IT governance tool. It allows organizations to fill the gap between control requirements and helps with policy development.
It may seem that COBIT focuses on the effectiveness of the IT sphere, rather than on the security of business issues. Still, lots of companies use the CSF to implement practices provided by other security standards, for example, NIST healthcare cybersecurity framework and ISO27001/2.
For now, healthcare providers like hospitals and insurance companies join other entities (financial institutions, private corporations, governments) in adopting COBIT.
What Can We Do?
Our staff is skilled and can help with solving any problem. Contact us and describe your case – and we'll get back to you in less than 24 hours!
Frequently Asked Questions
One of the common ways is to adopt a cybersecurity framework.
It helps healthcare organizations reduce cybersecurity risks, internal and external threats. As well as allows administrators to better manage sensitive data and predict cybersecurity-related threats.
Healthcare is the industry where insider threats are more dangerous than outside ones. According to the Verison report (59% of internal compared to 42% of external incidents), they're more frequent, too.
Here are the most common cybersecurity frameworks in healthcare:
NIST Framework for Improving Critical Infrastructure Cybersecurity
HITRUST framework
Critical Security Controls
ISO 27000 Series
COBIT CFS
HITRUST framework strives to meet the needs of institutions in providing specific guidance.
The framework includes common risk establishment, an assessment and assurance methodology, advocacy, and awareness.
Each framework has its pros and cons and should be tailored to your business needs. The best approach here is to research each framework's benefits and drawbacks and choose the one that fits your company's needs.
NIST stands for the National Institute of Standards and Technology, a USA-based agency that creates lots of tech standards and guidelines, data security included.
Their framework is called 'NIST Framework for Improving Critical Infrastructure Cybersecurity.'
Rate this article!
830 ratings, average: 4.50 out of 5
Give us your impressions about this article
Give us your impressions about this article