A Full Guide on Medical Web Development and Design
425 Views
|
23 Oct 2019
|
8 min
Modern technologies are driving digital transformations to various industries, including healthcare. These days, people are quite demanding, so it's kind of must-have for hospitals to have a website. To deliver a good experience to patients, the medical site has to be convenient and user-friendly. Considering all these issues, we've created a full guide on medical website design and development.
Medical Web Design Trends
The crowded and unorganized website tends to distract clients. Users want to find necessary information easy and fast, so the website should be user-friendly and straightforward.
Trends move fast nowadays, and it can be complicated to follow all of them. There are the latest innovations in medical practice website design for 2020.
Responsive web design
The user-friendly website stands for a responsive one. It means that medical website design follows different screen sizes and resolutions. Patients use smartphones and tablets these days to get some data about the hospital. According to Statista, approximately half of web traffic comes from mobile devices.
Flat design
Flat design of user interface means using minimalistic and concise elements. As a result, you get a laconic but contrast design that allows focusing on website content. Additionally, flat design can reduce the website loading time since there are simple design elements.
Plan to create medical web design?
Our team of qualified UI/UX designers and software engineers is at your disposal.
Micro animation
As you can understand from the name, micro animations stand for small animated parts of the user interface. Micro animations assist in drawing users' attention and improving website navigation. However, micro animations shouldn't overload your website. They should complement software functionality.
Hamburger menu
Hamburger menu stands for a button placed in the top corner of a website interface. Pressing this button, the user gets access to the main menu or navigation bar. Hamburger menu buttons are actively used these days since they require less space. The busy navigation bar can distract users from the website content. Additionally, such menus work perfectly on mobile devices making websites more user-friendly.
Bright colors
Colorful solutions become one of the biggest medicine website design trends of 2020. It's trendy to choose vivid and deep colors. Additionally, you can select several corporate colors to represent your brand. For example, orange stands for optimism, while blue indicates trustworthy. So, it's better to consider palette during medical practice website development.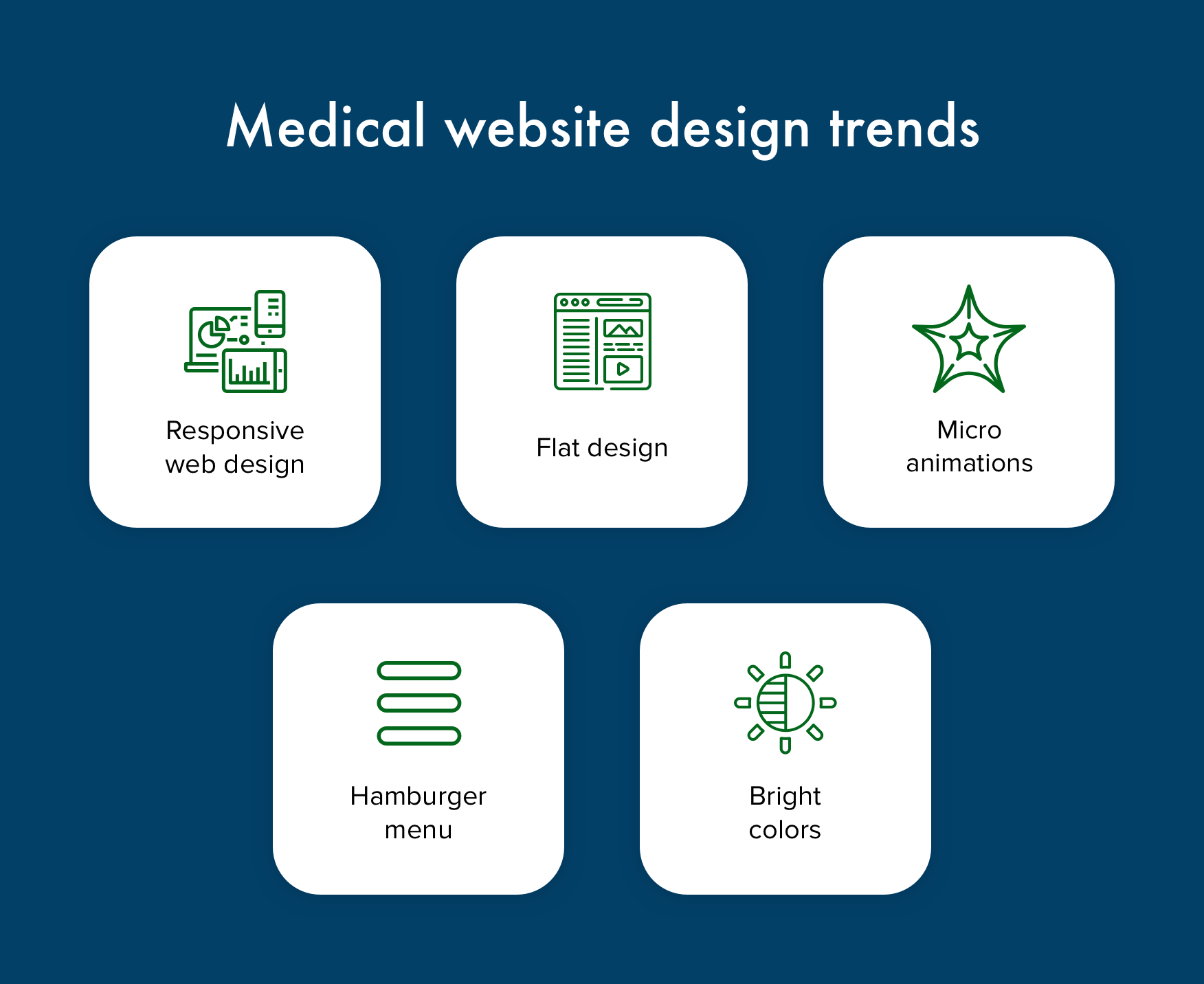 5 medical web design trends for 2020
As you can see, users expect to see clean and bright websites with animation soon. There are a lot of medical website design companies that can develop a website design following all your requirements and business goals. By the way, at Cleveroad, we also provide UI/UX services. If you are curious, check our Dribbble account to study how we follow all the mentioned trends.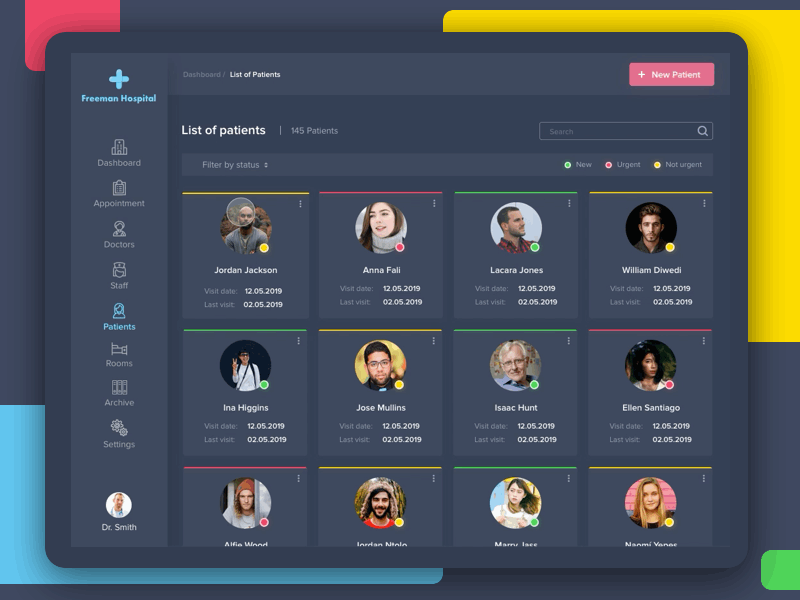 CRM for hospitals by Cleveroad
Medical Website Development: Features to Implement
Starting medical web development, you need to consider the features you want to integrate. Usually, they are divided into two groups — basic and advanced. The first group consists of the functions that are vital for your website to work correctly. As for advanced features, they tend to bring some exciting functions assisting with user engagement.
Contact & location information
Considering the medical website, it should be easy for users to find the hospital location or phone number. Additionally, if you have various locations, make sure to provide the opportunity to select the nearest one. As for phone numbers, it's better to place them on the homepage. For instance, you can integrate a click-to-call button. It allows calling from the website if the user looks through the website on mobile devices.
Key services
Make sure that it's easy for clients to find out about the services offered by your hospital. If you provide some unique services, your UI/UX designers should think of how to emphasize them. For instance, medical website developers can add a list of services with an opportunity to click and look through more detailed information.
Team
Patients want to know more about the doctor, so it's good to provide the data about the specialists. It's possible to add data about the doctor's education, experience, and more. As a result, you can gain patients' trust and loyalty.
Appointments
Scheduling should be as easy as possible. It's necessary to provide users with opportunities to choose the date, time, and doctor. Patients should fill in the request form with information like name, insurance, phone number, symptoms, and more.
Search
Entering the website, clients want to find the necessary information and learn more about your services. So, the primary task of medical website designers and developers is creating a user-friendly search. Additionally, it's good to integrate filters and let users sort the search results with various criteria.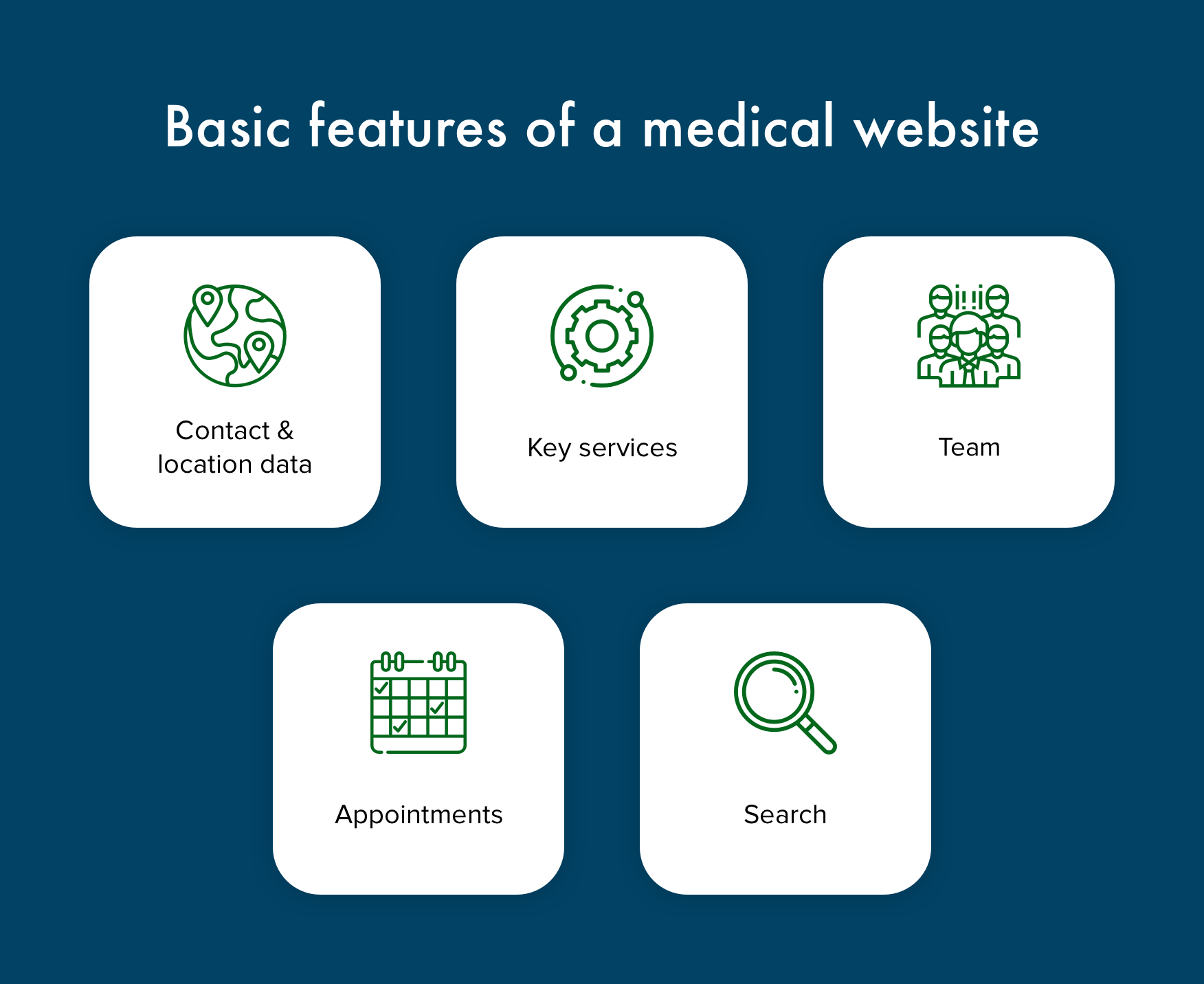 MVP features of a medical website
Chatbots
Chatbots can be very useful for your business. For instance, they can find answers to the most frequently asked questions about the hospital working hours, location, and so on. All these will reduce the burden of your administrators, call centers, or whatever means you're using to answer clients' questions.
Call-to-action button
There can be popups that offer to schedule an appointment, find an appropriate doctor, etc. So, users can follow this link without searching for the required button in the navigation bar.
Online payments
After booking an appointment, the patients need to have an opportunity to pay for the service. Additionally, it's better to implement several payment methods (e.g. PayPal, Visa) during medical website development. However, while payment integration, you need to consider security issues.
Online consultations
You can provide patients with the ability to consult a physician online. This function is useful for new clients and constant patients.
Feedback
The clients appreciate an opportunity to share their visit experience by leaving a testimonial. Positive comments assist in gaining visitors' trust and bringing new clients to your hospital.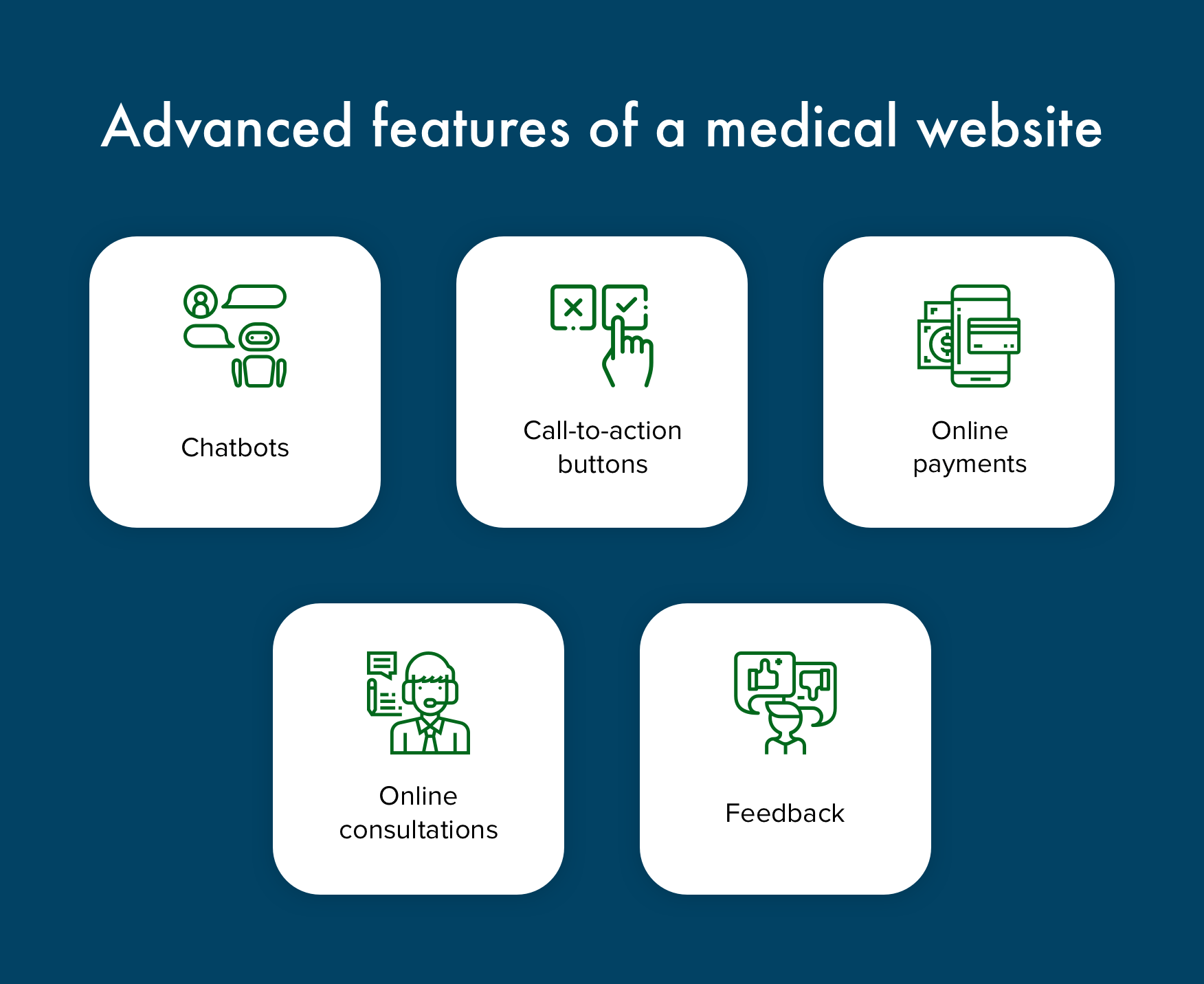 Complex features of a medical website
So, we've discussed the primary features that can be integrated during medical website development. It's common to consider basic features as MVP ones since they are required to satisfy patients' demands. We offer to develop an MVP-version of the website and launch it. After that, according to the users' feedback, medical website designers and developers can implement more complicated features.
Technologies to Develop a Medical Website
To create a successful medical website, you need to choose an appropriate tech stack. Additionally, it's better to ensure that you follow such regulations as HIPAA or HITECH that protect the health information of the patients. They're also used to build EHR systems and other medical software.
Let's discuss these guidelines more precisely.
Health Insurance Portability and Accountability Act or HIPAA
The American government has created the Health Insurance Portability and Accountability Act to protect patients' data. According to HIPAA, Protected Health Information or PHI consists of any data that can identify the particular person. So, there can be:
Names (full and last name including initials)
Phone or fax numbers
Email addresses
Social security numbers
Medical record numbers
Health insurance numbers
To comply with HIPAA, it's required to integrate physical, technical, and administrative safeguards. For instance, encryption software, data back-up, and firewalls are considered tech safeguards. As for the physical ones, there can be material records or electronic devices with the mentioned data. The access to these files is only given after the proper authorization. Administrative safeguards consist of rules on how companies have to set up procedures to comply with HIPAA.
Every medical website has to comply with HIPAA. It's better to cooperate with a medical web design company that understands how to develop a website following all the regulations.
Health Information Technology for Economic and Clinical Health Act or HITECH
The HITECH Act expands the HIPAA requirements bringing several vital benefits to the patients. For instance, according to this act, patients get access to their Protected Health Information online. The next benefit, patients have to be notified about any data violations related to their health profile. If a medical organization suffers from a breach that impacts 500+ patients, it's necessary to inform the United States Department of Health and Human Services.
Depending on the seriousness of the data breach, there are various penalties. You can study the possible fees below.
HITECH Act's Penalties
| Level of culpability | Minimum penalty per violation | Maximum penalty per violation | Maximum annual penalty |
| --- | --- | --- | --- |
| No knowledge | $100 | $50,000 | $1,500,000 |
| Reasonable cause | $1,000 | $50,000 | $1,500,000 |
| Willful neglect: corrective actions taken | $10,000 | $50,000 | $1,500,000 |
| Willful neglect: no corrective actions taken | $50,000 | $50,000 | $1,500,000 |
How to Build a Medical Website
Custom web development consists of various stages, like planning, design, building, and release. Each of them requires time and preparation. Of course, to create a medical website, you need to hire web engineers.
There are two possible variants of cooperation with medical website developers — in-house or outsourcing. Of course, each option has pros and cons. For instance, in-house software builders tend to have higher hourly rates in comparison to outsourcing specialists. On the other hand, it's more comfortable to control in-house developers since they are located in your office. However, many outsourcing companies solved this issue by using various communication and management tools like Slack, E-mails, Jira, Trello and more.
Having decided what kind of team you need, you should consider what web development tech stack you require. This choice always depends on your project requirements and business goals. It's common for outsourcing companies to assist in selecting the right technology stack.
Cleveroad has experience in building websites and applications for the healthcare industry. One of such projects is Nedley Scorecard.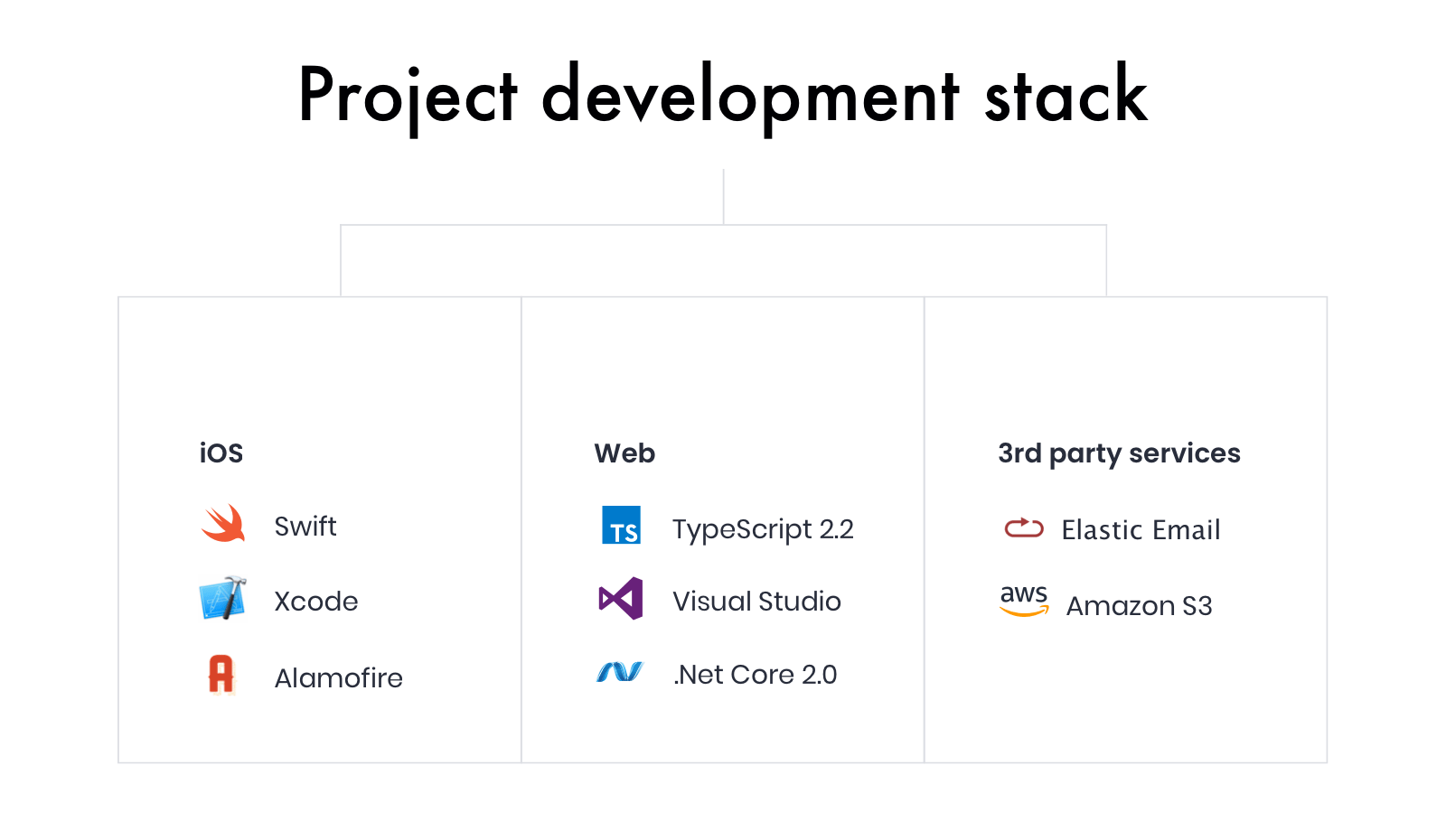 Technologies to build Nedley Scorecard
Nedley Scorecard application was created for patients who suffer from depression. Users can track their mood and psychological condition and improve it with various activities. The primary feature of this project is tracking various categories. For example, users can track such habits as drinking water, breathing exercises, and more.
The main challenge during Nedley Scorecard development is implementing the Big Data algorithms. Analyzing the users' personal information, these algorithms can offer the right activities for every user. The application chooses activities based on the previous users meaning.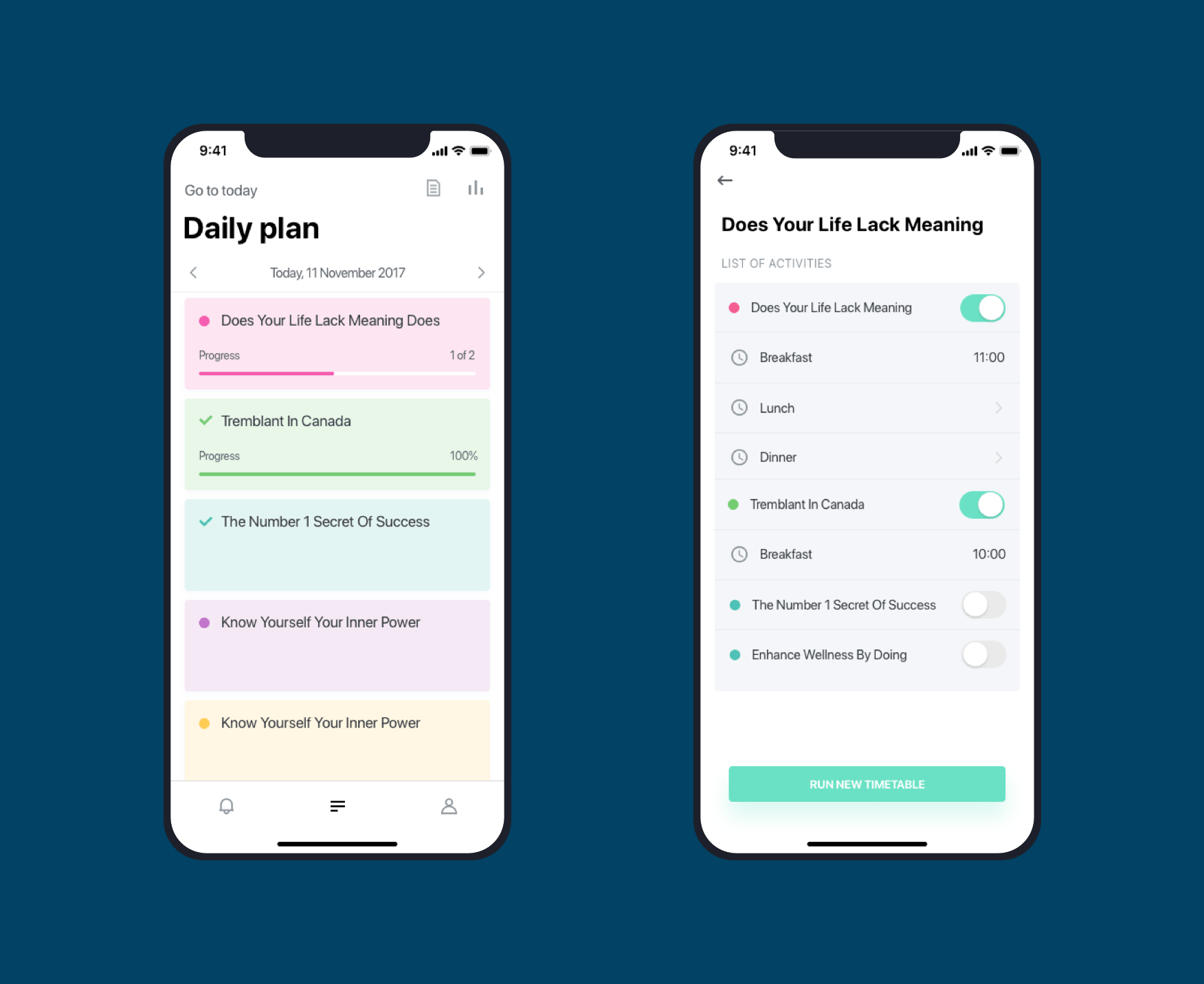 Daily plan and List of activities in Nedley Scorecard
Medical website design and development require preparations. It's necessary to study your target audience, their needs, expectations, and more. Additionally, to build a successful website, it's required to follow the latest design and development trends in the medical industry.
Does your clinic need a website?
Our specialists have been working in this industry for years. Let's see how we can help you.
Rate this article!