How To Create A Robust And Legally Compliant Peer-to-Peer Payment App
2280 Views
|
27 Aug 2019
|
14 min
According to eMarketer, in 2018, there were about 82,5 million mobile phone P2P payments users in the US. That is more than a third of the mobile phone population in the country. And it is expected that more than half (52,5%) of mobile phone users will make at least one P2P transaction per month by 2022. Thus, P2P payments' popularity is gaining momentum, and it allows people to transfer funds easily and securely.
The statistics speaks for itself. That is why P2P payment app development may become a good business idea. This article covers all necessary things like security issues, legal compliance, and features to take into account if you intend to create a custom P2P payment app and use proven mobile app development services. Sit back and enjoy the guide!
What are P2P payment apps?
Peer-to-peer payments (P2P), also known as person-to-person payments, are transactions transferred from online or mobile app to another app. P2P payments can be payments for car rent, lunch, or ride. One person can transfer funds from his or her banking account or credit card using an appropriate mobile app.
PayPal is one of the first services that occupied the niche of P2P payments long ago. Today PayPal is used in many apps. However, many other platforms enter the world market P2P payments market.
P2P payment solutions make it possible to transfer funds between banking card owners even if they are clients of different banks and different payment systems like Visa or MasterCard.
How P2P payment app works
It is quite simple to set up P2P payment accounts. It doesn't matter what platform you use, it is necessary to sign up for an account, and then you need to link your bank account or card to the service account. Many P2P apps require to add some personal information, memorable words, and passwords to increase the security level. When everything is done, you can find other persons by emails, phone numbers, or names.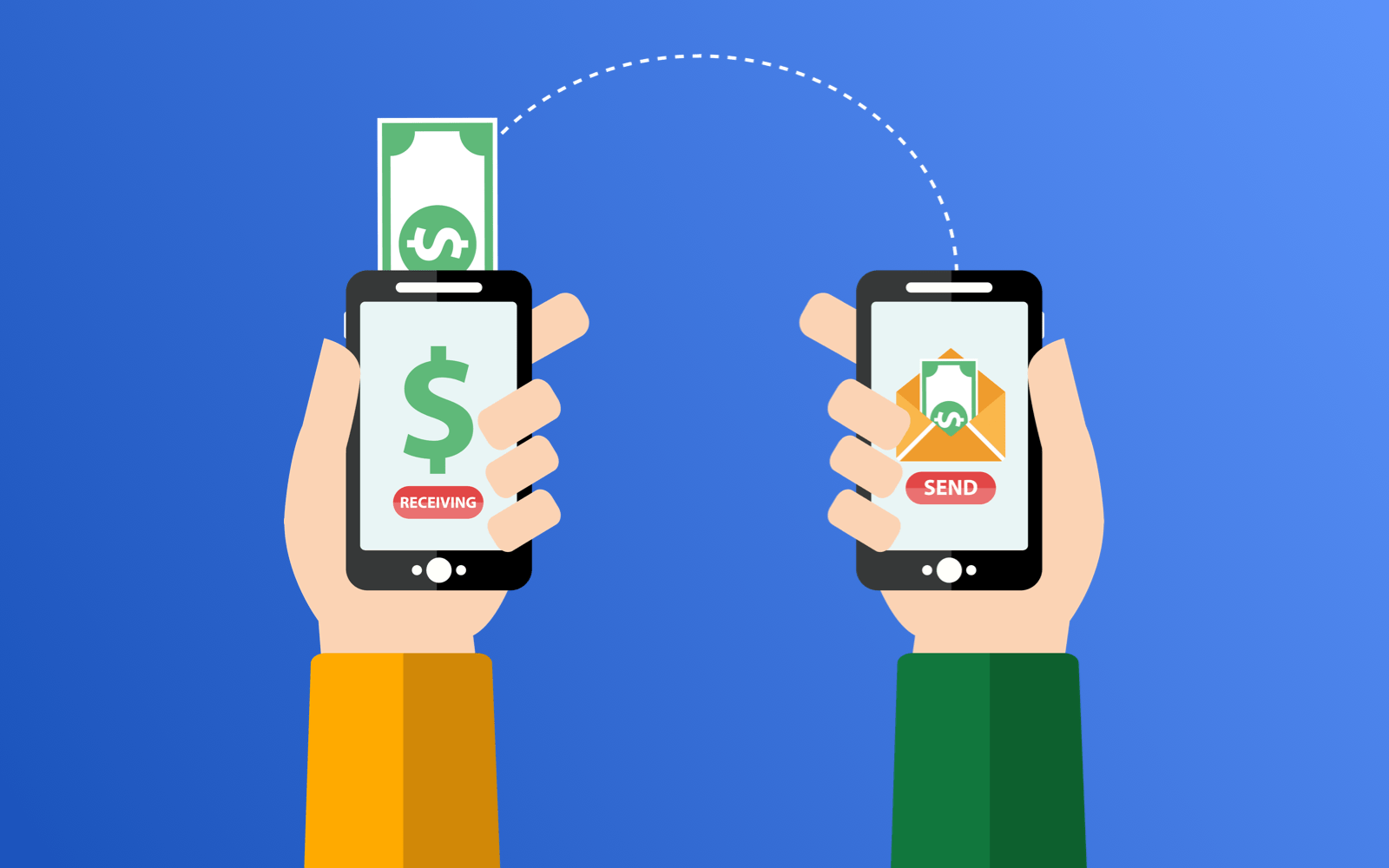 How P2P payment app works
To send or receive money, users need to make a few clicks. You need to choose a recipient, the amount of money, add the purpose of payment if necessary (it is an optional feature in many apps), and click the Send button. In most cases, to confirm the transfer procedure you will need to confirm the password, and this is good, it is an additional protection layer. The time for funds delivery may vary - a couple of minutes or days, depending on what service and transfer options you use. When funds are delivered, the user can withdraw it to the personal banking account if necessary.
Reasons to create a custom P2P payment app
To start a custom P2P payment app development, you should find the motivation to do it, of course. Otherwise, why not use off-the-shelf solutions? Our goal is to spell everything out right now.
First, you can offer users something unique and unusual in your custom peer-to-peer payment app they won't find in other services. Or you own a financial organization that demands the availability of P2P payment service that will be used for internal purposes. Anyway, a custom solution may provide you with features that will meet all the requirements of your business.
P2P payments are advantageous for their cost. It means that there are no intermediaries. All transactions are made electronically, directly from sender to recipient, that is why there is no need to use third parties, and transaction fees are meager very low, or there is none at all.
According to BI Intelligence statistics, the mobile share of US P2P payments was $13 billion in 2014, whereas this number has grown up to $150 billion in 2019, and it is expected this number to grow up to $336 billion in 2021.
Besides that, many users like transparency in P2P mobile app. For example, if you need to exchange currency, you will likely find a reasonable rate in P2P payment app since it is determined by overall demand, not by banks or governments.
As a rule, all peer-to-peer payment apps are secure enough. Since it is a financial software, developers usually add a few protection layers to encrypt transfers and make sure that malefactors will fail in their attempts to steal money.
Finally, some P2P apps provide users with anonymous transfers, and especially it is popular in payment apps that work with cryptocurrency.
Types of P2P payment apps
When we have determined all reasons and benefits to build a P2P payment app, let's review all the types of such apps and their particularities.
Banking services. Today many banks provide clients with P2P apps that simplify payment processes. But, in turn, merchants should have appropriate hardware like PoS terminals that are can accept payments. Dwolla and Zelle are good examples of bank-centric P2P apps.
Discrete services. Independent services like PayPal or Venmo provide users with an electronic wallet where they can perform P2P payments using their banking cards. Usually, all independent services support Visa and MasterCard card types, but it depends on the particularities of each P2P service. Discrete services allow users to keep their money if they don't want to withdraw it to a banking account yet.
Social platforms. It may be surprising, but social media platforms we use for chatting and images sharing also allow us to send payments. Why not? The matter is that users sometimes want to send a specific sum to their friend directly from a messenger. Thus, social media apps may also be used for P2P payments. For example, WhatsApp launched its P2P payment system in India, which already became very popular. However, this type will unlikely be preferable for you only if you don't want to build your social media app and add P2P payments feature.
Mobile OS systems. And the last type in this list is not less popular P2P services like Android Pay or Apple Pay. And it even not an app, it is an integrated feature of the device. Cheap Android devices or old iPhone smartphones don't support NFC technology, and it means that contactless payments are impossible. But such peer-to-peer systems make it possible to send money only to other users of Android or Apple Pay, that is inside the system. Or to pay for purchases at shops where PoS terminals are equipped with NFC technology.
In a word, banking or discrete services are two more widespread types. So you will probably focus on one of these business models. And now we will proceed to the next section describing the main features your peer-to-peer payment system should include.
Basic features for P2P payment service
To provide users with the flawless quality, your custom P2P payment system should include a few must-have features.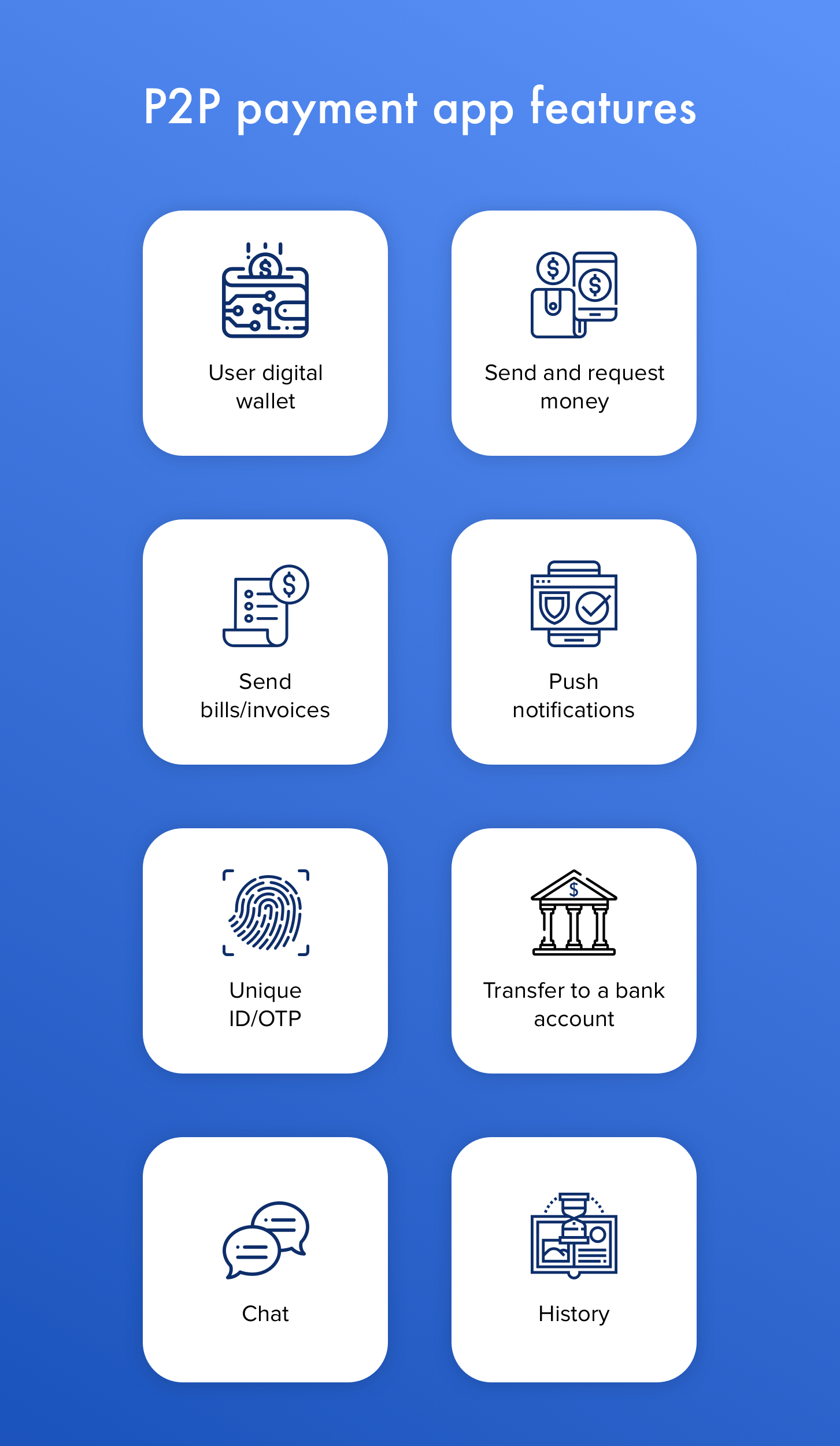 Features to include in your P2P payment app
User digital wallet
Digital wallet is a space for a user where they can keep their funds and cards data, make electronic transactions, and so on. A user digital wallet also includes other features that we will list below. By the way, if you need a mobile wallet as well, we may provide you with a comprehensive guide.
Send and request money
Everything is simple - users should have the capability to send money or request the required amount from other users.
Send bills/invoices.
You need to add the capability to use the camera to scan bills and then send them to other users. Besides that, person-to-person payment apps should make it possible to generate invoices as well and submit them.
Push notifications
Notifications pop up on the main screen of a mobile device when any activity occurs. For example, new funds are received, or it is the due date to pay bills. Also, if there are new special offers or discounts, a user will be notified.
Unique ID/OTP
If users plan to make any transaction in P2P payment app, they need first to verify and confirm unique ID and OTP (one time password). It is required to increase security and prevent unwanted or occasional transactions. If the device has an integrated fingerprint scanner, they may confirm a transaction with fingerprint scanning as well.
Transfer to a bank account
Users may transfer their funds to a banking account or card using your peer-to-peer mobile payments.
Chat
A chatting feature will be good if users need to clarify specific details concerning payment, and they can do it directly in P2P payment app. Besides that, it will reduce the number of possible mistakes.
History
And the last but not the least must-have feature is the history. Users will be able to see all their transactions, received and sent payments, dates, and correct time. If you don't add, the app will become quite inconvenient, and users will abandon your app.
Admin panel
This feature is required for you as the owner. Developers need to create a web admin panel that will allow you to manage the app, edit, remove, and so on.
I think you understand that these features are basic, and most P2P payment services have more specific features. Your service may also require additional and unique features none of your competitors have. And software development company will help you turn it into reality.
Must-have steps to build P2P payment app
You cannot skip this section since it is crucial and you must read it. It describes all steps you should undertake if you want to create a reliable P2P payment app and gain the lead.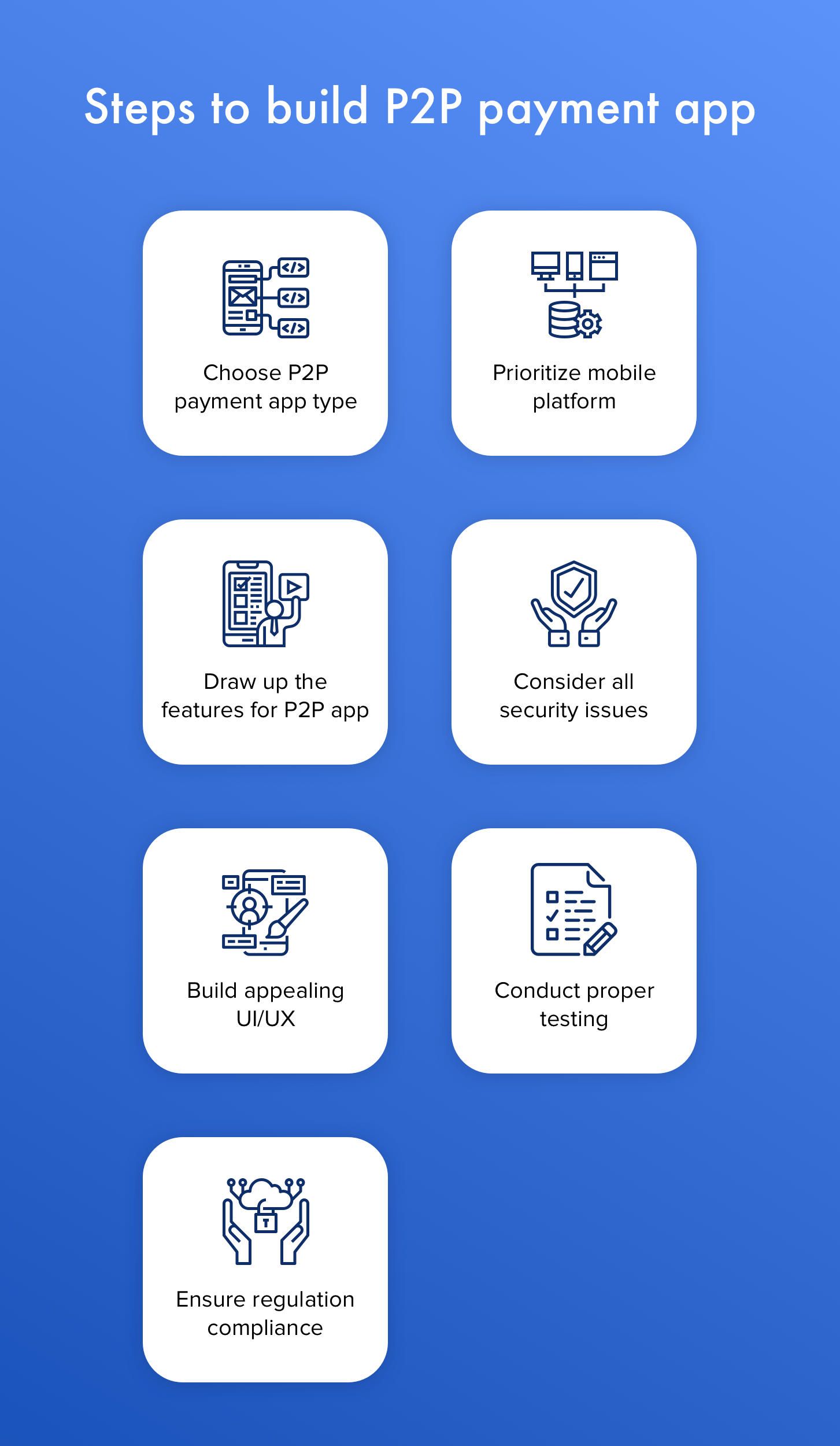 Steps to undertake when creating P2P payment app
Choose P2P payment app type
First, you need to choose the type of your P2P app. As we noted above, standalone and banking services are the most popular types. So you need to make your choice.
Prioritize mobile platform
If your budget is limited, you can start with one mobile platform - iOS or Android. Later, you can order the development of one more app version for another platform.
Draw up the features for P2P app
Apart from MVP features P2P payment app cannot function properly without, you can add other features that your app needs to make it unique. Everything depends on your requirements.
Consider all security issues
This point is especially important since you need to keep up with all security issues to protect the app and make it reliable for users. This helpful article will also describe to you how to secure data from cyber attacks.
Add security features. That is, all integrated security features in mobile devices should be activated. Fingerprint scanner, face recognition, and other technologies should be used. However, if a user's device doesn't support it, two-factor authentication should be activated at least;
Two-factor authentication. Apart from the password required for authorization, it is necessary to one more authentication factor like SMS with verification code, for example.
PCI-DSS compliance. Payment Card Industry Data Security Standard or PCI-DSS for short is the standard that should be followed if you build FinTech app. That is why you should ensure that your P2P payment app complies with all 12 requirements of the standard. Your app should get a PCI-DSS certificate. To know more, check the official website.
Important note! Legal compliance with all financial rules is also mandatory, and the next section will be about it.
Build a user-friendly interface and UX
UI and UX of your P2P payment app should be attractive, intuitive, and simple. Users don't want to waste time working out how everything works - it should be as clear as possible. So don't complicate UI/UX, make it minimalistic.
And this step is also essential. QA engineers should perform all necessary types of testing to ensure everything functions properly. Moreover, you can even find a team of volunteers that will perform beta testing of your app. It will help you fix all bugs at an early stage.
But there is one crucial step you cannot bypass - regulation compliance.
FinTech app legal compliance
As any FinTech app, it should meet the financial regulations and standards of the region the app is developed for. And a person-to-person payment system is not the exception. -
APAC region (Asia-Pacific). If you create an app for the Asian sector, then you need to get approval from FinTech Committee under the People's Bank of China (PBOC), if your target market is China, FinTech Center under the Financial Services Commission (FSC), if your market is Korea. If your target is other Asian countries, check this guide to find relevant regulatory bodies in this country. To put the app on the Australian market, you will need to solve legal issues with Innovation Hub by Australian Securities and Investments Commission (ASIC).
It is a much more complicated situation with the US region. The matter is that there are more than eight federal agencies that are engaged in regulatory compliance. Moreover, the US has 50 states, and each state has its financial regulations. Thus, you need to consider it if your market is the USA.
European Union regulations concerning FinTech apps and P2P payment apps, in particular, are described in Directive (EU) 2015/2366. Apart from this, all apps that process personal data of EU-based citizens should comply with GDPR rules. Our detailed guide will explain to you everything on how to make your app GDPR-compliant.
And the FinTech market of the UK is regulated by the Financial Conduct Authority.
As you can see, this process is rather complicated and time-consuming. But you should make sure that your business is legal and compliant with all regulations.
Pressing challenges to consider and deal with
There are some pitfalls you should take into account to give users a better experience and improve customers' loyalty.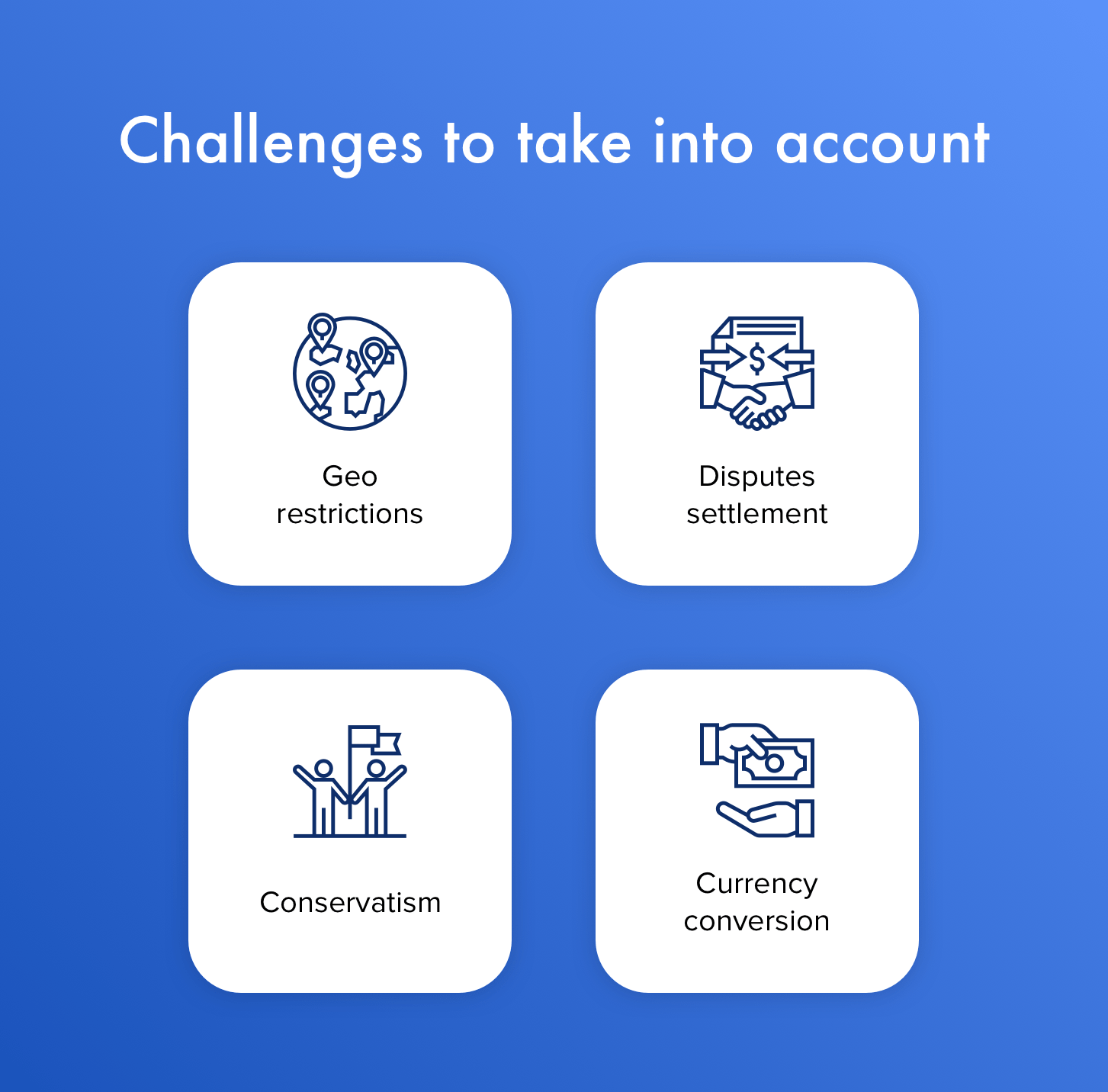 Challenges to consider during P2P payment app development process
Geo limitations
Different regions have different rules and regulations, and it is impossible today to build an app that will match all financial standards. So there are certain geographical restrictions that must be taken into account during the app development process.
Disputes settlement
Sometimes troubles with transactions may appear. When a sends any money amount to another user, and the recipient doesn't receive it. And the technical glitch may be the reason for it or some other problems. What should they do? Your P2P payment app should have the availability of financial support where the special department will sort out this issue and settle the dispute to return all funds to the recipient.
Conservatism
A peer-to-peer money transfer app should be credible. Not all people feel comfortable using mobile payment services, especially if they are new. They feel better using conventional cash. So you will need to work hard to attract more users and convince them in the trustworthiness of your app.
Currency conversion
All P2P payment apps come across this challenge. There are more than 160 different currencies in the world, and currency conversion in real-time mode is not always available in such app type. So you need to think through this issue.
Who owns the information, he owns the world. If you know all these challenges, it will be easier for you to build a robust app.
Cleveroad as your assistant in FinTech app development
Cleveroad has more than 5-year experience of software development, and FinTech area is also included in our scope of activity. We cannot share with you examples of the app we have built due to NDA (non-disclosure agreement), but we can list the types of apps created. For example, our portfolio includes an app like Acorns for investment. It makes it possible to invest funds wisely.
We can build a custom P2P money transfer app meeting all your requirements since our development team is skilled, and it will provide you with different solutions of your choice. If you have any questions, you can get in touch with us, and or requirements managers will give you quick feedback.
Stay tuned and follow the right road!
Frequently Asked Questions
🛠 How to build a P2P payment app?
💰 What are P2P payments used for?
⚙️ How do mobile P2P payment apps work?
🧑‍💻 How to create a mobile P2P payment app?
💸 How does peer to peer payments work?
Rate this article!