Making Business More Efficient With Enterprise Application Development
2548 Views
|
20 Jan 2020
|
8 min
Big enterprises follow a strict schedule and manage a lot of tasks at the same time. They always look for new ways to reduce time and money expenses. One of the ways to reach this goal is to integrate enterprise mobile app development.
Many enterprise-level businesses use mobile apps that help both employees and clients keep track of all projects and events. However, enterprise mobile apps differ from applications we used to see in everyday life.
Enterprise app development services have pitfalls and particularities. In this article, we'll discuss types of mobile apps for enterprises, reasons to create such an app from scratch, and steps to take for custom enterprise application development.
What Is Enterprise Application?
Shortly speaking, it's an app that has everything you need to make the job better. Enterprise mobile app can contain tutorials, certification plans for employees, databases, and more.
It's possible to build enterprise mobile apps for internal purposes like optimization of the company's workflows. Such mobile solutions can duplicate the main services that employees use on their PC, or they can be the original solution to current working issues.
Enterprise application development lets people work efficiently outside the office. These apps can indirectly influence sales, competitiveness, communication, negotiation efficiency, and more.
Deciding to order enterprise app development services, the company can improve their business processes. Such apps offer several serious advantages over your competitors since they can speed up the working process and so bring the company more revenue.
Types of Enterprise Application Software
There are several types of enterprise mobile app:
Employee level
Apps only for employees have the shortest feature list since they are made for internal purposes only. For example, it assists top managers with keeping up with one project without delays and problems. With the help of such apps, they can quickly check all the essential information.
Department level
As it's name says, such enterprise mobile app development serves for the needs of specific departments like financial or marketing teams. Apart from the optimization of the internal workflows, they can be useful for customers. They can stay in touch with your employees and get feedback without delays.
Company level
These apps should connect the departments of the whole company into a single network. Employees can always be in touch with their chiefs. They also can have access to enterprise documents, databases, and so on. The access level may vary depending on the employee's position.
Need tech consultation?
Our team can be your full-cycle tech advisors and make project estimation for free!
Benefits of Enterprise Mobile Application Development
Growing revenue through automation and higher productivity is the main reason why integrate enterprise app development. A mobile app has a lot of vital peculiarities like high-security level, portability, and compatibility with other apps and devices.
How can your company benefit from enterprise mobile application development? Let's consider the main advantages you can achieve using your app.
Accounting and transactions/payments
Mobile apps allow companies to make and manage transactions, control payment deadlines, send notifications, and more. Enterprise mobile app developers can develop various payment features depending on your requirements and goals.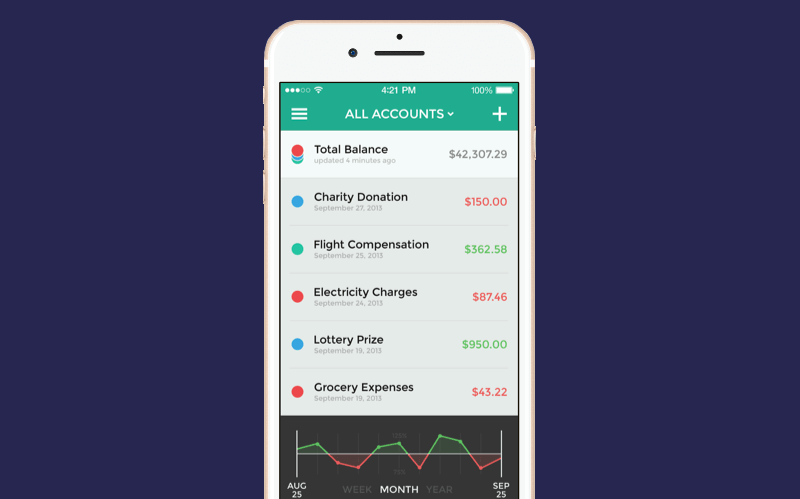 Accounting and transactions
Modified data management
Data processing and management require much effort, including information analysis, verification, and making corrections.
Main focus
Enterprise applications can help your company focus on primary goals and tasks. They reduce the amount of paperwork and eliminate human mistakes due to the automated marketing campaigns, data processing, and transaction control.
Mobile accounting
One more reason to cooperate with enterprise mobile app development company is the ability to view employee-generated data via smartphone. Using a mobile solution, you can check and edit the staff's reports.
Supply chain control
Mobile apps for companies dealing with supply chain may include various features for accurate planning, control over courier's work, and transportation management. Such mobile solutions can simplify supply chain management and improve overall efficiency.
The enterprise mobile application development can help companies achieve higher results thanks to automation and optimization of business processes.
Points to Consider Before Enterprise App Development
Before enterprise mobile app development and integration, you should consider the following essentials:
What employees need from app
People often use their smartphones and tablets at work. They got used to certain applications for business tasks. To motivate employees to change the apps, you need to offer a better solution. It's a good idea to study your their expectations and requirements for an enterprise mobile app.
Perspectives of app development
Mobile devices are changing fast. There are a lot of innovations and new technologies every year. Of course, companies don't need applications that can become irrelevant in a year. To create a scalable and quality app, you need to cooperate with a reliable enterprise mobile application development company.
Integration with useful software
The practical benefit of enterprise apps is the free access to the required features. For example, mobile developers can offer app integration with 1C, SAP, Oracle, and so on.
Security issues
Having decided to create an enterprise app, you need to pay attention to such vital issues as storage, transfer, and use of the company's information. Employees install enterprise mobile apps on personal smartphones, so personal and corporate data is stored on one device. Simple passwords can't be used since they can put the company's security and financial stability in danger.
Administration and control
Some people are misguided thinking that the final app brings a lot of benefits without any efforts from the side of IT specialists. Enterprise mobile app development requires attention as well as mobile devices. Training, administration, IT policy of the company - everything relates to tablets and smartphones equally.
Agile development strategy
This methodology stands for iterative and step-by-step software development. The Agile approach is perfect for enterprise mobile app development since it determines design, development, and testing methods system over the whole software lifecycle. This development strategy allows to return to the previous development stages, fix something and keep on the development process. So building an enterprise mobile app, it would be better to apply the Agile strategy. Moreover, due to this method, you will be able to get the first MVP version of the app to test it.
MEAP
Mobile Enterprise Application Platform tends to simplify the development process of enterprise software for employees who use various mobile devices. The main peculiarity of the MEAP platform is a cross-platform feature. For example, having created the app on the basis of this platform, it's possible to develop the application for any mobile device with various operating systems without additional costs and changes in business logic.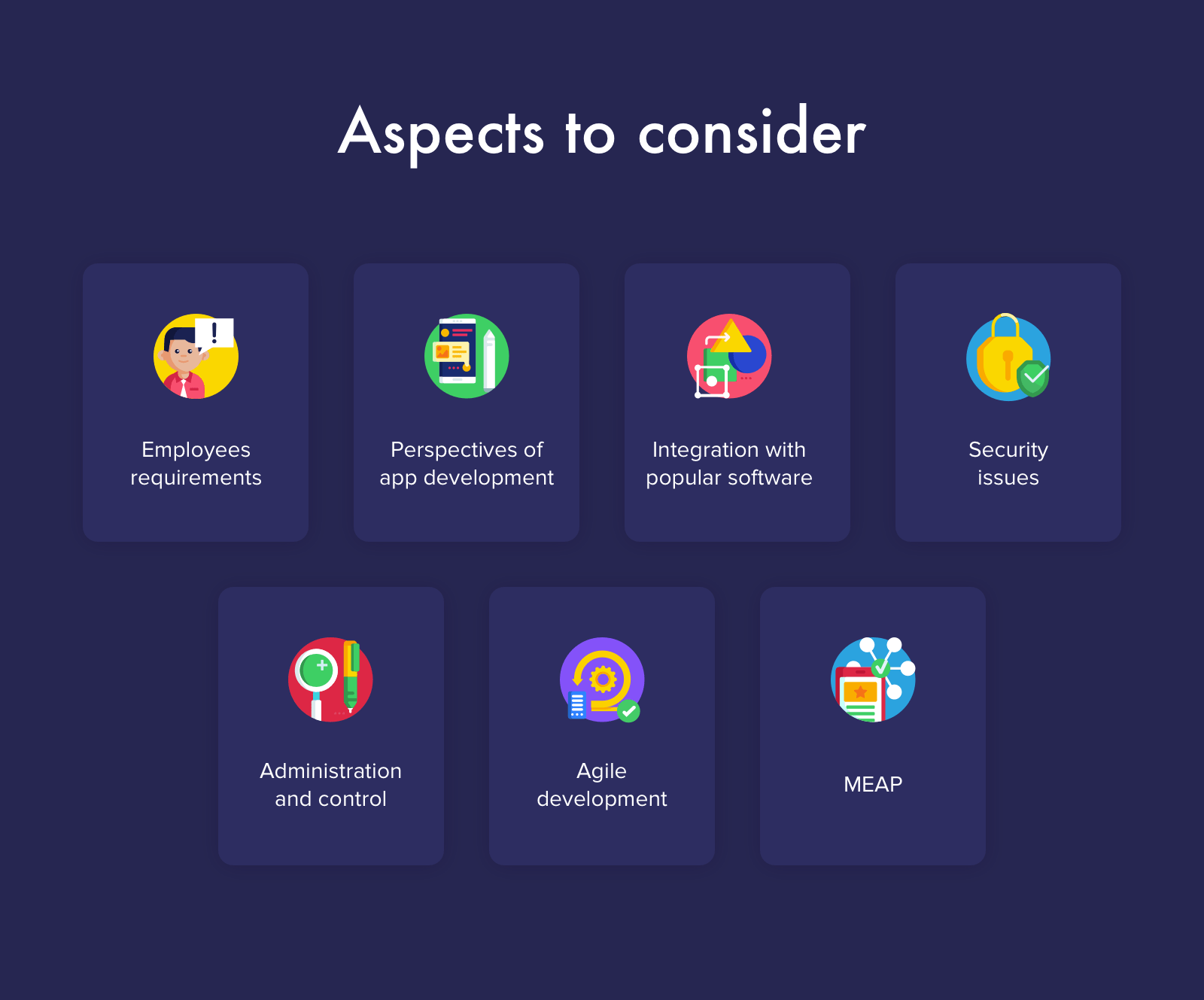 What to consider during enterprise mobile app development
Enterprise Mobile App Development Stages
Enterprise mobile app development process is time-consuming and difficult. The success of the final product depends on the skills of developers and customers' concernment. Qualified enterprise app developers confirm that it's impossible to develop a quality app at once.
There are several stages of enterprise app development. Let's discuss them more precisely.
Stage #1. Draft the Specification
Everything starts with an idea. After that, you'll need to define the goals and requirements. It's necessary to analyze your target audience to find out their expectations. All collected information should be displayed in the specification. This document spells everything out.
Stage #2. Consider the Platform
It's a typical stage for any mobile development process because you need to select the platform for your work. Enterprise application development isn't an exception to the rule. However, in this case, you need to choose at least two platforms at once — iOS and Android. Why? Your employees are unlikely to have only Android- or iOS-based devices. Creating a mobile app for them, you need to consider this issue beforehand.
Stage #3. Get a Wireframe Designed
The prototype is a model of the mobile app that shows how the app can function and it's capabilities. This stage is crucial since you have an opportunity to see how enterprise mobile applications can look in the future. You can always change something on the development stage. Having tested a working model, you can save time and resources for development.
What do users expect from the new app? First, they want to have a user-friendly and intuitive design. Without these two components, even a high-grade functionality won't be an option. Your design team shouldn't overload the app for enterprise with unnecessary details. You'd better lay on simplicity. This app is not for entertainment — it is for business. Keep it in mind.
Stage #5. Product Development
It's the most significant and challenging part of the mobile app development. If you aren't a technical guru, you'd better hire a skilled and experienced enterprise app development company. They can build mobile applications following your requirements and expectations.
This stage allows to involve your employees into testing the app. Your employees are the best beta-testers they're end-users.
Enterprise application development companies usually have a QA department. Quality assurance engineers test the mobile app to find and fix all the bugs. But beta testing makes it possible for employees to immerse themselves in their new work tool.
That's all you need for a start. Depending on your requirements, the process may be costly and time-consuming. You need to consult with an enterprise app development company to find the details.
Let's build your enterprise app!
Tell us about your project idea and get a detailed consultation at no charge.
How We Can Help: Cleveroad Expertise
Cleveroad is an enterprise app development company located in Eastern Europe. Our team of software engineers has a rich background of developing scalable business apps following all the requirements.
Here is one of our latest projects — RetailOps.
We've developed this project for two platforms — iOS and desktop.
RetailOps is a powerful SaaS solution for retail. It offers a bunch of cool tools for retail companies like warehouse and inventory management.
Rate this article!