Healthcare App Development Cost: Getting the Right Estimate
Health is people's most precious asset. Care of it became easier with the rise of mobile technologies and the development of healthcare applications, accessible and user-friendly. However, the creation workflow of such applications can be complex due to different factors.
The financial investment required to create a mobile app for healthcare purposes is one of the top concerns for medical companies. If you read this, it's likely that you are ready to move forward with healthcare app development and need to calculate the budget required. The healthcare app development cost may vary from $75,000 to $250,000+.
As an experienced IT provider with 11+ years of industry expertise, we at Cleveroad are here to share our experience and help you understand the cost of developing a robust app for your healthcare establishment. Start reading our article to know more details.
Average Cost to Make Healthcare App: Price Estimation Examples
To prove that healthcare app development price does vary, we've estimated several types of medical applications of any complexity. These estimates are based on our experience developing such software types.
The common types of healthcare software
Telemedicine applications
After the telemedicine application development, you can say goodbye to long waiting times and hello to convenient and accessible healthcare services. Telehealth apps connect patients and healthcare professionals through smartphones, tablets, or computers, making remote consultations a breeze. Due to such innovative virtual appointments, patients and doctors can connect seamlessly for diagnosis, treatment, and prescription delivery.
Telemedicine smartphone solutions typically have the following set of core features:
Doctor profiles to help the users with doctor's choice
Appointment scheduling for patients to book virtual appointments with doctors
Real-time video consultations to simplify remote examinations and discussions
Secure messaging to communicate with doctors and automated notifications containing appointment reminders or medication schedules
Online medical prescriptions from doctors
Secure payment gateways to facilitate seamless transactions for rendered services, and so on.
Planning telemedicine software to create, you can also pay attention to widely known apps, like Doctor on Demand, Babylon Health, Teladoc Health, Amwell, and others. Such a solution may cost about $75,000 to $250,000+ concerning its complexity and other factors.
EHR/EMR systems
Digital platforms like Electronic Health Record (EHR) or Electronic Medical Record (EMR) system function to allow healthcare professionals to produce, maintain, and retrieve patient health information electronically. These systems both take the role of conventional paper-based medical records and provide a more streamlined and effective method of managing healthcare data. The one distinction between them is the following: EHR is intended to be used by physicians of several clinics while EMR data is utilized by doctors of one medical establishment.
If you want to develop an EHR system or EMR one, think out the must-have feature set for such a solution. You may need the following functionality:
Managing patients' data (e.g., medical history, allergies, medications, and test results)
Electronic charting for doctors to keep track of patients.
E-prescribing that makes the prescription flow easy and accurate.
Integration with medical imaging systems, like PACS, to view and store diagnostic images.
Easy management of lab results and reports
Clinical decision support (e.g., alerts, reminders, and guidelines for diagnosis and treatment), etc.
You can also pay attention to well-known EHR/EMR examples like NextGen Healthcare, eClinicalWorks, Allscripts and others. The approximate cost to make healthcare app of such type may differ from $100,000 to $500,000+.
Mental health apps
A mental health app is a medical software that assists people in their mental health management by offering resources, tools, and assistance with self-care, treatment, and emotional well-being.
For the effective functioning of the app, you should consider the following list of must-have features to implement during mental health solution development:
Interactive self-assessment tools for users to track their mental health and emotional well-being
Functionality to record and monitor daily moods, emotions, and relevant factors
Guided meditation and mindfulness exercises for relaxation and stress reduction
Access to licensed therapists or counselors through secure messaging or audio/video sessions, as well as crisis support services for immediate assistance
The educational content on mental health topics and platforms for users to connect, share experiences, and provide mutual support
Customizable reminders and notifications to promote self-care, medication adherence, and therapy sessions, etc.
Mental apps like Calm, Woebot, or BetterHelp typically need a development budget of about $60,000-$150,000+.
If you also think about meditation app creation, we've gathered all the basics in our article! Learn more about them!
Remote monitoring apps
Systems for remote monitoring (such as Dexcom CLARITY, Medtronic MyCareLink, or Phillips eCareCoordinator) are the software solutions involving the use of technology such as wearables, sensors, and mobile devices, enable healthcare providers to collect and transmit patients' health data from remote locations to facilitate timely interventions.
The remote monitoring apps should be developed with the following functionality:
Tracking health metrics such as heart rate, blood pressure, or glucose levels
Secure transmission of health data for continuous monitoring and analysis
Customizable alerts for timely interventions based on abnormal health data changes and tools for analyzing and visualizing health data to identify patterns and risks
In-app messaging and video conferencing for remote communication with healthcare providers
Personalized care plans and goal setting for ongoing monitoring and progress tracking
Robust security measures to protect patient data and ensure compliance, and so on.
The cost of a remote monitoring system depends on app complexity, features, and team location. Thus, the price can range from $50,000 to $500,000 or more. You can tell our experts about your project to get accurate estimates for your healthcare business.
Patient portals
A patient portal is a software solution that gives access to health information (such as medical records, personal profiles, health billing management, healthcare service histories, etc.) to encourage patients to take care of themselves, improve their health literacy, and close the communication gap between patients and medical service providers.
Patient portal software typically has the following functionality:
Comprehensive personal health data through PHR
Efficient appointments management with healthcare providers
Secure messaging for communication and guidance
Convenient prescription requests refilling
Educational materials for patient awareness
Convenient billing and payment management, etc.
If you plan patient portal development for your medical establishment, consider the average medical app development cost, which may differ from $75,000 to $250,000+. Thinking out your patient portal concept, you may also inspire by looking through well-known examples of software like NextGen Patient Portal, FollowMyHealth by Allscripts, or Cerner Patient Portal.
Hospital and clinics management apps
Revolutionize how you run your healthcare facility with a cutting-edge hospital and clinic management app. Due to it, tedious administrative tasks are in the past. This powerful application empowers healthcare providers to manage patient appointments, track medical records, coordinate staff schedules, handle billing and invoicing, and effortlessly communicate between departments.
Planning to create hospital and clinics management software (or thinking how to develop hospital management system), you should consider the following core functionality set:
Organized patient appointment management
Digital medical record storage and access
Staff management tools for scheduling, shifts, and assignments
Creating precise bills and easy payment processing
Effective communication through in-app messaging and secure chat
Smooth lab and pharmacy integration for efficient test ordering and result retrieval, etc.
The hospital and clinic management software like eClinicalWorks, Cerner Millenium, or NextGen Healthcare costs, on average, from $100,000 to $300,000+.
Factors Influencing Medical App Development Cost
The health app development price is hard to calculate at once, as many aspects should be considered. Let's discuss the essential price-forming factors more.
Healthcare app purpose and complexity
Consider the purpose of a healthcare application when estimating its cost. Apps for patients may need extra features like secure logins or payment processing, which can make development take longer and cost more. Complex applications need more time and money to develop than simple ones like doctor appointment scheduling apps or medication reminders.
Apps that serve specific purposes may need specific hardware components, increasing costs based on the project's scale.
Functionality set
The cost to build a healthcare app is affected by the complexity and quantity of desired features. Features that are more sophisticated, such as those utilizing AI for symptom assessment, telemedicine choices, and integration with IoT devices, necessitate greater resources and raise development costs.
The must-have and the advanced features typically needed for healthcare software development
UI/UX design
Interface creation is an essential factor in the success of a healthcare mobile app. Its main objective is to develop a user interface, simple to navigate and visually attractive, thereby improving the user experience.
The cost of UI/UX design services for healthcare app development can vary based on several factors:
Complexity of design
Number of screens
Customization and branding
User research and testing
Responsive design
Collaboration and communication
Easy-to-navigate and user-friendly UI/UX design is crucial for healthcare mobile applications. It impacts user satisfaction, engagement, and performance. The Cleveroad designers can create an interface that meets your business needs by knowing healthcare app design requirements and best practices.
Mobile platform choice
The choice of mobile platform(s) for your future healthcare app will depend on your target audience and market research. You should consider that developing an app for a single platform (e.g., iOS or Android) is generally more cost-effective than building for both platforms simultaneously. However, you can cut your cost of developing a healthcare mobile app and apply to Flutter app development services, allowing you to build a healthcare app perfectly functioning for Android and iOS mobile operating systems.
Our Flutter app developers will be eager to help you with cross-platform healthcare app development. They are skilled enough to build a robust smartphone solution for your medical institution to expand your online presence and engage new patients in your services.
Type of cooperation
The chosen method of cooperation may impact the expenses. Engaging an internal development team will involve initial expenses such as wages, perks, and facilities. However, if you choose outsourcing healthcare software development, you can cut your app-building expenses but get a high-quality outcome from your vendor.
To consider the approximate prices, let's revise the average salaries of in-house healthcare app developers and hourly rates for the work of outsourcing medical application developers. This way, the yearly salary of a healthcare mobile app developer in the US equals $105,047, according to ZipRecruiter's data. Regarding different data sources, mobile app developers working on healthcare applications in Western Europe get a yearly salary from $56,150 to $65,000+, while CEE-located developers have from $25,000 to $55,000+ annually.
If you apply to an outsourcing healthcare software developer for help, you should know that their services payment calculation is based on hourly wages, which is different for various outsourcing destination. Below, we give you average hourly payments for outsourcing healthcare app developers' services:
Average outsourcing hourly wages for IT services

| | |
| --- | --- |
| The most popular outsourcing region | The price ($/hour) |
| Central/North Europe | 50-60 |
| Western Europe | 75-200 |
| North America | 50-200 |
| Asia | 20-40 |
| Africa | 20-45 |
Developer expertise and team size
When choosing developers for a healthcare app project, evaluating their experience, expertise, and knowledge of healthcare industry standards and regulations is crucial. A competent and diverse team of developers capable of providing technical guidance can improve the development process and deliver a healthcare app that meets specific requirements.
The healthcare app development cost also depends on the developers' experience. So, your team can consist (not necessarily, but possibly):
Junior developers have basic programming language and development concept knowledge but lack practical experience. They can handle simpler healthcare app development tasks, learn from senior team members, and need guidance from project leads.
Mid-level developers have more software development experience and knowledge. They are skilled in coding languages and frameworks for healthcare apps. Moreover, they require minimal supervision and have technical skills for core features, being valuable team members for healthcare app projects.
Senior developers have extensive experience in healthcare app development. They can offer useful insights and guidance throughout the development process. Senior developers can lead the technical aspects of the project, optimize performance, and solve challenging development tasks.
You should understand that the developers are not the one and only members of a team you should have to develop healthcare application. The project team should include:
Project Manager (PM), responsible for overseeing the entire development process, managing timelines, coordinating tasks, and ensuring effective communication between team members and stakeholders.
Business analyst, gathering and analyzing the requirements, assessing and addressing project risks, simplifying the development process and implementation of a new healthcare software.
UI/UX designer working in close collaboration with developers on intuitive and visually appealing user interfaces
Front-end developer to implement the user interface design, handle the app's visual elements, and ensure smooth user interactions.
Backend developer to handle server-side development, database management, and integration of data with the app.
Mobile app developer (iOS/Android), responsible for coding the app's features, integrating APIs, implementing platform-specific functionalities, and ensuring a smooth user experience.
QA engineers to ensure quality assurance, and work closely with the healthcare app development team to resolve issues.
Solution architect to handle database design, optimization, and ensure data security and compliance. They are also responsible for conducting security assessments, implementing encryption measures, and providing guidance on compliance requirements like HIPAA.
DevOps engineer to focus on continuous integration and delivery, automated testing, and cloud infrastructure management.
Compliance and regulations
The development of healthcare apps is highly regulated and subject to strict compliance standards. Developing a healthcare app requires extensive knowledge of the regulations that govern the industry, as well as an understanding of how they must be applied in practice. In the United States, this involves compliance with HIPAA standards (as well as GDPR regulations to obey in EU regions), which governs among other things how protected health information must be handled.
In addition to understanding the regulations, healthcare app developers must also factor in compliance costs when pricing their services. These costs include fees for obtaining certification from regulatory agencies such as the Office for Civil Rights (OCR) and for meeting other legal requirements. They may also include fees associated with ongoing maintenance and updates of the healthcare app to ensure it remains compliant.
IoT integration
In the healthcare industry, integrating IoT devices into applications is becoming increasingly common. These devices can provide valuable data and insights to help providers improve patient care and outcomes. However, you should consider that the cost will increase due to the additional development and testing needed to ensure seamless integration and data synchronization.
Our team had experience developing healthcare solution based on IoT sensors: IoT-based system for measuring ECG. The solution (comprising mobile apps for iOS and Android) allows users to evaluate ECG and check oxygen concentration in their blood from mobile devices.
IoT system for measuring ECG developed by Cleveroad
How Healthcare App Development Cost is Calculated
So, how is the healthcare mobile app development price estimated? Let us answer this question on the basis of Cleveroad's estimation example: our experts usually work on rough healthcare app development cost estimate and detailed one.
A rough estimate serves as a means to offer a basic comprehension of a project's cost and development phases. Its key objective is to inform the client and support them in financial planning. Typically, Cleveroad experts create two rough estimates to ensure the price accuracy:
After the Solution Design Workshop, based on previous experience.
After the Discovery Phase, with more precise requirements.
The detailed estimate is a cost evaluation technique used in project management. It involves the participation of developers who are accountable for creating the product.
Following the Discovery Phase, our team proceeds with developing detailed estimates. These estimates are based on the requirements from the Discovery Phase. The team uses these estimates as a foundation to define detailed requirements. The process is iterative, as the Cleveroad business analyst creates user stories for each upcoming sprint or two. The user stories undergo a review process by the solution architect, technical team lead, or responsible developer. The evaluation of each user story results in a comprehensive estimation. Factors considered when compiling the estimate include:
Keeping detailed records of the software solution, including wireframes, specs and other docs.
More non-development options and suggestions.
Gathering info for project costs and rates, including rates used for calculations.
If customers contact us with a ready-made documentation package, we can provide them with a detailed estimate faster and easier.
Healthcare App Cost Estimation at Cleveroad
Cleveroad is a healthcare software development company with hands-on experience for 11+ years in this business domain. Our company, situated in the CEE region, offers help for all healthcare institutions (e.g., medical, telemedicine, or ones providing remote care to maintain physical and mental well-being), developing turnkey software solutions of any complexity to streamline our clients' communication with physicians and patients, automate their administrative tasks, and help them engage more patients in their medical establishments. .
Cooperating with us, you'll receive the following benefits:
Full-scale healthcare software development services for medical organizations, pharmaceutical companies, medical practitioners, clinics, health insurance providers
Practical experience in building secure and robust medical software solutions compliant with various healthcare regulations for different target markets (e.g., HIPAA, GDPR, PIPEDA, etc.)
On-demand healthcare software creation services: building apps for medical institutions from scratch, IT consultations, software upgrades, integration with wearables, and so on.
Experience in integrating telemedicine software with other healthcare management systems, such as EHR, EMR, Patient Portals, e-RX services, etc.
The software development team of agile-minded professionals deeply skilled in creating healthcare digital applications of different types
Innovative software development strategies and expert guidance on the appropriate tech stack to bring even the most complex healthcare software ideas to life, etc.
Working with us, you can choose one of the three collaboration models that is the most tailored to your current business needs:
Staff augmentation
It implies you can enhance your team by hiring outsourced professionals quickly and effortlessly. Share your project details and required specialists with our managers, and we'll provide the right experts for your short-term collaboration. Payment for the staff augmentation services is based on the expert's hourly rate of 8 working hours per day.
Dedicated team
This model is ideal for large-scale and complex projects. Due to it, you can engage a vendor's entire development team exclusively for your project. Our specialists will work independently, reporting progress to your Project Manager. Payment for their services is based on the team's daily rate for 8 work hours.
Project-based cooperation
Trust our experienced team to handle every aspect of your development process, from meticulous planning to flawless release. We closely adhere to your predefined requirements and provide transparent progress reports. The preferred payment structure may be chosen upon a fixed workscope (e.g., hourly rates x development hours) or time and materials collaboration strategy (e.g., spent hours x hourly wages).
To prove our competence, let us acquaint you with our healthcare software projects we've delivered for our clients:
We are eager to develop a user-friendly, secure, and powerful web and mobile app also for your medical establishment. All you need to start the collaboration is to contact our Business Development Manager and describe your project idea. They will process your request and respond to you within the next 24 hours for further discussion regarding the product idea.
How much will your health app cost?
Get a cost consultation of your health app building and project estimation from our tech experts
Frequently Asked Questions
The approximate price of building a healthcare mobile app ranges from $75,000 to $250,000+. The ultimate cost of a particular medical product development depends on various reasons. Among them, there are:
App purpose and complexity
Functionality set
UI/UX design
Mobile platform choice
Type of cooperation
Developer expertise and team composition
Compliance and regulations
IoT integration
Complexity of design
Number of screens
Customization and branding
User research and testing
Responsive design
Collaboration and communication
Flutter app development will allow you to build a perfectly functioning healthcare app for Android and iOS mobile operating systems.
Cleveroad experts typically make rough and detailed price estimates for our clients. A rough estimate serves as a means to offer a basic comprehension of a project's cost and development phases. Its key objective is to inform clients and support them in financial planning. The detailed estimate is a cost evaluation technique used in project management. It involves the participation of developers who are accountable for creating the product.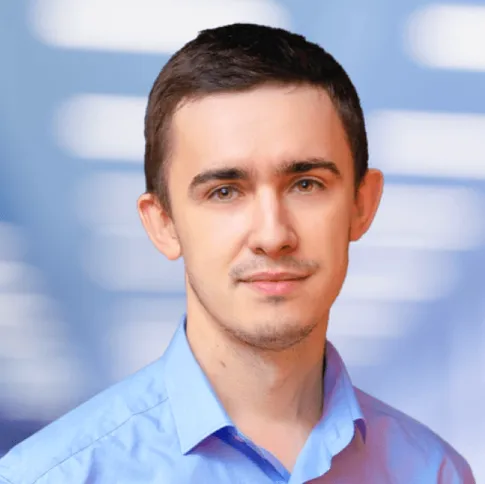 About author
Evgeniy Altynpara is a CTO and member of the Forbes Councils' community of tech professionals. He is an expert in software development and technological entrepreneurship and has 10+years of experience in digital transformation consulting in Healthcare, FinTech, Supply Chain and Logistics
Rate this article!
225 ratings, average: 4.96 out of 5
Give us your impressions about this article
Give us your impressions about this article