Healthcare Mobile App Development: Cost, Features and Compliance in 2021
Digitalization makes adjustments to every industry, and healthcare is no exception. App development for the healthcare industry is a great way to make the lives of doctors and patients easier with a wide range of improvements that apps can bring to medical services.
Healthcare apps can:
Improve health data gathering
Provide timely care despite the location
Minimize medical mistakes
Lower spendings for hospitals and patients
Improve communication between physicians and patients
Increase customer loyalty and engagement
Provide time-saving features for medical staff
If you're reading these lines, you're most likely looking to create your own mHealth app. Well, you came to the right place since this article covers all ins and outs of healthcare app development.
In this article, I'll go over the following key topics:
mHealth Market Overview
In 2020, the mHealth market size was valued at over $45B, which is pretty impressive for a young industry. But the COVID-19 outbreak triggered a drastic surge in market value and it's now projected to reach nearly $100B by the end of 2021.
Besides the doubled market size, there's also a positive change related to overall app usage. From the start of COVID-19, the number of healthcare app downloads increased by 60% worldwide.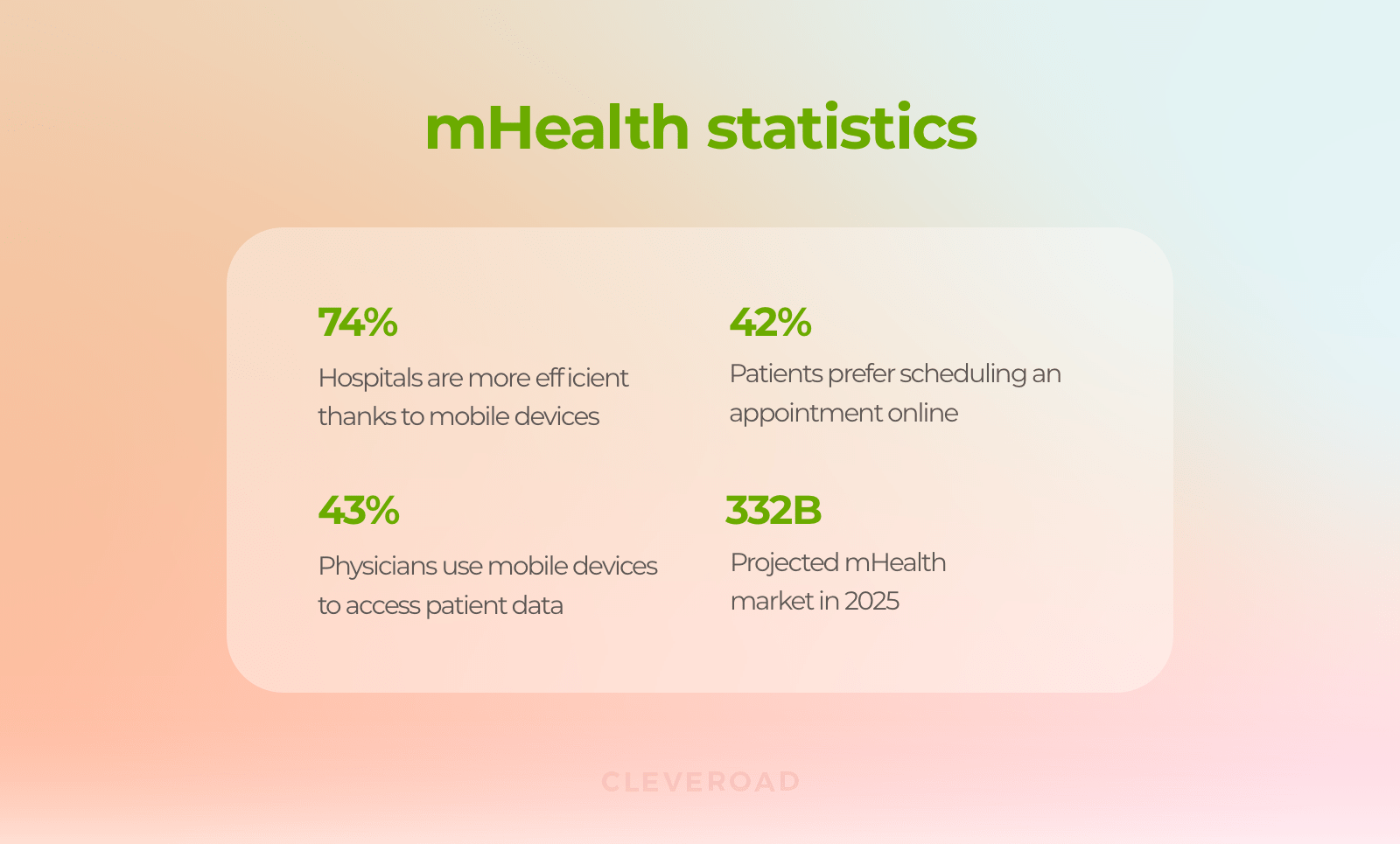 The overall mHealth popularity pushes many IT startups to try their best in the healthcare industry. There are several examples of healthcare startups that gained impressive funds to breathe life into their ideas:
KRY app

. This Sweden mHealth startup provides accessible appointments with physicians and psychologists via a simple mobile app.

K-Health

. It's an AI-powered healthcare platform that combines data of billions of unique health interactions giving query-based insights and real physicians a patient can contact for further consultation and medical prescription.

CareZone

. This app was made to make medication management and health information management easier, and provide fast access to vital healthcare services.

PatientsLikeMe

. It's a global network that unites thousands of people sharing their sickness experiences with others who have the same diseases or symptoms.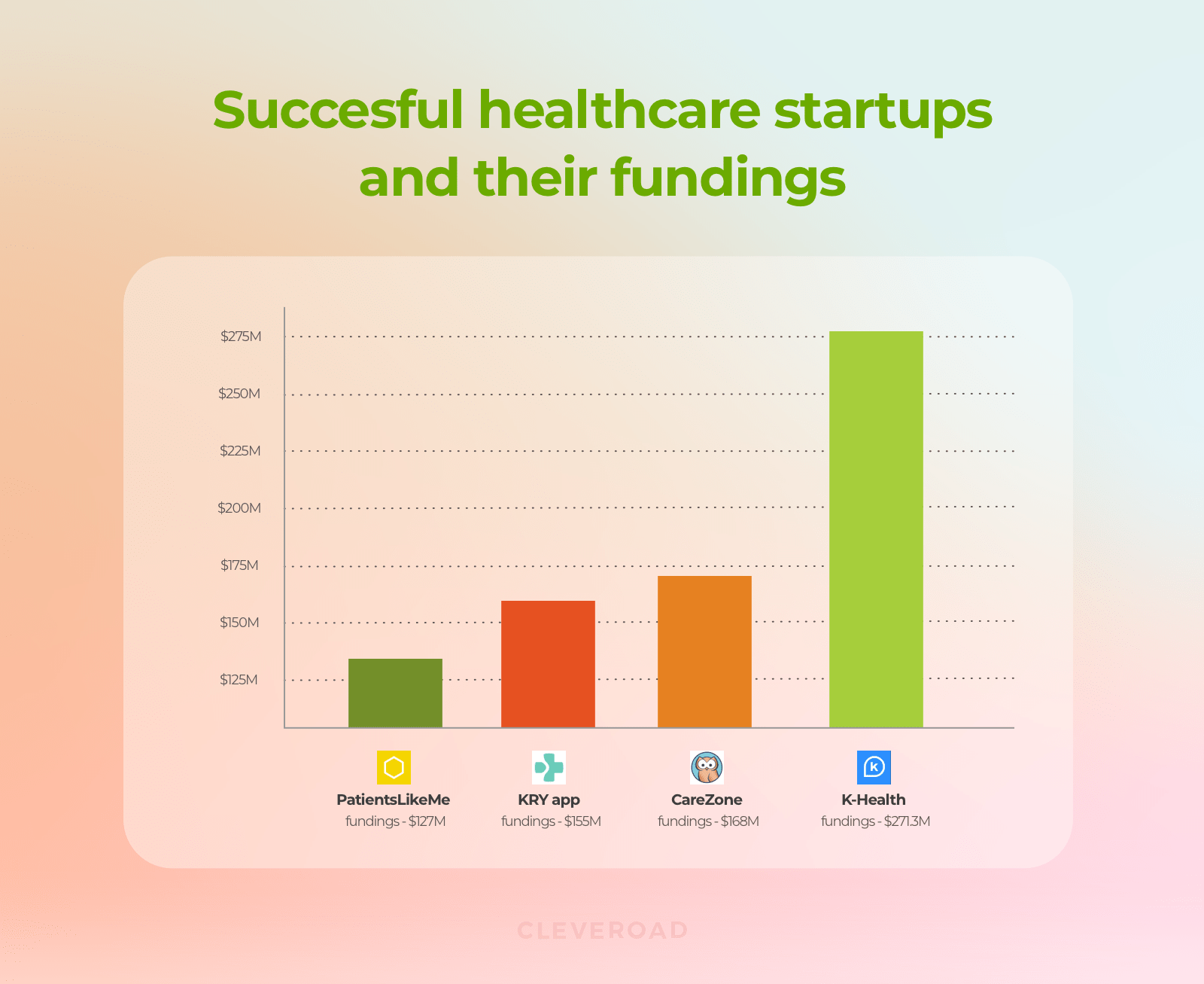 Well-known startups and their fundings.
Types of Healthcare Apps
Active healthcare app development has led to more than 95 thousand healthcare apps available on App Store and Google Play at the moment. Those apps can be split into two categories: apps for professionals and apps for patients. Each category has its own types of apps.
Let's consider each category and type.
Apps for Professionals and Medical Facilities
These apps are intended to bring value to physicians, nurses, doctors, and other staff at medical facilities. As a result, they're more complex and filled with advanced features that might be useless for the average user.
Even though physicians are pretty busy and are rare guests in popular social media, they also need a way to communicate with their colleagues, share expertise and improve the decision-making process. The well-known medical networking apps are:
Daily Rounds

,

Doximity

Sermo
Billing apps are made to streamline the overall billing process and digitalize operations like claims management, accounting, payment processing, and patient registration in medical facilities. There are several popular billing apps on the market:
Advanced MD

EpicCare EMR

Waystar
These apps let physicians schedule appointments with patients and provide consultation using in-app messaging or video-calls. Telehealth apps are convenient for both medical facilities and patients as they reduce "no-shows" by 50%, and patients can receive medical consultation in the comfort of their homes. Famous telehealth apps are:
GoodRx Care

Doctor on Demand

Teladoc
Medical prescription apps
Prescription apps let physicians pick the right drugs for each patient, pack it into a convenient list, set and control dosage avoiding adverse drug events (ADEs), or cancel prescriptions at any time. Some of the apps like RxEasy and STAT allow printing prescriptions so patients can easily show them in any pharmacy.
Simply put, medical records apps are intended to simplify collecting and updating the patients' health records. This includes vital indicators (blood pressure, temperature, etc.), medical examinations, prescriptions, appointments, and other information essential for physicians to track the overall treatment process. There are several apps that are quite popular among physicians:
DrChrono Practice Management

RXNT

Meditab
Apps for Patients
The name speaks for itself. These apps are designed to make the patients' lives easier. Simple yet useful as along with basic medical assistance, these apps cover a wide range of wellness aspects.
Mental health apps aimed to make therapy more accessible, efficient, and flexible. They can assist with fighting depression, stress, anxiety, sleep disorders with the help of pre-recorded meditations, breathing exercises, gamification elements, and more.
We've recently worked on a mental health app called Nedley Scorecard. It's designed to cure insomnia, depression, and improve the overall psychological condition.
This type consists of apps that come with symptom checkers, give recommendations on medication intake or treatment advice. They can also help manage current chronic conditions like cancer, diabetes, and so on. The well-known examples of monitoring apps are:
The main idea of medical education apps is to create a reliable database with up-to-date medical information for students, doctors, and regular users who want to know about healthcare more. There are great examples of this type:
Medscape

Clinical Sense

Lecturio Medical Education
Medication tracking apps are quite popular in health app development thanks for their overall idea simplicity. as they help users take their pills on time. Besides simple scheduling and reminding, these apps can track specific drugs in pharmacies nearby, letting users know where is the cheapest offer. Among all medication trackers, there are several established solutions like:
ScriptSave WellRx

Mango Health

Medisafe Pill Reminder
The main task of dieting apps is to help users establish a diet and maintain healthy eating habits. Some of the common features in these apps are a calorie calculator, meal planning, reminders, a food and health information database, and much more. All these features can be found in apps like:
Lifesum

MyFitnessPal

Fooducate
This category brings together many different applications such as fitness apps, brain training apps, self-improvement apps, and many others that make a healthy lifestyle much easier to achieve. Notable examples of such applications are
Elevate: Brain Training

Remente

Results Wellness Lifestyle
Healthcare App Development Process Step-By-Step
It's impossible to develop a healthcare app without a clear understanding of your goals, app features, and a clear plan. You must decide what kind of app you want, who'll use it, what problems it'll solve and how. We'll go over each step of healthcare mobile application development to unblur this process for you.
Identify Problems
This is a foundational step. First, answer one question:
What problem do you want to solve with your app?
Maybe you want to create a fitness app that'll help users keep fit. Or you want to save users' money on buying medications. You have a wide choice, and the final decision will impact the following factors:
Number of competitors
Barriers to entry
Feature list
Target audience
For example, if you decide to create a fitness app, you're likely to have a hard time. This type of apps has probably the largest market share. In addition, you'll have to compete with well-known apps like Fitness Buddy, Map My Run, JEFIT Workout Planner, and others. Carefully study the most popular rivals and come up with a truly unique solution that'll make you stand out among them.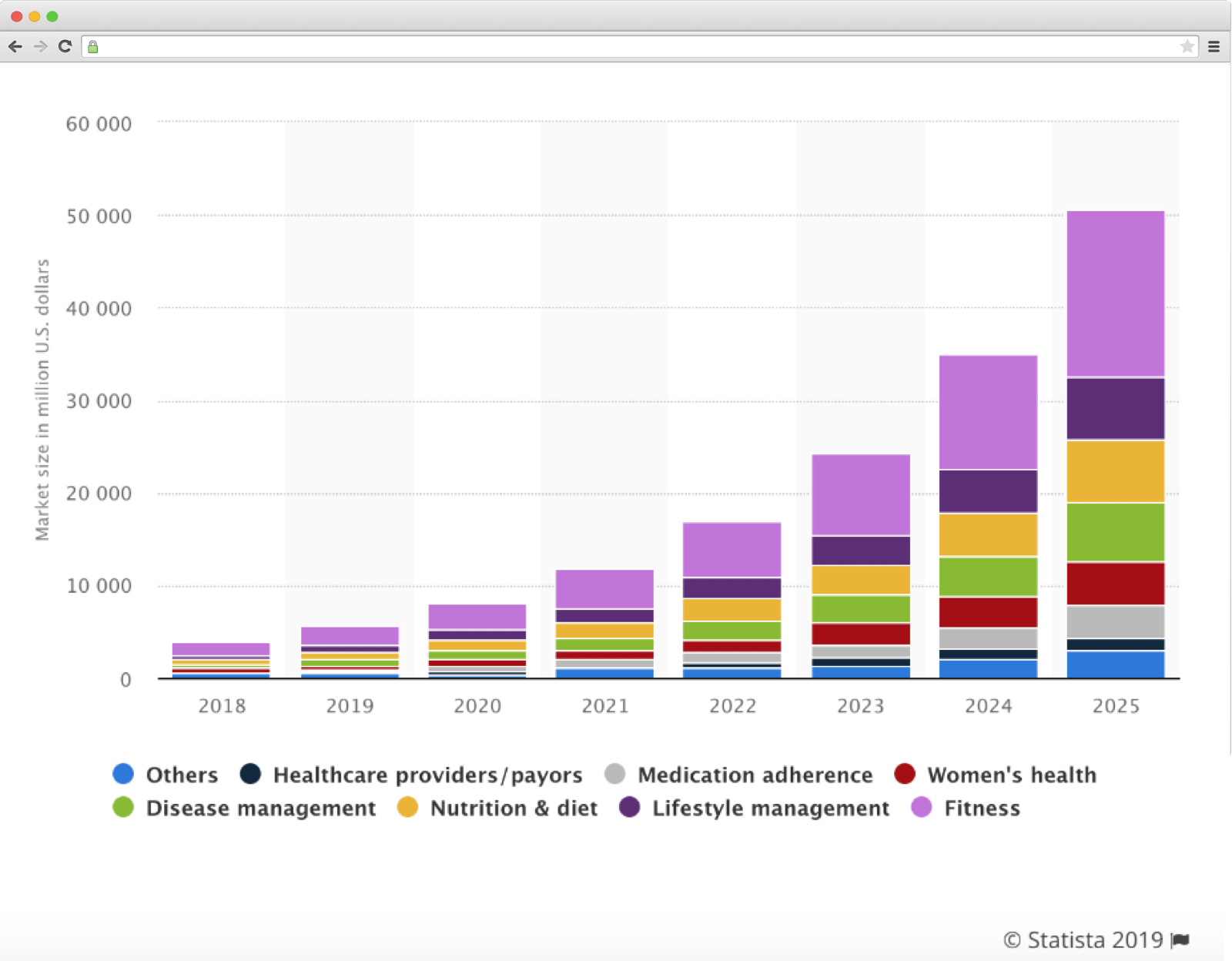 Market share of different healthcare apps. (Source: Statista)
Know Your Target Audience
Target audience is not just people who'll use your app. It's a whole market segmented by many factors such as country of residence, age, education, average income, and much more.
You obviously don't want to address the wrong audience, so researching and understanding your target users is extremely important. First off, you need to decide on the region where your app will be available. There might be a huge difference in audience size, their needs, and local regulations. For example, Europe is one of the largest mHealth markets, while Latin America boasts a modest size.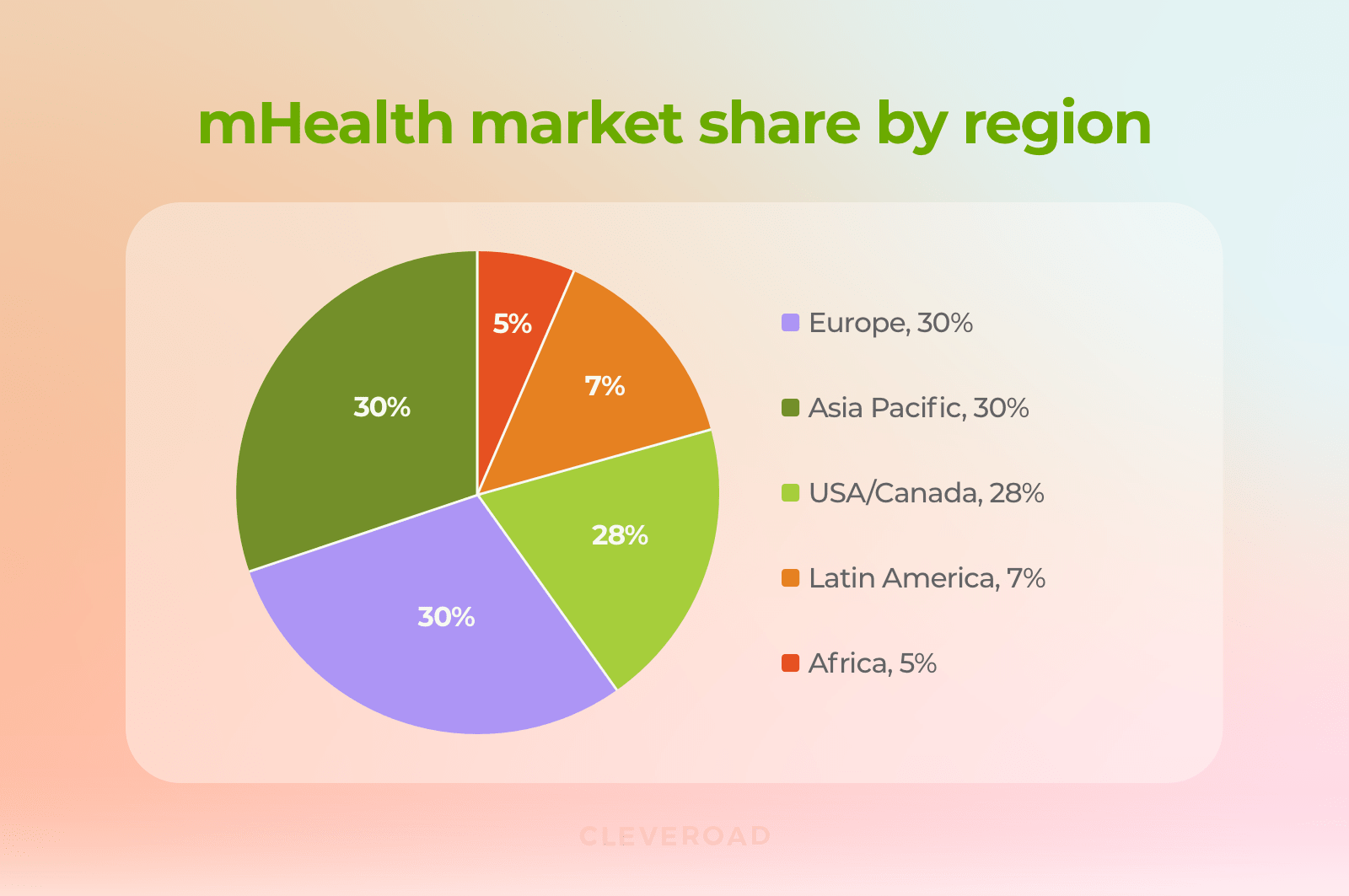 Healthcare app market in different regions.
Now, to the user base. There are several aspects that can help you segment your target audience. Study them carefully before getting to the health app development.
Divide your audience using these criteria:
Gender
Age
Average income
Place of residence
It's a great way to get a clear picture of your target audience. Use Question and Answer platforms to ask real users about what they want to see in the mHealth app and what features will make their user experience better.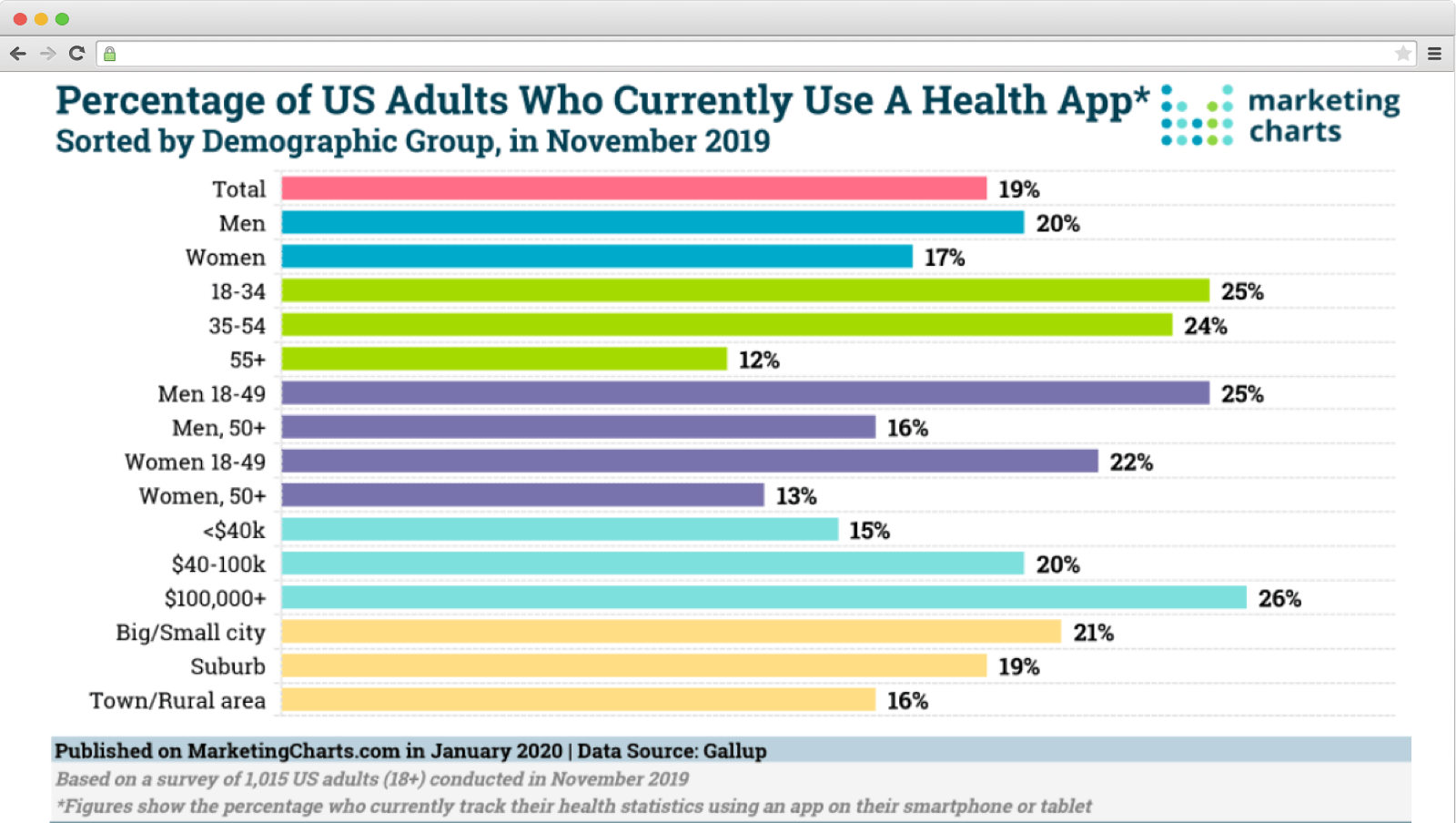 mHealth apps adoption by different criteria. (Source: Marketing Charts)
Or you can go the easy way. Some people from your social circle might be using healthcare apps. You can communicate with them directly to collect feedback about their user experience.
Pay Attention to UI/UX Design
UI/UX design is a vital process in healthcare mobile application development. Despite the fact that this stage involves a lot of creativity and freedom of choice, you should still adhere to several important rules to make the design beautiful and user-friendly.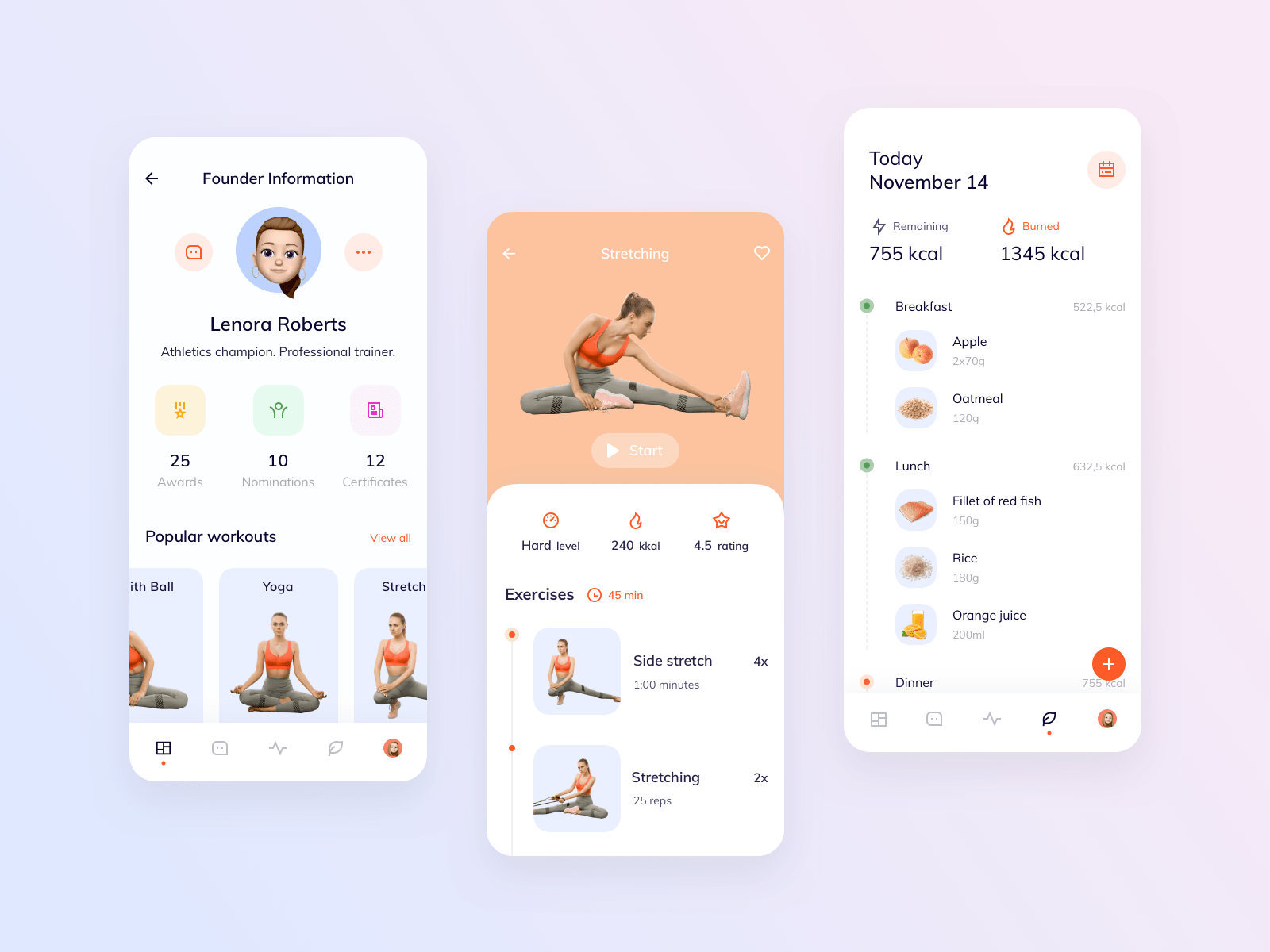 Fitness app design example. (Source: Dribbble)
The target audience of healthcare apps is quite extensive. Aiming for maximum reach, your design should be as user-friendly as possible. To nail it, you should follow several important UI/UX design rules:
Optimize user journey inside your app. Create a user persona and based on desires and expectations of this "persona", inspect each touchpoint in your app to find weak spots of your UI/UX design.
Minimize the number of actions a user should take to complete a task. You can group related content to make it accessible in one click. For example, Use the Progressive Reduction method. Start from your standard design layout and gradually reduce unnecessary elements to lower the number of actions that lead to a completed task.
Show important information at the beginning of the user journey. It's pretty simple. If you're making a fitness app, show burned calories and steps taken right away on the first screen. If it's a pill reminder app, show the nearest scheduled pills and how much time is left before taking them.
In addition to the visual component, it's worth taking care of how the app will look on screens of different sizes. This aspect is highly dependent on the platform you are aiming at. If iOS doesn't have too many devices and screen sizes, then Android is much more complicated. The variety of devices and screen sizes can make it difficult to create and test the design for your healthcare app.
Show empathy with your design
This aspect is rather complicated because it's practically impossible to please all users. But you can try to show empathy to users through your design.
For example, older people prefer larger fonts, minimum animations, and easy layout. In the meantime, the younger generation appreciates the flexibility of setting and loves bright colors along with smooth animations. Thus, the whole design process and healthcare app development come down to balancing between two extremes and finding the golden mean.
Choose a Monetization Model
Almost any digital product is designed to generate revenue. To do it successfully, you need to choose a monetization model. There are several common models for mHealth solutions:
In-app ads. The app is completely free, but it shows ads to users.
Freemium. The app is still free, but some features can be unlocked through in-app purchases.
Subscription. The whole app or some of its features are available on a subscription basis. Users must pay for a subscription (weekly, monthly, yearly).
Paid. Users buy an app with a one-time payment.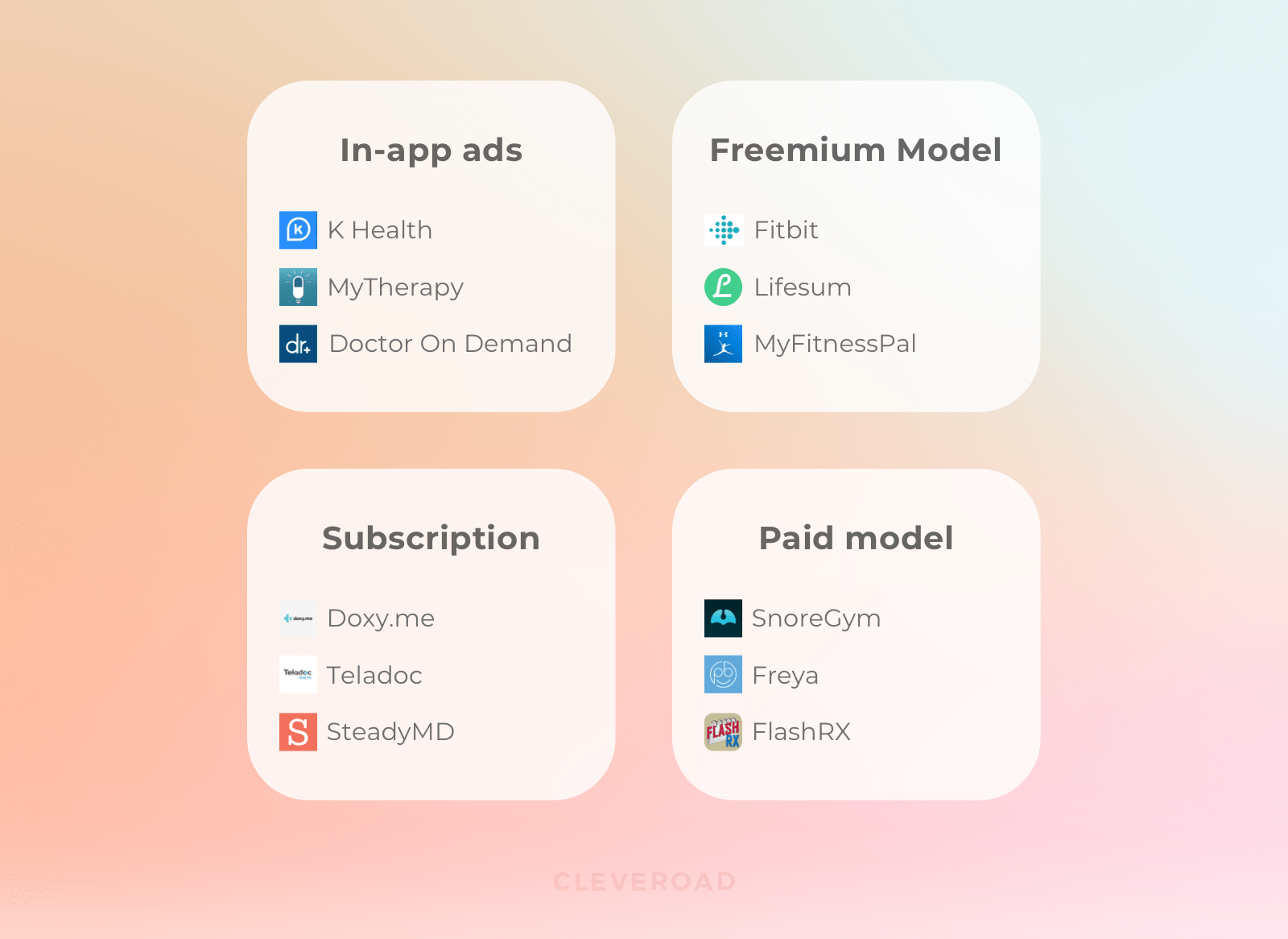 Well-known healthcare apps and their monetization models.
Build an MVP
First of all, let's figure out what MVP is. Minimal viable product or simply MVP is an app that only has essential features allowing users to solve their problems. MVP development is the best choice when:
There's a need to validate idea
You're low on resources
You need a fast time to market
Now it's time to talk about MVP features for mobile app development for healthcare. We'll analyze the must-have features of a standard telehealth app since these apps can be used by both regular users and professionals.
Users should have multiple ways to register in the app. This can be a registration via email, phone number, and through popular social networks such as Facebook or Twitter.
The profile is an essential part of the telehealth app. The user should be able to fill in personal information, add a photo, write a medical history, and more.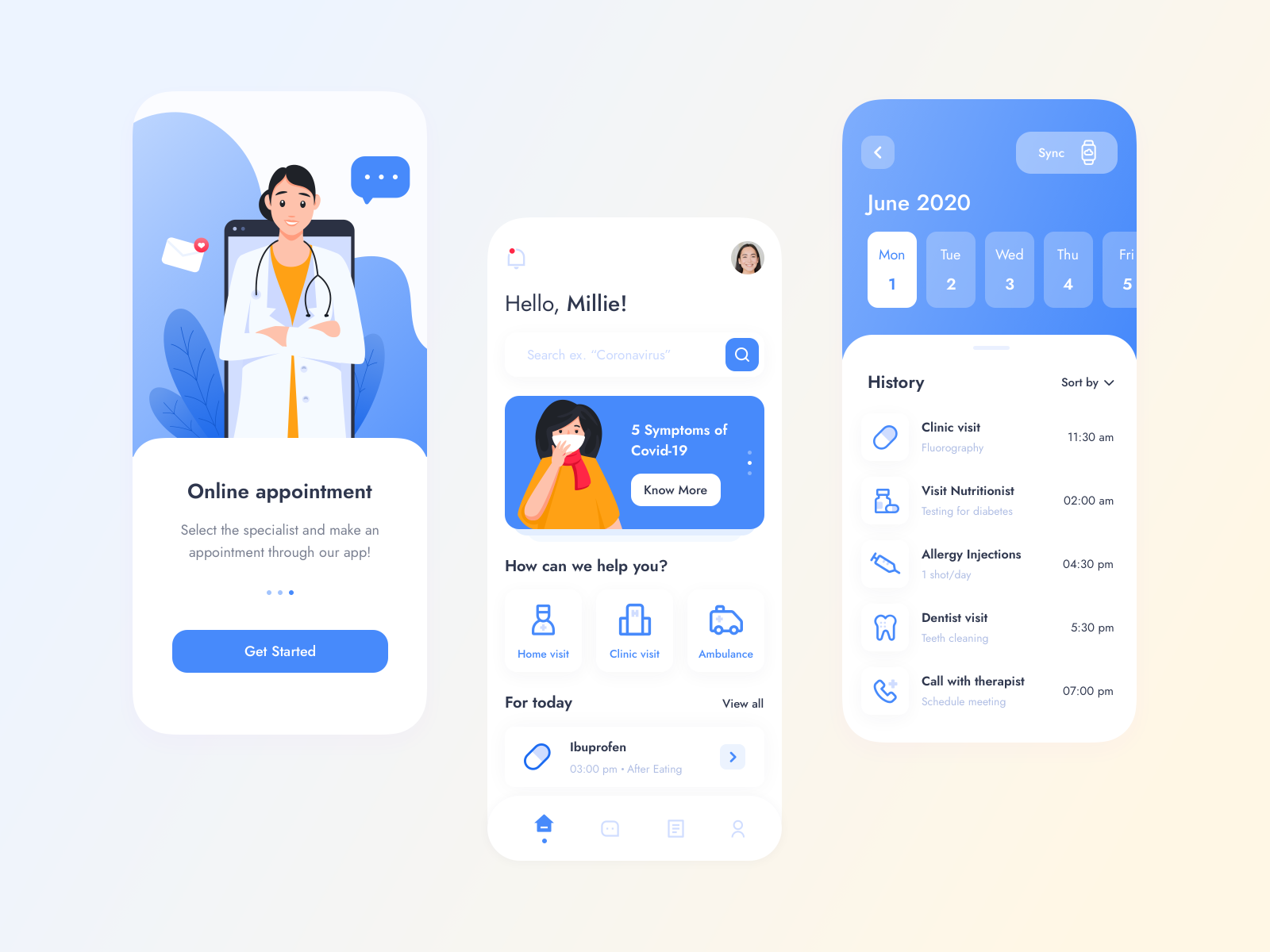 Telehealth app profile screen. (Source: Dribbble)
Search and filter options
Finding a physician should be simple yet effective. It's a good idea to add filters that'd let users find a doctor based on set criteria such as specialization, experience, or appointment cost.
This feature streamlines the decision making process as reviews and ratings from previous clients can help users decide whether it's worth contacting a physician or not.
This feature works well in both ways. The physician receives a calendar to schedule appointments and control their number during the week. Meantime patients have access to the doctor's schedule for a quick booking convenient for both parties.
This feature is the foundation of all telehealth apps. Video calls are often made using WebRTC, HLS, or MediaStream protocols. These technologies support real-time communication via the camera and microphone of mobile devices. During video and audio calls both parties should have a stable connection and no troubles with audio or video.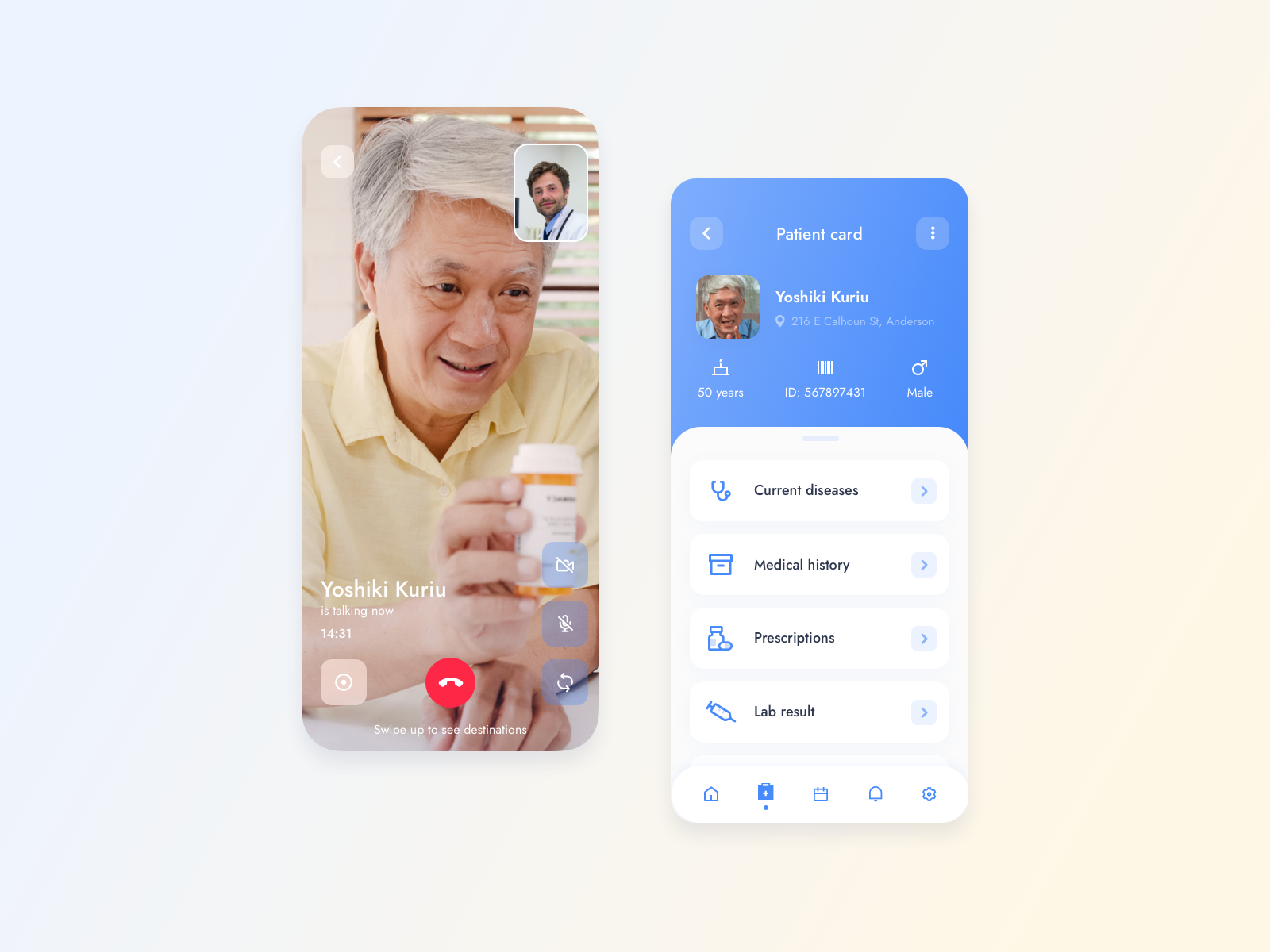 Voice calls in telehealth app. (Source: Dribbble)
If the doctor can't see the patient at the moment, the user should be able to ask a question or leave a message for a physician using an in-app chat. The chat is useful enough for both parties. The patient can send various documents and media files that are important for the consultation, while the doctor can clear up the course of treatment or send a file with the prescription.
This feature is useful for everyone. Users can pay for the doctor's services, the platform holder gets a commission, and the doctors get paid for their work. The main way to add online payments is to implement a payment gateway. This could be PayPal, Stripe, or Braintree. Besides that, it's worth implementing payment directly from a patient's credit card.
Collect Feedback, Update, Repeat
So, you've released your MVP. Now it's time to collect and analyze user feedback. Don't neglect the audience's opinion, as it can fuel your ideas for future updates. After the release, you can support the app by expanding its functionality and implementing various quality-of-life improvements.
Compliances to Consider in Health App Development
The healthcare industry is very strict when it comes to compliance with various legal and privacy regulations. Different countries have their own regulations that you should know about and take care of before launching there
HIPAA

. Apps developed for the US market, which process, record, and store Protected Healthcare Information (PHI) must strictly adhere to HIPAA regulations. Since 1996, these regulations have ensured the confidentiality, integrity, and availability of all electronically protected health information.

CCPA

. This law is another foundation of confidentiality in the United States and is analogous to the European GDPR. This law involves informing the client about what data collected, preparing a free report on the collected data at the client's request, deleting the collected data at the client's request, and much more.

GDPR

. These personal data protection rules were introduced in Europe in 2018 and all healthcare apps operating in the European Union must comply with them. The important point is that the GDPR applies to the company that processes data (for example, cloud storage) and the company that collects it (for example social network).

NIST

. This is another collection of standards, tools, and technologies designed to protect the data of users of medical applications in the United States. According to research, 70% of surveyed organizations consider the NIST framework as the best cybersecurity practice, but many say it requires significant investment.

HiTECH

. These regulations focus more on the EHR systems' data security and are also valid in the United States. In 2013, the clauses of this law were later introduced into the HIPAA Final Omnibus Rule and now HIPAA compliant apps are equal to HiTECH compliant.

PIPEDA

. Applications working in the Canadian market that store and process personal data must comply with PIPEDA. An interesting fact is that if your app is compliant with PIPEDA, it's most likely compliant with the GDPR since these two laws are quite similar.
The Cost of Healthcare Application Development
Finally, it's time to discuss how much it costs to make a healthcare app. Our developers teamed up with BA to assess the scope for basic features and make an approximate cost of a basic telehealth application.
NOTE. This estimate is approximate and includes MVP development expenses only.
The approximate cost of MVP features for telehealth app.

| Feature | Approx development time (hours) | Approx cost ($) |
| --- | --- | --- |
| Registration and login (Patient + physician) | 76 | 2660 |
| Profile screen (Patient + physician) | 81 | 2835 |
| Search, filter options and ratings | 103 | 3605 |
| Appointment scheduling (Patient + physician) | 185 | 6475 |
| Video and voice calls (Patient + physician) | 136 | 4760 |
| Online chat (Patient + physician) | 121 | 4235 |
| Payment options | 36 | 1260 |
| Admin panel | 271 | 9485 |
| Backend part | 1120 | 39200 |
| Frameworks and libraries implementation | 56 | 1960 |
| Code documentation | 17 | 595 |
| Total | 2202 | 77070 |
There are many specialists involved in the development process. Their services are also included in the final price. Using our telehealth app as an example, we want to show who participates in the development and the project's final cost.
The final estimate is APPROXIMATE. For a more precise calculation of your project, contact us and get a free initial estimate from our Business Analyst.
The final price and development team structure.

Development team member
Task
Approximate hours
Approx cost ($)

iOS and Android developers ($35/h each)

MVP features development

1280

89600

Frontend developers ($35/h)

Admin panel development

160

5600

Backend developers ($35/h)

Backend part development

1120

39200

UI/UX designers ($30/h)

Wireframes and mockups creation

160

4800

Project Manager services ($35/h)

Development process overseeing, development reports

400

14000

QA engineer services ($25/h)

App testing, bug reports creation

600

15000

DevOps ($35/h)

Development process automation, implementation of DevOps methodologies

120

4200

Business analyst ($25/h)

Discovery phase, creation of final estimate and specification

160

4000

Team lead ($35/h)

Project architecture development, code review

180

6300

Total

4180

182700
Сleveroad Experience
Cleveroad is a Ukrainian mobile app development company with more than six years of experience in the healthcare industry. We've worked on a mental health app called Nedley Scorecard that's available for iOS.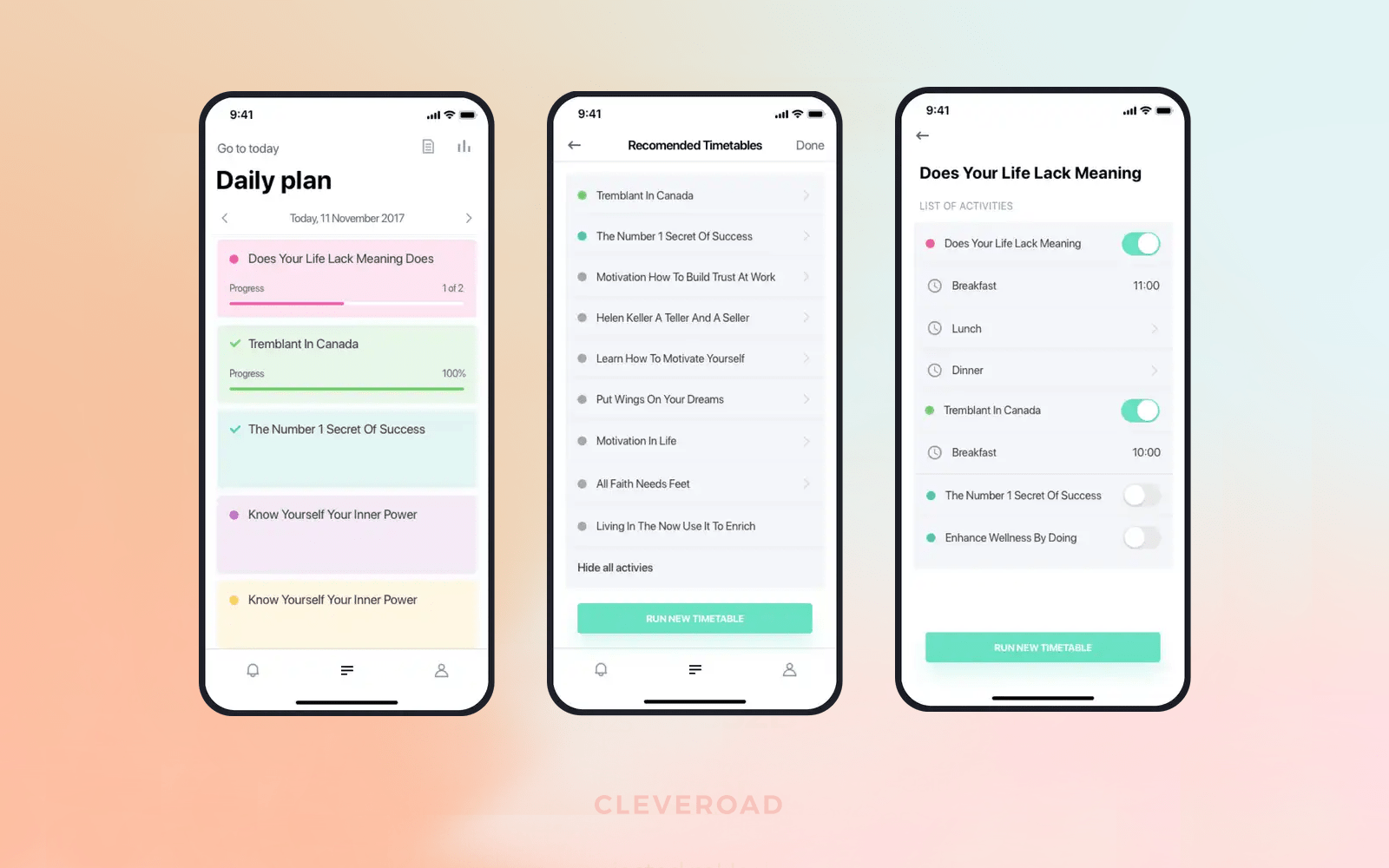 Nedley Scorecard interface
This app is designed to fight insomnia, improve mood and overall mental state following the Nedley Depression and Anxiety Recovery Program. Users can pick a category they're struggling with and schedule exercises that'll help them improve mood and overall mental state.
Have an idea for a healthcare app?
Drop us a line and get a free tech consultation from our specialists and a free of charge estimate.
Frequently Asked Questions
Any healthcare app that works with patients' personal data must be HIPAA compliant as these regulations oblige to comply with the strict rules for the protection of personal data.
Any application that facilitates interaction between doctors and patients, helps to maintain a healthy lifestyle is called healthcare app.
Healthcare app development is very beneficial since these apps can:
Improve health data gathering
Provide timely care despite the location
Minimize medical mistakes
Lower spendings for hospitals and patients
Improve communication between physicians and patients
Increase customer loyalty and engagement
Provide time-saving features for medical staff
The average cost of healthcare app development can hit $40,400 and above, depending on nuber of features and development time spent on their implementation. Besides that, the final cost depends on the location of your development team, since in different regions different hourly rates.
The main factor that should be considered is a healthcare regulations compliance. Every healthcare app must be compliant with these regulations:
HIPAA
CCPA
GDPR
NIST
HiTECH
There are several common monetization models for mHealth solutions:
In-app ads. The app is completely free, but it shows ads to users.
Freemium. The app is still free, but some features can be unlocked through in-app purchases.
Subscription. The whole app or some of its features are available on a subscription basis. Users must pay for a subscription (weekly, monthly, yearly).
Paid. Users buy an app with a one-time payment.
Rate this article!
4800 ratings, average: 4.82 out of 5
Give us your impressions about this article
Give us your impressions about this article
Steve Ways
26.10.2021 at 01:37
yes, 40% of physicians believe telehealth apps could reduce in-office visits. 74% of the hospitals that used mobile apps to collect patient data showed higher levels of efficiency than their counterparts not using any apps. mHealth is the future and we should find solid reasons to before investing in mHealth app.